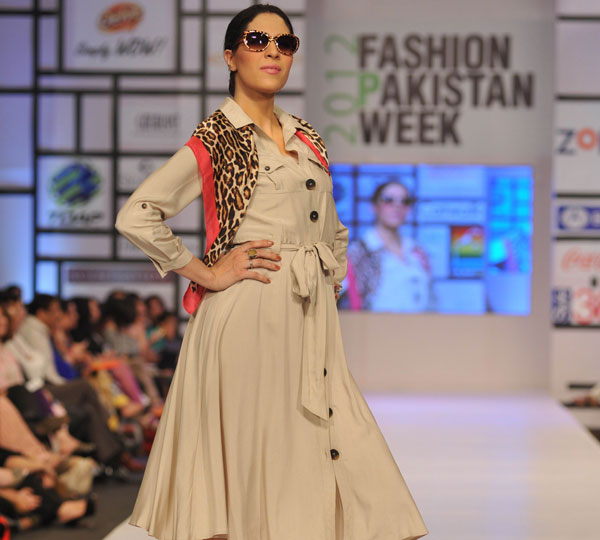 With Fashion Pakistan Week 3 (FPW 3) having finally taken place, the Karachi-based Fashion Pakistan (FP) council is officially back in business. And what a way to come back! The four-day-long event - after overcoming the initial date and venue hitches - proceeded smoothly, and among the occasional mundane lineups that are an inevitable part of any fashion week, featured some rather spectacular fashion. According to the council's CEO Maheen Khan, this fashion week is just the beginning. "We're going to follow a step by step process that will hopefully help improve the revenue earned by Pakistani fashion," she said.

With this in mind, the FP platform featured a varied range of fashion, from prêt to couture to high-street British brands on the ramp and occasional spurts of shaadi-wear from couturiers like Umar Sayeed. While FPW was generally publicized as a forum for high-street fashion, the FP council's CEO Shamaeel Ansari felt that it made sense to showcase the diverse designing sensibilities within the country. "Every designer has a certain philosophy and they can't change it overnight just in order to be part of a fashion week," she opined. "My forte has always been evening wear and that's what I showed in my segment in FPW. Some people in the audience may have preferred the more casual, prêt-wear lineups but there were also others who enjoyed and wanted to buy the kind of clothes I design. And at the end of the day, a fashion week is all about generating business for designers. We're not hankering after the nitty-gritties, we're just being very realistic with FPW."
The business of fashion 'realistically'

It is this same predilection towards being realistic that had the council refrain from inviting in foreign buyers to FPW. Where foreign visitors sat in the front rows at previous fashion weeks, the FPW front seats were taken up by the guests of the event's many sponsors - sandwiched somewhere between them were three of Pakistan's most significant local retailers; Zahir Rahimtoola of Labels, Asad Tareen of The Designers and Zeba and Shehrnaz Husain of Ensemble.

"Foreign buyers may look very impressive in the audience but when have they ever come to Pakistan and placed orders for our designers?" pointed out Maheen. "Moreover, most of our designers don't even have the production capacity to meet international requirements. Right now, it is far more practical for our designers to be able to work efficiently within Pakistan and to stock at multi-label stores like Labels, The Designers and Ensemble. Our local retailers are very important; they're the ones that actually provide business for the fashion industry."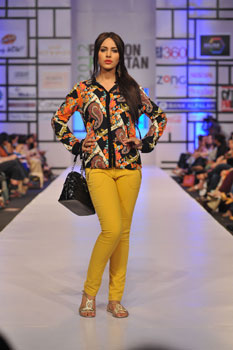 But while Maheen's words made sense, it was disconcerting to see these 'very important' retailers placed in the back rows of the audience time and again. Zahir Rahimtoola was directed to a seat in the fourth row on the first day of FPW while Asad Tareen could be seen craning his neck towards the ramp from the second row on the third day of the event. "FPW featured some very interesting collections but I do feel that they need to show more importance to the buyers," said Asad, who is currently in the process of opening a branch of The Designers in Dubai. "We attend the event for business. It makes no sense to seat us somewhere in the back, making us bend back and forth in order to see each collection."

Zahir agreed with Asad, adding, "The council needs to understand that when you invite buyers you need to seat them in the front so that they can see the ramp easily. It would also help to provide a media kit in advance to buyers and the media so that we know exactly what collections we're coming to see on each particular day. Lastly, the council should be more particular about the designers they allow on to the ramp. They just lose credibility by showcasing mundane, lackluster collections."

Despite these concerns, there were certain designers that impressed the retailers from amongst the motley crew that showed at FPW. "I am talking to Shamaeel and Baani D. and would like to stock their clothes at my store," revealed Asad. "I didn't even know about Baani D. before FPW." Another designer who captivated critics and retailers alike was Wardha Saleem with her brilliant Marvi collection. Zeba Hussain of Ensemble declared that she had "great potential" while Asad commented, "I am glad that Wardha is stocking with us at The Designers. Her FPW lineup was fabulous."

Euphoric by the applause she received, Wardha Saleem elaborated on the many ways in which a platform like FPW could help a young designer like herself. "Relatively new designers like me really benefit from the media mileage they receive from an event such as FPW 3," she explained. "It's far more effective than putting up a fashion shoot in a magazine that may or may not be bought and read by potential clients. Even at the event itself, there are people in the audience who are there to see some other designer's work but also, by way of course, get to see your collection. Then, of course, it is also aired on TV. It's the best way to get through to prospective clients. Similarly, local retailers get to see and appreciate your work on the ramp and you don't have to approach them individually."

]Smart moves

While the FP council refrained from inviting international buyers, they did make sure that the event was covered by international publications. Journalists from The New York Times, The Guardian, Vogue India, The Telegraph (Calcutta) and DNA (Bangalore) were all present at the event, as well as Fifi Haroon who covered the event for the UK's The Independent. "I am here to observe and report on the energy surrounding the fashion week," said Declan Walsh from the New York Times.

Although, like Declan, many of the other international correspondents may also have been more focused on the atmosphere of a Pakistani fashion event rather than the fashion itself. As Maheen Khan optimistically surmised, "Any publicity is good. When we were planning FPW, we decided that we wanted to include British brands like Monsoon, Accessorize and Next on the ramp in order to give a more high-street feel to the show. I particularly wanted the models in the Gulabo lineup to be wearing Crocs. I hadn't foreseen that even this move would result in more media coverage of the fashion week."

Unplanned though it may have been, the inclusion of British brands on a Pakistani ramp got Fifi Haroon flying down to Karachi and writing a story on Pakistan's 'great British style invasion' for The Independent. "As Pakistan's third annual fashion week finally got under way after a spree of strikes and deadly clashes between political parties in Karachi, a new trend appeared on the catwalk," observed Fifi. "Showing alongside traditional bridal wear and more innovative offerings were British high-street brands such as Next and Monsoon."

Yasin Paracha, the Managing Director of Team A Ventures which currently owns these British retail franchises in Pakistan, was ecstatic over the reactions to the brands at FPW. "I think this is a great way for allowing British brands to blend into the daily wardrobes of the fashion conscious segments of Pakistani society," he said. "For instance, our Crocs looked great with Maheen Khan's Gulabo collection. From being mere casual shoes, they transformed into easy-to-wear fashionable options on the ramp. I had of course considered being part of a fashion week before but it was only when Zahir Rahimtoola contacted me and told me that the FP members wanted to meet up that matters progressed."

Would Yasin like to show again with the FP council? "Certainly," he said. "I think it's a great way for the brands to become more popular in the local market." Obviously, the council also gains credibility by having renowned British brands in its line-up. A win-win situation and a feather in FP's cap.

Two councils for fashion?

It would be fair to say that the FP council is well on the road to recovery. However, it can't yet be declared to be at par with the Lahore-based PFDC. With regular fashion weeks to its credit, the PFDC has built a solid reputation of credibility and strict standards for designer selection. Still, dormant though it may have been, FPW 3 proves that with fashion's old guard standing steady as its executive council, the FP still has the strength to pull upon some of fashion's best designers, especially the ones in Karachi.

DNA journalist Priyadarshini Nandy, present at FPW 3, made an astute observation, "So many fashion weeks take place in India but we have finally narrowed things down and now only give importance to the Lakmé Fashion Week and the Wills Lifestyle India Fashion Week." Perhaps then this is the solution for Pakistani fashion: two cities, two fashion councils and four fashion weeks a year.


The next FPW has been announced to take place in September. We hope that the council lives up to the expectations it has managed to build with FPW 3 and raises its next fashion week to the same standards set by Sehyr Saigol with the PFDC.