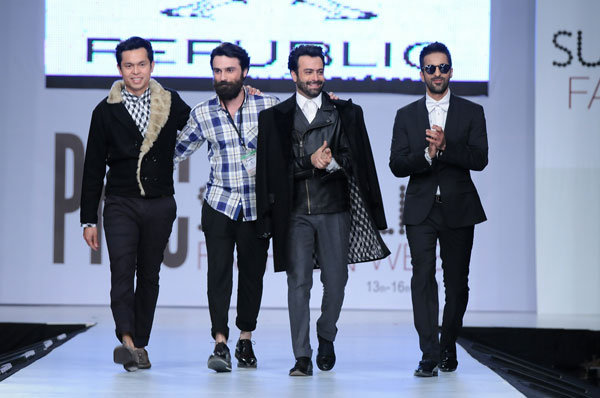 The two fashion weeks in Lahore and Karachi have been a whirlwind - for the designers  who showed collections, organized the shows, did the hair and makeup, those who attended, covered, wrote, took pictures, blogged, tweeted, retweeted. The fashion week phenomenon came of age in every sense of the word. There are those who complain about the overdose, but then that's fashion all over the world - those who are a part of the industry and those interested in it get excited and those who are not a part of what's going on look on disparagingly from afar, mostly from a self-righteous high horse.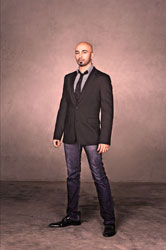 The magic of fashion is a curse - it invites criticism from all quarters, no matter how uninterested in or unrelated to the field they may be. And this time round, there was a lot of it coming. But then, that was directly in proportion to the number of fashion weeks that took place in the span of less than a month. The plethora of fashion weeks began from Rizwan Beyg's Showcase, which led in to Fashion Pakistan Week and PFDC Sunsilk Fashion Week. Islamabad Fashion Week overlapped both of them meanwhile fashion channel Style 360's Bridal Couture Week in Karachi collided headlong with PFDC's in Lahore.

It was fashion in overdrive, definitely too much of it and all over the place. Fashion critics had to pick and choose and there was only one crystal clear option, make that two rather - that is the fashion weeks being organized by the two fashion councils, Fashion Pakistan and the Pakistan Fashion Design Council, one in Karachi and the other in Lahore.

Of cities and councils

Fashion has historically been a tale of two cities in Pakistan and there has been intense competition between the two. From the glory days of the style mafia in Pakistan that lead to the Ather Shahzad style mafia in Lahore to the feud between Maheen Khan and Sehyr Saigol and the tension between the designers who supported either/or; fashion has clearly established two centers in Pakistan - one in Karachi, which has been there historically, and the other in Lahore. Yes, Pakistani fashion began in Karachi and how they love to throw it in Lahore's face. But even so, let's give credit where it is due - Lahore has so far played the smartest fashion week game and hosted a total of six credible fashion weeks till now. They have had a consistency that remains unparalleled to date. In comparison Fashion Pakistan is three fashion weeks old.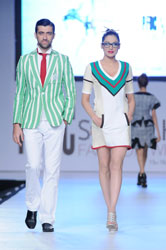 What has happened in the time of these fashion weeks is that a fashion industry has sprung up in Lahore with the most organized structure that one has seen. Under the relentless endeavour of Sehyr Saigol, Lahore now has its very own fashion scene. She has very cleverly created a bridge between the Pakistan Institute of Fashion Design (PIFD) and the PFDC to create perhaps the strongest fashion link between the old and new in Pakistan. The senior designers of PFDC (HSY, Maheen Kardar Ali, Kamiar Rokni, Maria B etc) are all PIFD graduates and new younger designers from the fashion school are being fostered. Be it Ali Xeeshan, Akif Mehmood or Mohsin Ali, they have their roots in the school and then come on to the PFDC platform to branch out. They make a name for themselves, get clients, are given retail space at the PFDC Boulevard in Lahore and begin making inroads into Karachi. It's a cycle that works incredibly well, especially when you take into account the fact that the PIFD is the best fashion school in the country.

PFDC's is an organized system, a rather predictable and contained one, rather like the hierarchy of Lahore society and operates in much the same fashion. Patronage, fostering, nurturing, young designers looking up to their seniors; it is a modus operandi that works well in Lahore because it is so much like the way the city itself operates. Over the past couple of years, PFDC held fashion weeks in Karachi too, but they didn't really succeed. The energy of their events in Lahore was sorely lacking, in Karachi it is Fashion Pakistan Week that has generated that energy which brings out the crowds that get the city buzzing. So when FPW made a comeback this year, it set the city on fire.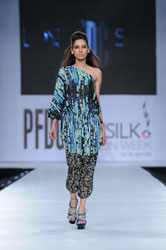 PFDC Sunsilk was a far better organized, better edited fashion week, but that is so Lahore. FPW every bit as chaotic as the city of Karachi itself; it began with the supreme elegance of Bunto Kazmi and ended with the extreme gauche of Honey Waqar. It put a spotlight on the savoir faire of Sana Safinaz on one hand and on the other showed Deepak Perwani letting his fashion design take a complete back seat to the role he is playing in the council. It gave us the brilliant debuts of Wardha Saleem and Baani D and the disaster that was Pinky Durrani alongside. And most of all FPW showed us that style never goes out of fashion - Iman Ahmed's Body Focus(ed) genius, Maheen's signature and Gulabo's street cred with Shamaeel's powerful luxury collection combined to bring up a tour de force.

When Deepak Perwani told Instep, "We are the big boys!" we have to agree with him because it's true. Let's give credit where it is due.

So there you have it - two distinct fashion weeks that reflect the spirit and identity of the city they belong to and at this point fashion would be lesser without either of them.

Exploring the other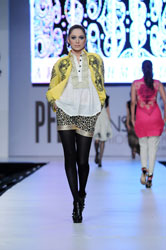 One always finds fashion weeks in Lahore more relaxing than the ones in Karachi. It's the vibe of the place. Sehyr Saigol to her credit is the brilliant orchestrator. PFDC Sunsilk Fashion Week kicks off with a soiree at her house. Foreign media and buyers are invited to rub shoulders with designers, Selina Rashid her team at Lotus are always present. Nuscie and Omar Jamil represents Latitude when they do the event, one bumps into Aamna and Shehrbano Taseer, Mona Kasuri, Shah Mehmood Quraishi, Lyse Doucet of the BBC, Ahmed Rashid, Aitzaz Ahsan; it's always a classy eclectic mix of people and like her fashion weeks very elegantly executed. One gets a feel of what is happening and then rolls straight into fashion weeks. Speak to Sehyr and you are surprised by how aware she is of each designer and how their business is structured, their strengths and weaknesses. Indeed, the way Lahore functions and their week is structured, they all know what the other is up to and how they operate. They are very well knit together and Sehyr instills into them a tremendous discipline. She is not a lady you say "No" to in Lahore and this has enabled her to bring the designers of Lahore together so cohesively. Another point that must be made as time has gone on, while designers still have hits and misses at the PFDC Sunsilk Fashion Week platform, I cannot from this last fashion week report a single collection that should not have made it to the runway. Sehyr Saigol is a ruthless editor with a finely tuned fashion sense, if a collection is bad, she will not let it go on the runway. This has led to confrontations with designers in the past, but she sticks to her guns.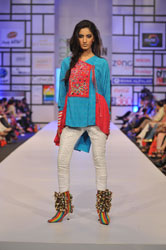 And as time goes on in the PFDC, she has a team that she can rely on. Saad Ali, the CEO of PFDC is essential and the other right hand man is HSY on whose showmanship PFDC has relied on since the beginning. Of course, Saad and HSY are also related and Saad's wife is also a designer.

A Karachiite will look at the PFDC hierarchy and immediately think 'conflict of interest' but that doesn't seem to happen in Lahore. There are whispers of feuds and unhappy designers who think they have been sidelined, but that's all off the record. To the world out there, they present the perfect face of one big happy PIFD/ PFDC family. What one has to respect about them is that it is their ship and they all own it proudly. However, try saying that you think Kamiar Rokni is a better designer than HSY and you will be met with looks of shock as if you have stepped into taboo territory. The hierarchy is clear, so what if HSY is the marketing whiz and Kamiar Rokni a genius when it comes to design. Lahore is all a dramatic place and drama is what HSY gives them. He is also a shrewd player who plays the role he is required to play with aplomb and gives freely of himself to the PSFW cause and has made himself indispensable to the process. He gets the grand finale almost every time and when he didn't, there was a Red Dress Show he coordinated that became the finale.  

Karachi is a different beast altogether. This is the city where everyone is too busy doing their own thing to know what the other is up to and nothing anyone says is taboo. Everyone is a big player up to their own big game. While the news came out of Fashion Pakistan Week that Sana Safinaz are preparing to launch their stores, there was no grand announcement for it like there was for HSY's app and HSY Events at PSFW. (If their lawn is a yardstick Sana Safinaz stores will be a whole new level of designer stores in Pakistan.) Most Karachi designers (and some Lahore ones) will be stocking at the soon to be launched One by Ensemble that will feature affordable ready to wear at Dolmen Mall. British brands Monsoon and Next showed at FPW and Yasin Paracha was present but no grand announcement was made of Debenhams launching in Karachi. Most designers present were leaving for Lifestyle Pakistan, the trade fair that happened in India but that wasn't announced either even though Frieha Altaf who was doing Fashion Pakistan Week was also going. That's Karachi for you. There are always big games afoot, and everyone plays their own. Despite the announcements, the pomp and circumstance, this is not the punch that PFDC can pack. Karachi is business city central - point to be noted, the three biggest fashion retailers in the country Ensemble, Labels and The Designers who have multiple outlets in Pakistan all hail from Karachi.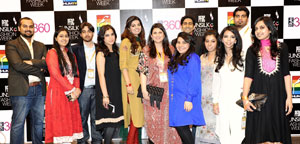 The one fashion house which was sorely missed at PFDC Sunsilk Fashion Week 2012 was Khaadi. Shamoon Sultan who has historically chosen to show on the PFDC platform is another Karachi creation. An Indus Valley graduate, he began making fabric on a small scale by making basic kurtas for men, then launched a line for women and evolved into a lifestyle brand. He came out of nowhere and shot to the top. Now one of his interns is one of the brightest lights in Pakistani fashion and just in two PSFW showings has followed suit with her own brand - Sania Maskatiya. That's Karachi for you. Work hard, play smart and you have as good a chance as any to shoot up through the stratosphere.

If there is a problem that Karachi faces it's that it is uncontrollable. Rizwan Beyg will go his own way to do a Showcase, Shamoon Sultan will choose to side with the PFDC, Nabila will do a show with the other council, Tariq Amin who also began in Karachi will team up with Arshad Siddiqui to do a fashion week of his own. The kind of discipline Sehyr Saigol brings to the fashion scene in Lahore is impossible to attain here. When Instep asked Maheen Khan about quality control and editing, she said that there were designers who refused to show her their collections and this is the CEO of Fashion Pakistan Week! Lahore Lahore hai aur Pakistan mein Karachi jaisa koi shehr nahin… and honestly, the twain shall never meet, so let's not even go there. All one ends up with is a big thumping headache if one broaches the topic with the loyalists of either council.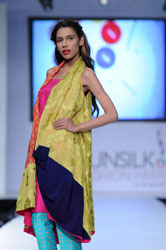 The Karachi versus Lahore conversation bores me to tears now and when idealistic people say the two should come together, I want to shake them up and say, "Forget about it, it's not going to happen." Change is not something you push for. It will happen of its accord if and when it has to.

Realisations

If Pakistan has its roots in the Two Nation Theory, then may I propose a Two City Theory for fashion? It's crystal clear to see that PFDC has the strength of the Lahore fashion scene and Fashion Pakistan commands the loyalty of the Karachi fashion scene. With the PIFD and the PSFW platform, there is a lot happening in Lahore and no Karachi, Honey Waqar is not it. She wouldn't pass Sehyr Saigol's acid test. A Hoorain may have shown at the first PFDC but that disaster has not been repeated, indeed, one heard a fashion insider joke that Honey Waqar made Hoorain look like Chanel. Lahore is PFDC's territory and for designers who have businesses there, PSFW will be the first choice.

The same is true for Karachi. FP commands the loyalty of Karachi designers and while a Baani D may have come out of Lahore onto FPW, they don't hold a candle to an Akif Mehmood design-wise yet. What is also true is that designers in this day and age play a national game; they stock in both cities and beyond. Perhaps, the councils can set up something akin to an exchange program sending their designers to each others fashion weeks. Own your territory, but don't become insulated. Keep the lines of communication open and ensure exposure. Across the border, while FDCI's India Fashion Week is 'the' fashion week in Delhi, Lakmé Fashion Week has established itself as the premiere platform in Mumbai. Designers are free to show at both according to their convenience. While there was as lot of bad blood between the two initially as well, after Lakmé and IMG fell out with FDCI and created their own platform, they have realized that the market is big enough for both of them. That's called maturity and if not now, eventually PFDC and FP will get there.

Also, I am getting sort of tired of the hullabaloo made about the 'gora' presence. This time, the Australian buyers who were scheduled to attend Islamabad Fashion Week were seen in Lahore. PFDC has apparently signed up with the World Fashion Organization, which was previously at the Islamabad Fashion Week and the Karachi Fashion Week platforms of Arshad Siddiqui and Tariq Amin. It remains to be seen what they do together, but I really don't think it will be much.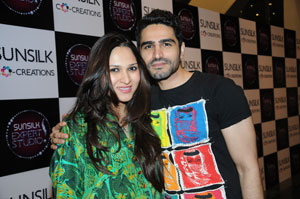 By contrast, Asad Tareen of The Designers has become the only Pakistani buyer in town. He attends fashion weeks, pays for a collection he likes and expects it to be delivered. His has also been the most consistent presence at the PFDC Sunsilk Fashion Weeks. He brought Akif Mehmood and Mohsin Ali to Karachi and is rather bemused by the presence of foreign buyers. "I pay for a collection I like and even after four months the designers can't deliver it to me. What are the foreign buyers doing here?" It's a valid question. 
The foreign presence is a shot in the dark like Alexandra Senes who came, took designers to Paris and then stopped coming. Hilary Alexander of the Telegraph came once, this time British Vogue was represented at PSFW. "Oh wow, brilliant, Vogue was there, my picture is on Style.com. (Throw in many more ravings of over effusive wonder.)" And then... WHAT?

They will come and cover and go. Yes, Vogue is more important in the greater scheme of things than say Declan Walsh or John Boone who represented foreign media in Karachi without being fashion journalists, but even so, Fifi Haroon's presence was more valuable at Fashion Pakistan Week. She wrote a pointed story for The Independent about British brands finding a place in Pakistan. Through her story Yasin Paracha was quoted in a major London paper as saying that Pakistan had been the fastest growing market for Next for several seasons. Now that put Pakistan on the map very effectively. The most interesting people on the Pakistan fashion scene are the local players and the most interesting things happening are the moves they make. The story is PFDC's gorgeous new store at Mall One in Lahore and their soon to open store at Dolmen Mall in Karachi. It's Fashion Pakistan Lounge that stocks most of Karachi's designers doing well in Lahore. It's Zeba Husain of Ensemble opening One by Ensemble tomorrow that will feature ready-to-wear below the price of Rs 10,000. It's Sana Safinaz deciding to open stores after the unprecedented success of their lawn. It's Yasin Paracha bringing foreign brands, like Debenhams to Pakistan. It's Asad Tareen of The Designers investing in young designers and giving them the resources to stock in Karachi. It's Sehyr Saigol's Libas label giving us a designer as talented as Akif Mehmood. It's Selina Rashid's Lotus becoming the PR company of choice for so many Karachi brands despite being Lahore based. It's Omar Farooq's Republic preparing to come to Karachi. It's Karachi's Shammal Qureshi doing so well with Toni and Guy in Lahore. It's Ammar Belal resurrecting the ABCD brand and joining hands with his father to make knits again. It's HSY announcing his own event management company. This is the business of fashion as I see it. Who cares which council is promoting what? It's all happening and it has very little to do foreigners that come in. Take your own seriously, connect with them. At this stage, they are more instrumental to the business of fashion in Pakistan than any foreign corresspondent or buyer or organisation .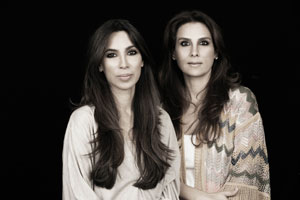 The Frieha factor and HSY Events

The biggest shocker to come out of these two fashion weeks was that Frieha Altaf was no longer doing PFDC Sunsilk Fashion Week but had been hired by Fashion Pakistan to do theirs instead. Indeed, PFDC proved just how adept they were by putting out a near flawless event, complete with a Cosa Nostra stall serving soups, salads, sandwiches and pizzas. The venue was the gorgeous Lahore Expo, HSY's choice of music and choreography was flawless, fashionistas were out in full force, the voile shows went off very well, packing the hall with lawn loving aunties. 
Meanwhile Frieha Altaf managed FPW in Karachi which Imran Kureshi choreographed without any razzle dazzle. Yes, choreography-wise it may not have come up to mark but again, it was a hugely exciting week - comebacks always are and living legends just don't go out of style. Frieha pulled it off with aplomb, it was definitely more orderly than the first two FPWs.  

During the PFDC Sunsilk Fashion Week, Instep Today asked the question, 'Can PFDC do the shows without Frieha?' and confidently answered, 'Yes, they can. Yes, it's possible.' After all, Fashion Pakistan managed to pull off two fashion weeks without her too. Let's also not forget that Frieha Altaf was instrumental in striking the deals PFDC struck. Nobody has sold fashion as successfully to the corporate world as Frieha Altaf has. She will take that know-how with her to Fashion Pakistan now, whose new chairperson Shamaeel firmly believes in the mantra of handing tasks out to professionals. It remains to be seen what Frieha Altaf does for Fashion Pakistan, how and if she, along with the council, sets up a Fashion Pakistan Week as consistent as PFDC Sunsilk Fashion Week has been in the past.

Meanwhile it remains to be seen what PFDC will do with their platform now. Sehyr Saigol has transferred responsibility of organizing the week to the designers of the PFDC with HSY bearing most of the responsibility. While Saad Ali, as the CEO, works out because that is what he does for Maheen Kardar Ali's brand Karma too; will it be sustainable for HSY to be an event manager along with a designer? His choreography is to die for, his taste in music rocking, he is totally with it but is it possible for anyone to wear so many hats? HSY is fond of giving Tom Ford's example of directing A Single Man, but that film was a one off. Tom Ford has not formed a film company. However, at the same time, in terms of show direction, PSFW 2012 was hugely successful.
Will HSY Events give Frieha Altaf's Catwalk a run for money? It's the most obvious rhetorical question to which one can imagine the most interesting answer playing out.

Fashion could not have hoped for a better start in 2012. Let the games begin… hmmm… maybe I should say continue…