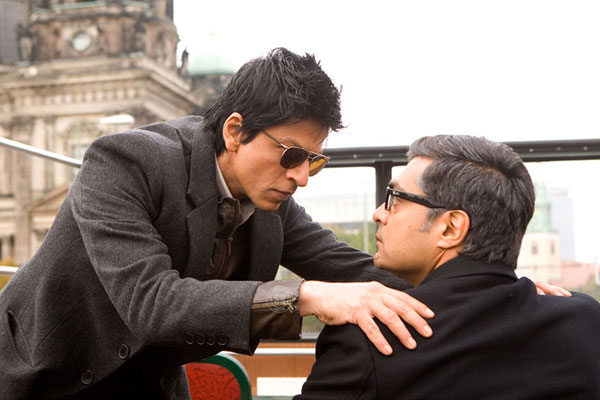 Those who love cooking or just food alone will see Alyy Khan anchor the much talked about India versus Pakistan NDTV-made cooking show Foodistan which begins airing on Geo tonight.  The Bollywood fans among you will do a double take and be like "Woah, that's the business man who gets played by Shahrukh Khan in Don 2." Others will squint harder and say, "Wow, that's Sheikh Omar from A Mighty Heart" - possibly the very last person one would expect to play host for a hit reality/competition show, but hey life is full of surprises. And if it is anything that Alyy Khan rolls with, its the element of surprise.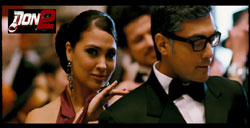 Be it Angelina Jolie and Brad Pitt's ode to Marianne Pearl or Farhan Akhtar's sequel to a hit action franchise, Alyy has been there and done it. These days he is sitting coolly in a house in Defence Phase V in Karachi living out of a suitcase; there's his job which takes him all over the world "I love it because I get to travel a lot… apart from paying the bills" and then there's the fact that him and his wife Chandni Saigol have yet to relocate in Karachi. At the moment they are living in a makeshift house while his in-laws Shakil and Rehana Saigol (aka Chand and Chunni) get their family home broken down and reconstructed. Ali and Chandni occupy the upper portion with their kids, Rayaan and Inaya. Inaya is a wee toddler, coming in frequently to cuddle daddy while Rayaan has friends over and they are playing a "50 over cricket match", in the corridor, of course. "It's time to settle down in one place I think. I don't want to miss the kids growing up."

In Karachi, Alyy is actually a good fit in the bohemian family that are the Saigols - Chand an artist, Chunni a jeweller and fashion designer, Chandni who has been known for taking up kickboxing currently teaches school kids at Links. It's a happy family with all the merry chaos that comes with the package - one can hear it all sitting with Alyy in the only smoking room in the house as cups of coffee are refilled and cinnabons are brought in.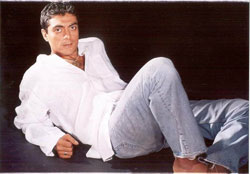 The subject of the interview has an actor's face, dark, well-defined and gorgeous imposing big black expressive eyes that are his most striking feature. Dressed casually in a white shirt and easy trousers, he's obviously enjoying his time at home. They're all going to see Don 2 in 3D in the evening, the 2D is version is off now - they missed it. And no they did not attend the premiere show. It's clear that in this house acting is just something Alyy does. His attitude is that of a professional through and through. And it's also a personal trait.   
Ask him how he landed Don 2, and he says, "I know Farhan and Zoya (Akhtar) from Bombay. I also did Luck by Chance with them. They called me, I said yes and caught a plane to Berlin where they were shooting. That was it." It was the best action film one has seen coming out of India. "Yeah, that was the German company Action Concepts. You should check this film Azaan out which I was a part of too. They got action done by the same guys. They're very good." It was a prominent role he played in Don 2, as the corrupt, some would say slimy businessman who becomes Don's key to accessing the money printing plates from DZ Bank in Berlin. "Yes, slimey businessman is the stereotype, but the fun is playing him against the type." And that is what Alyy Khan's J.K. Diwan is, a suave businessman like smooth operators of that ilk. He has no pretensions as to the part he signed up to play. pretensions, "Don 2 was a good film, Shahrukh at his best, hamming it to the hilt, doing what he does best, they love it," there's a grin.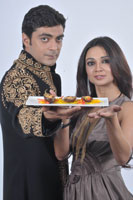 Since he is from Mumbai, why not play it like Shahrukh? "I guess I don't have the hunger, or the ambition," admits Alyy quite frankly. "All the work that has come to me has been destined. It comes; I can't bring myself to chase after it."

Absolute honesty. Ask him about why he hasn't made inroads into the Pakistani industry and he says "I've met Humayun Saeed and Duraid Siddiqui and Momina (Hum TV). They know who I am, if they want me for something, they'll call me."

That's how Alyy Khan is used to working. "People know who I am. And if it's meant to come to me it will. You know how I was approached for A Mighty Heart? I got a call from a friend of my cousin's who got my number from her and said that Angelina Jolie wanted me in the film and I should call so and so person on the team. I asked 'why isn't their casting director calling me' and was told, they couldn't find my number. Look at the circuitous route. A friend of a person on the team who knows my cousin calls her and gets my number. I called back and got the part. We shot in Pakistan and India and then ended up with the film in Cannes which was wild, -babes on motor bikes, us in limousines, the whole shebang, girls hanging off trees screaming 'Brad, Brad!'"

Alyy Khan has that charming quality of being completely nonchalant about his job. This is not the proverbial star actor playing the ultimate role, that of being a superstar. This is a thoughtful man, who talks pragmatically and very realistically. There is no guard nor barrier neither is there any sense of wonder or illusion or delusion of grandeur the conventional 'celebrity' is susceptible too. Perhaps it comes from his background as a theatre actor, he started when he was very young, just a child going to school in Bombay Scottish, the pinnacle of which was putting on a performance for the late Indian premier Rajiv Gandhi; heady stuff for a child. He joined a theatre company run by a lady called Hema and his dalliance with the medium continued when he played Hamlet. Years later, Alyy went on to play Lakshman in another Indian theatrical magnum opus by the theatre director Aamir Raza Husain (dubbed "the enfant terrible" of region by Indian media) called The Legend of Ram in 2004 which went on to be staged in 18 countries. Alyy Khan always followed his passion which was theatre from his school years and it continued throughout even while he studied filmmaking in London. On his return it was was natural for him as to fall into television in Bombay.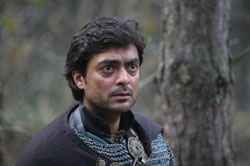 "I joined UTV in 1992 working behind the scenes full time on documentaries and other projects, theatre was something I did after work," says Alyy "and slowly I became a part of this massive machinery that sprung up when the media revolution began in India. It's so big that no matter what you do, kind of disappears into the it. That's the nature of the beast." He worked there while carrying on with theatre  and in 1994, Banegi Apni Baat, a TV series he acted in based on the college campus, the growing pains and exploding sexuality of a cast of characters in modern India became a raging success. After this Alyy Khan the telly actor was in circulation in India. And through that came films. Telly serials like Kabhie Kabhie directed by Anurag Kashyap who would go on to write the dialogue for Satya and make the cult hit Dev D, Private Detective, Bombay Blue and many more than Alyy can remember or cares to mention. A British passport and his agent put Alyy Khan in circulation in the Western hemisphere too.  So before the more prominent Mighty Heart and Don 2 were roles in projects as various as Govind Nihalani's Deham, cricket movie Stumped,  Meera's debut in Bollywood Nazar, the hit horror Sssshhhh stints in the western drama serials like Strike Back which took him to Cape Town and Dark Relic, a series based on the Crusades.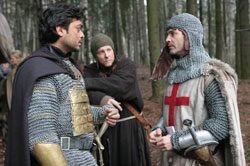 Googling old interviews of Alyy Khan from that era, one comes across frank, self-deprecating quotes like, "Theatre is a balm and TV pays the bills." Ask him what  roles he remembers and you get a thoughtful response "The interrogation scene in The Mighty Heart where I could really feel something and then there was a scene I did with  Deepti Naval years ago, I can't even remember the name of the film now…. In films and television, there are those moments you feel that some magic has happened, but it's definitely not throughout the whole process."

Alyy Khan's is the cerebral take of a theatre actor, who is well read and aware and who perhaps hasn't been able to reconcile himself and believe completely in the world that he became a part of with the fusto of actors of the superstar variety. Without naming names he honestly says, "Okay so you get a script, the money is great, the script not so great. You sign on the dotted line and go for it and then the filmmaker asks you what you think. I'm not going to lie, but once I have signed, I will give it my professional best. I will not let him down with my role. Once you come into film and television, if I apply a standard to everything, let's face it, I'm not going to be doing much work." 

"Most of my income these days is from MCing shows, corporate events, a lot of which happen in India and around the world; India is making inroads everywhere. Just recently I did one at the Atlantis in Dubai. They pay incredibly well, one has that theatre high of getting it right in one take, no room for errors, the response is instantaneous and afterwards one is mingling with the guests so one gets feedback too," says Alyy who claims that that is his most enduring connection to the stage.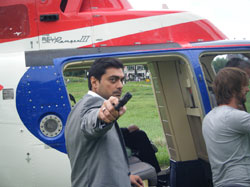 A laughing Chandni calls her husband fatalistic in his approach, and fortunately destiny is kind to him. Ultimately his is a journey of luck by chance. For example, Alyy found he was doing a lot of NDTV plugs for a project and told the people he was working with to put him in touch with the station. "Suddenly, one day I get a call from a very Parsi sounding chick from NDTV who is familiar with a lot of my plays who comes and asks me to audition. The project was 'top secret' so I wasn't given a brief, just told vaguely that I have to compare two dishes of food and I did it in one take. She said I was brilliant and wanted me to do another one and I was like 'Babe, just take this to them, if I got it, they'll get it.' And bingo, soon I get a call confirming me as the host of show that would become Foodistan."

"I enjoyed the process tremendously. Remember, I worked on documentaries and reality shows at UTV, so I get it also I feel the need for shows like this. I'm  thinking of setting up my own unit, to do the kind of things I want in Pakistan. Television is expanding here and with all the crossover happening, there is a lot of scope. Also I want to settle down and be with my family. It gets tiring to live out of the suitcase all the time."
Look out for Alyy Khan in Foodistan and otherwise keep an eye out on the stage and cinemas too - with maverick chameleons like him, you never quite know where they'll turn up next.