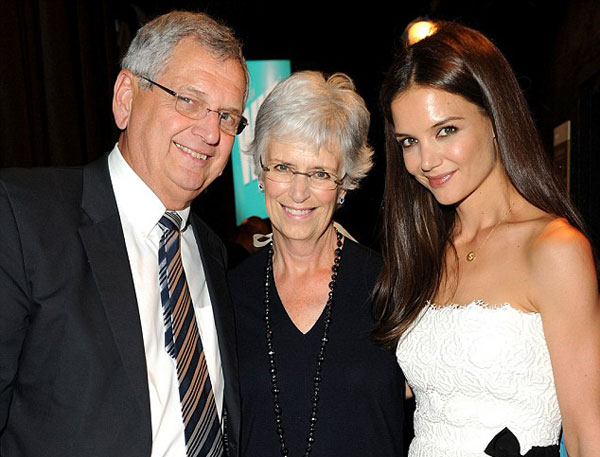 When Katie Holmes finally came out of hiding after signing her divorce papers, it was for fashion. She was a guest on the famous show Project Runway.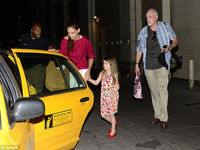 The Mail reported: "The 33-year-old actress, who has looked decidedly tense and unkempt in recent weeks, cut a stylish and serene figure as she headed to film a guest spot on Project Runway: All Stars in New York today. Her smile evoked memories of the famous picture of Nicole Kidman leaping with joy after her own divorce from Cruise in 2001.Katie wore a navy and black shirt-dress, soft make-up and a slick ponytail for the outing but one accessory was noticeably absent - her wedding ring."

The man is definitely a terror to live with and now its coming out into the open that Katie rowed with him over sending six year old Suri to Sea Org, "an organization where the highest levels of Scientology are taught and children as young as five can be sent to live there - without their parents.The company has been often compared to a boot camp and several ex-Scientologists (including Oscar winner Paul Haggis) have been outspoken against its military-like conditions."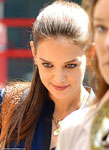 So we find it very believeable when US Weekly magazine quotes an insider as saying that 'Katie felt like she was in Rosemary's Baby,' referring to the 1968 horror movie in which Mia Farrow plays a woman impregnated by Satan with the help of a cult.

Also news has it that Tom Cruise asked Katie Holmes to fly to Iceland for a birthday bash he was throwing for himself in the middle of shooting for the film Oblivion - he turned 50 recently - but that she turned him down.
Katie's out and about New York though, treating her daughter to ice cream, traveling by cab in the tradition of most New Yorkers, and buying groceries. According to Fox News, Katie Holmes has a whole new attitude since filing for divorce from Tom Cruise, and vouching for this are multiple employees of her local Whole Foods supermarket in New York City, where's she's regularly shopped for the past year.

"In the last few weeks she was, well, not very nice when she came in," one employee said. "But now, she actually smiles and even let customers take pics of her and Suri."

"It's like a weight has lifted," said another. "Now she seems normal -- well, almost normal."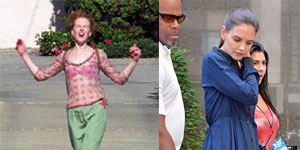 Katie's attitude has shifted and now "she even smiles and is somewhat polite. She even let a customer take a pic of her and Suri," said another shelf stocker.

Our favourite has got to be the employee who just wants Katie and Whole Foods to be left alone already, and railed against the paparazzi pack outside.

"Who cares, she just shops here. She buys groceries here just like anyone else, who cares," the employee railed. "It's GROCERIES!"

But then she is Katie Holmes, soon to be ex Mrs Tom 'Scientology' Cruise. One feels glad that she is in the public eye because we predict that this is going to be one messy divorce. However, that is infinitely preferable to a messy marriage.