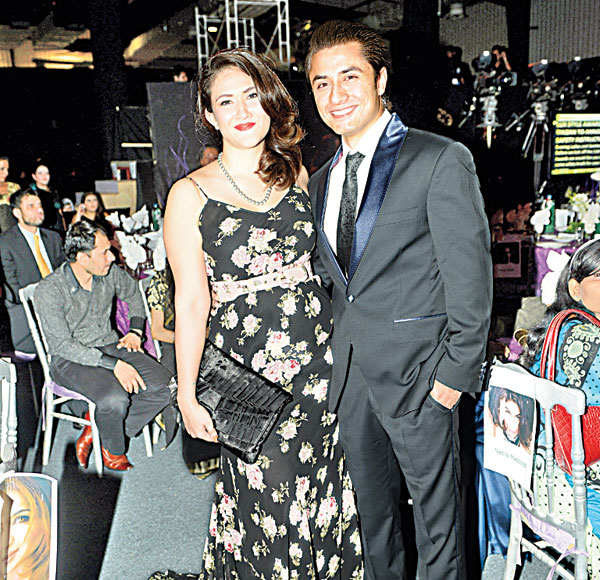 caption

Umair Tabani was declared Best Dressed man for carrying  off the Sicilian mafioso look to perfection in a super sharp Republic by Omar Farooq tux.

caption

It was a toss up between these two lovely ladies for best dressed. Sanam Chaudhri wore a gorgeous Grecian gown from her own label and pulled out all the stops with an updo and KFJ black onyx earrings. Stylist Raana Khan wore Sadaf Malaterre and owned the look with bronze skin, minimal make up and cleverly styled windblown hair. Sanam Chaudhri won with a dress and look was outstanding.



caption

Raana Khan looked amazing but right up there in the style stakes was another fashionista who wore another gold sequined Sadaf Malaterre dress, this one an off-shoulder short shift. Xpoze Monthly editor Andleeb Rana teamed it with dainty Roman gladiator style sandals keeping it smart yet comfy and perfect for the summer heat. Few people go short in the land of the pure, it seems bare arms, shoulders and backs are preferable to bare legs. Since Andleeb's husband is not into the whole fashion scene and events she brought along her brother-in-law Zeeshan Zafar as a date. She also kept her make-up pared down like Raana Khan. Fashion tip for you ladies out there, when the dress is all bling keep the rest of it earthy, especially the lips.

caption

Maheen Karim always looks gorgeous and while it was LSA 2012 winner Kamiar Rokni whose clothes were worn by many fashion forward guests from Lahore, it was Maheen Karim's gowns that were worn by the discerning dressers of Karachi. Aamina Sheikh rocked in her gold dress as did Frieha Altaf. Maheen herself favoured an easy breezy bare-shouldered sheath the shade of midnight with twilight colours running through it. Not as severe as black, summery and interesting, she was perfectly put together and her designs rocked the LSA 2012 red (or should we say green?) carpet.  



caption

Frieha Altaf looked as glam as ever in a Maheen Karim which was perfectly put together. Metal is definitely in. 

caption

Dressed for 'Bichra Yaar': Zoe Viccaji went for Adnan Pardesy's mulmul collection last year. Adnan Malik wore Deepak Perwani.

caption

Fashion forward: Ali Zafar wore Republic by Omar Farooq just as he did to K-Jo's party. His wife, Ayesha Fazli went for a printed Kamiar Rokni Summer 2012 dress that she jazzed up with a belt.

caption

Nominees Maram Aabroo wore Kamiar Rokni. Love the sharpness of the silhouette and the nonchalance of contrasting prints. Everyone doesn't have to do OTT glam.


caption

Amna Ilyas was a vision in a white Zaheer Abbas strapless gown. It will be an interesting year for her with the release of Sabiha Sumar's Rafina - a rags to riches story of a girl who makes it in the fashion world. Here's hoping the film gets a Pakistan release.  

caption

Model Areeba was striking in a litle black dress made by a new designer called Sabeen Ali. Simple up front it was all about the back. Chunky earrings and pulled back hair completed her fresh look.

caption

Maria Wasti glammed it up with a striking Grecian Zainab Sajid from the designer's well recieved Hala  collection from last year. Apart from metal, off shoulder was a major trend on the LSA red carpet.

caption

Gothic can be glam: Rabia Butt can look good in anything. Last year's LSA Best Model winner wore a racy Fahad Hussayn black, layered and sheer ensemble and smouldered with those smoky eyes and purple lips.

capiton

Nabila always keeps it classy and rarely wears Pakistani designers. She rocked a Stella McCartney dress with her signature look - well groomed and minimal.