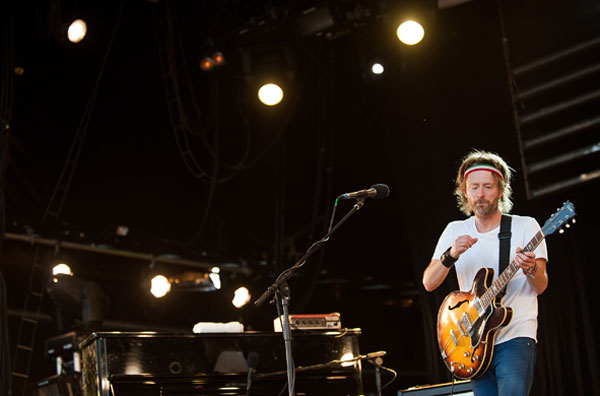 Radiohead front man Thom Yorke is nothing if not outspoken. While headling a set at the BBK festival in Bilbao this weekend, Thom urged fans to take to the streets in protest of Spanish banks. The comments were all the more controversial since the festival was sponsored by savings bank Bilbao Bizkaia Kutxa (BBK).
In between playing songs, Yorke said, "We know in Spain you're having a lot of trouble. Cuts cuts, no money no money. Well we think you should be taking to the streets. Someone stole that money off you. The banks."
Meanwhile in London, Radiohead's Tom Morello also made similar statements while performing at Hard Rock Calling.

Speaking in solidarity with the Occupy movement, Tom said: "Currently on stages across the country right now, the Occupy movement is hanging up the 'Bang Up The Bankers' sign. So in solidarity across this great nation with Woody's legacy and with the global struggles of the 99% against the malfeasance of the corporate sector that has torpedoed the global economy and caused so much misery for millions of families, I'd like to say Happy Birthday to Woody Guthrie that your struggle is alive in song on this stage today."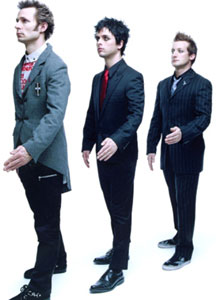 On the other hand, Radiohead's going full steam ahead with records and tours. The world's most popular 'arty' band is currently recording some material at Jack White's Third Man Records. Jack White revealed as much while speaking to BBC 6 Music earlier this week. It started last month when, during the Bonnaroo Music And Arts Festival in Tennessee,  Thom Yorke revealed that he and White had some exciting plans in the pipeline. Jack White confirmed it and said, "I don't know how much to tell about it except I didn't play with them or produce. But they came in and recorded at Third Man. I don't know what else to be said about that, so that's all I can probably say."

"People want to hear records that have a story."

– Billie Armstrong of Green Day spills the beans on the new album trilogy
American grunge-punk musical outfit, Green Day are convinced that people listen to records "that have a story". The band is back in the spotlight with the album trilogy, Uno!, Dos!, Tres!. While debuting their song 'Oh Love', the first song off their new album, Unos!, the first of their three albums, maintain that they look to write records that "speak to each other within an album".

Asked about this, the singer Billie Armstrong said: "I'm not going to conform to some consumer need. I believe people want to hear this kind of music, that people want to hear records that have a story. Or maybe they don't. I have no idea."

He continued: "I want to write killer songs, but I want them threaded together and to speak to each other within an album, which in this case is basically inside three albums."

He added: "Putting out even a double-record, let alone a triple-record, it didn't seem like it would work for us in this day and age. We wanted all of it to come out because we were proud of it, and then I was thinking in terms of volumes - one, two and three. I was in my kitchen and thought, 'What if we called them 'Uno,' 'Dos, 'Tré,' just as a joke?'"

He continued: "And I told my wife about it and she said, 'Actually that's kind of a brilliant idea.' Then I brought it to the guys and asked them what they thought. They let it sink in and said yeah. Put my photo on the first one, Mike on the second one and Tré on the third."

The album trilogy will serve as a follow-up to Green Day's 2009 album, 21st Century Breakdown which featured hits such as 'Boulevard of Broken Dreams'.

According to Green Day, the album trilogy will be released in three stages with the first album, Unos! coming out on September 24. To coincide with the album release, Green Day will also release two documentaries.