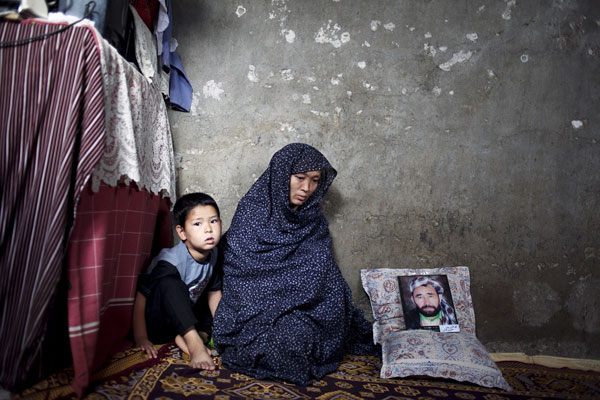 "Photography has been an extremely emotional experience for me. I believe everything has to come from the heart. My teacher says if I were ever told to take pictures of London it'd be disastrous. London is great but I just don't connect with it in the same way I do with Pakistan and Afghanistan."

This sentimental photography student from Middlesex University, UK, has just recently won Sony's high-profile international student photography award, 'Student Focus' after competing with entrants from over six continents and over 200 institutions.

Although he wasn't born in the Pakistan, Quetta his hometown and the Hazara, his people are clearly very important to Asef Ali Mohammad. His entire conversation and all his work seem to revolve around them. But why shouldn't it? When you belong to a community that is being ethnically and religiously persecuted and has been thrust to the bottom of the social hierarchy for no apparent reason, it's only fair that one tries to highlight their reality, their suffering and their effort to make a life for themselves despite all odds.

It's not every day you meet a 27 year-old Hazaragi speaking London-based photographer whose work has been published in US Newsweek and in Foto8. One feels that empathy for his people is Asef's driving force but he disagrees.

"The reason I've picked people from Pakistan and Afghanistan as my subjects is because I feel they have a distinctive story to tell. I want to show the world that my countries are not only home to acid-victims and people like Bibi Aisha whose nose and ears were cut off."

"Having said that, I have to confess that a part of me wanted to give voice to this defenseless minority (which I am a part of) that is outrageously going unnoticed by both the Asian and international media."



Born in Ghazni, a city in central east Afghanistan, Asef hails from Jaghori. With a Pakistani mother and an Afghan father, up till now he has unsurprisingly and inevitably lived the life of a migrant, which Professor Alessandro Monsutti an expert on migration studies duly notes is the traditional way of life for the Hazara people.

"I moved to Pakistan when I was two. I went to school there, studied there and learnt Urdu. Your place of birth tends to become increasingly less significant in your life history if you've been living somewhere else for so long, but that just has not happened with Pakistan."

Asef has now been living in England for more than 10 years.

His story is a familiar one. He came to the UK with a friend when student visas were plentiful and were being granted generously. Then, he enrolled on a business administration course in an affordable college working part-time in a pizza store as a delivery boy to support himself. And finally, helped his siblings join him too.
But a change of heart changed his fortune.

A rugged piece of paper, with details of Sony's competition, which he tore from the British Journal of Photography and kept in his diary for over a year because he was unsure if he even stood a chance, eventually won him 35,000 pounds worth of digital imaging equipment for his university and an 8000 pounds worth free Masters too.

But what gave this uncertain student the confidence boost he desperately needed was a project titled 'America'. "We had to interpret what the word meant to us and for me it just brought back memories of Afghanistan. I packed my bags and set out to see what America was doing there. Most people think that would mean something related to the war but that is not the only thing happening there. Life is still going on. In some places, the standard of life has improved and other areas have even prospered. But the majority is still of those that have been scarred with the death of loved ones."

Whilst in Afghanistan, Asef took 14 portraits for which he got distinction marks but then submitted them to Foto 8, a web-journal and biannual print magazine too. Fortuitously, they liked what they saw and agreed to display it on their website. Subsequently, US Newsweek contacted him and published his pictures on two double page spreads.

"This ratified my belief in myself and I felt assured that this is exactly what I want to do. Prior to this, I was unsure if I should even attempt to make a living out of this."

This momentum of success carried on and with a stroke of more luck and slight impudence, he was selected as one of the ten shortlisted candidates for Sony's Student Focus Award.

The project he submitted this time was captured in Quetta, where his family now lives. He took pictures of Hazara people, the impoverished, the educated; the headscarf clad women and the ones who remain resolute in spite of the despondency.

His signature image of Mrs Buksh, a lady who lost her husband who operated a vendor cart (thela, as they say in Pakistan) in a bomb blast, was also from this catalogue. "People keep asking me which camera and kit I was using but to be honest I just did what I do. It's her trust that made this image because she let me in when she was still in pieces and struggling to cope with the trauma and loss of her husband's death. She thought I was somebody from next door because I speak her language and look like one of them."

All the shortlisted candidates were then given a Sony SLT-A65 camera and told to submit a second set of images with the brief, 'Your world in colour'.

Asef went to Kabul University this time and requested to be introduced to upcoming artists. "Again, it was all about interpretation. I tried to get some vibrant and motley images in markets but it was as if I was taking pictures for a travel guide. I'm thankful to God that the judges were able to appreciate my work even though most of them were neutral and achromatic."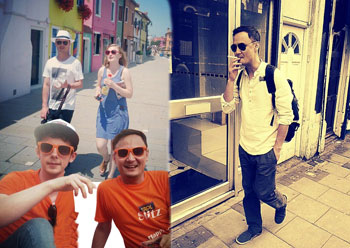 "Given the thematic emphasis for the competition, 'color', I was surprised at how I was drawn to Asef's subtle use of color in each image in the series," said judge of the evening, Virginia Morrison, Executive Director of the Society for Photographic Education. "The use of the direct gaze of the subjects in the portraits was terrifically enhanced by each subject being placed within an environment that employed color as a structural framework in which to present and emphasize that direct gaze of each of the sitters."

His skillful representation shows he's not only a talented photographer but also a thought-provoking one too as he told me, "I asked the artists what color meant to them because I'm just a photographer. For example one of the graffiti artist Shamsia told me that she only paints in various hues of blue, black and white as she's inspired by the Afghan burqa and that was my light bulb moment.

After a long wait, he was selected as the first prize winner at London's Park Lane Hilton Hotel awarded by Yoshiyuki Nogami, Vice President of Digital Imaging at Sony Europe followed by his work being exhibited as part of World Photo, at Somerset House.

His university tutor David Simmonds who is the programme leader on the BA photography course is fighting with the finance department to approve Asef's scholarship to study for his Masters for free." That's worth almost 8000 pounds which is a lot of money."

 Asef's long term plans are to diversify into documentary and migrate once again to Karachi or Kabul. "I was always wanted to write but I realized quite late in life that I'm severely dyslexic. So I guess this is my way of capturing stories visually and doing journalism."



He thoughtfully ruminates that he's a photographer today only because he's living in London but probably wouldn't have made the choice if he were living back home. "The reason why the arts flourish in the West is because when you go home at the end of the day there is something to eat in the fridge and a roof over your head. Pakistanis tend to go for more academic professions in comparison to creative professions simply because the former offer more security in comparison to the latter."

When I ask him about his next project he tells me it's Mongolia because someone has told him that supposedly it's the place where Hazaras are originally from. "I know, I know this is personal again but for the next five years it will be, maybe after that I'll start taking pictures of something else like… London's coffee shops!" he says answering my probing looks and laughing away.

The writer works for The News  in London and can be reached at anaam.raza@gmail.com

caption

Life goes on: Hazara kids at a school in Quetta get dressed in blue uniforms and go sit on the ground for their lessons. Their individual portraits are hauntingly beautiful.

caption

Remains of a horrific day: The wife and child of Mohammad Buksh who was killed along with three other Hazara men while purchasing vegetables for his vendor's cart in Quetta

caption

Looking in from the outside: While enjoying London life and the freedon and opportunities it provides, Asef Ali Mohammad uses his photography projects as a way to explore his homeland.