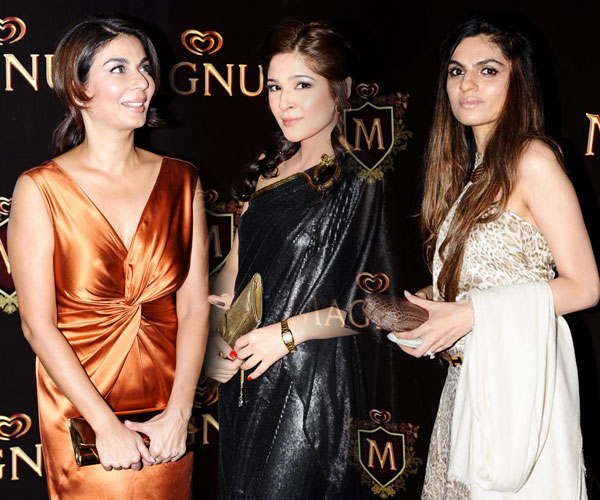 In the absence of incessant fashion weeks, the country's glittearti may never fear. There are always opulent ice-cream launches (also yoghurt and furniture shop launches) for which they can shake out their glad rags. The recent launch of Wall's Magnum ice-cream (an 85 rupee choc bar that boats of Belgian chocolate) was a lavish affair but just as glitzy as the Rolls Royce's parked outside the venue and the royalty inspired décor was the star-studded red carpet. The who's who of the city - those who hadn't already left on summer sojourns, that is - came in all their shiny, blow-dried designer-gown glory. Instep on Sunday looks at some of the red carpet looks that really worked and the few that completely didn't …

caption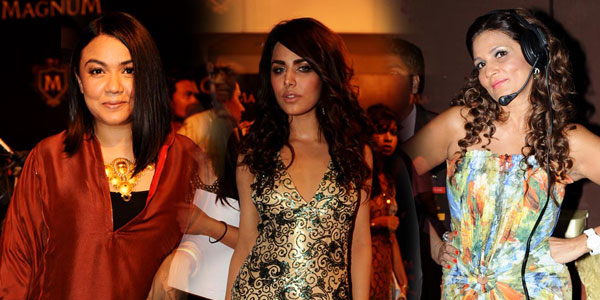 Fareshteh Aslam went Oriental for the red carpet and stood out in this gorgeous ivory kimono-style silk shirt designed by Shehla Chatoor. The border forming the vintage 'gara' neckline, waist and sleeves used to belong to Fareshteh's grandmother while gold and black earrings and necklace from Kiran Fine Jewellery's 2012 'Barzakh' collection added the finishing touches. A unique look amidst the usual masses of shimmery gowns - we like! 

caption

Designer-wear gets improvised and who else could carry it better than the very trendy editor of Xpoze, Andleeb Rana Farhan? Designer Sania Maskatiya created this outfit with one of her recent black and white ikat prints forming the back of the shirt. The front is a Tapu Javeri's 'Tapulicious' scarf reinvented, complete with tiny camels trotting down the beach and a concentric 'chakra' in the center. What a head-turning, technicolor look for the red carpet.

caption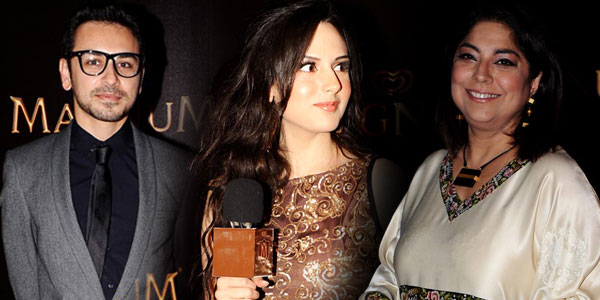 Another Sania Maskatiya creation; Madiha Sultan of Lal's painted the red carpet black in her floor-length gown with beautiful gold screen-printing at the bottom. 22-carat gold winged earrings by Kiran Fine Jewellery completed the look. Madiha, the loveliest chocolatier was the person most relevant to the event. Lal's chocolate purchase their blends from various Belgian chocolate manufacturers; the exact peg Wall's has used for their premium ice cream.

caption

Mohsin Ali shakes out a black and white polka dotted bow-tie from what we're sure is a huge, huge collection (considering the many other times we've seen him wearing bow-ties at events). With his hair tied up into a bun and quirky round spectacles, we like this zany avatar pulled off by this just as zany young designer.

caption

You can never go wrong with a sherwani. Nomi Ansari, who "isn't too fond of suits", stood out from the milieu in this classic black button-down sherwani. The only accessory was an 'N', safety-pinned at the front. 

caption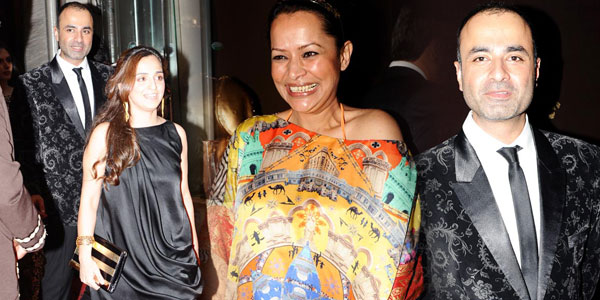 When in doubt, opt for a jumpsuit - which is precisely what Shehla Chatoor did. Jumpsuits are ideal as summer evening wear and Shehla's silk suit, characterized by her logo at the halter, epitomized elegance.

caption

Shehla Chatoor certainly ruled the roost on the red carpet, with her flair for sophisticated gowns and dresses. Here, Ayesha Omer wears this off-one-shoulder, sequined black cocktail dress accessorized by Shehla's quintessential golden spangles and a clutch with Shehla's logo on it.

caption

One of Pakistan's most discerning stylists has just as strong a penchant for stylish clothing. Nabila, one of Magnum's brand council members, looked resplendent in satiny gold and copper in this knee-high bias cut dress by French designer Alexandre Vauthier. She didn't wear any prominent accessories - why bother when you're wearing something this breathtaking?

caption

Nobody can look as stylish as a … stylist! Raana Khan makes a classic black and white statement in this  striped Monsoon dress accessorized by an ethnic Morroccan necklace and crazy neon yellow nails
caption
Frieha Altaf was a bright splash of colors in her Gaultier dress from the Spring/Summer 2012 collection. There's no better look for a summer evening than a dress in vivid colors and no one carries it better than our grand dame of all events high-profile.

caption

Yet another brand council member, Kiran Aman characterized her simple Sonya Batla silk tunic with a statement gold-plated necklace embedded with multi-colored sapphires from her 'Sceptres of beauty' collection. With basic bangles in 22 carat beaten gold complementing the necklace, this is a red carpet look that works well without being over the top.

caption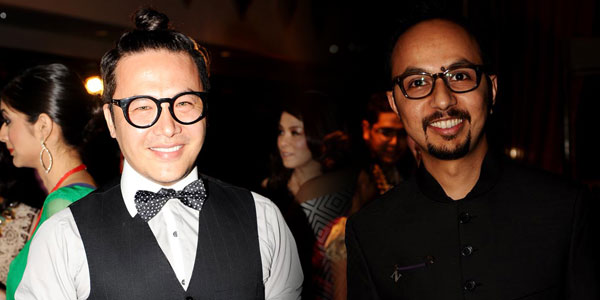 Speaking of over the top, model and Magnum's brand ambassador Ayyan turned up in a veritable shaadi ka jora disguised as a deep necked, low backed gown. This blingy green and cream concoction was designed by Deepak Perwani keeping in the mind the royalty theme and the vanilla flavor of a Magnum bar but this was one dress that just didn't work - even on someone as beautiful as Ayyan.

caption

Rivaling Ayyan was the other brand ambassador, Ayesha Linnea, in yet another Deepak Perwani number, this time a Magnum-inspired brown and gold. Too much shine and shimmer for the red carpet - we miss Deepak's glorious Amrita Shergill inspirations of yore!

caption

In contrast, Deepak himself looked suave and very much the Magnum brand council member, tuxedoed in luxuriant velvety black. He may have shown an inclination for feminine apparel of late, but Deepak can still the wave the magic wand when it comes to avant-garde men's clothing.