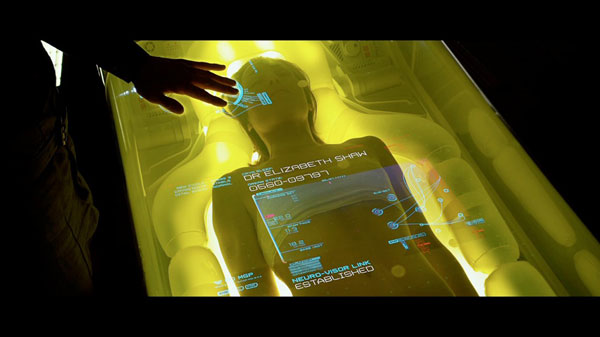 From Greek mythology, Prometheus is known as one of the descendents of the Twelve Titans; Lapetus, if you were wondering. Prometheus was credited in ancient texts with stealing fire from the gods and gifting it to mankind. This angered Zeus greatly and Prometheus was bound to a rock where an eagle would eat his liver, only for it to grow back and the cycle to start again.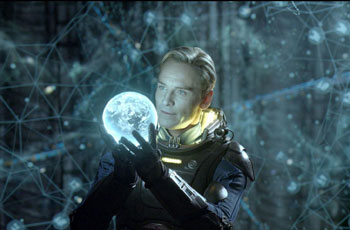 In modern culture Prometheus' is the symbol of scientific knowledge and that is where the film gets its name.
Ridley Scott's science fiction thriller Prometheus also highlights this unquenchable quest for knowledge. A prequel to 1979's film Alien, Prometheus journeys forward. The franchise is a proverbial fork in the road, where the Alien films ventured down one path, Prometheus will venture on a different one. But we won't get into that since Prometheus' origins and story arc focus on very different ideas.

Prometheus takes place between the years 2089 and 2093 which begins with two archeologists who discover cave drawings consisting of star maps. The constellation is said to be so far that the cavemen could not have the means possible to view it from Earth. The Weyland Corporation decides to send a crew consisting of the archeologists and others to explore the theory that the ancient drawings were an invitation from the humanoid beings, who are said to be the forerunners of humanity and given the title of Engineers.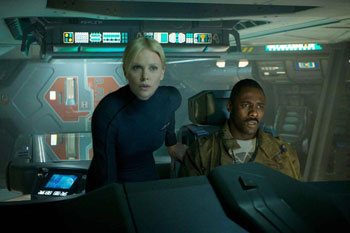 Charlize Theron plays Meredith Vickers, an executive from the Weyland Corporation in the befitting role of a power hungry corporate employee who won't let anything get by her. The android David, played effortlessly by Michael Fassbender, is Prometheus' caretaker and is in charge of the crew as they are in a state of stasis for two years while the Prometheus flies them to their destination. Noomi Rapace as Elizabeth Shaw and Logan Marshall-Green as Charlie Holloway play the archeologists who are put in charge of the crew as they try to make contact with the Engineers. In an almost unrecognizable avatar, Guy Pearce plays Peter Weyland, the elderly CEO of the Weyland Corporation. Ridley Scott's direction is nothing less than flawless as he moves from the interior of the Prometheus to the catacombs of the alien planet and the far reaches of space without losing the thrilling edge.

It must be noted that aside from a great cast and talented director, Prometheus is a technically beautiful film with a streamlined and poetic opening sequence which sets the tone for the rest of the film. The humanoid beings, the star map, the elaborate architecture of the spaceships and flight decks; everything encompasses the nature and the needs of the beings using it. The hyperbaric chambers and the interior of the Prometheus are reminiscent of Alien.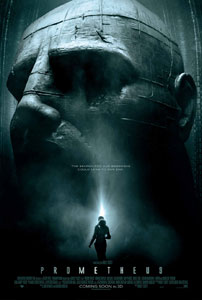 Prometheus brings to its premise a quest for something greater than what was explored in the Alien franchise. A path towards understanding the infinite depth of curiosity which lies within the human psyche. Answers that may have no questions and questions that may never get answered. One of my favourite quotes is: 'Science fiction often leads to science fact'. If Prometheus is science fiction, then science fact is located in CERN which is home to the Large Hadron Collider, a particle accelerator whose scientists have disclosed that is months away from discovering the Higgs Boson particle. The Higgs Boson's elusive nature can be called mythical; possibly as mythical as Prometheus himself. The discovery of this particle, it is believed, will mimic the instance of creation answering many of the questions posed in the film. The Higgs will also prove the String Theory, the discovery of dark matter, the existence of other dimensions and possibly the discovery of elements that CERN wasn't even in the search of.

What would you ask your maker? What would you want to know about the existence of man? Origins? Purpose? We all are in the search for answers but will the answers enlighten, infuriate or lead to more questions. It all depends on whom it is that you are asking. David quotes Lawrence of Arabia as the Prometheus lands on the planet: "There is nothing in the desert and no man needs nothing."

— Kiran Haroon

*CINEMATIC SUICIDE
**FORGETTABLE
***WATCHABLE
****COLLECTIBLE
*****AWARD-WORTHY