issue
Duty with dignity
Doctors' strike lingers on as medical
professionals are determined to save themselves first
By Fatima Rahman
The doctors' duty is to serve, save lives and put the needs of the patients above themselves. How then can they ignore their duty and breach their oath by denying a bleeding patient treatment? A one-day strike alone causes thousands of patients to suffer, they are forced to go back home holding on to their stomachs and burning fever, the burden of which comes heavily on the poor class.

MOOD STREET
On reading books
By Qudsia Sajjad
All through school and college I always drew up summer reading lists. They were pretty strange lists which not only show the setbacks that I faced as a reader but also the absolute lack of reading material. Why the absolute lack because school libraries quickly became boring (I devoured every book), also you had to return all books before school closed for summer vacation. I somehow got past this rule ; I managed to get myself a copy of the very tome of King Solomon's Mines and devoured it day after day. My delight when the adventurers reached Kukuanaland was unmatched. Another reason I missed out on reading was because one never found decent bookstores to go to: I outgrew Naunehal and Taleem-o-Tarbiat, and simply didn't know what to read, so I jumped a couple of classics like the Mayor of Casterbridge, and Jane Eyre. Also got my hands on Kafka. Not exactly a nice summer reading list for a fourteen year old. Strangely enough, I never got around to reading Ibne Safi or Imran Series.

TOWN TALK
* Exhibition:
Mera Nam Hai Muhabbat at the Art Gallery of Alhamra Arts Council, The Mall. The exhibition will remain open till June 29 daily from 5 pm to 8 pm.
* Ballet Basic Course from June 25-July 30 at The Knowledge Factory (TKF).
* Comedy Junction: at The Knowledge Factory (TKF) every Sunday at 7:30 pm till July 29.

art
I am love
An exhibition that has come out of artists' residency is all about self exploration
By Aiman Adnan
In a society where love appears to be a crime with so many people going to court over it and far more forced to hold on to the tradition, the exhibition titled 'Mera naam hai mohabbat' comes as a refreshing breeze. It was more about self-exploration, demand for acceptance of individuals as they are and celebrating individuality.

Summer's favourite treat
There are many outlets of
falooda in the city but all cannot claim quality
By Injila Baqir Zeeshan
In the sweltering heat of June, those last few brutally sizzling afternoons, before the summer vacations kicked in, I remember being picked up from my school by my mother. I would look at her imploringly, hoping for her to be in the mood for my favourite sweet treat, back in the eighties the falooda from Purani Anarkali. And when she did succumb to my wish seeing my puppy dog look, it brought me pure joy that made my eyes sparkle at the thought of glassy white strands dipped in a sweet creamy mix of thickened milk and crushed ice, complete with the perfect kulfi.




issue
Duty with dignity
Doctors' strike lingers on as medical
professionals are determined to save themselves first
By Fatima Rahman

The doctors' duty is to serve, save lives and put the needs of the patients above themselves. How then can they ignore their duty and breach their oath by denying a bleeding patient treatment? A one-day strike alone causes thousands of patients to suffer, they are forced to go back home holding on to their stomachs and burning fever, the burden of which comes heavily on the poor class.

Contrary to popular belief, Dr Izhar Ahmed Chaudhry, general secretary of Pakistan Medical Association highlights that the doctors strike is not a treachery against the people but rather the last avenue of frustrated doctors that have been denied the respect and economic standing that they have so rightfully earned after 18 long years of education. "Doctors have to complete a five year MBBS and then complete a one year mandatory house job which gives them the license to become doctors."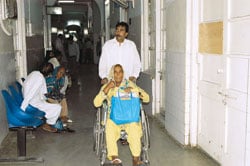 Dr Chaudhry says that doctors today really are the cream of the cream as out of 38000 applicants in the Punjab alone only 3000 MBBS and BBS students were enrolled in government medical colleges, and that the last merit position was at an astounding 82.6 percent. "These doctors have filtered and passed through a rigorous system that qualifies them to become doctors. To then disregard their level of qualification and knowledge, and to put them at the same pay scale as government officials that have lesser qualification and lesser work hours is absurd and unacceptable to them."
A doctor gets Rs 18,000 monthly pay during house job while salaries of drivers employed in the judiciary alone may go up to that level, says PMA secretary.
The young doctors who are at the disposal of the patients 24/7 and in general have 80 working hours a week, which comes to 15 hours a day, demand a pay that is acceptable and enough for them to feed their families. "Doctors have been swallowing the bitter pill of low pays but the increasing lack of respect on the part of the government has made the situation more unacceptable," says Dr Chaudhry.
Dr Nasir Bokhari, the spokesperson for YDA Punjab recalls the YDA was created on the April 4 in 2008. It has gone on eleven strikes in the last four years. One of their demands has been of job security. Dr Bokhari explains that many doctors even after 30 years of service have no idea what the process of their promotions is. He says that the promotion of doctors takes place on a pick and choose basis and there is a dire need for a fair and transparent system. "The promotion of juniors before seniors has agitated senior doctors that have then encouraged the younger doctors to protest."
The Punjab Health Secretary, Arif Nadeem, however, claims the government has been addressing the needs of doctors who do have a proper four tier service structure with its ratios for doctors of every grade. "Over the past few years the government has inducted 400 new doctors, teachers and specialists in the primary and secondary care levels and has also regularised all doctors that were on contract," he says.
Again Dr Bokhari of YDA points out that the regularisation of doctors only took place in March 2009 after a strike of the doctors against the government policy that doctor be employed on a contractual basis allowing for MS to dismiss and terminate doctors without inquiry. "It was also after the doctors' 4-5 day strike in 2009 that 20 per cent of the doctors that were working without pay in the Punjab were catered to, and still 500 doctors are working without pay in the Punjab."
The health secretary claims the government is trying its level best to increase the number of promotions and has given more promotions in the last six months than ever before. He points out that Pakistan has heavily subsidised its medical education, and spends 4 to 5 billion on medical colleges alone, while everywhere else in the world medical students are burdened with heavy tuition fees. "Given that the country's growth rate is 2 to 3 per cent and that the government spends about 700 billion rupees mainly on the salaries of government officials and running costs, it is nearly impossible for the government to further increase salaries, especially those of house doctors that have had their pay increased to Rs18,000 and that of post graduate registrars (PGRs) to Rs42,500, which is 30 to 40 per cent more than what an equally capable engineer gets in the country. The government has spent a total of 5.5 billion in raising the salaries of the doctors alone," he says.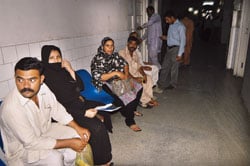 Dr Bokhari points out that the pay increase has only applied to the 6500 house officers and PGRs and not for the remaining 17,000 medical officers and doctors that have a pay ranging from 10 to 15,000.
A senior YDA member says the government is quick to change its calculations and that its recent bid to build hospitals in areas like Bahawalpur shows that there is no shortage of funds, but it is only a matter of priority.
The Health Secretary Arif Nadeem says that the government, at present, is more inclined to developing new infrastructure and hospitals so that the investment may both boost the economy and provide better healthcare.
Secretary Nadeem urged that the doctors should resort to avenues other than strikes. He proposes that the media and judiciary are avenues that could help resolve the doctors' problems. He urges that doctors should look at their problems in a broader context and not isolate themselves from the civil society.
Ironically, the YDA spokesman and PMA general secretary thinks the doctors are only heard and their problems addressed when they go on strike. He says that the government concedes to the doctor's demand one at a time after each strike, and fails to address the problems without them striking. "The doctors say they are more than willing to not go on strike if other members of civil society will help move the government to address their genuine concerns."
MOOD STREET
On reading books
By Qudsia Sajjad
All through school and college I always drew up summer reading lists. They were pretty strange lists which not only show the setbacks that I faced as a reader but also the absolute lack of reading material. Why the absolute lack because school libraries quickly became boring (I devoured every book), also you had to return all books before school closed for summer vacation. I somehow got past this rule ; I managed to get myself a copy of the very tome of King Solomon's Mines and devoured it day after day. My delight when the adventurers reached Kukuanaland was unmatched. Another reason I missed out on reading was because one never found decent bookstores to go to: I outgrew Naunehal and Taleem-o-Tarbiat, and simply didn't know what to read, so I jumped a couple of classics like the Mayor of Casterbridge, and Jane Eyre. Also got my hands on Kafka. Not exactly a nice summer reading list for a fourteen year old. Strangely enough, I never got around to reading Ibne Safi or Imran Series.
One book that I remember reading four times, is The Lost World. Arthur Conan Doyle's Professor Challenger was looking for an adventure in that book and that was what I liked the best. An adventure. I didn't care if it was Nemo or Journey to the Centre of the Earth, I was always intrigued by the summer world of pterodactyls and mysterious protagonists who may or may not be Indian.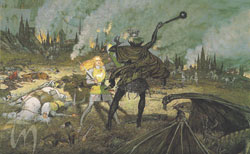 But all this time passed, with college I found new reading interests. Sweet valley high I couldn't read for more than two volumes. Then there were all those sappy high school romances. What saved pleasure reading was the discovery of Harry Potter. Now here was something I could read, well written and inventive with few typecaste characters. But by now I was a student of masters. So along with pleasure reading I had read the romantics and gothics. Still, the book I enjoyed the most was Lord of the Rings (I am planning to read The Hobbit now, can't imagine why I left it this long). Finished it in three nights. Somehow, I had no enthusiasm for Twilight. And even Fifty Shades of Grey despite its alluring tagline of middle-aged fantasies failed to keep me hooked. I guess what I am looking forward to is reading a Game of Thrones. Well written it is: captivating enough that one reads all books in the series, we will find out. Over the years my books of pleasure have also included Dalrymple, I am a fan of the City of Djinns, Meatless days, biography of Dorris Lessing and some half baked books on philosophy and economics.
There is more than book reading on my list of summer do's. The itinerary of summers also includes trying to collect recipes of drinks that are supposed to keep you cool throughout the month of fasting. And even now I assume that the average person is looking forward to all those sardais and jal zeera that suspicious looking vendors are selling on the roadsides. All those kanji ka sherbet! (made with fermenting black carrots and tastes bitter) and gond kateera sherbet are absolutely fascinating and despite a threatening sense of doom about the hygienic standards, I have to exercise ample self control to stay away. My plan is to drag as many people as possible to a tasting mission for all the cool desi drink vendors on the roadside. This way I will be assured of getting ill with company. And misery (of being ill) loves company. Even though it is too hot for most of the food Lahore streets have to offer except the Kashmiri dal chawal, I can't help but be hooked to this new place in Dharampura which sells bong paye. I never knew about this dish and one of my colleagues introduced me to it so I decided to try. Once there it was a surprisingly delicious experience. Inspite of June, I ate my heart out.
Signing off: looking forward to the next year of loadshedding: and the next: and the next (I could really go on with "the next" bit but I fear I will write myself into a black depression). From the average Pakistani who still hasn't applied for Canadian immigration.
* Exhibition: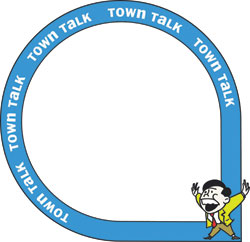 Mera Nam Hai Muhabbat at the Art Gallery of Alhamra Arts Council, The Mall. The exhibition will remain open till June 29 daily from 5 pm to 8 pm.
* Ballet Basic Course from June 25-July 30 at The Knowledge Factory (TKF).
* Comedy Junction: at The Knowledge Factory (TKF) every Sunday at 7:30 pm till July 29.
* Faiz Ghar Summer Cultural School till July 13 from 9:00 am to 1:00 pm.
* Urdu Baithak/Sing along sessions: "Story hour" for children 5 years and above every Sunday from 5.00 to 6.00 pm at Faiz Ghar.
* Book Launch: Pakistan mein riasati ashrafiya ka urooj on Tuesday, June 26 from 5:00 pm - 6:45 pm at Human Rights Commission of Pakistan, 107 Tipu Block, New Garden Town.
art
I am love
An exhibition that has come out of artists' residency is all about self exploration
By Aiman Adnan
In a society where love appears to be a crime with so many people going to court over it and far more forced to hold on to the tradition, the exhibition titled 'Mera naam hai mohabbat' comes as a refreshing breeze. It was more about self-exploration, demand for acceptance of individuals as they are and celebrating individuality.
Different creative media are used to explore the dynamics and politics of gender and sexuality at Alhamra Art Gallery. This exhibition revolves around finding beauty in alternative gender.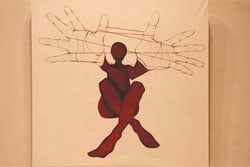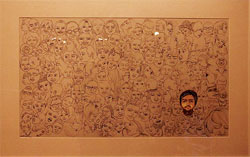 The works on display are the outcome of an artists' residency, in which seven artists participated. They were able to pull this show with the assistance of Dugdugi, Media-Bridge and Heinrich Boll Stiftung as partners. Five artists stayed together and got down to work after the theme of the art work was decided, while two others kept in close correspondence through the internet. Some prominent names whose works were displayed are Imran Nafees, Soofia Asad, Rizwan Waheed, Shazeb Ahmed, Iftikhar ul Hassan, Abdullah Jamil, and Muhammad Umer.
All the artists believe that the sole visible expression of sexuality appears through commercials in Pakistan and that sexual frustration leads to an abusive lifestyle. The artists have attempted to break the silence about sexuality through the medium of oil paintings, photography, and water paintings.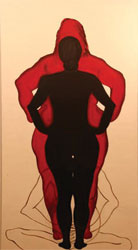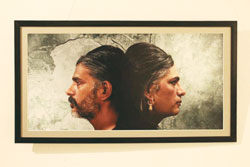 Some artists have taken a somewhat explicit approach towards displaying their thoughts on canvas while some have used symbolism, and the other have experimented with a bold, racy and mixed totems. Relationship dynamics, the trouble of finding one's self, the element of misogyny seen through a woman's spectacles, traces of love and lust, and the quest for beauty, self, nirvana, and the ascertaining of gender, are all available as the feelings and tribulations the artists have put on a background.
The artwork provides the ardent art lovers to jog their own perspectives, opinions and create their own world of interpretations. Many people are seen deep in thought while looking on to the display and seem to be making a sense out of everything on their own.
Most artists present at the opening, unanimously agree that they use their creative work for finding space and individuality. Muhammad Umer, an artist, informed that all his paintings were depicting his expression of freedom and desires.
Imran Nafees, working in the field of gender and sexuality explores through his photographs the fact of duality of a single gender, found in one and the dilemma of discrimination in harboring the hints of being different. "All that I have done is an attempt to put an end to the silence that engulfs the topics of sexual frustration and being different. The significance of my work lies in the fact that I have found myself to be different and seen the stereotypes that have been used all over, but I don't believe in labelling, I rebel against it through artistic expression," he says.
From paintings which show a man being his own Buddha and his own heaven, to the yearning of being noticed and respected as how one is, all artwork had a secret to be uncovered. It seemed like there existed a world of tales to be heard and understood. The guests seemed to have enjoyed the display on two floors. They tried to understand the undertones and subtexts in the work and were rather very receptive to what they saw.
One must catch this art display before it ends. The exhibition is on till June 29.
Summer's favourite treat
There are many outlets of
falooda in the city but all cannot claim quality
By Injila Baqir Zeeshan
In the sweltering heat of June, those last few brutally sizzling afternoons, before the summer vacations kicked in, I remember being picked up from my school by my mother. I would look at her imploringly, hoping for her to be in the mood for my favourite sweet treat, back in the eighties the falooda from Purani Anarkali. And when she did succumb to my wish seeing my puppy dog look, it brought me pure joy that made my eyes sparkle at the thought of glassy white strands dipped in a sweet creamy mix of thickened milk and crushed ice, complete with the perfect kulfi.
One of the most popular names in the business currently, is that of 'Yousaf Falooda'. Telling us about his work, Haider, the owner of two of the most popular shops, located across the road, in old Anarkali, says, "My forefathers migrated from Amritsar and settled down in old Lahore. About forty years ago, the foundation of a small falooda shop was laid here in Anarkali. Yousaf was my elder brother. Since that day, the business has only been growing." The shop in Qaddafi Stadium, also by the same name, is not as known as the one in old Anarkali. When Yousaf himself passed away, Haider purchased the shop in Anarkali for a little over sixty-five lakh rupees from Yousaf's children, who went and settled in Qaddafi Stadium.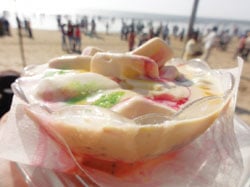 Initially, the ingredients were sent from the old shop to Qaddafi Stadium. Ironically, Yousaf's own children have been unable to maintain the quality for which their father was so popular all over the country. It would not be wrong to say that he held international fame. Haider has yet another brother, who has his own shop in Chuburji, also by the same name, but again a different recipe altogether.
Haider's son sits across the road in the shop marked Yousaf's Falooda, and revels in the glory of hundreds of customers, who look to no other shop in the area for their faloodas. They belong to all classes you can hardly find a parking spot among the colossal SUVs parked with engines running, where people sit in the comfort of their car ACs gobbling up the sweet treat. And you can barely manage to find a chair in the crowded street side, where men, women and children, come and sit, sweating profusely, to cool down with a bowl of falooda. You can order one with or without kulfi or even a bowl with double kulfi. It costs less than Rs100.
In Anarkali, the shop serves falooda and all the other popular dairy products such as rabri milk etc round the clock. When I asked how it was possible to freeze the kulfi with hardly any electricity these days, I was told that the moulds are filled each morning, slightly before the break of dawn and left under heaps of salted ice. All other ingredients are also made there in the shop. Almonds and cardamom are used in good quantity. One of the young boys who has been working at the shop for four years disclosed that the longer you leave the kulfi in the ice, the better the taste, as it keeps on improving with time perhaps a myth, but they sure do know their trade. The number of customer increases to five times more in summer compared to that in winter months.
Falooda is widely available in our city. The ever-popular Kasuri Falooda for which you need to take a trip out of the city, is nearer to the original more watery preparation, which a typical, fussy Lahori might not fancy. Salt n Pepper Village offers it, it's on the menu on the New Food Street and there are more shops in Allama Iqbal Town, among many other street vendors and tiny kiosks and stalls spread across town. But a true enthusiast would know exactly where to go for the specific kind of a falooda preference he or she has.
Back in the good old days, I remember my mother especially seeking out 'Riaz Falooda'. His recipe was prepared with such loving care that none could beat his smooth texture and perfectly blended amalgamation of all falooda factors. Today, I could not help but go to the desolate-looking shop that once was bustling with activity, with glorious pictures of celebrity customers, some even from across the border, splashed all over its glittery walls. Upon inquiring, I discovered that this family had also suffered from a split. The elder brother, who was attracting a large clientele, had now shifted to his shop in Allama Iqbal Town. The younger brother, though still struggling on, in Anarkali, is at the verge of extinction. Having tried the falooda in Allama Iqbal Town as well, I would say that the split resulted in both brothers losing their special touch.
Falooda is massively consumed in the summer months not just in Pakistan but in India, Bangladesh, Sri Lanka, Myanmar, and the Middle East. I have tried a few in popular restaurants in Dubai and all I can say is that there is hardly any other food item which such tremendous variation in preparation as well as preference of taste. And you have to be a die-hard falooda fan, only then can you justify the thousands of calories it comes loaded with.
It pains me to see how the quality of life around us is steadily degenerating with the passing of years. But one would expect improvement in food recipes and yet the city that was home to multiple delightful falooda shops, offers possibly just one falooda worth consuming.
Traditionally, falooda was more of a beverage than a full fledge dessert that it has become now. It has been popular since the era of the Mughals, who should be credited for bringing it to our part of the world. It was made in rose syrup with vermicelli, psyllium (ispaghol) or mountain-balm seeds (tukhm malanga) and jelly pieces adding milk or water. In South Asia, it is an adaptation of the non-liquid Persian dessert falooda. The vermicelli (lachhay) are made from starch (arrarot). The milk is extensively worked upon, thickening it to perfection. From that rabri is formed. And from the same mixture, kulfi is then frozen into little cone-like moulds. Can't even imagine, how this amazing evolution of the falooda could ever want anyone to return to the original beverage, when the kulfi is of course the star of the entire production. But then it depends on your taste, I suppose.