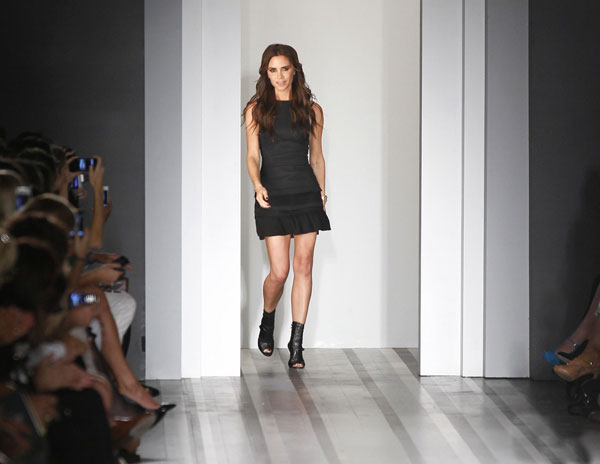 Harper Beckham has learned to catwalk. She's a bit bandy-legged, according to her mother Victoria, but she's very eager. "She loves to bomb down it. It's impressive. I had to Tweet her doing it the other day. She was storming".

Beckham was discussing her daughter's perambulatory development after the early presentation of her second line, Victoria, Victoria Beckham in the Meatpacking district this morning.

Harper was expected to arrive with Victoria's mother at a presentation later in the day - perhaps she doesn't get out of bed before 10am. Beckham however, had been up for hours seeing to last minute details - i.e. the music. "It's 80s hip hop, remixed. I kept thinking, who is this girl, the Victoria, Victoria Beckham girl? What does she listen to and what does she do?"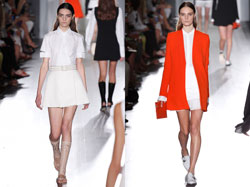 In the end she decided the VVB girl is in the art world and blogs a bit on the side. "She's very cool. I want to be her, and if I can't be her, I want to hang out with her".

In truth, Victoria, Victoria Beckham, which launched a year ago and repeatedly sells out, is another aspect of Beckham herself: the more youthful, kicked back version. "This isn't the usual second line," she says. "I never wanted to compromise on the quality. It's more a case that this line is focused on daywear, which means I can put more evening looks in the Victoria Beckham range. Because it's more day wear, prices are more accessible".

Let's be clear, accessibility in this context, is a relative concept. Prices start at around £465 for a thigh skimming khaki fit and flare cotton-canvas dress like the one Beckham herself was wearing, and go up to around £960 for more complicated silk pieces. But the quality is faultless. And for most of us, these "day" dresses - and it was all dresses - would easily segue into night time for cocktails and parties.

And while it's dispiriting to have to repeat myself, it was another hit for her, with a succession of dresses that, though youthful, were also more than one season wonders. Some were sleeveless block coloured shifts in lemon and taupe, others featured palm trees, or a beautiful elongated bird, all developed in-house. Others had contrasting bodices: long sleeved lace or translucent, pin-tucked gazaar bodices with silk skirts.
Personally I'm hoping they come up a bit longer than on the catwalk, because these dresses are too good to be the preserve of leggy gallerists.

Meanwhile, Beckham confirmed she is not planning a children's collection any time soon. "There are so many people doing it so well. I like to go where I think I can bring something extra." That included the Closing Ceremony of the Olympics, which, she said, she found "amazingly enjoyable."

Beckham has sometimes sought to distance herself slightly from her Spice Girl past, keen, perhaps to posit herself as a serious designer. But now she seems ready to embrace her back catalogue, in all its guises.
"I'm very proud to be British, so it was an honour". Come on then Victoria, how about taking the next logical step and showing in London?

Courtesy: Telegraph UK