A Tribute to
Mir Khalil-ur-Rahman

Mir Khalil-ur-Rahman:
Pioneer of journalism in Pakistan His life-long passion for factual news reporting
By Qutubuddin Aziz
In 1729, when a pioneer of American journalism, Benjamin Franklin, who in later years won fame as an outstanding politician, diplomat and statesman, took over the management of one of the early newspapers of the American colonial period, the Pennsylvania Gazette, his main objectives were to build it into a crusading publication for defending people's rights, blunting the arrogance of harsh administrators and tapping profitable advertising for its financial stability. Mir Khalil-ur-Rahman, one of the leading pioneers of Pakistani journalism, had almost similar objectives when he transplanted his young newspaper creation, the Daily Jang, from New Delhi in India to Karachi in Pakistan to greet the new Muslim State on its birth on August 14, 1947. Like Ben Franklin who succeeded in making his newspaper possibly the best in the British-ruled colonies in the New World of that vintage, Mir Khalil-ur-Rahman enjoyed, within a few years, extraordinary success in making his Jang the largest-circulating Urdu daily in West Pakistan and it later on burgeoned into Pakistan's biggest newspapers empire. When he died after a short illness in a London Hospital in January 1992, Mir Sahib was counted amongst the most successful newspaper tycoons in Asia. The base he built up for his newspapers -- the Urdu Daily Jang in Karachi, Lahore, Quetta and Rawalpindi, the English Daily The News in Karachi, Lahore and Islamabad, the eveninger Daily News in Karachi, the Urdu weekly Akhbar-e-Jahan and English weekly Mag in Karachi -- was so sound that they command good circulations and yield high profits. After his death, the credit for this continuing success goes to his two sons, Mir Javed Rahman and Mir Shakil-ur-Rahman, whom he personally trained during his lifetime to inherit and manage his newspapers.

My father Syed Abdul Hafiz, who founded the United Press of Pakistan News Service in Karachi late in 1949, and enjoyed the Jang's support as a subscriber, had met Mir Khalil-ur-Rahman Sahib a few times in New Delhi between 1945 and early 1947 during his visits there from Hyderabad Deccan with the Hyderabad State Delegation that went to negotiate the Muslim-ruled State's future with the British Indian Government. Himself a veteran journalist, Hafiz considered Mir Khalil-ur-Rahman a high calibre journalist, an excellent reporter and a dynamic newspaper publisher and editor.


Mir Saheb delivering speech at a function organised by a Pakistani students organisation at a Islamic Culture Centre, London on September 11, 1984

Mir Saheb with Mohammad Khan Jonejo and Ronald Reagon (ex-president USA) on the occasion of the former's visit to the United States of America.

British Prime Minister Edward Heith with Pakistani journalists.

During a visit to the United States of America with the President of Paramount Pictures in Hollywood.
Having witnessed Mir Khalil-ur-Rahman's many achievements and his stunning career in Pakistan's Fourth Estate since 1950, I wholeheartedly share my late father's assessment of Mir Sahib's journalistic talent and his business skills in newspaper management.
An endearing quality of Mir Khalil-ur-Rahman in his passionate pursuit of journalism was his remarkable talent for news reporting for his newspapers. He employed teams of reporters for each one of them but delighted in attending important press conferences, covering events of public interest and interviewing the personages who hit the newspaper headlines. He would 'vet' his newspaper reporters' reports and inject into the 'staff correspondent's report' some interesting tidbits from his own note book of press reportage. Newspaper owners and senior editors usually avoid engaging in press reporting or doing jobs which their staff correspondents do for the newspaper they work for. I once asked Mir Sahib in the 1950s the reason for his unceasing passion for news reporting and he told me that he loved the reporter's job while running his Daily Jang in New Delhi during the exciting Pakistan Movement years and the habit clung to him all his life. "I never missed covering the press conferences of Quaid-i-Azam Mohammad Ali Jinnah for the Jang in New Delhi and later on in Pakistan during his 13-month tenure as our first Governor General and I admired his noble bearing and the clarity of his replies to our questions", Mir Sahib recalled.
I vividly recall Mir Sahib's attendance in the press conferences of Liaquat Ali Khan, Pakistan's first prime minister, in the early 1950s in Karachi and the bold questions he put to the Quaid-i-Millat. Liaquat Ali Khan's replies were usually precise and couched in polite language without the heat of rhetoric. "The next morning's Jang would carry the staff correspondent's story of the prime minister's press conference largely based on Mir Sahib's newsy reportage but he always shunned giving the write-up his byline. He was intensely modest and never indulged in self-praise. But in safeguarding the interests of his newspaper, he was a fierce defender. If a powerful administrator took exception to a report in the Jang and pressed Mir Sahib to reveal the source, he always refused to do so, in line with journalistic ethics. In the early 1960s, the Audit Bureau of Circulation (ABC) for newspapers in the Federal Ministry of Information and Broadcasting cast a shadow of doubt on the veracity of the Karachi Jang's daily print order. Mir Sahib challenged it and for three days in a row he took the head of the ABC to the Jang's printing unit in the wee hours of the morning to check and counter-check the exact number of Jang's printed copies. A month later, the head of the ABC, Abdul Aziz Khan, told me in confidence that the Jang's print order claim was proved correct.
In 1954, during the prime ministership of Mohammad Ali of Bogra, the PIA launched its Karachi-London-Karachi air service and invited him, certain senior officials and some newspaper editors to be on the inaugural flight to London. Mir Sahib and I sat in the same row of the four-engined airliner. I saw him jotting down notes in his rather fat note book and got all the details about the aircraft from the cabin crew. He said that his reportage of the air journey to London for the Jang's readers would be incomplete without the graphic description of the big airliner and its inside.
In 1956, when Mir Sahib was a member of an II-man Pakistani Editors' delegation to the People's Republic of China, I very well remember the question he so boldly put to the then Chinese premier, Chou en Lai, on Sino-Pakistan relations and the Kashmir issue. All through the six-week tour, Mir Khalil-ur-Rahman offered his prayers regularly. He was very fascinated by Urumchi, capital of Muslim majority Sinkiang, and the day we spent with an Uighur tribe in their tented village. When we interviewed Sinkiang's Muslim Governor, Saifuddin Azizi, Mir Sahib put him many questions on Sinkiang as a close neighbour of Pakistan and the possibility of an air service between Urumchi and Rawalpindi. More than any of his tour colleagues, Mir Sahib's note book had by far the most copious coverage of our China tour and he ladled out its thrilling contents in a series of reports in the Jang, much to the delight of its readers in Pakistan.
During my nearly seven years' posting as Minister at the Pakistan Embassy in London (1978-86), Mir Sahib visited London many a time and we met frequently. I was pleased with the change for the better in the fortunes of the Jang's London Edition and its shifting to its new premises on Sanctuary Street in South East London. What has now blossomed into the imposing office of Jang and The News in London was in 1978 a bombed out site of World War II vintage. Mir Sahib took tremendous personal interest in developing the site into a modern newspaper office and plant, installing the latest printing machinery. He was ably supported in this enterprise by his son-in-law, based in London, and his sons who visited there from time to time. What Mir Sahib spent on building up an elegant home for Jang International in London was barely a quarter of what an oil-rich Arab newspaper Group lavished on giving its London progeny a home in Fleet Street. Even today the Jang in London commands more circulation than its Arabic peer in Fleet Street. Mir Sahib's expertise in cost-cutting and efficient newspaper management was manifest in the Jang's development in London as a bridge of contact between Britain's Pakistani community and its home country.
Mir Khalil-ur-Rahman was rarely overawed by the powers that be. Early in the 1960s, the then President Ayub Khan felt irritated by a question put to him by the Jang's Chief Editor in a meeting with the editors in Rawalpindi. Mir Sahib's question was in the public interest and I thought that the Field Marshal over-reacted to a question that did touch raw nerve in the Martial Law regime. During the Presidency of Zulfiqar Ali Bhutto, Mir Sahib and his newspaper took a bold stand on certain public issues and he was not rattled by the bullying from the Presidency. In 1983, when I was serving as Minister at the Pakistan Embassy in London and as a spokesman there for the Zia regime, I learnt about the row between Mir Sahib's Jang Group and President Zia-ul-Haq over certain news items and editorials. Not infrequently, military men holding the reins of power are highly sensitive to press criticism and tend to consider a mild attack on their actions in a newspaper editorial as a fusillade aimed at their power base. However, General Zia, bowing to advice from his capable Information Secretary, Lt General Mujibur Rehman Khan, then a strong serving General in the Army, intervened and arranged an honourable patch-up. After this the government restored its advertisements for the Jang. I was very pleased when I got the news of patch-up between General Zia and Mir Sahib.
In 1986, Mir Khalil-ur-Rahman was in the media group which accompanied the then Prime Minister Mohammad Khan Junejo during his official visit to the USA on the invitation of President Ronald Reagan. I was then Chairman of the semi-Government National Press Trust (NPT) in Islamabad, running nine dailies, five weeklies and a monthly. After a visit to the White House, I noticed that Mir Sahib made a beeline for his room in the Hilton Hotel near Dupont Circle in Washington D.C. I presumed that he was overawed by sleep; most of us did feel tired after a very busy day. The next morning he told me that he devoted most of the night while writing a copious despatch for his publications. "My readers come first and they must get the news quickly", he said to me at breakfast. In New York, Mir Sahib and I snatched an hour to visit on Time Square, Broadway, what then was possibly the most fabulous newly-built hotel in the USA, the Marriott Marquis with the state-of-the-art facilities in hotel comfort and elegance. While we were sipping coffee espresso in the Hotel's coffee shop, a dignified-looking Latin American came to Mir Sahib and asked him in Spanish whether he hailed from Argentina. With a disarming smile, Mir Sahib said 'no' in a friendly way and a chat ensued to which I also contributed. It turned out that the stranger was a former Ambassador of Peru in South America and years ago he had met an Argentinean envoy at the UN in New York and Mir Sahib resembled him so much. Mir Sahib told him all about Pakistan in the English language.
In 1987, Prime Minister Junejo went to London in response to an official invitation from the British Prime Minister Mrs Margaret Thatcher. Mir Khalil-ur-Rahman was in the media group that toured England and Scotland with the prime minister. In London, we had specially arranged the Pakistani newsmen's meeting with the Director of Britain's Press Council at No I, Salisbury Square off Fleet Street. Mir Sahib, who wanted a similar Press Council to be set up in Pakistan, made detailed inquiries about its composition and its working. He took back with him considerable material about it. He spotted in one of its annual reports my successful complaint of libel against a London-based anti-Zia Urdu Daily, the Millat, whose editor and publisher, Inam Aziz, had worked in the UPP's office in Karachi late in the 1950s and had later on joined the Jang. In London, after Pakistan came under General Zia's rule in July 1977, Inam Aziz quit the Jang and launched his Millat to agitate against the military regime. Mir Sahib also visited some newspaper offices in London where the revolutionary new print technology was in use. By seeing this Mir Sahib also started to use the latest available technology for his publications. One of the secrets of Mir Sahib's remarkable success in building up his chain of profit-yielding newspapers was his passion for modernisation and the adaptation of the new devices in the print industry, specially computerised typesetting and high-speed rotary printing machines. He ploughed back into his newspapers most of the profits he reaped from them, raised pay scales and bought new print machinery.
In selecting personnel for his newspapers, Mir Sahib always gave importance to merit and the applicant's aptitude for journalism. He encouraged talent and hard work among his employees and sought friendly relations with his print unions, honouring Wage Board Awards. He played an active and useful role in the publishers' and editors' organisations in Pakistan such as the APNS and the CPNE. He loved the newspaper craft and wanted the newspaper industry in Pakistan to progress and prosper. He cared for the newspaper hawkers who sold his newspapers and helped many whenever they sought his help. His Urdu newspapers, which yielded substantial profits, promoted the cause of Urdu all over Pakistan and became lively trend-setters in Urdu journalism. Mir Sahib's English language newspapers are also among the important pillars of the Fourth Estate in Pakistan, a befitting tribute to the enduring achievements of a great Pakistani journalist and newspaper publisher.
A humble tribute to great
Mir Saheb
By Arshad Imam
| | |
| --- | --- |
| It is always an honour for a common man to talk about great people. Therefore I always feel greatly honoured whenever asked to say something about Mir Sahib. But at the same time it puts me in a difficulty also, as it has never been easy to comment on a person of such a high stature and calibre. The only help I always get while saying something about Mir Sahib is that I find lot of memories about him. His personality makes it easy for me to recall those cherished memories. | A rare picture with the staff in the early days of Jang Karachi. |
I take it as a great grace of Allah Almighty that He provided me an opportunity to work directly with Mir Sahib. And that's where sometimes I really consider myself a lucky person.
I never feel shy of admitting the fact that for a man like me who had such a mediocre background and strikingly uncommon ideas and ideals, it was just impossible to get a job so closely related to a man like Mir Sahib. I have mentioned this time and again that I had no direct qualification nor experience in journalism. Therefore, it could have been very difficult for a person lesser than Mir Sahib to decide to take me as an editorial assistant and within only a few months entrust me with the responsibility of incharge editorial page of his esteemed daily Jang. What I wanted to say here is that only a dynamic person like Mir Sahib could take such risky decisions and prove them correct. I still remember that the staffers from Lahore station kept him forcing to shift the editorial assignment over to them, but he never agreed to it because he as a chief editor could not afford to keep himself away from such a crucial desk. Everyone who worked with him knows how deep was his interest in his work. He was not only enviably punctual but also very dedicated toward his work. You could always find him in his room busy doing things, reviewing the day's work, reading notes and reports sent in by the different sections. After going through this, he used to write brief and comprehensive remarks on tiny slips of paper nicely cut to size normally by his own hands. I think he was one of those choicest stuff created by God at the time of struggle for the creation of Pakistan. I am sure he got his zeal and fire from the heart enlivened by the great Quaid and his companions who fought day and night selflessly for the sacred cause of the Muslims of South Asia. His habits of work, punctuality, devotion and sincerity toward his goals, simplicity and directness, farsightedness, hopes and fears, overall approach towards a successful struggle and everything that he had clearly depicted the difference. And most important of all, he carried all these glaring qualities everywhere with him. Most of us know personalities who can be easily differentiated in different surroundings and circumstances. Mir Sahib was the same person while in the office or away from it. He looked equally great anywhere.
He had a very composed personality. Mir Sahib always listened attentively and talked with caution. His words were always calculated. At times he felt upset, no doubt, but he never ever became desperate or broken hearted. Unlike others, he very closely monitored the performance of his subordinates. He was always available to listen to their work problems. Why? Because his only 'busy-ness' was his work. We never heard 'no' from him, whenever we went to him to seek advice. Usually, he would call us twice or thrice a day and point out mistakes and misappropriation in our work. How could he manage all this, I simply cannot comprehend.
Mir Sahib ran the largest news network of the country. And as we all know that the press and the government are natural adversaries. It was near to impossible for him not to face difficulties with the people in the helm of the affairs. But even in those times of crises Mir Sahib never let things go out of his hands. There are people who judge him in a particular way, but the fact is that they misjudge him. Mir Sahib never let people play with his professional dignity. He always came forward and showed them how the difficulties and hurdles could be removed. In such a long association with him, he never -- not even once -- directed me to write a few words in the favour of government. He used to say, it is not for or against someone, it should be for the satisfaction of our conscience.
Islam and Pakistan were always his foremost considerations. He used to say that we could not compromise on the honour and interests of our country. Whenever I go to his grave I go alone. I always pray for him and praise Allah Almighty for creating such nice and great men like Mir Sahib and gave us a chance to work with him so closely and for so long.
God bless him in heaven!
Mir Khalil-ur-Rahman
received a number of awards for his outstanding services in journalism
1978 - Gold Mercury International Award, Mexico.

1983 - Merchant Navy Officer Award.

1985 - Writers Forum Award.

1985 - Iqra Award.

1985 - Baladi Award, UAE.

1987 - Nishan-e-Behbood.


Receiving Mercury International Award at Mexico.
1987 - Pakistan Movement Award.

1987 - Quaid-e-Azam National Award.

1988 - Honourary Degree of Ph.D. Sri Lanka.

1989 - Performance Award.

1989 - Quli Qutub Shah Aalami Award (given at International Urdu Conference), New Dehil.

1990 - Art International Award (Best editor-in-chief Award), Dubai.

Hereunder are the publications which have been launched

by the untiring struggle of Mir Khalil-ur-Rahman

Akhbar-e-Jahan January 1, 1967

Jang, London March 15, 1971

Jang, Quetta March 31, 1972

Weekly Mag May 8, 1980

Jang, Lahore October 01, 1981

The News, Karachi, Islamabad

and Lahore simultaneously February 11, 1991.

An icon of newspaper industry in Pakistan

By Waqar Yousuf Azeemi
| | |
| --- | --- |
| The national language of Pakistan -- Urdu is the third largest language spoken and understood in the world. It is not only spoken by the millions of people in India and Pakistan but commonly used in many middle Eastern countries where fairly large communities from India and Pakistan are either settled or residing there as work-force. The shopkeepers in Mecca, Medinah, Jeddah and Dubai communicate in Urdu with their customers whose majority hails from India and Pakistan. Even, sometime, local Arabs talk in Urdu as they have learned it due to its vast usage. In England, America and Canada Urdu is used and understood quite commonly. | Expressing views on the 'Freedom of Press' at an international seminar held at Greece in 1979. |
Particularly in the government educational institutions of England, Urdu is taught as elective language beside German, French and Spanish. For all this the credit goes to the industries and dedicated work-force who is residing in these areas and have played a pivotal role to popularise Urdu there. One personality and institution which played a very important role in the evolution and establishment of Urdu in Pakistan is none other than Mir Khalil-ur-Rahman and his brainchild daily Jang-- the largest circulated Urdu newspaper of Pakistan.
The illustrious services to Urdu language and Urdu journalism by Mir Khalil-ur-Rahman are spread over half a century. Before the partition of India, Mir Khalil-ur-Rahman founded this institution -- the daily Jange with a meager resources in the capital of India, Delhi. It was a humble beginning of a great struggle and attainment of prominent place for daily Jang among the readers of Urdu newspapers, predominantly the Muslims of sub-continent. That was the prime period of Pakistan Movement and the resourceful and organised Hindu press was putting all its efforts to sabotage the creation of Pakistan as well as opposing Quaid-i-Azam Muhammad Ali Jinnah -- the great undisputed leader of the Muslims of India. In those days newspapers were the only effective media of communication with the masses which was dominated by the Hindus. Mir Khalil-ur-Rahman accepted the challenge, faced strong words against him and spread the message of Muslim League and its stance to every nook and corner of India, particularly to the Muslims. It was his humble but very strong contribution towards the movement of Pakistan. He put all his abilities to this sacred cause which he described later on as the 'cause of creating awareness for Pakistan and its leaders'. Consequences were not easy to face; he was arrested by the English colonialist as they were not ready to bear any confrontation. Mir Sahib responded all the odds till Pakistan came into being and he was shifted to the land of his ambitions. He restarted the publication of his Urdu newspaper Jang from the scratch. He had no finance at that time but full of determination he arranged a loan of Rs 5000 to acquire basic needs for starting his newspaper in the newly-independent Muslim country. In a rented room he collected few sincere colleagues and started a newpaper which ought to be turned into a great publication institution in times to come.
At that time Mir Sahib was young and energetic with high ambitions. He invested all his vigour and faculties, worked hard day and night, all the year round, with no holidays, no pause. Work and work and work all the time resulted into the propagation of Urdu journalism to the highest prominence in Pakistan which was parallel to none.

Mir Sahib was a valiant fighter and adventurer with an in-born consistent temperament. He introduced highly sophisticated and modern technological methods in the publication industry.


Carring the mission forward - Mir Shakil-ur-Rahman and
Mir Javed Rahman with their great father.
Primarily newspapers used to be printed on litho process, he converted it to offset printing so Jang took the lead. Later on, colour edition was another feather in the cap of Jang and Mir Khalil-ur-Rahman. He laid the foundation of Saturday, Sunday coloured editions as well as national days and special editions on religion in vivid colours -- the trend followed by other newspapers of Pakistan.

When the capital of Pakistan shifted from Karachi to Islamabad, daily Jang started its issue from Rawalpindi also and became the first Urdu newspaper publishing simultaneously from new and old capitals. His odyssey continued till he conquered another milestone by publishing Jang from England's capital London. This issue was overwhelmingly welcomed by Pakistani community settled in England and other European countries. The Jang became a bridge between themselves and their near ones and dear ones in Pakistan besides keeping them informed whatever happening at home.

Mir Khalil-ur-Rahman was a man who could foresee the future. He took another bold and revolutionary step by replacing hand calligraphy with latest computer composing. Jang was the first newspaper of Pakistan which was composed with computer calligraphy. This initiative of Mir Sahib brought a long reaching revolution in Urdu journalism. Within a short period many kinds of Urdu composing computer softwares were introduced and today all Urdu composing is done on these computers and all publications are taking the advantage. Some years back it was a Utopian thought which came true in twentieth century just because of the most illustrious personality of Urdu journalism -- Mir Khalil-ur-Rahman. His services have taken an eternal importance and significance, and without exaggeration are second to none.

After the establishment of daily Jang, ever progressive Mir Khalil-ur-Rahman, brought out a weekly magazine in Urdu Akbar-e-Jehan with multi-faceted aspects to cater to various interests of readers. Thanks to high standard of printing, articles on various subjects and, of course, Urdu language that Akbar-e-Jehan became the most widely-read weekly of Pakistan as well as set a precedence for others to follow. He was alert and enthusiastic, he decided to launch daily Jang from Lahore. At this juncture he involved his next generation into his mission. He gave the responsibility of Lahore issue to his son Mir Shakeel-ur-Rahman. In 1982, Lahore edition was inaugurated and very soon captured substantial readership. Now daily Jang was the only newspaper of Pakistan published simultaneously from Karachi, Rawalpindi, Lahore, Quetta and London. Under his able editorship the issues became the most popularly-read newspapers in their respective cities. Shortly afterwards, Jang Publications entered into English journalism with the inception of English Weekly Mag which also created its place among a large number of readers with the largest circulation in its field.

In 1990, the mercurial temperament of Mir Khalil-ur-Rahman took another gigantic step forward by launching of English daily newspaper The News from Karachi, Lahore and Rawalpindi at the same time. The News was welcomed so widely by the English readers that within a short span it became the largest circulated English newspaper on national scale. Yet another landmark attained.

There are many corporations which produce a variety of products, but it is seldom observed that every product of a single producer attains the prestigious position of bestseller. This achievement in journalism and in Pakistan was acquired by Jang Publications under the leadership of Mir Khalil-ur-Rahman as all his publications are the largest circulated organs. This honour is the outcome of business intelligence, fair and honest approach toward understanding, decency, friendly and jolly personality traits of Mir Khalil-ur-Rahman. He was a self-made man. From very limited resources he practically set up and gradually established an Empire of journalism. Yet he was a very humble man away from self-praise. His approach towards the workers of Jang Group was extremely sympathetic and friendly. Many journalists serving in Jang Group told me that in case of any problem with the management, they took it before Mir Sahib. He would patiently listen the entire matter and decide it with utmost impartiality. Literally most of the time his decisions were in favour of workers. I was his frequent visitor in the office. I observed another aspect of his personality that he used to help out many needy people so clandestinely that no one could know. He used to provide financial support to many deprived families permanently and even his nearest ones had no knowledge as he never believed in publicity of such matters.

There have been frequent ups and downs of Press and government relation in Pakistan. May it be Martial Law of 1958, or controlled democracy or freely elected governments, complete synchronisation in ideas and approach towards various issues particularly regarding freedom of expression never existed between press and functionaries. Whatever freedom of press we have today is an outcome of a continuous struggle and encounters. Mir Khalil-ur-Rahman being the leader of journalist community, had played an effective role and represented the Press actively. The journalists of Pakistan too had availed the talent and sagacity of Mir Sahib. He was one of the founder exponents of APNS, the only representative body of newspapers in Pakistan. From this platform he served the cause and solved many issues of print media.

He also had the sole honour for being elected as the President of APNS nine times on different occasions. No other editor or publisher could attain this landmark. I also had the opportunity to work with him in APNS during which I observed him very closely. He was a loving and caring person. The memories of those days are still afresh in my mind even after a decade.

Mir Khalil-ur-Rahman was a firm believer of Islam and Pakistan. His deep passion for Pakistan was observed on many occasions. He would always show his concern when people used to say that "what Pakistan has given to them." He would say Pakistan has provided them everything. He used to cite his example and candidly express that whatever he is today, it is just because of Pakistan. If he were in India, he would have never attained the status which Pakistan bestowed upon him. These were the blessings of Allah and then Pakistan which made Mir Khalil-ur-Rahman so honourable. Why people do not peep into themselves, what they have given to Pakistan.

I saw that he was a religious person offering Namaz five times a day with great fervor, reciting Holy Qur'an, fasting in Ramazan very regularly. Mir Khalil-ur-Rahman was the first person who started printing translation of Qur'anic verses in Urdu on top-front of his newspaper. This tradition is now adopted by many newspapers and credit goes only to Mir Sahib who allotted most prominent space, sometimes single column and many times two columns for the Words of Allah so that people may be guided towards the path of righteousness.

He used to attend every year the programme of Khatam-ul-Quran at Madressa-e-Yaqubia, Boulton Market. Sometime his grandson accompanied him. He also attended very regularly the Mahafil-e-Naat held every year at Baghdadi Masjid, Martin Quarters.

Today Mir Khalil-ur-Rahman is no more among us physically, but he is very much with us personified in Jang, The News, Akhbar-e-Jehan and other publications of his founded institutions.

As long as we read these newspapers and magazines we will meet Mir Sahib every day as it is one and the same thing.

His name will continue appearing on the front pages of his newspapers and magazines as founder and his memories will remain as fresh as ever.

May Allah rest the soul of Mir Khalil-ur-Rahman nearest to Him in the Heavens and bestow His blessings on him.

-- Translated from Urdu by

Amin Uddin Sheikh

A trend-setter in the field of journalism

By Hakim Mohammad Said (late)

Mir Khalil-ur-Rahman was a shinning example in the field of journalism. For him, the journalism was based on art and science. With his artistic sense he always introduced innovations in the lay-out of his newspapers and other publications to make them more presentable for the readers. And from scientific point of view, he always looked for new ways and means to increase the circulation of his newspapers. For this, he would closely watch the new trends in the society and study the psyche of people. By doing this he was succeeded in satisfying every segment of society and this quality made him prominent among his contemporaries. This was his dynamic personality and sheer hard work which made Jang a Dabistan in its own right.

Before partition, Mir Sahib launched Jang from Delhi in quite difficult circumstances. Usually an exorbitant amount is needed to launch an independent newspaper. But how Mir Sahib overcome this monetary deficiency with the help of his creative abilities, talent and practical approach, is second to none.

Unlike other newspapers which make their credibility dubious by affiliating themselves with different political parties, Mir Sahib always remained neutral and tried to represent people from every walks of life possessing different school of thoughts. However, in pre-partition days, when his brainchild Jang was very young, he affiliated his newspaper with the Muslim League and made Pakistan Movement as the basis of his policy. This policy of supporting Muslim League truly represented the feelings of Muslims of the Sub-continent who were fighting for an independent homeland at that time.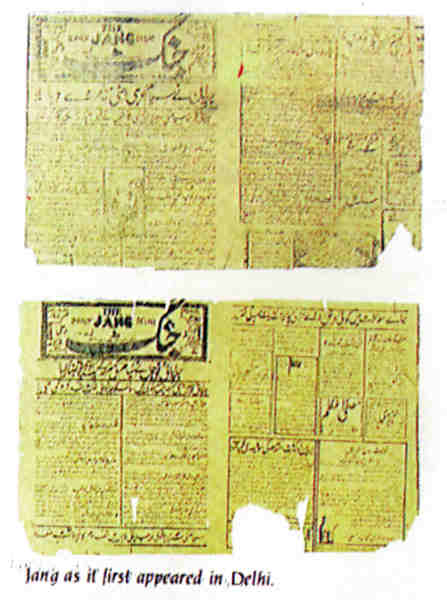 After independence, instead of supporting any political party or its manifesto he considered integrity of the country as his main affiliation. And due to his patriotic approach Jang became the most popular newspaper of the country. With the passage of time Mir Sahib widened the network of Jang and also launched it from different cities. Afterwards he also launched it from London so that the overseas Pakistanis who were residing in United Kingdom could get the true picture of what's going on in Pakistan.
Apart from the news items, Mir Sahib made Jang one of the most comprehensive newspapers of the country by adding exclusive editions for children, women and literature. This contribution of Mir Sahib will always be remembered as a great achievement in the history of journalism.

The popularity of Akhbar-i-Jang forced Mir Sahib to launch a weekly magazine Akhbar-i-Jahan. Like daily Jang this magazine became the leading weekly magazine of the country in a short span of time. Apart from this, he also launched an English eveninger Daily News, an English weekly magazine Mag and the English daily The News. Such a massive circulation of both his Urdu and English publications is a testimony to his abilities and sincerity towards the profession of journalism. Despite all odds, Mir Sahib with his abilities proved that journalism is also an industry.
Besides newspapers and magazines, Mir Saheb launched a Publication House which publishes books specially on topics which apprise the nation of its history and the political and social developments going on in the country. Like his publications, this Publication House also did a great job by creating awareness among the masses.
With so much services for his profession Mir Sahib undoubtedly proved that he lived all his life just to serve this country sincerely. I am certain that the nation will remember his services in the years to come and his name will be written in golden words in the history of journalism.
(This is the translation of an article written by Hakim Mohammad Said on the 4th death anniversary of Mir Khalil-ur-Rahman in daily Jang on 24th of January 1996.)
Mir Khalil-ur-Rahman -- A multifaceted personality
By Humayun Aziz
| | |
| --- | --- |
| Mir Khalil-ur-Rahman, popularly known as MKR in the Jang Group, had the unique quality that he was aware of the capabilities of each and every journalist working under his command. He would himself judge and evaluate every new entrant. I became aware of this when Jasarat's publication was banned by the Bhutto regime in 1974. I was working as acting news editor in Jasarat at that time. When I applied for a job in the Jang, MKR asked me to join as a sub-editor. I was a bit reluctant but Mir Madani then executive editor persuaded me to accept this offer as soon as possible. | The President APNS for 1986-87 Mir Khalil-ur-Rahman welcoming the Prime Minister Mohammad Khan Jonejo. Governor Sindh Ashraf W Tabani and Chief Minister Sindh Syed Ghaus Ali Shah can also be seen in the picture. |
After joining Jang Group, I found out that MKR keenly watched my performance and soon promoted me as a shift incharge. During this period I learned so much from Mir Sahib, because for every decision of flashing or not flashing a certain news item, he would also state reason for the same. He also used to listen any argument against his decision and would satisfy me.
| | |
| --- | --- |
| Addressing the APNS Awards function held at Karachi, in February 1989. | He was the editor-in-chief and the owner of Jang Group, but still he never hesitated in performing the duties of a reporter. When Z A Bhutto came to power and took out a procession that culminated at Lyari late after midnight, it was MKR himself who accompanied the procession and reported the whole story in his own hand writing. That news was exclusive in Jang as the procession and the following public meeting ended early in the morning. |
Another instance which I want to mention here is that when I went to cover Non Aligned Conference at Jakarta with Nawaz Sharif, the APP corespondent accompanying the prime minister told me that once he was with General Zia-ul-Haq on a foreign tour. He recorded the press conference of Zia-ul-Haq, but after the press conference when he rewinded the tape and started to listen he shockingly found out that his cassette was blank. His predicament was quite visible.
| | |
| --- | --- |
| When Mir Sahib who was also with him covering this tour saw him worried, asked him what was the matter. The APP correspondent told him of this 'tragedy'. Mir Sahib after finding him in a perplexed position just smiled and asked him to come to his room. There Mir Sahib took out his notes and dictated to him the entire press conference which he had noted verbatim. | Mir Khalil-ur-Rahman and Mushtaq Ahmed Sudhan addressing a function organised by the daily Jang and Press Workers Union, Rawalpindi. |
Two decades back when there were not many phones in the office, the telephone system was not working. I had complained about it, but I was told that nothing can be done at this hour of night. Soon I saw Mir Sahib, who after failing to contact me on phone, had come to the office. I told him that phone was not working. In reply he said, "Humayun sahib what type of a journalist are you that you cannot repair it". With this remark he knelled and went on to check the wiring. Within a period of ten minutes he found the broken wires. He joined them and the phones were fixed. Apparently it happened because when MKR complained from his residence, he was told by the telephone exchange that there is nothing wrong at the exchange, so it was obvious that somewhere in the office the line was broken.
| | |
| --- | --- |
| With the newspapers hawkers of Hyderabad. | I observed that Mir Sahib used to come at office at about 11 am and would remain there till after midnight. After that he would be available on phone till after the final copy went to press. His directive to the employees was that one should never ever hesitate to phone him when the need arises, even in small hours of morning or late night. Even at 3 am in the night he used to pick up the phone at the second or at the most third bell and would say. 'Khalil'. |
He himself regularly monitored the late night radio transmissions of BBC/VoA etc., then he would phone and ask the incharge that if the radio monitor has filed this story or not. If not he used to dictate the story that he had monitored.
His way of directing any news item was also unique. This I experienced when I was city editor. He used to write on a chit 'please publish it' and would attach this chit with the concerned news item.
Mir Sahib actually loved us as if we were his children. He used to become angry when someone missed a news item and would reprimand. This was one thing that he never tolerated.
| | |
| --- | --- |
| Discussing issues of importance with former Prime Minister of Pakistan Z A Bhutto. | Lock-up of Hauz Qazi Thana, Delhi, where Mir Saheb was kept for a night during the Pakistan Movement. |
| During Benazir Bhutto's first visit to US as the prime minister of Pakistan -- Mir Saheb with US President George Bush. | With former Turkish Prime Minister Ismat Inonu. |
| A rare picture with Shah Faisal of Saudi Arabia. | With senior judges of the Supreme Court, the then chief justice Nasim Hassan Shah and Justice (retd) Rafiq Tarar. |
| At the last session of the Ad-Asia conference -- Mir Saheb seen engrossed in discussion with the then President Ghulam Ishaq Khan and the Governor Punjab Tikka Khan. | A delegation of Pakistani journalists comprising Mir Khalil-ur-Rahman, Hameed Nizami and Altaf Hussain in a meeting with King Hussain of Jordan. |
| On a visit to China, Mir Khalil meeting Hua Ku Fung at the famous People's Hall. | With leading Indian industrialist J R D Tata in Karachi. |