city
calling
A chowrangi called home
Hundreds of families live on the streets, footpaths and chowrangis of Karachi. This week Kolachi brings to you the story of one such family
By Sabeen Jamil
Sleeping on comfortable beds, cooking sumptuous food in an American style kitchen and traveling in air-conditioned cars daily – these are luxuries that most people in this city do not know and will not have.
interview
I believe in doing what
I believe is right
IGP Sindh Jehangir Mirza
Kolachi speaks to the retiring Inspector General of Police-Sindh, Jehangir Mirza about increase in crime, crime mafias in the city, the issues faced by Sindh Police and their solutions
By Salis bin Perwaiz
Kolachi: Why is crime increasing in the city despite an increase in the Police budget?
The way we were
The future is not what it used to be
By Kaleem Omar
Paul Valery said, "The trouble with our times is that the future is not what it used to be." He was right. Even 1984 has come and gone, and we have found nothing to replace George Orwell's nightmarish vision of the future. To say that 2084 is coming just doesn't have the same ring to it. Besides, 2084 is too far off to be effective as a date to scare the living daylights out of people.
karachicharacter
Dilshad and the art of motorcycle maintenance
By Muhammad Hussain
Confucius said, 'the expectations of life depend upon diligence; and the mechanic that would perfect his work, must first sharpen his tools.' The literal representation of the great Chinese sage's wisdom is Mohammad Dilshad, wielding both sharp tools and an assiduous nature.


city
calling
A chowrangi called home
Hundreds of families live on the streets, footpaths and chowrangis of Karachi. This week Kolachi brings to you the story of one such family

By Sabeen Jamil
Sleeping on comfortable beds, cooking sumptuous food in an American style kitchen and traveling in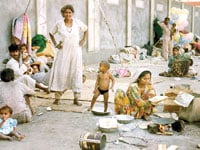 air-conditioned cars daily – these are luxuries that most people in this city do not know and will not have.
Living on roundabouts and roadsides, sleeping on tattered spreads on footpaths, doubling the municipal committee's tap as a shower, cooking food on makeshift stoves by the road and walking miles in the scorching heat – because you can't afford the bus fare – to earn a living, is a reality for many Karachiites.
A family residing in the roundabout known as People's Chowrangi, near Gulberg is one such family that I come across every day on my way to work.
It was the sight of an old feeble man, in a ragged stained shalwar kameez, sitting on a charpoi usually alone or sometimes with a teenage girl that intrigued me. Some small naked children oblivious of the stares of passers by washing themselves in an uncovered "bathroom" and women washing utensils and clothes next to them was always powerful enough to grab my attention and made me think about them. Who are they? Why are they living on a roundabout? How do they earn a living and how much do they earn? How does it feel to sleep and bathe on a roundabout in front of hundreds of people passing by, with no privacy at all? I wanted to know everything. The impatient honks of the cars behind me, however, would never let me ponder on these questions for long and the mundane chores of life would make me forget the family.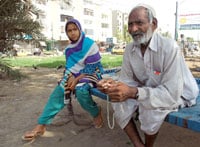 However, one day I could not suppress my urge to know everything about them and instead of passing by, as I always did, I went to the family's "home". That introduced me to a different, painful, yet interesting facet of life.
Zia-ul-Haq in his '80s has been living on this roundabout for the past 20 years. He migrated from India after partition and started living in People's Colony in North Nazimabad. "I was of 17 years at that time," he remembers. He got married, started working as a canteen boy and had six children.
Life was never too good but it became worst some 20 years ago when all of a sudden his wife died and immediately after that he lost his job due to an eye infection, "I couldn't see properly therefore the canteen owner replaced me," he says. Due to the financial crisis that ensued, the whole of the family comprising Zia, his three sons and his eldest son's family (a wife and eight kids) moved to a small single-room quarter in the area. That compelled Zia to leave the home and move to this roundabout. "The single-roomed home was too small to accommodate thirteen people," he says adding that living with a daughter-in-law in a single room was unacceptable for him. Zia felt that he was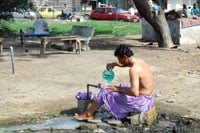 intruding in the privacy of his married son by living with them, "Therefore I left that congested room and started living here, under the open sky." His youngest son Shahid in his '30s left with him. "I had some disputes with my brothers and then I had to feed my father too," he explains why he chose to move out. Since then the father and the son spend their days and nights on this roundabout "We are here round the clock, in all weathers," says Shahid who tries to do his best to facilitate his old father. He has placed a charpoi under the shade of a tree for Zia to sleep on. The charpoi serves as a sofa during the daytime and a bed at night. "We put up a plastic sheet on this tree when it rains," Shahid explains his efforts to counter the extreme weathers, "I sleep on a mattress on the water tank here," he adds pointing to a tank near his father's charpoi. The family of two has worn out blankets for the winter but its summer that's the toughest. "Living here is a task in summers," laments Zia coughing badly.
During the day they counter the scorching sun by shifting their charpoi according to the shade "We keep on moving the charpoi in the direction of the shade," says Shahid scratching his hand where mosquitoes have bitten him.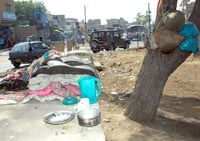 As soon as the night falls a swarm of deadly mosquitoes rush in. Though Shahid lights a fire to keep them away from Zia but still they successfully make the life difficult for the old man. "It is so painful to spend even an hour here yet 20 years..." he leaves his sentence hanging. "If I wasn't helpless I wouldn't have been living here," he finally says.
As night falls they have to counter another problem. Stray dogs. "I keep a stick with me and try to keep them away from this stick," says Shahid who works as a helper to a mason. He earns 200 rupees a day, depending on the availability of work. "Usually I get work not more than thrice a day," he says adding that he desires to get married but, "Who will marry a guy with no home to keep his wife in?" he questions.
Both the men perform their daily chores themselves. They get their clothes washed by a dhobi, get food from the hotel nearby and pay three rupees each to use the washrooms built in a mosque nearby. Surprisingly, they are generally left alone by the local government or the police. "We feel bad living like this," says Shahid "but we have no choice."
Zia's living in this condition is equally painful for his married daughters and grand children who often come to visit their Abba's in his unique home.
Hina, Zia's granddaughter is in her late teens and adores him but regrets that he can't live with them, "We hadn't asked him to leave but can't even ask him to stay," she regrets. S he feels bad that Zia has to buy his food from the hotel but says she's helpless, "We ourselves do not have meal thrice a day how can we feed him?"
Hina likes spending time with Zia but doesn't come often because of her grandfather's sketchy "neighbours". Zia and his son have to share the chowrangi with drug addicts, who naturally make Hina uncomfortable.
Zia and Shahid are struggling to make their lives better. They even have two pet hens, "I keep myself busy with them while Shahid is working," says Zia who feels lonely during the day. To counter this he has made friends with the women from the nearby jhuggis who share his water tank to bathe their children wash their utensils. Most of these women work as maids, and have no running water where they live.
"My day is spent well this way," he says. However, it's the nights which scare him the most. "It's really creepy here in the nighttime," he says in hushed tones because with night come the drug addicts and dacoits. "We have been looted twice by dacoits," says Shahid adding that he was once deprived of 800 rupees and the other time of 300 rupees by the dacoits on gun point. "The world is too difficult a place to live in," Zia declares sadly.
Life in this city is not good for many but at times it's truly merciless.
– Photos by Naqeeb-ur-Rehman

interview
I believe in doing what
I believe is right
IGP Sindh Jehangir Mirza
Kolachi speaks to the retiring Inspector General of Police-Sindh, Jehangir Mirza about increase in crime, crime mafias in the city, the issues faced by Sindh Police and their solutions

By Salis bin Perwaiz
Kolachi: Why is crime increasing in the city despite an increase in the Police budget?
Jehangir Mirza: There are several factors responsible for increase in crime not just in the city of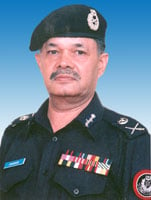 Karachi but everywhere. Historically crime generally increases with the increase in population. The population of Karachi is now increasing at a pace far greater than the rest of the urban centers of the country. Furthermore it is not a homogeneous population. The heterogeneous nature of Karachi's population itself breeds many problems. Having said that, however, I would also like to place on record the fact that the increase in crime is neither too much nor a cause for alarm. This increase is also not uniformly spread over all heads of crime. For example, there was a decrease in murder cases in Karachi this year. However crime under heads of dacoity and robbery has somewhat increased. The level of crime in Karachi compares very favorably with other big cities of the country. For example, Lahore with half the population has twice the crime as compared to Karachi. You cannot link increase or decrease in crime with the police budget. The recent increase in the police budget is a routine increase. There is nothing spectacular about it. It is mainly due to increase in salaries and allowances announced by the Government in the last budget. There is hardly any increase in expenditure on new technology, equipment, and modern gadgets etc, which increases our effectiveness in controlling crime. The effectiveness of police in the long run is related to investment in the field of training and equipment, which I think is not up to the required level.
Kolachi: What percentage of the police force is deployed on VIP duties?
JM: It is correct that a large percentage of police is deployed on VIP duties. However, given the security situation in the country and the region in which our country is situated, this has become an important function of the police which has to be performed to ensure peace and tranquility. What is objectionable, though is the fact that sometimes we are forced by circumstances to over deploy in these areas which not only causes inconvenience and resentment to the general public but also directly affects the performance of police in its primary task of crime fighting. There are several reasons for this, most important being the existence of VIP culture in the country. Police guards and police escorts have unfortunately become status symbols and everyone who is anybody wants to flaunt the same. On several occasions this has been pointed out and its negative effects have been highlighted by us. The decision makers do wish to set the situation straight and hopefully this will be done soon.
Kolachi: What is the delay in hiring new police staffers?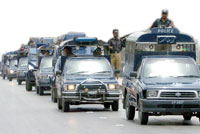 JM: The recruitment of Constables in the police department has been inordinately delayed. There are over 5,000 vacancies all over the province. We do wish to recruit suitable young men and women at these posts. A lot of discussion has taken place on the issue regarding the modalities to be followed but so far not a single police constable has been recruited. In this context, we did our home work in the month of August 2006, when on a single day candidates were called for an interview and test at six places in Karachi and twelve places in interior Sindh and special teams consisting of senior officers headed by an officer of the rank of DIGP completed the selection process without any outside interference. This was an extremely satisfactory job done by my officers, who had been especially hand picked by me. The result was compiled and sent to the Government for approval. However, some complaints came up from some elected representatives alleging that everyone desirous of recruitment could not take part in the selection process because of the shortage of time. On this complaint the whole exercise has been scrapped and now fresh dates will be given for undertaking the whole process once again.
Kolachi: What are limitations in discharging your duties?
JM: Ideally speaking the police should discharge its duties without fear or favour and without any intimidation or interference. However, this is far from reality. In our set up, there are social, cultural, economic and political considerations, which have their impact on the functioning of police everywhere; in towns and cities, in urban or rural areas. It is also linked to our level of education and development and it is not peculiar to our country alone. Similar conditions prevail in all developing countries with minor variations here and there.
Kolachi: Would you agree that crime has risen due to political patronage?
JM: It might be true in certain cases but it is not a general complaint. Things differ from place to place and from person to person. It is a fact that all political people are not angels and neither are all policemen politicized and pliable. As I said earlier it is all linked with our level of education and development. I firmly believe that with the passage of time, if the political process continues without frequent hiccups, the undesirable elements in the political field would gradually be weeded out in elections and over a long period, the level of ethics and morality would definitely improve. Similarly the police under better political environment will also have to deliver by improving its skills through investment in capacity building and training.
Kolachi: How has the police fared against various city mafias?
JM: Police is continuously and vigorously engaged in fighting the so-called crime mafia in the city. It is a running battle; sometimes the police wins and sometimes the mafia have their way. The very fact that a large number of police officers and men have embraced martyrdom in our war against crime is a testimony to the fact that our crusade against crime is being pursued sincerely.
Kolachi: When will people of Lyari finally have peace?
JM: Lyari Town has been historically crime infested. For decades it has been a haven for drugs and gun mafias. The high crime rate is also linked to poor economic conditions in this area more than anywhere else. In the past several campaigns were launched to bring peace and to control crime not only by the police but also by other agencies, which have had some impact. Now a fresh team of officers has been installed and given the same task. This team is presently engaged in examining the suitability of all officers and men posted in Lyari so that only those who are suitable for the job are retained and the rest are sent away. Hopefully it will have the desired impact. During last three months over 50 cases related to drugs and guns have been registered in this town.
Kolachi: How do you justify purchase of expensive vehicles for higher police officials when there are not enough vehicles for police stations?
JM: This is a misconception. It is incorrect to say that expensive vehicles have been purchased for higher police officers. During the last two years only two jeeps have been purchased for senior officers, which can be classified as somewhat expensive. All senior officers of the police are using old models of jeeps and cars, some as old as '91 and '92. There is an overall shortage of vehicles in the police department; the Police Stations are no exception. We do believe that the Police Stations should have more four wheelers for maintenance of law and order and crime control. Several cases for purchase of transport of this category are pending at different stages. It takes a long time to process such cases and to finally get the approval of the Government. It is all related to resource constraint. There is a limited budget, which has to be shared by all the departments. We believe that police department should be given priority in the distribution of resources by the Government but other departments believe that they have a similar, if not greater, right to be given priority. It is the job of the Government to decide what is more important; crime management, education, health or any other sector.
Kolachi: Corruption has reportedly increased in the traffic department, what steps or actions have you taken to curtail it?
JM: It is correct that complaints of corruption have existed more in the Traffic Police than in other branches. Sometimes back the Driving License Branch was singled out as the one requiring immediate improvement. A high-powered enquiry was conducted by a senior police officer. And after removing top officials from the Driving License Branch an extremely honest officer was posted to replace them and he was given the task of cleaning up this branch completely. This officer did a wonderful job and during his tenure Driving License Branch Clifton acquired a brand new image. People acknowledged this and it was reported in the press also. However, because of some intrigue this officer had to be posted out. We are now making efforts to continue the good work started by him and his successor is working hard towards this end. As for the previous In charge of the Driving License Branch during whose tenure corruption was reported to have reached a new peak, disciplinary proceedings are underway. In addition to this, DIGP-Traffic has been directed to play a more active role in controlling corruption.
Kolachi: How's your coordination with the Sindh Government. Do they interfere in your work and how's your working relation with them?
JM: I have no complaint. My working relations are satisfactory. Occasionally there is a difference of opinion, which is a natural thing and the same is sorted out as provided under the rules. Problems do arise some times when I wish to follow the book and there is resistance from certain quarters. I believe in doing what I believe is right. There can be two ways of doing the same thing, which is not uncommon at this level.
Kolachi: What message do you wish to give to the officials of police department on your retirement?
JM: My advice to the officials of the Police Department is to keep in mind the oath taken by them, which expects them to obey all lawful orders only and to have the courage to say no to all unreasonable and unlawful demands. Over the years some officers have acquired the habit of keeping quiet and some times yielding to unlawful and unreasonable demands and this has brought a bad name to the department. Because of such actions on the part of a few, the entire department gets a bad image and many people believe it to be pandering to the whims and wishes of the ruling class rather than providing a service to the people for which this department was originally created. If every officer decides to uphold the principles of neutrality, impartiality and upholding the rule of law in all official matters, the performance of police would improve tremendously and the image of the Police Department would get better.

The way we were
The future is not what it used to be

By Kaleem Omar
Paul Valery said, "The trouble with our times is that the future is not what it used to be." He was right. Even 1984 has come and gone, and we have found nothing to replace George Orwell's nightmarish vision of the future. To say that 2084 is coming just doesn't have the same ring to it. Besides, 2084 is too far off to be effective as a date to scare the living daylights out of people.
In the world of business, however, time is measured on a very narrow portion of the total spectrum. Few major corporations can be counted by centuries, though there is a privately-owned iron ore mine in Sweden that has been in continuous operation under the same firm's name for more than nine hundred years.
Such exceptions, however, prove the rule. Careers are measured in decades and products in years. Accounts are generally payable monthly, people often work nine to five, coffee breaks are fifteen minutes, push-button phones save you seven seconds dialing time, and lasers work in nanoseconds (one billionth of a second).
It could be argued, then, that time is a way to measure and hence define existence. And these definitions are culturally imposed. The calendar is an arbitrary system for reckoning the beginning, length, and divisions of a year. There are the Chinese, Gregorian, Julian, Revolutionary, Roman and many other types of calendars. The Gregorian calendar, now used in most parts of the world, was adopted for use in the United States as recently as 1752.
In his study "Future Perfect," Boston-based scholar Stan Davis notes that isolation experiments in deep caves have shown that man's periodicity is closer to 24.5 hours than the 24 hours into which a day is divided.
The question is: What would one do with this extra half hour if it were to suddenly become available to us?
Members of today's Internet generation, who think computers that don't respond to commands in microseconds belong to the stone age and should be scrapped, would say that a half hour is an eternity.
I belong to a much older generation. To members of my generation, the best thing about the future is that it only comes one day at a time.
The late great French writer Albert Camus took a more cynical view. He said, "The future is the only kind of commodity the masters willingly concede to slaves." Paul Chamson, a Frenchman like Camus, took an even more cynical view. He said, "One should never place confidence in the future - it doesn't deserve it."
The danger of the past was that people became slaves. The danger of the future is that they may become robots. British scientist J. B. S. Haldane's prediction for the future was that "whatever hasn't happened will happen and no one will be safe from it."
But perhaps the last word on the subject comes from Albert Einstein, the inventor of the concept of the space-time continuum and many other equally perplexing things. He said, "I never think of the future - it comes soon enough."
Davis says, "If man did not adjust his natural circadian rhythm to his culturally determined yearly calendar, then daily life would get messed up pretty quickly. In other words, the things that we chose to measure and the way that we measure them tell us lots about what we value and how we see the world."
In the early 1900s, roughly halfway through the industrial era in the West, US efficiency expert Frederick W. Taylor invented time management. In the industrial model of the time, a worker doing endless drudgery, where one day is just like the next and nothing changes, takes the point of view that time is cyclical, an endless repetition of events.
The clock-watcher who celebrates TGIF (thank God, it's Friday), and the harassed manager who has only two hours to get the report out, see themselves as stationary "in" time, with the future moving toward them rather than vice versa.
Alvin Toffler, the author of the 1970s best-selling book "Future Shock," humourously expresses this perspective: "Future shock is the dizzying disorientation brought on by the premature arrival of the future."
According to Toffler, future shock is the consequence of having to make too many decisions about too many new and unfamiliar problems in too short a time. "Future shock is more than a metaphor," says Toffler. "It is a form of personal and social breakdown. We are in collision with tomorrow. Future shock has arrived."
The managers who prepare for next week's conference, who launch next season's product line, and who chart their career development take the approach that time is a one-way street that we move along; we advance toward the future, not it toward us.
As Stan Davis notes in his book, the business model of time in the industrial world was very much from the corporation's perspective. The focus was on internal reorientation and actions.
Even nine-to-five time, defining as it does a regularly recurring event, is from the industrial perspective of the producer, rather than the postindustrial perspective of the consumer. When the corporation focuses externally, on the customer, it transforms its sense of time.
People living in the beautiful mountainous region of Chitral, however, have a very different concept of time. They think of time as a commodity that is never in short supply. That's why Chitralis are never in a hurry and can while away months performing tasks that would otherwise take only a week or two, or sometimes not even that.
On a trek in Chitral back in 1942, a visitor from the lowlands - a flatlander, so to speak - once sent his Chitrali guide to buy five rupees worth of apples from a nearby village. Since the village was only a few hundred yards away, the visitor thought the guide would be back with the apples in half an hour or so at most. In the event, he didn't return until eight hours later, by which time the visitor had given him up for lost.
"Where were you?" asked the visitor with some heat when the guide finally reappeared, ambling along the track as if he hadn't a care in the world.
"Buying apples for you," replied the guide.
"Does it take eight hours to buy a few apples?" the visitor asked.
"Yes, it does – if you want the best apples," said the guide nonchalantly.
The new economy, however, is not like that. A new economy manager once told Davis, "Customers use our time up until their decision to buy, after that we are using their time. Therefore, we must deliver immediately." The key, then, is the shortening of the elapsed interval between the customer's identified need, on the one hand, and its fulfillment on the other.
In the late 1970s, a Japanese car manufacturer found that more costs and more time were expended by a car in the distribution system than in the factory. The manufacturing company absorbed the sales company. Today, it's working to deliver cars to customers within a day of receiving a dealer's order.
"The ability to do this seems to have more to do with technology than tangibility," says Davis. In Silicon Valley, for example, companies are toiling to bring out their next-generation workstation practically from the time they are shipping the prior-generation model. It's hard to imagine that with a toaster, though.
In most hotels, checkout time is about 1.00 pm, and check-in time is about 3.00 pm. The logic is that the hotel needs two hours to clean and prepare the rooms for the next guests. Obviously, however, they do not clean all the rooms within that two-hour stretch; they begin as soon as guests start leaving in the morning, and finish late in the afternoon. In other words, room preparation is going on most of the day. The time between checkout and check in is the lag time the hotel needs because it thinks it cannot operate in real time.
Less than a century ago, "bankers' hours" generally meant from nine to two. In Pakistan, that was still the case until a couple of years ago, when Pakistani banks extended banking hours from 9 a.m. to 5 p.m. That's great for a night-bird like me, because now I don't have to wake up at crack of dawn or some equally unearthly hour in order to get to the bank before it closes. So the future can't be all bad.

karachicharacter
Dilshad and the art of motorcycle maintenance
By Muhammad Hussain
Confucius said, 'the expectations of life depend upon diligence; and the mechanic that would perfect his work, must first sharpen his tools.' The literal representation of the great Chinese sage's wisdom is Mohammad Dilshad, wielding both sharp tools and an assiduous nature.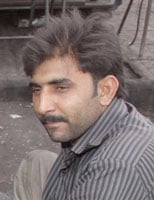 A motorcycle mechanic by profession and simplistic by nature, he was perplexed by the idea of being interviewed and it took some convincing to get his gentle consent. We settled on adjacent motorcycles sipping on our cups of tea and the banter flowed.
Kolachi: Tell us something about yourself.
Dilshad: I came to Karachi 15 years ago and have been working as a mechanic ever since. I learned the ropes of the profession here. I was born and lived the first seven years of my life in a village near Bahawalpur, in the south of Punjab. That's where my roots lie; but there were very few opportunities and I came to Karachi as a seven year old boy and have been working since.
Kolachi: Do you visit your hometown? Do you have any memories of it as a seven year old?
Dilshad: I visited it around three years back. It's always good going back to your roots, but I had lost my fluency in Siraiki, my mother tongue, and that troubled me. However, when I visited Noor Mehal (House of the former Royal family), my childhood memories welled up inside me because I remember staring at its domes and lush lawns with my friends for hours on end. I don't have any other recollections.
Kolachi: Are you married?
Dilshad: Yes, Mashallah! I have been married for seven years now and have two children. I was married to a cousin from my village when I was 15. We were quite young but such an early marriage kept me away from sinful acts that I see some of my friends indulging in at nights and regretting them as soon as the sun shines.
Kolachi: What about your education?
Dilshad: There was a school in my village but I never went there. Never went to a school of any sorts. All that I know I have learnt myself. Sometimes I feel sad that I cannot read but I am adamant on educating my children so that they can carve out a good future for themselves.
Kolachi: Tell us about your work.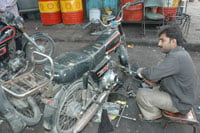 Dilshad: I get to the workshop at 10 am sharp every morning and leave at around 10 or 11 pm. It gives me very little time for my family but one has to make sure there's enough to feed them.
Kolachi: Is it your own workshop or are you an employee?
Dilshad: When I came to Karachi, I worked with my elder brother and we were both working at our Ustad's shop. But now, by the grace of God, we work independently. We even have around 6-7 workers for us, most of them teenagers who run away from their homes and sleep on the roads. Just like us when we started.
Kolachi: Is it difficult dealing with such teenagers? Do you ever resort to violence?
Dilshad: You know how these boys are. They have run away from home and have a mind of their own. If my elder brother had been lax with me, I wouldn't have learnt anything. I used to get a lot of beatings. But I don't hold it against him. I am sure these teenagers won't hold the beatings that they get against me either because it is for their own good. It's not about work only. I beat them up if I think they have been doing drugs or committing any such follies.
Kolachi: Do you make enough to support your family?
Dilshad: You never make enough, you always want more. I thank God that He has never given me too much to make me greedy. We learn to live according to our means and that's my philosophy.
Kolachi: How do you spend your spare time?
Dilshad: Spare time is a luxury that poor people cannot afford, unless they are unemployed. I rarely have time to play with my children or be affectionate towards my wife. Also, I have to scrub myself free of the smell of gasoline and other liquids. On weekends, we generally go out to watch a movie or maybe visit a park. The rest of the time is spent watching the television or any Indian movie. I love Mithun Chakarbothy though he does not come in many movies anymore. I try to get hold of his older movies and watch them over weekends.
Kolachi: What do you think of Karachi and its people?
Dilshad: It's a very fast life over here. Everyone seems to be in a hurry while in the countryside the lifestyle is rather different. I don't mind it much but sometimes the tactlessness of people's behaviour leave me confused. Just because I have grease marks on my face does not mean I don't earn my living legitimately nor makes me a lesser human being. Maybe the people of Karachi need to learn to respect people more and status less. Otherwise, I am grateful to the city for the multitude of opportunities that it offers to all those who come here.
Wiping the sweat off his brow and leaving a few grease masks, Dilshad continues his laborious work and is reminiscent of a determined guerrilla warrior taking on a superpower. With simplicity of desire and nobility of thought, he continues to inch towards his dream; for many others, it remains elusive.
He knows his battle for survival will continue for sometime to come and he is willing to take on the challenges with grit and fortitude. Turning life into a war-zone – such is Karachi's character.