feature
The mobile scrapbooks of Karachi
Once a flourishing art form in Karachi, rickshaw painting is gradually becoming a fading fashion with the emergence of new sophisticated CNG rickshaws. Kolachi looks at the wisdom of this unique form of art and traces its steady decline
By Suleman Saadat
The humble rickshaw has not only been a convenient mode of transport in the city for many years but also a source of entertainment that holds a mirror to our society. For many of those who find themselves following these ubiquitous vehicles, they are a wonderful example of our folk art.
feature
The mobile scrapbooks of Karachi
Once a flourishing art form in Karachi, rickshaw painting is gradually becoming a fading fashion with the emergence of new sophisticated CNG rickshaws. Kolachi looks at the wisdom of this unique form of art and traces its steady decline
By Suleman Saadat
The humble rickshaw has not only been a convenient mode of transport in the city for many years but also a source of entertainment that holds a mirror to our society. For many of those who find themselves following these ubiquitous vehicles, they are a wonderful example of our folk art.
The poetic verses, the famous movie dialogues, songs and quotes at the back of rickshaws grab the attention of anyone who lays their eyes on them and makes the ordeal of being stuck in a traffic jam a less tedious affair. The gaudy pictures of animals, monuments, flowers and humans also compel the travellers to take a second look. Rickshaws also reflect the process of economic globalisation, which is occurring all over the world today, and capture a slice of history as it unfolds. This is reflected in their fascination with movie stars, dictators of various eras, foreign travel scenes and fancy red sports cars.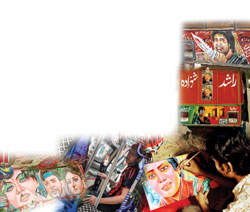 The back of a rickshaw is the most eye-catching. In many ways, rickshaws reflect the thoughts of our society. They are like a scrapbook for their owners, displaying their favourite poetry, riddles, messages to other drivers and more. There was a time when it was difficult to come across a rickshaw without this running commentary on our society's social and economic fabric. But times are changing, and this familiar part of the city's landscape is slowly fading away.
Though rickshaws are present in other parts of Pakistan too but they're not as artistically decorated as they are in Karachi. Transforming a plain, humble rickshaw into a fairy tale costs around 12,000 to 20,000 rupees. The subjects mostly depend on the mood and character of the artist and the area where the work is being done. The designs may include love stories, beautiful flowers, depiction of folk tales, and natural scenes on all sides of this vehicle.
"Decorating a rickshaw is a way for a driver to compete for business; we want to make our rickshaws as beautiful as possible to attract as many commuters as we can," said Hakeemdaad, a rickshaw driver. "If we don't write or paint anything on it, our rickshaws go unnoticed and it's not healthy for business because it's a people's art and all the motifs somehow relate to them," he said.
But with the increase in population and soaring inflation, these colourful rickshaws are changing and slowly falling from grace. Around half a million of these three-wheelers occupy the streets and are one of the major causes of the city's crippling congestion, which forces travellers to spend hours of their day in jams.
With the increasing threat of environmental degradation and global warming, the government has gradually clamped down on the old rickshaws as they cause noise and release toxic waste. It has also refused to issue new rickshaw licenses for the last few years. This has paved the way to the transformed version of the vehicle, popularly known as 'CNG rickshaw'.
CNG rickshaw drivers prefer not to decorate their vehicles as they're of view that the poetry and painting would take away from their natural good looks. "We don't make them gaudy because they look beautiful in their simplicity. Gone are the days when drivers used to compete through colourful paintings and spend a heavy sum on decorations. We don't have money to embellish our vehicles," said Kashif, a young CNG rickshaw driver.
Sadly, with the emergence of CNG, the old rickshaw art seems to be fading. The gradual extinction of old rickshaws is also likely to badly hit the livelihood of vehicle painters as they won't be practicing or preaching any more.
The painters and artists learn this art from their Ustaad (master) at a young age. But increasingly, people belonging to this profession no longer want to teach their craft to the newer generation. They say: "We earn so little that we can hardly feed our own children two meals a day. How can we teach and propagate this art when nobody wants to pay?" They add that a very few drivers approach them now as CNG rickshaws dominate the roads.
NaimatullahUstaad, 37, a famous rickshaw painter who lives near the Old Haji Camp, has been in this profession for 20 years and he feels great pride in practicing his art. "I was always fascinated by the colourful pictures behind the trucks and rickshaws and when I discovered that you don't have to invest a huge sum to begin working, I adopted it as my profession" he said. He further added that he established a Thaila (a temporary wooden cabin) to make his name in this business and since then, the profits kept pouring in. However, he cannot afford a proper shop due to the high price of property.
Unfortunately for rickshaw painters and dealers, this business isn't as gainful as it used to be. Farman Niazi, a rickshaw dealer said, "A decorated rickshaw is more expensive than unadorned three-wheelers due to the attractive features it possesses. But purchasers no longer pay heed to such trivial details and prefer the unadorned ones."
For some, the proliferation of cars and motorcycles in the contemporary era is something not so auspicious. "The golden age of rickshaw art has passed," said 52-year-old Muhammad Younis*, whose depictions of Bollywood film stars behind rickshaws are famous in the world of rickshaw art in Karachi. His vision has blurred but he still practises his art to earn his bread and butter.
"When Karachi was a smaller city, everyone used a rickshaw — even young men used rickshaws to meet their dates and take them out to show them this city of lights. In those days, I would work day and night painting rickshaws; now, no one cares," he sighed while painting the back of a rickshaw at his small workshop in Banaras.
The poetry at the back of rickshaw might seem trivial or even nonsensical to many but these mobile scrapbooks carry different stories of their owners. ShahzadTanoli, a middle aged bachelor and a proud owner of a rickshaw told the story behind the gloomy poetry written on the rear end of his vehicle. It read: 'Fikar na kar sanam teray rastay mein nahi ayengay hum, aur agar saamna ho bhi gaya to ajnabi bun ker guzar jayengay hum'.
"I once loved a girl but couldn't marry her due to personal reasons… I wrote this couplet keeping her in mind," he shared.
Similarly, some serious or very funny and cheeky lines are seen on rickshaws that hold the viewer's interest. Sometimes they contain short but meaningful quotes and verses as well, including religious ones.
'Hairat hai tujhay namaz ki fursat nahi' (I wonder why you can't take time out to perform prayers) and 'Horn na bajayein. Yeh qaum so rahi hai'(Please don't blow your horn, This nation is sleeping) are just some of the lines that are often used on rickshaws. They subconsciously compel the reader to think and do some soul-searching about their religious, political and romantic lives.
* Name has been
changed on request
The philosophers on the streets
The rear of a rickshaw is like a Facebook wall and timeline. In the popular social media site, you can update your thoughts and status and what is going on in your mind. Similarly, rickshaw drivers express what they feel or what they want others to know through this unique and personalised medium. The rickshaw folk art of Karachi is now famous everywhere in Pakistan but despite its adoption in other cities, the art is entering a dark phase in the city of lights.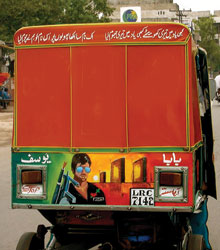 Since rickshaws in the Karachi are always on the move, a large number of those read and are entertained by its poetry because they can relate to its directness and simplicity. The verses on the vehicles are often witty and humorous. But they can also be deadly serious, telling tales of painful love and separation, offering a comment on society or expressing a deep philosophical idea. This form of art is also appreciated abroad and makes Pakistan famous for something other than political chaos and extremism.
The poetry written on rickshaws is always short and usually just a couplet – two lines with the same meter – and could be regarded as shoddy from the point of view of literary standards. But it does convey some personal experience and knowledge of the poet or the owner of the vehicle and offers a message for the reader. With its all colourful floral patterns, creative depictions of human heroes, calligraphy and poetic verses the rickshaw expresses the driver's words of wisdom.
Shafeeh Mohammed, a well-known, self-taught rickshaw artist, who started to adopt and learn the art of painting and designing motifs for rickshaws at the early age of 10, was inspired by watching the beautiful decorated horse carts in the city more than 40 years ago. The carriages were once used for auspicious occasions like weddings. There were also the gaudily decorated trucks and buses that drew him towards the art and made him the professional craftsman he is today.
Shedding light on the rickshaw folk art and poetry, he lamented: "The journey of rickshaw art is near its end". Shafeeh is a soft-spoken man in his early 60s with a calm demeanour, who's weather-beaten Afro-Asian wrinkled face and steel-plated, red-black paan-stained teeth and tongue makes him stand out. In many ways, his looks and his grey hair make him resemble Morgan Freeman.
Shafeeh, once famous for making rickshaws look beautiful and different in their own way, is now fighting for his bread and butter. His brother, Younis, 45, and three sons are also in the same business and working with him in the same little workshop near the KMC Ground, Ranchore Line, to support the family.
Painting rickshaws and redesigning them to the customer's demand has long been a family business. Recalling the days when he use to make a lot of profits and lived happily, he shed light up the current scenario. "When I started this profession, only paints, paint brushes and some other tools were used to decorate a rickshaw from scratch to the requirement of its owner. At that time, the job was done for few hundred rupees but now the same work cannot done for thousands. And nowadays, the arrival of CNG rickshaws and computer designed panaflex sheets and stickers have taken away all our craftsmanship and now we only look for people who still understand this art and can pay us the right amount of our work. Otherwise, I just don't do it," Shafeeh said, adding, "The golden age of decorating rickshaw is gone".
He said that rickshaw folk art opens the window to a culture and it has its own uniqueness compared to other cultures. The inscriptions make every rickshaw different from the other. These inscriptions that adorn the sides, tops and backs of rickshaws are largely inspired by the culture and current atmosphere of the country.
However, a substantial change in the past few years in the subject matter of the inscriptions has been observed by artists and Karachiites. Today, there are far more provocative messages inscribed on certain vehicles.
Shafeeh explained the differences he has seen in his more than 40 years of life in the profession. He recited a famous couplet by Bashir Badar that he use to paint on the demand by most of the rickshaw owners a few years back "Ujalay apni yadon ke hamaray saath rehne do (let the darkness of your love live with me) , Najay kis gali mein zindagiki shaam ho jaye (I don't know where my life will end)".
Further elaborating, he explained, "Previously the rickshaw motifs and poetry or the message would convey the personal experiences, beliefs and agonies of the driver or owner. But with time, the situation has drastically transformed after Pakistan's involvement in the America's war of against terrorism in Afghanistan. The soon to become Asian tiger is now fighting for its survival and is gripped by economic and political instability which has changed the mindset of the masses making them aware of everything happening around them. Now the messages are more political such as, "Soch raha hai Pakistan (So wonders Pakistan). Na koi dhanda na koi kaam, rishwat aam, traffic jam (No work, no occupation, widespread corruption, a bad traffic situation), America ke hum banay ghulam, saari duniya mein budnaam (Slaves of America we have become, further shame can't possibly come), hoga kya mera anjaam, soch raha hai Pakistan (For my fate, there is no plan. This is what Pakistan wonders)".
There have been other changes too. "I was really surprised to see the motifs I used to make on rickshaws on a woman wearing them on TV, walking on a ramp. That day I realised where the world is moving,"
he shared with a sigh adding, "but I was happy to see at least someone somewhere is giving importance to this art".
The father of nine – four daughters have been married off and three sons work as labourers – works very hard and earns Rs 800 to Rs 1,000 a day. His sons, who had studied up to the 10th standard, have always supported him and his art. Despite the falling level of interest in his craft, Shafeeh still works as he waits for customers who can pay up to his expectation.
— SS
Popular rickshaw
one-liners and poetry
Daikh magar pyar se
Maa ki dua jannat ki hawa
Hassad na ker, daikh ker dua ker
Dikhne mein dolly, chalne mein goli
Bomb gaari, aag driver
Na chher malanga noon
Tapar hai toh crass ker, warna
bardasht ker
Anwer ki laadli
Kabhi ao na Karachi, khushbu laga kay
Fasla rakhen nahi to pyar ho jayega
Pappu yaar tang na ker
Bara hokar corolla banoonga
Ae musafir kyun ghabrata hai meray rikhshaw mein beth jane se
Khuda bhi naraz hota hai kisi ka dil
dukhane se
Jo maa ko satata hai
Wo rikhshaw chalata hai
Maa ki dua, jaanat ki hawa,
Baap ki buddua, ja beta rickshaw chala
Khoobsurat log school jatay hein, badal unkay usool jatay hein
Khud toh kertey hein taleem hasil, hamaray dhakay fazool jatay hein