By Saad Hasan
As the destruction caused by the country's worst floods in 80 years unfolds, relief organisations are making their presence felt in a big way. Banners can be seen at traffic intersections, camps erected in busy markets and activists seeking donations roam the city aboard. How much is being collected in Karachi, the financial hub of the country, is anyone's guess. If Pakistan, according to the Pakistan Center for Philanthropy (PCP), is one of the world's most generous countries then Karachi is undoubtedly the city which always opens its heart when it comes to charity.
After a lull of a few days that provoked some to say that the city has lost its generosity to inflationary and violent times, the citizens have started to come forward to help the flood victims. The holy month of Ramazan has added to the spirit of charity.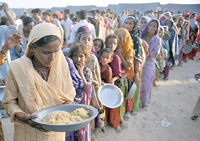 Over 8,000 social welfare organisations are registered with the authorities in Sindh while there remain thousands more unregistered entities, most of them claiming to be engaged in relief activities. The money Pakistanis donate to different charities every year can be in the range of Rs140 billion. The last household survey conducted in 1998-99 showed that people donated a total of Rs72 billion a year, though mostly to organisations that are neither regulated nor maintain audited accounts.
However, just four organisations registered with PCP are working in Sindh. PCP registration might not be mandatory for a social welfare organisation to operate but it is at least a seal of credibility.
A non-profit organisation, the PCP promotes the idea of self-sufficiency through philanthropy and was formed in 2001 after the survey findings showed that billions of rupees of philanthropic contributions were unaccounted for.
Today, the PCP is the only organisation in the country that issues accreditation certificates to charitable trusts. So far, it has been able to certify only 200 organisations.
Sukkur Blood and Drugs Donation Society runs four ambulances equipped with paramedic teams in Sukkur and Rohri. Its area of operation is not big but resources are scarce and the disaster enormous. "We have to help these people immediately. They are the poor who depended on cattle and tilled lands for our food supplies. This huge number of affected people could become a big problem if they are not helped right now," said Abdul Jabbar, an activist.
Working in Sukkur for the past 22 years has made the organisation easily recognisable, he said. "Collecting donations in the district has not been a problem. But the response from Karachi is not the same as it is normally in such calamities."
Other NGO activists agree. Danish Channa, who runs Shah Abdul Latif Bhatai, an NGO working in Dadu, is upset with the response from Karachiites. "No one has come to the stalls, which we had set up in parts of the city. It seems unfair that we go through the tough process of registration and there is no appreciation."
There is no credible information available to how much the country's largest city gives away in charity each year. The amount runs into billions of rupees, according to experts.
From the labourer who gives a rupee to a beggar outside a mosque to that stockbroker arranging food for hundreds of people each night, there is no dearth of philanthropists among the different social strata.
But much of this culture of charity is an attempt in getting rewards in life after death. Some people feel their responsibility is fulfilled just by giving away. There are no follow-ups, no tracking records of where the funds are being spent.
PCP's Communications Specialist Aleeza Akbar says that foreign donors have grown concerned about the credibility of relief organisations working in the country.
"With so many reports of corruption and all the wrong that is happening, the international donors look for some sort of credible attestation. This is where PCP plays its part."
Akbar, from PCP, says that there is no system in place to monitor the flow of charity from donors to the needy. "Government must see how much money is coming in and who is getting their hands on it."
Although not directly involved in collection and distribution of charity, the PCP verifies the credentials of charitable trusts on 80 different parameters.
Even Edhi is not registered with PCP. But yet people don't doubt the credibility of one of the largest welfare organisations in the country. Nevertheless, social activists assert that pilferages occur wherever accountability is missing.
Kolachi talks to some of the groups engaged in relief activities
Rotaract Club and Interact Club of Karachi Karsaz Flood Relief:
The Rotaract and Interact Club kicked off their fundraising campaign from August 4 in Karachi and have succeeded in distributing more than 600 aid survival packs (each costing Rs 750) to flood-affected areas including Sukkur and Dadu.
Talking to Kolachi, Asim Kidwai, member of the Interact Club said, "The relief packets are being transported by the Pakistan Red Crescent Society and our volunteers distribute the aid themselves to the flood survivors. We are collecting monetary donations as well as dry food items including rice and lentils, mineral water, biscuits, painkillers, ORS, toiletries, sleeping bags, sanitary napkins for women and pampers for children."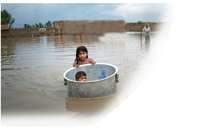 Their collection camp is situated at the Gool Minwalla Montessori Campus behind South City Hospital in Clifton.
Pakistan Youth Alliance:
With over 5,000 fans of the organisation on Facebook, the Pakistan Youth Alliance (PYA) has emerged as one of the biggest aid collectors and distributors. So far it has distributed over four million rupees worth of goods and relief aid to the flood-stricken people across the country including Nowshera, Rajanpur, Charsadda, and southern Punjab.
Ali Abbas, heading the PYA told Kolachi that since every settlement has its own requirement, therefore it is not possible to issue a similar item list for every camp and settlement. "We first carry out an assessment of every locality, get in touch with the governmental officials and find out what commodities are required in a particular area.
On his way to deliver the ninth consignment, he said that so far a tremendous response has been received by the organisation. Abbas discourages dry ration amongst the items. He said that in some areas, such as Nowshera, there is an excess of commodities. In fact, there was so much flour that people were sleeping on flour sacks.
Help in a Box: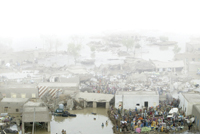 A relief camp titled Help in a Box located on Imperial Lawn; Sharea Faisal is being run by individuals. Shahzad Qureshi, who is heading the camp, told Kolachi that they strongly discourage monetary donations and lay emphasis on the item list posted on their Facebook group.
"We strongly encourage donors to send us powdered milk, tetra pack juices, dates, biscuits and mineral water. Once the goods are collected, we pack them in boxes, each packet consisting of the above mentioned goods which will last for one day for a whole family. So far we have made 10,000 family packets." He said that they are collaborating with the Edhi Foundation and the Pakistan Army for the distribution of the goods to the affected areas. Meanwhile, the volunteers are mostly youngsters and university students who are helping in collecting aid and packing the goods in boxes.
Karachi Relief Trust:
Formed by friends and acquaintances, this group has been working from the time of the devastating earthquake of 2005 in northern Pakistan. The website, www.karachirelief.org has most of the information about how the group got together and about what they do, Maria Qureishi, an active member of the group, says that they collect most of the funds through word of mouth.
Fast forward to 2010, as the floods are headed towards the interior of Sindh, KRT has met up again and with the help of friends have put up a storage space at the Barbecue Tonight (BBQ) restaurant in Karachi. Apart from collecting food items and clothes, the members also meet up between three and five in the afternoons at BBQ to decide on what course of action to take next.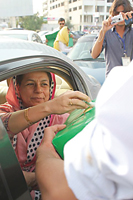 An HR Consultant by profession, Maria informs that so far they have sent around six trucks full of clothes and bedding for the survivors in the interior of Sindh.
Maria Qureshi says that they need food items, which includes biscuits, roasted chick peas, dates and water bottles. Apart from that the trucks that have gone to the interior Sindh include trunks, containing bedsheets, clothes, sanitary napkins and pampers, three to four eating utensils along with two charpoys and a medical kit. "Most of the stuff that we have received has been very useful as compared to the 2005 earthquake disaster, and thankfully we didn't have to throw anything away. People asked a lot of questions about what is required which made us more focused as well. If a family was donating clothes, we asked them to donate food items as well. Apart from that our friends have made sure that they convey clearly to people and acquaintances that they can donate anything they want to."
Currently, KRT has started six projects which include water and household packages prominently. "It includes getting water purifying tablets, which have been donated by friends and apart from that we are collecting water bottles as well.
The KRT has also requested final year medical students to accompany them to interior Sindh where they can give immediate relief to the affected. "We have also asked some of them to accompany us to the camps in Karachi." What Maria stresses on is the fact that word of mouth has really helped them a lot because of the trust people have on their friends and acquaintances.
As for the medical needs of the people are concerned, the group is going to meet on their way to the interior. KRT has also taken on board two consultant doctors, Dr Inam Bari from Indus Hospital and Dr Naseeruddin from South City Hospital.
– Rabia Ali and Saher Baloch
Items required for flood victims
1. Items for intake:
• Dried milk for children and families
• Dates
• High nutrition biscuits
• Food packets consisting of tea, sugar, powered-milk, vegetable oil, pulses and spices
• Tetra-pack juices
• Mineral water bottles
2. Non-food items:
• Water coolers
• Cooking utensils
• Footwear for children
• Mosquito nets
• Blankets
• Sleeping bags/ tents
3. Medicines:
• Medicines for malaria, typhoid and influenza
• Life saving drugs
• Medicine for dysentery
• Antibiotics
• Painkillers
• Medicated bandages
• Band aids
4. Personal hygiene kits:
• Soap
• Hand towels
• Tooth paste
• Female sanitary napkins
• Diapers for minors
• Washing powder/soap
5. Miscellaneous:
• ORS
• Mosquito repellents
• Prickly heat powder
• Anti-rash creams
• Water purification tablets
• Candles /match boxes
• Torches and batteries
• Portable stoves
• Plastic plates and glasses
• Cooking utensils
• Scissors
• Knives
By Rafay Mahmood
Karachiites have always opened their hearts and wallets in times of national calamities. But since the October 2005 earthquakes, a feeling of mistrust has gradually developed for official teams collecting relief goods. People are much more eager to trust private initiatives where they can be assured that their donations will reach those in need. The camps set up by the students of Karachi across the city are a testament to this generosity.
"We have set up a relief camp in front of the Motta's supermarket in Clifton, adjacent to the relief camp of the Pakistan People's Party's," says Mudasir Eijaz Kazi, a student of a private university. "Although we started the effort later and are just students, we manage to collect an equal amount of goods each day."
Mudasir is a part of the camp which has been set up by the students of Iqra University (IU), College of Business Management (CBM), Mohammad Ali Jinnah University (MAJU), NED and the College of Accountancy and Management Sciences (CAMS).
Mudasir told Kolachi that when people show up at the camps, they have a series of questions they want answered. The most common query is whether the goods will reach the affected. To all the questions, Mudasir has one answer, " I am from Shikarpur myself and most of the villages and Goths surrounding Shikarpur are submerged in water and I will personally take these goods where they are most needed ".
The camp has so far been able to raise a cash amount of Rs 200,000 and relief goods worth around Rs 250,000. Mudasir believes that setting up a camp in front of a busy supermarket helps, as people can just buy goods and give it to the students. Mudasir specially thanked a person by the name of Faisal who has been coming daily and giving around Rs10, 000. More importantly, he arranges for the food and drinks for the volunteers and has also promised two trucks full of goods in the coming days.
Meanwhile, students of Dow Medical College have also set up relief camps at a number of places. Dr Salik Zaheer explained how he and his fellow doctors managed to raise Rs. 800,000 for the flood victims. The Doctors' Food Relief Campaign is run by medical students and practitioners to provide relief. The main focus of the group is to look after the medical needs of the flood victims and provide them with basic necessities. Dr Salik told Kolachi, "One of our teams visited Thatta and the adjoining areas and collected data regarding the prevalent disease and the medicines required and then the fund collection team sent what was needed to the affected areas." Salik also agreed that one reason the team is getting so many funds is because most of the students are from the interior of Sindh. This, he feels, helps in the deployment of doctors to gain the trust of the people who are quiet sceptical this time round. Apart from the collection of funds, the relief provision team has so far attended to 900 patients at the medical camps held at different schools and the mobile medical camp which is working in the interior of Sindh.
Among other student endeavors for flood relief was an Azaadi Flood March arranged by students of the Shaheed Zulfikar Ali Bhutto Institute of Science and Technology (SZABIST) in collaboration with an organisation by the name of Jaag Mere Taalib- e-Ilm run by a student of SZABIST. The Azadi Flood March was held on the August 14 by over a 100 students from the university as well as the Indus Valley School (IVS). It started from 90, Clifton and terminated at the Two Swords roundabout. The students formed a human chain around the roundabout and chanted national slogans, and the teams were later divided into groups to collect aid from passers-by. A total of Rs. 113,023 were collected on the first day. The same exercise was repeated on the second and third day when students as well as faculty members of Asian Institute of Fashion Design (AIFD) and Institute of Business Administration (IBA) joined in. The grand total collected was around seven lac rupees. "What was interesting to see were a number of people joining us, sharing a smile and giving whatever they had. Surprisingly, the number of rickshaw drivers, taxi drivers and bus conductors contributing was greater than people in posh cars," Gul Zaib Shakeel the General Secretary of SZABIST Student Council, told Kolachi. She believed that the whole exercise helped them gain the trust of the people as those who couldn't donate, such as young people on bikes, joined us in chanting slogans and waving flags.