Them and society
The ordinary followers — or preachers — and their worldview
By Aoun Sahi
It is tough to fail to spot small groups of people dressed in simple, white, loose-clothing, wearing beards with no moustaches, carrying sleeping bags, burners and steel and plastic pots on their backs. It is even tougher to avoid them once they approach with a smiling face to give their message. They are members of the Tableeghi Jamaat.
You don't always see them in a modest setting. They are seen with their families and friends in international food chains, buying — and sometimes selling — brands and even in cinemas. They do seem to enjoy the lifestyle, wherever they can and when they are not out to preach.
International presence
The organisation is not new to the West, in fact it is well-penetrated with membership running into thousands
By Waqar Gillani
Tableeghi men are not unique to this part of the world. They've become an international phenomenon, and are usually associated with the Tableeghi Jamaat (TJ).
TJ's international headquarters is in Nizamuddin, New Delhi, India. It has several national headquarters from where they coordinate the activities in over 100 countries. The Jamaat has a significant presence in North America, Europe, Africa and Central Asia. Britain has remained a major focus of the movement — fingers were pointed at the party when the 23 accused of 7/7 (July 2007) London terror plot were found to have connections with it.
Editorial
The Interior Minister while speaking at a seminar titled "Countering Extremism in South Asia" pointed at the terror links of the Tableeghi Jamaat, a statement that he had to immediately retract. This is not the first time that Mr Rehman Malik had to retract his statement. But just the fact that he spoke about Tableeghi Jamaat (TJ), the mother of all grassroots Islamic movements that has millions of supporters across the world, provides an occasion to take a fresh look at the organisation. Times have changed. Has the Tableeghi Jamaat changed too?
This Special Report is an attempt to look at the Jamaat and its influence in Pakistan in an academic and neutral way. Most of it was already known but has been put together in order to judge the impact. TJ is apolitical. TJ has a loose structure that draws a vast majority to it. The teachings of TJ revolve round six points — a correct declaration of faith; knowing how to perform ritual prayers correctly; inculcating a habit of remembering God; respecting other Muslims; behaving honestly and decently and spending some time in passing on this message to other Muslims.
These points form the core of Jamaat's textbook, Tableeghi Nisab (Tableeghi Curriculum), which is the only book the Tableeghis ever read.
With this as their mission, they set out in groups or mobile units to target Muslims lacking in faith and making them say their prayers regularly or follow the six point programme.
The message is simple. You may even read it as oversimplified. The need to says your prayers regularly and read the Quran correctly. Is that all! What about the need to create critical minds among Muslims? What about questioning the status quo? What about learning and knowledge and larger good of humanity? What about science, what about philosophy, what about Ijtihad and understanding the spirit of the religion in its present context? What about living among people of other faiths and how to treat them?
Rehman Malik may have some information that we now know he would not share. One thing is clear though. If the message of the TJ is aimed at creating unquestioning, obedient, ritual-performing youth, it will be rather easy to lure these religiously driven men and women to all extremes.
Tableeghi Jamaat needs a much more serious and critical analysis than what we have attempted on our pages today. It is certainly not as simple as it appears.
comment
Reservations and
concerns
The Tableeghi Jamaat has received bouquets and brickbats but controversy remains on what it is
By Muhammad Amir Rana
Tableeghi Jamaat (TJ) has been widely discussed for some time now. It has been of particular interest to scholars in South Asia. Western scholars have written about it too. But none has succeeded in getting into the depth of a religious group that is fast gaining popularity among mostly poor Muslims of the subcontinent. It has received bouquets and brickbats but controversy remains on what it is.
Mainly the western researchers have some fundamental reservations regarding TJ: first, it preaches a traditional version of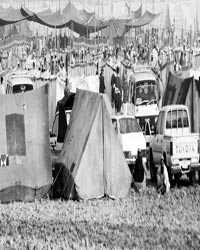 religion, which promotes a conservative way of life to the youth; second, its loose organisational structure helps terrorists conceal their identity; and lastly, they are concerned about TJ's direct or indirect linkage with terrorist organisations.
According to the Center for Policing Terrorism, an American research organisation, people associated with TJ in the United States are estimated to be around 50,000. Suspicions about TJ were raised when the so-called American Taliban John Walker Lindh and Omer Padilla came to limelight. They had an association with TJ — and so did the Australian Taliban David Hick. Similarly, one of the terrorists who carried out the July 7 bombings in London had been associated with the Jamaat. The British police have arrested 23 suspect terrorists so far who, in one way or the other, had a relationship with the Jamaat.
But the question arises whether the entire TJ could be blamed for terrorism because some individuals were suspected of involvement in terrorism?
Following issues have been pointed out so far:
Is TJ directly involved in terrorism?
The answer is negative. But, the possibility of members getting involved in terrorism in their individual capacity has not been ruled out. Other than the American and Australian Taliban and British suspects, At-takfi, who was awarded death sentence in May 2004 blasts in Casablanca, had also been associated with the Tableeghi Jamaat. In this regard, examples can be quoted from Kazakhstan, India and the United States, which are based on police investigations. This is the reason why the West does not consider TJ a high risk group. But, the possibility of Jamaat members getting influenced by other violent groups is not discounted.
Violent groups from within the Jamaat
Another point under consideration is the possible branching off of a violent group from within the Jamaat that may show tendencies to get involved in acts of terrorism. No solid evidence is available though, except for a coup attempt against the Benazir government in 1995, hatched by few military officers known to be Jamaat-associates. And there were individuals from jihadi organisations as well, suggesting that the plot was an isolated act.
Jamaat youth moving towards extremism
The possibility of Jamaat-associated youth moving towards extremism is taken as a serious threat. In this regard, much evidence is available in Pakistan and the West. Most of the people associated with jihad and violent sectarian organisations have also been associated with TJ.
Loose organisational structure
The loose organisational structure of the Jamaat is viewed as the biggest threat. It makes it quite easy for terrorist groups to penetrate for recruiting new members and hiding from the law enforcement agencies. Some evidence was found in the US, Europe, Philippines, Indonesia, Yemen and Morocco when members of terrorist organisations travelled for operational and training purposes under the cover of TJ. This phenomenon has emerged in Pakistan too and is a matter of grave concern. Law enforcement agencies claim that many terrorist organisations, including Lashkar-i-Jhangvi, have taken cover under the folds of TJ to avoid arrests, and in some cases, to carry out terrorist activities. Despite the fact that the terrorist threat is increasing, TJ seems to be unwilling to change its organisational structure — partly because some Jamaat elders believe that by introducing a political party style organisation the Jamaat will lose the image of a preaching group and will appear to be pursuing the interest of some particular group. Hence negating the Tableegh principle — "Every believer is a preacher". The Tableeghis say, the Jamaat will not discriminate against individuals — we are not concerned about their personal deeds outside the congregation; people need guidance and we simply provide that guidance to whoever seeks it. They claim to provide an opportunity for people to voluntarily tread the right path by providing the right environment, and it is the state's responsibility to punish terrorists and criminals, even if associated with TJ.
Financial resources
Fingers are also pointed at the financial resources of the Jamaat. Although TJ contends "Allah is the provider: human beings are just a means", the fact remains that people associated with preaching, and at times also governments in South Asia, have helped construct preaching centres and the running expenditures are met by small donations. TJ does not fund the preaching visits because participants manage their travelling, boarding and lodging. Well-off TJ members do reach out to poor members and financial support is extended.
One can disagree with Jamaat's impact on society or its role in attracting Muslims to Islam but one cannot discount the fact that the Jamaat successfully introduced renovation in the archaic convent system. The question raised in religious circles is: where will the Jamaat go from here?
A movement that was founded 80 years ago, should have adapted itself to the changing mores of the society. The elders of TJ seem least concerned about altering the structure or the method of preaching.
TJ elders need to pay attention to fears about terrorism and security. They need to restrict the radicals from using its platform. This may be a short-lived trend but the propensity of TJ members getting attracted to radical movements contradicts its own objective of peaceful reformation.
The question remains, what are the chances that TJ will continue to be used by criminal networks?
The writer is editor quarterly research journal 'Conflict and Peace Studies'. He can be reached at [email protected]
The Jamaat's secret to success lies in its access to influential
elite who matter
"In countries with a majority, or substantial, Muslim population, TJ's target list starts with the ulema, then moves to the intellectuals and professionals, followed by influential merchants and, finally the hoi polloi," says Dr Timothy R. Furnish, an analyst of Islamic movements, in his research paper on Tableeghi Jamaat published in the Journal of International Security Affairs.
He insists the approach has worked, since TJ is now the most followed Islamic programme on the planet and may well be the most influential transnational Islamic organisation.
The analyst's assertions answer to some extent the questions about Jamaat's secrets to success and the extraordinary access it has to the influential elite who matter. Jamaat's supporters, however, believe the organisation's disassociation with political activism or violence of any sort has allowed it to spread peacefully all over the world. For this very reason, they say, the respective governments have never felt threatened or offered any type of resistance to peaceful activities of the Jamaat.
TJ followers believe their policy of non-violence and refraining from political activism attracts people who don't stand to suffer at personal level. There is no strong organisational structure of the Jamaat and any complex formalities to undergo for a newcomer. They believe many Muslims tread on this path to find solace and find a sense of purpose for themselves.
Former Pakistani test cricketer Saeed Anwar and pop singer Junaid Jamshed got immense media attention when they turned to religion and joined TJ but for them this transformation was quite normal.
While the Jamaat denies there was any deliberate attempt, certain quarters claim it made special efforts in the 1990s to attract TV actors, pop musicians, cricketers, bureaucrats and members of the armed forces. Besides, the fact that politicians have started associating themselves with TJ and attending its congregations has encouraged many to follow the suit.
Zahid Aziz, a private school teacher, says the simple lifestyle of the Jamaat members and the presence of mosques in every part of the world is increasing their outreach. There is no shortage of funds as every member has to give apni jan, maal, waqt (own life, wealth and time).
Zahid thinks getting visas for the Jamaat members is not a big issue as international visits are organised on need basis. He says there's a khatoot (letters) section where taqazas (demands) arrive from all over the world via ordinary post, emails etc. These demands are sent by members of Muslim communities in different part of the world who want TJ to send their teams there for tableegh (preaching).
He says teams for foreign visits are formed after seeking willingness of volunteers. The team members in this case should be married individuals and ready to spend not less than four months abroad for the purpose, he adds.
"I have seen many 70 year-olds who don't even know how to perform ablution or take ghusl (bath). There are others who cannot even recite the kalma properly. Our agenda is to correct ourselves rather than reforming ourselves. Making Muslims understand their religion well and practice it in true spirit is the best form of jihad," he adds.
— By Shahzada Irfan Ahmed
Dawat-e-Islami, the Barelvi response
Though the Tableeghi Jamaat presses its non-sectarian character, it is a fact that it propagates the Deobandi version of Islam. The Barelvi majority of subcontinent has been seeing it as a threat since its early days. In response, they have started many movements like Sunni Tableeghi Jamaat, Sunni Dawat-e-Islami and Dawat-e-Islami to counter the influence of Tablighi Jamaat on the society.
Dawat-e-Islami which came into being in 1981 in Karachi is considered the most prominent and popular of all such Barelvi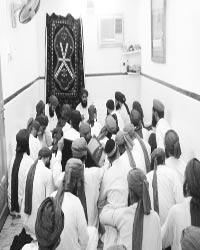 movements. Maulana Muhammad Ilyas Attar Qadri, the then Punjab president of the Anjuman Tulaba-e-Islam, the youth wing of the Jamiat-e-Ulema-e-Pakistan (JUP), is the founding ameer of the organisation.
The philosophy behind making this organisation was purifying the society from 'the evils'. "When the tides of decadent ways are on the rise throughout the world, when mass media is using its resources to spread indecency, when the majority of Muslims continue to adopt immodesty in the name of fashion, in times like these, when homes are turning into movie theatres; and Muslims are wasting their precious time in music, movies, alcohol, and gambling. In these trying times, the Shaykh, The Founder of Dawat-e-Islami, the Spiritual Guide, Amir-e-Ahl-e-Sunnat, the Honourable, Shaykh, Abu Bilal Muhammad Ilyas revived the work of calling to righteousness" reads a chapter of an official book of organisation on the life and work of Maulana Ilyas Qadri.
Dawat-e-Islami is working in more than 41 fields. The two most significant activities of Dawat-e-Islami are Madani Qafila (missionary travel) and Madani Inamaat (self assessment questionnaires). Like Tableeghi Jamaat, it likes the followers to travel for specific days to spread the message of Islam to the people. Its leadership hardly interacts with the mainstream media though the organisation own its TV Channel. It also arranges an annual gathering of its followers in Multan.
In September 2005, players of national hockey team along with the coach pledged allegiance to Maulana Ilyas Qadri to follow his teachings. Almost all followers of Dawat-e-Islami pledge allegiance to him.
The organisation during the last three decades has been able to reach more than 70 countries. Its headquarters, either national or regional, are called Faizaan-e-Medinah (Blessing of Medina). An overwhelming majority of the followers of the organisation belong to the lower and lower-middle classes. Karachi is a stronghold of this organisation and a large number of traders in the city and even people connected with the ship industry are the followers of this organisation and they also fund it.
It is believed that Dawat-e-Islami is among the strictest Islamic organisation for its followers. The followers of Tableeghi Jamaat are supposed to act strongly on six basic principles while Dawat-e-Islami has drafted 14 basic principles for its followers. They even have to follow a dress code.
Dawat-e-Islami, like Tableeghi Jamaat, propagates that violence is not on its agenda though violent Barelvi organisations like Sunni Tehreek and Tehreek-e-Mustafavi have come into being as splinter groups.
— By Aoun Sahi
making
Preaching the way to paradise
An insight into the evolution of the Jamaat
By Amir Mir
The Tableeghi Jamaat (TJ) or the Party of the Preachers is once again in the media spotlight following Interior Minister Rehman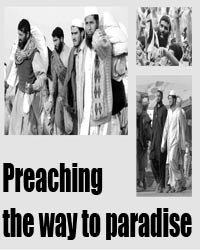 Malik's July 29 statement, holding the Jamaat's missionary centre in Raiwind, Lahore, as the breeding ground of extremism and terrorism. He retracted his statement the very next day by stating he had deep respect for the Raiwind Tableeghi centre.
In the wake of widespread condemnation by religious and political leaders, Malik had to eat his words. He was severely criticised by both Pakistan Muslim League Nawaz and Quaid, followed by the decision of the National Assembly's Parliamentary Committee on National Security to summon him to explain his words. Nevertheless, the fact remains the interior minister did describe the Tableeghi Jamaat as a breeding ground of extremism and terrorism in Pakistan.
As reported by The News, while talking at a seminar, titlted 'Countering Extremism in South Asia', organised by security think-tank International Institute of Strategic Studies, Senator Rehman Malik said, "Almost all the terrorists arrested in Pakistan so far had three elements in common: they have visited the Tableeghi centre in Lahore's Raiwind area; their close family members have taken part in Afghan war of the Soviet era and they have been to one of the more than 25,000 madrassas which have mushroomed in Pakistan following the USA and Pakistan's joint war against the Communist USSR".
The leadership of the Jamaat claims it is a non-militant organisation of practicing Muslims and it has never indulged in militant or political activities as a matter of principle; that it is actually an Islamic missionary and revival movement founded in the British-India as a response to Christian evangelists working among poor and poorly-educated Muslims.
The group primarily came into existence to spread the message of the Holy Quran with two main objectives: to ensure that Muslims strengthen their faith and to carry out humanitarian work.
Reputed to be the richest religious organisation in Pakistan, it was founded in British-India in the late 1920s by a Deobandi cleric Maulana Muhammad Ilyas Kandhalawi (1885-1944) in the Mewat province of India. 'Tableegh' in Arabic means 'to deliver (the message)' and the Tableeghi Jamaat (or the Proselytising Group) pledged to deliver the message — as a primary responsibility of Muslims.
Of late, concerns have been raised by international media about how the Islamic missionary organisation has been infiltrated by jihadi elements which might be using the apparently non-violent TJ platform as a cover to promote their violent jihadi agenda across the globe.
In response, on April 29, 2011, Haji Abdul Wahab, ameer of the Pakistan chapter of the Tableeghi Jamaat, while addressing the concluding session of the three-day preaching congregation at Raiwind, said, "Shariah cannot be enforced at gunpoint. Had that been the case, Allah would have sent fierce angels to protect prophets and enforce their faiths". Ninety year old Haji Abdul Wahab left his job as the sessions judge in the pre-partition India and joined the Jamaat.
The Tableeghi Jamaat grew out of the Deobandi School of Islamic thought which emerged under the British rule in the Delhi region of northern India. In pre-colonial India, Islamic scholars learned informally, by travelling with their teachers. But in the 19th century, inspired by European educational practices, Muslim clerics in India established deeni madrassas or religious seminaries with sequential curriculum, organised classes and paid faculty. The madrassas were actually founded by specialists in hadith. The Deobandi Muslims actually emerged from the madrassas.
The Deobandis considered themselves reformists, proscribing adherence to a pristine text (Holy Quran) as a solution to worldly powerlessness. They opposed various contemporary Islamic practices, including excessive rituals at tombs, elaborate lifestyle celebrations and Shia-influenced practices. Following British repression of Indian Muslims during the Mutiny of 1857, the Deobandi leadership adopted an avowedly apolitical stance. But as the Indian nationalist movement gained momentum after World War I, the movement grew politically, supporting the Indian National Congress against the British.
However, a Deobandi scholar and the founder of the Jamaat, Maulana Muhammad Ilyas Kandhalawi, intended the group to be an antidote to Hindu conversion efforts that actually targeted Muslim peasants. The members of the Jamaat took the dissemination of Islamic teachings out of the deeni madrassa or religious schools, de-emphasising the importance of clerics and encouraging ordinary Muslims to carry out proselytising missions. Tableeghis also clung to the original Deobandi rejection of any explicit political programme and to remain apolitical.
After Maulana Mohammad Ilyas died in 1944, his elder son, Maulana Muhammad Yusuf (1917-1995) took over TJ and expanded its reach. The movement grew after the partition of India, regaining importance during the 11-year military rule of General Ziaul Haq, who had ambitions of making Pakistan an Islamic state as prescribed by Shariah. This encouraged Maulana Yusuf and his successor Maulana Inamul Hassan who began targeting non-Muslims as well. This coincided with the establishment of a synergistic relationship between Saudi Wahabis and South Asian Deobandis, which eventually led to the Saudi financing of TJ.
The Tableeghis are trained missionaries who have dedicated much of their lives to spread Islam across the globe. They are part of the reason for the explosive growth of Islamic religious fervour and conversion. The TJ movement, which has reportedly spread to 150 countries, has over one million members world-wide and its headquarters for South Asia are located in India.
Despite its huge size, TJ remains largely unknown outside the Muslim community, even to many scholars of Islam. This is no coincidence. The Jamaat officials avoid media and government notice. They usually limit their preaching and missionary activities to within the Muslim community — its main aim is to bring spiritual awakening to the Muslims of the world.
The Jamaat's lack of a formal structure makes its growth hard to quantify. But in recent years, millions of adherents have congregated annually at the three-day TJ congregations in Raiwind, believed to be the second largest gathering of Muslims after Haj in Saudi Arabia.
Since the Pakistani law treats the Tableeghi Jamaat as a humanitarian group and not as a religio-political party, there is no ban on government servants, members of the armed forces and the nuclear and missile scientific community joining the party as members. As a result, many Pakistani government servants, military officers and scientists devote a part of their annual leave to voluntary work for the Tableeghi Jamaat. Interestingly, after his appointment as the DG ISI by Prime Minister Nawaz Sharif, Lt Gen Nasir continued to act as adviser to TJ and after his removal from ISI under the US pressure in 1993, he became a full-time leader of TJ.
The ordinary followers — or preachers — and their worldview
By Aoun Sahi
It is tough to fail to spot small groups of people dressed in simple, white, loose-clothing, wearing beards with no moustaches,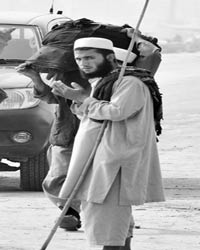 carrying sleeping bags, burners and steel and plastic pots on their backs. It is even tougher to avoid them once they approach with a smiling face to give their message. They are members of the Tableeghi Jamaat.
You don't always see them in a modest setting. They are seen with their families and friends in international food chains, buying — and sometimes selling — brands and even in cinemas. They do seem to enjoy the lifestyle, wherever they can and when they are not out to preach.
There are six basic principles (Kalmah, Salah, Ilm and Zikr, Ikraam-e-Muslim, Tas'hih-i-Niyyat and Dawat'o'Tableegh) for the followers of the Jamaat.
"The last principle has made us the most visible in society because we are encouraged to follow the pattern of spending one night a week, one weekend a month, 40 continuous days a year and 120 days at least once in our life to work for the tablighi missions," says Muhammad Ibrahim (name changed), 30-year-old businessman based in Bahawalpur. He has been working with the Tableeghi Jamaat since his college days.
The mainstay of preaching is to make perfect Muslims out of fellow countrymen. "This world is not eternal and we have to prepare for life after death. As a Muslim, it is my duty to save my fellow brothers from getting burnt in hell. We need to follow the path shown to us by Allah in his Book and by His last Prophet (PBUH)," he says.
For Ibrahim Music is haram. As for jihad, he says, this is not a good time. "First we should work on bringing Muslims back on the course of pure Islam and once this goal is achieved, we would invite infidels to Islam (either accept it or get ready to face us or pay us Jizyah). Killing fellow Muslims is not jihad, but in our gatherings we neither favour the present day jihad nor oppose it."
According to him, jihadi organisations have requested the elders of Tableeghi Jamaat many times to support jihad in their gatherings but they have always refused. "Our target is the whole society. Everybody is important to us; we do not give preference to one group of society though we do try to focus more on the youth," he says.
One can become a part of a three-day tableeghi tour in one's area, a ten day programme within a 100 kilometre radius of one's city or a 40 or 120 days tour within or outside the country. "The last one is organised by the people in Raiwind while the other two are arranged by the local tableeghi Markaz in particular areas. We use local mosques as our base during travel and during our stay in mosques, the jamaats conduct a daily gasht (tour) to neighbourhoods, preferably with the help of a guide."
During the gasht, they invite people to attend the Maghrib prayer at their mosque as after prayer the Ameer of Jamaat delivers a sermon to explain the six principles. "We urge people to spend time in tableegh for self-reformation and the spread of Islam," he says.
Explaining the importance of Tafrigh-i-Waqt (sparing of time) for preaching, he says travelling justifies the idea of departure from one world to the other world (death). "Travel is considered the most effective method of personal reform and has become a symbolic characteristic of our organisation. We also compare this withdrawal to Hijra, when the Prophet (PBUH) along with his companions leaving behind their beloved hometown migrated to the city of Medina."
A strong opponent of interest-based banking system, the Jamaat does not force its followers who have been working in the banking sector to leave their jobs.
"I was never asked to leave my job though interest-based economy is totally against the principles of Islam," says 35-year-old Tariq Jameel (name changed), a Lahore-based banker. "I have always been advised to work hard. I have an account which I use only to withdraw my salary and I never get anything on lease," he says. "We believe that we need to reconcile with Allah to get control of this world."
An overwhelming majority of the followers are Deobandis and yet it does not appear to be a sectarian organisation. "We give invitation of Islam to everybody, irrespective of their sect. The treatment of fellow Muslims with honour and deference is one of the basic principles of our orgainsation. We are also forbidden to use some particular signs like black turban (as it is associated with Shias) or green turban (as it is associated with Barelvis)."
In the past, some jihadi organisations have used the platform to spread their agenda. "Because most of the jihadi organsiations and our organisation follow the same school of thought (Deobandi), it is tough to make sure that these organisations do not use our platform. To avoid this, it has made compulsory that the people who want to go on tableegh should have an identification card and a strong reference from the local tableeghi markaz," Jameel says.
The Jamaat does not accept donations. "Only the senior members can donate money. All those who go on the tableeghi missions spend their own money on food and travel while we stay in the mosques. Our organisation is totally apolitical and we do not oppose the government at any level," says Jameel.
He does not specify which mosques do they go to, Barelvi or Deobandi?
The organisation is not new to the West, in fact it is well-penetrated with membership running into thousands
By Waqar Gillani
Tableeghi men are not unique to this part of the world. They've become an international phenomenon, and are usually associated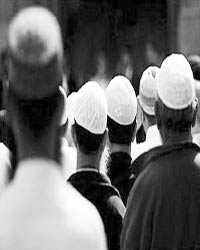 with the Tableeghi Jamaat (TJ).
TJ's international headquarters is in Nizamuddin, New Delhi, India. It has several national headquarters from where they coordinate the activities in over 100 countries. The Jamaat has a significant presence in North America, Europe, Africa and Central Asia. Britain has remained a major focus of the movement — fingers were pointed at the party when the 23 accused of 7/7 (July 2007) London terror plot were found to have connections with it.
For the modern western world TJ is gradually becoming a threat to its liberal values. Its purely non-confrontational approach is extremely conservative and is believed to be linked to all main jihadi organisations of Islam.
"There is no doubt that TJ is still a non-violent, preaching party and will follow the same course for many more years," says Islamic scholar Javed Ahmad Ghamidi while talking to TNS on phone. But, he adds, "they have their own view which can cause an ideological clash in future."
Oskar Freysinger, member of parliament from Swiss Peoples' Party, who led the campaign for the ban of minarets in his country, has reportedly said that these structures built with money sponsored by the conservative brands of Islam's (Deobandi, Salafi and Wahabi) are now becoming a "potential threat" in their society. "We have no problem with Allah. The only problem is the political and legal part of Islam which is in complete contrast to liberal society and democracy. There are some parts of shariah that are contradictory to the Swiss legal system," he said in an interview with Al-Jazeera television. "They want to impose a particular view," he added.
The Tableeghi Jamaat started expanding globally in late 1940s. According to reports, within two decades the Jamaat spread across south-west Asia, Africa, Europe and North America, mainly because of its apolitical stance. This helped them penetrate into societies where politically active religious groups faced severe resistance.
The first foreign missions were sent to Hijaz, present day Saudi Arabia, and United Kingdom in 1946 — and by 1970s it was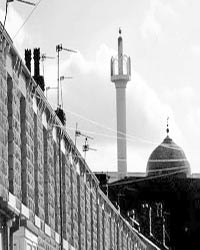 wellentrenched in Europe. By then, the US was already its stronghold.
The construction of the Markazi Masjid in Dewsbury, England commenced in 1978 which subsequently became the European headquarters of TJ. This centre holds one major gathering annually, generally in Dewsbury. It also operates a madrassa there, the Institute of Islamic Education.
TJ's influence has exponentially grown in France which reportedly has more than 100,000 followers. Tableeghi presence was also reported in 600 of Britain's 1,350 mosques a few years ago.
After the collapse of the Soviet Union in 1991, the movement made inroads into Central Asia. Till 2007, it was estimated that 10,000 TJ members were in Kyrgyzstan alone. Federal Bureau of Investigation counts nearly 50,000 TJ activists in the United States. The Jamaat is further extending its influence throughout the world, especially in South Asia.
Ghamidi says TJ has rights to preach its point of view. "I don't see any trouble… unless of course the TJ starts imposing its point of view on the western societies".
He admits, "Their ideology is linked to the hardcore groups".
TJ seems to be threatening the modern world, liberal and multicultural societies, where generally diverse cultures have existed and thrived. Now they see this freedom is under threat by the tableeghis.