instep
profile
"I am not even going to try and compete with Shahrukh Khan because the budget of one song he does is 1.5 crore and rising. Maybe I should take my clothes off and do jhing jhing jhing."
- Ali Azmat rebels against the Bollywood chalo bandwagon
With his second solo album, Klashinfolk, out in stores, Ali Azmat chats with Instep and tells us why Bollywood is not his end game and why he is not in any mood to actively promote his album
By Maheen Sabeeh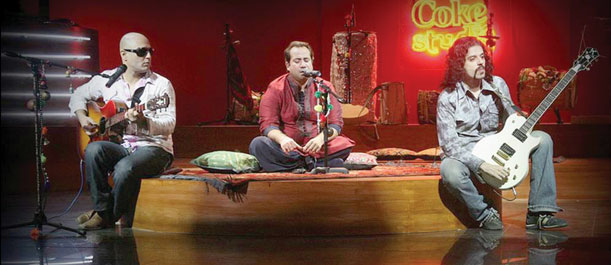 Making music in a chaotic world

"You've lost some weight," says Ali Azmat as we meet for an interview. I was ill, I tell him. "You're not shooting..." he trails off laughingly. No I'm not, I say, amused at his guess. You? "Nah, I'm too broke," he says in that self deprecating manner that is characteristic Ali Azmat.

It took quite a few calls to finally nail Ali down for an interview. Who is he hiding from?
"I hate all this interview, promotion stuff. But I will do it. It isn't desperation but I will do it because one has to," he says scratching his head.

The shaved head and slight stubble, replacing the wild curls of the nineties, aren't the only concession Ali has made to age. The jovial spirit has vanished. The eyes seem weary, the demeanour somber - the kind that is hardly witnessed - and yet for all his notions of seeming paranoia, Ali isn't divorced from reality. He may prefer to live in his own universe but that is only because he is too aware of the world itself.

"We need relief, all of us, you, me and everybody else," he says echoing the feelings of a nation that is struggling with the very real problems of terrorism, poverty, economic crunch among many others.
The series of blasts around the World Performing Arts that recently concluded in Lahore only compounded the fear. But the defiance of the Peerzada family to still go on with the show was a gesture that Ali vehemently supports.

"I was at the press conference and the Peerzadas took a stand that was necessary," he says.
From the onset of this interview, it is obvious Ali has been thinking, some might say too much, about anything and everything under the sun. His words hang in the air, atmospherically. And he moves from topic to topic at a rapid speed.

As he sits opposite me, smoking a cigarette, it is clear that he has a lot to say. But he prefers to do it through his music. Ali Azmat maybe Pakistan's favourite rock star but the man has quite a few sides to him that often only mirror in his music and rarely in his public image.
The journey so far: From broke musician to rock star

Leaving home at the age of just seventeen, Ali never looked back. From studying in Australia to singing A-ha's 'Take On Me' at weddings in his first ever band Jupiters, Ali has defied the norms, again and again.
In the early nineties, Junoon came and changed the scene in Pakistan. They did for rock what Alamgir, Nazia and Zoheb Hassan and much more significantly Vital Signs did for pop.

Junoon, as they say, was the band that gave birth to groundbreaking rock in Pakistan but for Ali, the success came much later.

"I have lived on daal-chawal and walked on the streets because I didn't have a car. I wasn't always living in this apartment. I would live with friends or take in a roommate. I had to make an effort to learn English. My parents are not English. And I might have spoke English at school but with friends and family, I spoke in Punjabi or Urdu. Guitar khareednay ka paisa nahin tha (There wasn't enough money to buy a guitar)," says Ali, going back to his days of struggling that continued for years right up until Azadi (1997) happened.

After that, the stakes changed and the enterprise of Junoon took off. If Talaash was the beginning, Azadi consolidated Junoon to new heights of fame. The band went to India and toured around the world, packing Central Park in New York and Royal Albert Hall in London with thousands of fans. Ali Azmat, the front man shined in the light as Pakistan's most fiery performer. He became the enigmatic icon to legions of fans in Pakistan and abroad.

But soon the once-formidable Junoon started crashing albeit the awful Ishq (2001). The final nail in the coffin came with Deewar (2003) that saw Salman Ahmed take on the mike in full throes. That and the departure of bassist Brian O Connell was only a sign of the shift that was beginning in Junoon.
On Deewar, the only songs that became favourites were the ones that had the stamp of Ali Azmat, the composer, on them.

"'Garaj Baras', 'Tara Jala', 'Sapnay' - from Deewar - were for Social Circus. But Junoon said, 'nahi yaar, these songs are good, let's take it in the album'. I had to re-start and write more songs. I had to have the confidence to say that 'I'll write more songs'," says Ali, telling me about the beginning of the end of Junoon.

With Salman Ahmed moving to America with his family for good, it became impossible for Junoon to survive.

Ironically enough, with the demise of Junoon, Pakistan found a solo artist who would once again go on to redefine rock music, although on a radically different note. And it happened in 2005 with the mighty record called Social Circus that saw the rebirth of Ali Azmat.

"Social Circus was a very disjointed album. I was leaving Junoon and I was recording the album and the pressure was that 'I couldn't do it'. It took me a long time. I would write for ten days and take off for a tour with Junoon for a month. Then record tracks. I spent at least two and half years with Social Circus," says Ali looking back at the album that reaffirmed our faith in him as a musician.

The record won awards, critical acclaim and was a super success.

With Social Circus, Ali went around the world touring. In Pakistan alone, he did over 100 concerts.
"I remember September 2005 vividly. We played 17 shows in that month. After that the earthquake happened and it all went downhill from there," he trails off.

The October 2005 earthquake and the devastation that followed was the beginning. In 2007, one political crisis after another with frequent bomb blasts throughout the country, the assassination of former Prime Minister Benazir Bhutto, brought the scene to a radical stop.

And even in 2008, as music albums release regularly, the future of music, concerts and entertainment on the whole, seems bleak. But not one to give up, Ali kept the spirit intact and earlier this year released his second solo album, the cynically titled Klashinfolk.
What is Klashinfolk?

From the chords on the first song, 'Gallan', it is apparent that this is Ali Azmat on his best. Intricate and beautiful at times, insanely fun at others, truly spectacular in its sound, the album sees Ali Azmat don the roles of singer, songwriter and producer.

"This was probably the easiest album I've done. Songs came out, I mean they happened. And I didn't force anything. Songwriting comes before anything else. Once you have a song, only then will you start jamming with the band. The next process was with the band. So I need this part going here, guitar is singing this, bass is doing that.

"I had the picture in my head so I would give them their parts - Omran, Gumby and Manu - and they did a great job. We practiced for two weeks and it sounded good so we just decided to record it. The recording process was also easy. We recorded the first five songs in three days, the other five-six songs we did in four days so the tracking happened in seven days. It was all very free-flowing, you know?" says Ali.
What's remarkable about the album is that it is hugely different than its predecessor Social Circus and yet it is signature Ali Azmat.

Ali brought the change not just with the direction he took but also with the musicians who collaborated with him on this album.
Omran Shafique stepped in place of Ziyyad Gulzar on electric guitars while Kamran 'Manu' Zafar and Gumby took on bass guitars and drums respectively.

"The line up of course makes a difference. Gumby's playing had a huge impact on the album. Gumby is like this rock drummer so he had to be toned down. On 'Gallan', for instance, Gumby goes haywire but it's very systematic. Omran's very adaptable and groovy. Manu is an excellent player," says Ali of the line up that forms his live band.

For an album that deserves to shine in the spotlight, Ali has done the opposite.
He has promoted the album but not in the same vein as he did for Social Circus. Why?

"I hate myself on television. Now I understand bands like Pink Floyd or Pearl Jam. Maybe my hate hasn't reached the level where I completely cut off. To some degree I have. I haven't done any interviews in the last two and a half years. Maybe one here and there now with the album out. I'm confused because I must do it to promote the album and at the same time, I don't really want to. And I try ke apna rona nahi roun ziyada jo mein abhi tumhei bata raha hoon. I keep that out and try to make it fun whenever I am on television or doing interviews. I say things and often they are not the most charming. Later when I see myself on TV, I am like, 'F***, what the hell did I do? I shouldn't be on television'. But you have to and this is what we've created. We created the monster so now deal with it. But you know I'll do a few."
"I don't dream of Bollywood"

Since the last two years or so, every musician, it seems, is heading to India. Not just to perform but to release their albums or if luck strikes, score a deal in a Bollywood film. But Ali Azmat is walking the other way. India is certainly not the barometer for Ali.

Klashinfolk might release in India but Ali is completely unfazed if it doesn't.
"The Indian market is not very responsive to my kind of music anyway. My album is music-oriented as opposed to film-oriented. Indians, they respect stupidity. According to Indian standards, a good song is one to which you can get drunk and dance to. Anything beyond that is indigestible there," says Ali who is unrelenting in his criticism.

"Do you know that no radio stations in India play our pop/rock music? They call you for an interview and ask you what song should we play, you pick your own tune and they say no. We only play Bollywood. So why call us for an interview? I left two radio stations - one in Delhi, one in Mumbai - when they pulled such a stunt. I mean 'Pehli Nazar' (Atif Aslam's track from Indian film Race) turned out to be a Korean song, people criticized that fact but it is still a hit. Now it suits Atif Aslam to do a song like that. But that's not something I will do. And they will take Atif or Jal over me because they want to be there. It's a game that everybody plays. But I don't want to play. I go to India, I get frustrated and I come back and I don't do it. Atif's face is more prominent in India than mine because of his film projects and that is fine with me. They don't show my face on Indian telly screens and that is alright."

It isn't that Ali isn't open to Bollywood at all. But to him a film that requires him to become a Bollywood playback singer and change his music, even if it is a star-studded, is not worth the effort.

"Okay, I'm not doing 'Kuri Tu Lagni Naughty' (a reference to Adeel Chaudhry's tune in Kismet Konnection). It's a bad song and it's a bad video. Pop/rock has never survived in India. They will give preference to Bollywood. I am not even going to try and compete with a Shahrukh Khan because the budget of one song he does is 1.5 crore and rising. That and naked babes or almost. Maybe I should take my clothes off and do jhing jhing jhing," says Ali laughingly.

"It's only people who will appreciate my music and believe that it will fit in their film and add more character or edge to it, will use it. 'Sawaal' is not a filmi song but I gave it to Rahul Dholakia for his film because he understood it. He said it would add to the film so I said, fine take it. I gave 'Naina' to Sudhir Mishra for Tera Kya Hoga Johnny because I like him as a filmmaker. I like his subjects," says Ali about his projects in Bollywood. 'Sawal' and 'Naina' may not become the next 'Mitwa' or 'Pehli Nazar' but it is Ali playing the game on his own rules. And for this man, that really is the bigger thing.
He may host the Lux Style Awards but that is merely a means to an end.

"I don't take myself seriously, not as a musician and not as a host. I'll do the hosting if it means I'll make a few bucks."

This year Ali came under fire for his jokes that were off-track and seemed to portray a sense of humour that was crasser and less humourous.

"They were jokes. It was a spur of the moment thing. Why make a controversy by talking about it," says Ali.
Since you've been around

When Ali Azmat took his first footsteps in the music industry, it was roughly two decades ago. It was a different era, one without powerful tools like Facebook or YouTube and even music channels.

"There was PTV who had issues with our long hair. Then came Music Channel Charts (MCC) but we survived through it all. Indus Music changed the scene for an entire generation. And now we have Aag, Play, The Musik and MTV."

Ali Azmat made it but he saw hardships that

most musicians don't have to see, certainly not on the same level. Is it easier now?

"Yes and no. It is easy because of the mediums but to survive, you need shows and that ain't happening anytime soon. There is no investment, no infrastructure, no event management, no professionals - it isn't even an industry. A few individuals don't make an industry," says Ali who dismisses the notion that music has come far in Pakistan.

But where he isn't interested in debating about the music industry, he does believe in the talent of a few individuals. "Zeb and Haniya are nice. They are chicks who are not flashy. They are songwriters. Haniya and Zeb compose, they can play guitars. I love Mauj. I think Sajid Ghafoor and Shiraz Uppal are better songwriters than most including myself. I think Zeeshan Parwez is an exceptional talent."
And what about Ali Zafar and Atif Aslam?

"I don't necessarily like their music. But they've made it," Ali says simply. It isn't about the hype with Ali Azmat. Not anymore. He has seen and been a part of it for too long and he is no longer deluded enough to buy into it.
A hard day's night

Ali Azmat's music isn't the only thing that makes him such a fascinating character to the world. He has been one of the few, perhaps the only, celebrity who has always been open and honest about his lifestyle. The notorious bachelor has a reputation that paints him as the bad boy.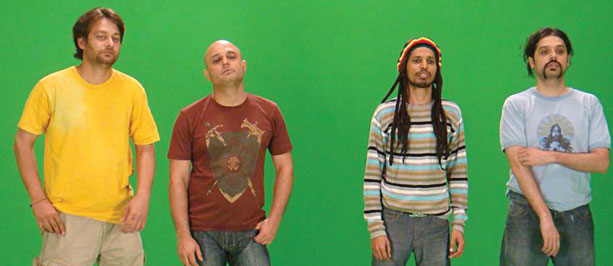 "There is a war with female relationships. When you're younger and stupider, you're like 'ya baby', but now, you're like, 'forget it. I'm not gonna go through that.'"

Ali Azmat lives alone. Unlike his musical colleagues, Ali Haider, Rohail Hyatt, Shahi Hasan, Salman Ahmed, Junaid Jamshed, Faisal Kapadia - to name a few, he is neither married nor is he planning on tying the knot anytime soon.

Are you lonely, I ask him?

"No," Ali retorts quickly and continues, "I'm alone but I'm not lonely. I conditioned myself to be this way. You go through all sorts of uneasy emotions and you realise it's better to be alone. I mean if you're in friction with yourself and you add someone else to it, then you'll go crazy. Sometimes my physical or my emotional needs will lead to some reaction and I might say 'I wanna be with you' but later I realise, nah not really. It maybe just physical and it can be emotional. I need somebody to understand me for a small period of time. But when I have to take them along, it becomes a huge undertaking so why go through that and make someone else unhappy," Ali says strongly.

As we hit the end of the interview, one thing is clear: Ali Azmat may have changed but the explosion and the passion behind the man, is far from over. Stirring and fabulous, introvert and extrovert in equal measure, it is inconceivable to imagine music in Pakistan without Ali Azmat. He remains the original, homegrown rock-a-fella. Much has changed but some things are still the same.