review
Everyone's on the bandwagon
The argument is not just about whether post-9/11 fiction should be realistic or non-opportunistic. When one selects the real theme of Islam then, inevitably, readers veer towards interpreting such work as social realism
By Afiya Shehar Bano

Professor of International Relations at SOAS, Stephen Chan, considers Khalid Hosseini's, The Kite Runner and Mohsin Hamid's, The Reluctant Fundamentalist, to be "Western Works of Fiction," which use the "Bitter Islamist Hero" as their protagonist. He considers them to be "novels with art-house pretensions… which strain so much for effect that they resemble dissertations for a US Master of Fine Arts degree in Creative Writing"
The radio star
A readable account of a broadcaster's life whose name became synonymous with quality and excellence
By Arif Waqar

Radio ke Din: memoirs
of an international
broadcaster
By Raza Ali Abidi
Publisher: Sang-e-Meel
Publications
Pages: 192
Price: Rs 400

"Love your voice" was the first lesson taught to Raza Ali Abidi, when he joined the BBC World Service in 1972. Twenty four years on, at the time of his retirement, Abidi had reached a different conclusion: "Love your audience."
Old man and the sea
Odyssey of a Sailor does not only cover what life in the Navy is like but also touches
on the sad story of Partition
By Waqar Gillani
Odyssey of a Sailor
By Syed Zahid Hasnain
Publisher: SAMA books
Pages: Rs 260
Price: Rs 975

Odyssey of a Sailor is an interesting autobiography of a Navy man considering the fact that Syed Zahid Hasnain takes the reader around the whole world through the sea. Hasnain had a passion for travel and a greater one for the sea, both of which led to him joining the British navy. It is said that there are three environments whose call is irresistible: the sea, the desert, and the mountains. The author has, luckily, lived in all three.
review
Everyone's on the bandwagon
The argument is not just about whether post-9/11 fiction should be realistic or non-opportunistic. When one selects the real theme of Islam then, inevitably, readers veer towards interpreting such work as social realism
By Afiya Shehar Bano
Professor of International Relations at SOAS, Stephen Chan, considers Khalid Hosseini's, The Kite Runner and Mohsin Hamid's, The Reluctant Fundamentalist, to be "Western Works of Fiction," which use the "Bitter Islamist Hero" as their protagonist. He considers them to be "novels with art-house pretensions… which strain so much for effect that they resemble dissertations for a US Master of Fine Arts degree in Creative Writing"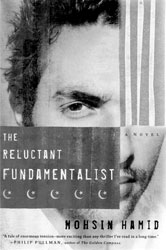 Chan contends that the Islamic heroes of both books are only believable to Western audiences because they are Western/American rather than Pakistani/Afghan. He also considers them "derivatives of their authors." In particular he argues that, "Hamid's hero/narrator/sole-spokesman on behalf of other characters is like Hamid, a Princeton graduate, business and financial consultant and from Pakistan."
At the time of writing, Chan may not have been aware that Hamid's authorial skills have also earned him the merit of being an opinion columnist who has written on subjects as diverse as Pakistan's economy too. Perhaps, one day, his expert understanding of the complex mind of the fictional fundamentalist will lead him to become advisor on counter terrorism for the reluctant Imran Khan.
Chan, however, is unconvinced by Hamid's "Islamic" character that is supposedly anti-American and of fundamentalist bent. Chan argues that the character, as portrayed by the author is, "in thoughts, phrases and conceits", neither Pakistani nor "Islamic" in any way to begin with. Chan questions why both novels have therefore, been such successes. His suggestion is that the theme of nostalgic reconstruction of childhood landscapes and its losses are appealing themes for Diasporas in a new culture. Many Bollywood films and events have captured this market for its lucrative returns.
I read Hamid's earlier novel, Moth Smoke, during a brief stint overseas and read it with all the powers of recollection that expatriate Pakistanis can call upon in order to desperately remain connected to the homeland. My reading through the fog of nostalgia was very different from friends who were reading from within Pakistan. They remained less taken in by the romance of fiction. Many of them were impatient with the forced literary tool of transposing Mughal characters and intrigues onto contemporary Lahore-based relationships. Still, the familiarity of social context made the novel a believable read in terms of its fictional characters.
The trouble with The Reluctant Fundamentalist is that the reference point shifts to America and this makes it appealing to Western audiences. Chan suggests this is because Western audiences love these superficially Islamic heroes because they are in fact, Westernised, Americanised, more "us" than them, more Metropolitan than Other.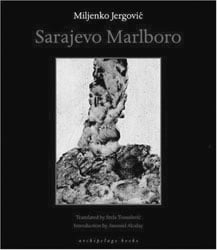 In contrast is Miljenko Jergovic's believable book, Sarajevo Marlboro, where as Chan points out, Islam is only in the backdrop of the novel. This author writes from the heart of the siege of Sarajevo, while Hosseini and Hamid write from California and New York. The Islam of the latter novelists' is an intellectual construct. However, the pain caused from religious politics has no redemption in Jergovic's case where Islam is merely a brooding setting, not an "obvious theme highlighted by clever repartee of self-revelation as in Hamid's 209 page essay."
Chan is right when he says, "Hosseini's kite-running imagery against the backdrop of the Afghan sky was irresistible to Hollywood" but as he says, "that is its great fault as well: it was Hollywood even before it was acquired by Hollywood. It was written for acquisition. It was merchandise." In a crushing summary, Chan compares the three books thus; "Hosseini's hero gets his redemption. Hamid's insufferable character at least departs the book with the possibility of his being shot. Jergovic's characters just suffer without end."
Is it coincidence, or by virtue of location, that Hamid's essay, rather than Mohammad Hanif's political mystery novel A Case of Exploding Mangoes, draws the attention of Hollywood? Both "Pakistani" novels are written close in time, but while the former is American in theme and character, the latter is distinctively Pakistani where Islam forms a milieu rather than the main leitmotif.
It was perhaps, the Pakistani artists' community which first discovered that post 9/11, regardless of talent, the branding of Islam as exotica is invaluable to sales but the market is still the West. Also, The Reluctant Fundamentalist allows for a cast of Hollywood and expat Pakistani actors with some sprinkling of marginal native characters thrown in for authenticity. Hanif may have to wait for the attention of "special interest" media houses with brown casts.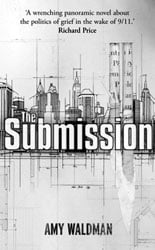 The argument is not just about whether post-9/11 fiction should be realistic or non-opportunistic. When one selects the "real" theme of Islam then, inevitably, readers veer towards interpreting such work as social realism. In great fiction, the boundaries between fiction and realism can be both pertinent and blurred, as Salman Rushdie will testify. Those who fail to be convincing about either, often hide behind the notion that their work is just fiction or even, magic realism. Even then, the writer needs to at least be able to make the characters credible or indeed, intertwine the relevance of the theme of Islamic identity and characterisation.
As an example, Amy Waldman's recent novel, Submission, defies the notion that authentic insight into Islamic characters may be only available to the Muslim creative mind. Her novel is narrated through half a dozen voices, several of which are Muslim. This span avoids the reliance on any single character to deliver any ultimate truth or finality of journey.
Instead, the novel does succeed as a work of social realism because even while some of her characters are Muslim migrants, the novel sets them firmly in the identity frame of post 9/11 America and the debates that were, American. This allows Waldman to bring to surface the disconnected and marginalised views and voices in their struggle for supremacy, power and representation. The novel is as much about the role of the media in constructing post 9/11 identities, prejudices, binaries and the polarisation of views and civic ideals. Most of all, the novel is a sensitive acknowledgement of the realistic issue of the silencing and duping of the masses who have been fed the dumbed-down debates on Islam, freedoms and Western values over the last decade. She does all this through her characters, not thematic manipulation.
Having said that, fiction is not the only genre guilty of such commoditisation of Islam as a source of career growth. The disciplines of art, music, fashion, banking, the academy and the field of social-development are equally and increasingly magnetically drawn to the lucrative possibilities of deploying Islam as a branding strategy. Therefore, over the last decade, we have seen an explosive use of Islamic identity for sale in galleries, as a financial strategy that guarantees redemption, as a substitute for cultural or regional identities, and in political manifestoes proclaiming either liberation or oppression. Everyone is on the bandwagon, so why not fictionwriters, Hollywood and Bollywood?
The writer is an independent researcher in social issues
The radio star
A readable account of a broadcaster's life whose name became synonymous with quality and excellence
By Arif Waqar

Radio ke Din: memoirs
of an international
broadcaster
By Raza Ali Abidi
Publisher: Sang-e-Meel
Publications
Pages: 192
Price: Rs 400
"Love your voice" was the first lesson taught to Raza Ali Abidi, when he joined the BBC World Service in 1972. Twenty four years on, at the time of his retirement, Abidi had reached a different conclusion: "Love your audience."
Through his soft, resonant and clear voice, he generously showered his love for a quarter of a century; on the receiving end were as many as twenty million listeners of the BBC Urdu Service. His recent book Radio ke Din (The Radio Days) is a story of the same love affair.
"I was with the Urdu Service of the BBC for nearly a quarter of a century," writes the veteran broadcaster. "It was undoubtedly the most enjoyable part of my life. Each morning I would leave for my office looking visibly happy, much to the amusement of my kids. Even if unwell, it never occurred to me to stay at home, as I could not imagine missing the delight of work for a single day. So intense was my involvement in broadcasting that I would fall ill only on the weekends, when I had to stay away from Bush House."
This intense involvement in work soon bore fruit and Abidi's name became synonymous with quality and excellence. He was given the most prestigious programme Anjuman based on listeners' mail. People from all walks of life wrote to BBC and Anjuman soon became a true mirror of life in the subcontinent.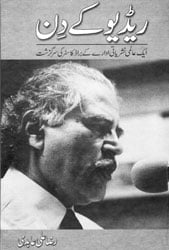 Abidi was also entrusted with the weekly production of Sub-Ras, a programme of literature, music and entertainment that monitored the pulse of cultural life in India and Pakistan. On the front of current affairs, during his long and eventful career, Abidi led his listeners through the vicissitudes of Z.A.Bhutto's rise and fall, Ziaul Haq's plane crash, Benazir Bhutto's exile and re-emergence, the Kargil debacle and Pervez Musharraf's coup.
In his own judgment, however, the news and current affairs were never his forte. He excelled in features and documentaries. His own favourites have been Kutub Khana, a long running radio documentary about the Urdu books of the 19th century, carefully preserved in the India Office Library of London, the British Library and elsewhere; Jarneli Sadak, the history and culture of the Grand Trunk Road; Sher Darya, a journey along the path of the Indus River, and Rail Kahaani, a train journey from Calcutta to Peshawar, to explore the great railway network in the subcontinent.
During his research on the old Indian books, he came across a rare copy of Jawaher-e-Manzoom' (Pearls of Poetry). It was actually an Urdu translation of "Selections of English Poetry". But the real importance of this 1849 book is that the manuscript was sent to Mirza Ghalib for an overview. How did Mirza take it? What, if any, changes did he suggest? This is still an unexplored subject: an open invitation to the Ghalib enthusiasts, and a challenge to our poetry researchers.
The journeys on the G.T. Road and along the Indus path enabled him to meet hundreds of people, study their lives closely, share their joys and sorrows, and thus draw a realistic picture of this society for his radio listeners. From a common wage-earner on the road-side to a highly skilled scientist, from a young high school student to an octogenarian research scholar and from an innocent villager to a shrewd landlord, Abidi met people of all hues.
Part of this journey was planned but the unplanned segment had its own wonders and surprises. It was during this casual wandering that he came across the tallest man of the world. This chance encounter with Alam Channa enabled him to produce one of the most interesting episodes of his radio series. The tall man was getting married the very next day. Abidi succeeded in getting the rare access to his would-be wife and very skilfully elicited her excitement…and fears!
No wonder Abidi's greatest worry on his way back was: "what if I'm robbed on these far off country roads? Will I be deprived of all these tapes carrying hundreds of voices?" Fortunately enough, Raza Ali Abidi did not attract any robbers even at the most likely places. He always came back to London with hundreds of tapes and produced for his listeners some of the most exciting episodes in the history of Urdu broadcasting.
All the field recordings were done on audio-cassettes, later transferred to quarter-inch tapes. Abidi cherishes the days of tapes and cassettes. He misses the solidity and tangibility of those devices and writes in his memoirs: " I had become highly proficient in radio production, having gained the necessary skills in audio-recording and editing. We would record and edit on magnetic tape, using a sharp-edged blade and splicer to cut out all unwanted noises. Today you record digitally, and the sound waves can be seen on your computer screen. It's much easier now to get rid of the unnecessary bits on the stroke of a key. Today's broadcast journalist looks at the old tape-cutting devices as primitive and perhaps crazy. But, to tell you the truth, nothing could be more enjoyable than cutting and joining the tape manually."
Old man and the sea
Odyssey of a Sailor does not only cover what life in the Navy is like but also touches
on the sad story of Partition
By Waqar Gillani
Odyssey of a Sailor
By Syed Zahid Hasnain
Publisher: SAMA books
Pages: Rs 260
Price: Rs 975
Odyssey of a Sailor is an interesting autobiography of a Navy man considering the fact that Syed Zahid Hasnain takes the reader around the whole world through the sea. Hasnain had a passion for travel and a greater one for the sea, both of which led to him joining the British navy. It is said that there are three environments whose call is irresistible: the sea, the desert, and the mountains. The author has, luckily, lived in all three.
Hasnain has a sharp memory and writes down minute observation of things and incidents to recall in his glorious forty one years of service in the Navy from enlisting in the British Navy in 1935, serving both in the Royal Indian Navy and the Pakistan Navy and subsequently retiring in 1972.
The book provides interesting aspects of Pakistan and Pakistan's early problems in a simple, uncluttered style. The author notes that initially the partition of India in 1947 was viewed as a friendly division of a family, and that he had, in fact, opted for Pakistan provisionally.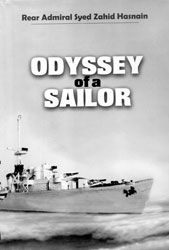 Hasnain writes about the culture and history of over a dozen cities he has lived in, including Simla, Jullundur, Babur, Maler Kotla, New Delhi, (which was a small city at that time) Calcutta, (which was centre of sports in India) and other cities abroad where he travelled for professional duties.
Odyssey of a Sailor also tells about the history of major cities of India and Pakistan. As a small excerpt about Karachi illustrates: "Karachi, originally a fishing village, had under the British administration grown into a cosmopolitan city with Parsees, Hindus, and Christian-Goans being the predominant communities."
A major part of the book, tells the sad story of the Indo-Pak partition and the incidents and problems related to newly born Pakistan. The most important observation of Hasnain is about the sacrifices of the Muslim minority in other provinces; those who remained settled in India but are not recognized for their efforts in Pakistan's history.
At one point he writes: "The creation of Pakistan was also an act of unprecedented sacrifice by the Muslims of minority provinces, who were at the forefront of Pakistan Movement. Knowing that the creation would not benefit them in any way as they would be left behind in India, they nevertheless sacrificed their own interests for the benefit of the Muslims of the majority provinces. An unmatched noble act of self denial and sacrifice! I don't think we in Pakistan appreciate the great sacrifice of the Indian Muslims. But for their struggle, there would have been no Pakistan."
Hasnain's love for his old home in India and his memories of India, however, haunt him throughout the book. When he visited India later as Pakistan Navy Officer in his career, he recalls: "It was the most enjoyable and memorable experience. They all were so kind, hospitable and friendly, and I made some good friends even at this old age. There was genuine affection for us and we all were most touched. This just goes to show how useful people to people contacts are between the two countries. I am still in touch with my new friends."