1978: Pakistan's second taste of World Cup glory
By Ijaz Chaudhry
Since Pakistan's victory in the inaugural hockey World Cup of 1971, they failed to win either the World Cup or the Olympic gold. So Pakistan hockey was badly in need of some global title to break this jinx. Pakistan played India in a home and away four-Test series during the early part of 1978 to prepare for the World Cup.
Pakistan cricket:
What do we need to rediscover?
By Dr Nauman Niaz
There are two kinds of administrators, good ones and delinquent ones! Both are trend setters in their realm and sphere, both are trail blazers in their own right, both leave a lasting impact on public memory yet they are as different from one another as chalk and cheese.
Kabbal event proves sport erases conflict
By Aamir Bilal
The world is passing through a period of great transformation. Conflicts and wars have assumed new dimensions in the post 9/11 scenario. Tsunamis, earthquakes, terrorism and genocides have led to radical changes in the landscape of humanitarian assistance. These events have forced aid agencies and governments to modify their way of thinking and intervening in conflict, disaster and trauma situations, by utilising verity of applications to address the situation, including the intervention of sport.
1978: Pakistan's second taste of World Cup glory
By Ijaz Chaudhry
Since Pakistan's victory in the inaugural hockey World Cup of 1971, they failed to win either the World Cup or the Olympic gold. So Pakistan hockey was badly in need of some global title to break this jinx. Pakistan played India in a home and away four-Test series during the early part of 1978 to prepare for the World Cup.
It was the first ever hockey test series between these two countries.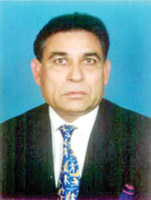 Pakistan had a highly talented and experienced squad with most of the players especially in the frontline and deep defence playing together for quite sometime and won the series three matches to one but suffered a setback in the last test.
Great right full-back Manzoorul Hasan, whose pairing with left full-back Munawwaruz Zaman was perhaps the finest in the history of the game, got his arm fractured. Standby Ehsanullah, whose only international experience was with the Pakistan youth team tour of East Africa in 1974, was inducted in his place.
During the series, quite a few weaknesses of Pakistan came to the fore.
They failed to convert a single penalty-corner and even wasted the two penalty strokes that came their way.
But by the time, the side arrived in Buenos Aires, the capital of Argentina; they had been put through an intensive preparatory and corrective phase. Manager Abdul Waheed Khan very courageously told the journalists that he would not let the Europeans destroy the beauty of hockey by winning the World Cup through penalty-corner goals.
It was no mere boasting as the Greenshirts had done their home work. Videos of penalty corner experts like Dutch maestro Paul Litjens had been minutely observed and various roles were assigned to different players to thwart penalty corners.
The legendary goal keeper Saleem Sherwani knew how much forward he had to come out of the goal-line while defending a penalty-corner. Akhtar Rasool was trained to stop the ball on the goal-line in case the goal keeper was beaten.
But the prime actor in nullifying the penalty corners with his courage, speed and anticipation was to be skipper Islahuddin in his well-known role of dasher on the opponents' penalty corners.
This well-organised defence was complemented by a magnificent forward-line comparable to any in the history of the game.
All this combined with the supreme physical fitness and a determined approach made Pakistan firm favourites to land the title.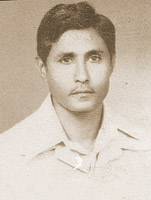 Torrential rains a day prior to the opening made little difference to Pakistan. They began like lightning and humbled Ireland (9-0) and Italy (7-0).
After two easy rides, Pakistan faced better opposition but still prevailed against Holland (3-1), Malaysia (3-0) and Spain (2-1). They rounded off their pool campaign with a resounding (7-0) win over the hosts.
Pakistan's offensive strategy was mainly based upon the concept of double attack. If an attack from the right side failed, then they made all the efforts to immediately initiate a move from the left side on the assumption that most of the opponents' defence would have become concentrated on the right side, and vice versa.
In the semifinal, Pakistan came face to face with the mighty Germans. The Germans had already caused a sensation by trouncing the reigning champions, India 7-0. In the semifinal, though, Pakistan's mental preparedness carried them through.
In a frustrating match for Pakistan, they sent down waves after waves of attacks only to be denied, sometimes by the dogged German deep defence and on other occasions by sheer bad luck. On one occasion; even with the goal-keeper beaten, a German defender arrived from nowhere to clear the ball from the goal-line.
Pakistan had a real fright when Germany earned a penalty-corner just before the end of the regulation time. But the poetic justice prevailed and suspense lingered on till the extra-time. Pakistan's raids went unabated. Skipper Islahuddin had been the inspiring force throughout. And it was he, who capped a fine move flicking the ball over the onrushing goalie to carry his side into the final.
Pakistan met Holland in the final. Mesmerised by Pakistan's intricate moves and sublime individual stick work, the Argentine crowds had already started supporting them and flocked the stadium for the final.
It turned out to be a titanic battle between two contrasting schools of thought. The Dutch gave Pakistan a run for their money through the European style of organised defence and tactics mainly drawn from football.
Pakistan drew first blood when Akhtar Rasool made no mistake from a penalty stroke. The Dutch replied in a similar manner as the match was level at half-time. Very early in the second half, Pakistan were stunned by a Paul Litjens goal off a long corner --- the first time they went into arrears during the entire campaign.
But Islahuddin, like a true captain of the ship, kept his crew motivated. As in the semifinal, he himself steered his side out of the troubled waters by netting the equaliser, resulting from a fine move originating from the left side which had goal written all over it. The rejuvenated Pakistanis increased the pressure. The great Munawaruz Zaman had not been able to convert the penalty-corners that had come Pakistan's way. About six minutes from the end, another such opportunity arrived and Islah signalled to Ehsanullah, the other full-back.
Ehsan, who was making his full international debut in the World Cup itself, shot his way into Pakistan's hockey folklore by slamming the World Cup winning goal.
Thus, Pakistan regained the title and in doing so achieved many unique distinctions.
Pakistan became the first nation to be crowned World Champions twice. Another first was that they landed a World Cup without losing (or even drawing) a single match. Their goal difference of thirty one goals (35 for and four against) is still a World Cup record. Their total of 35 goals was also a new highest for an edition of the World Cup (only to be bettered by Pakistan itself in the next World Cup) and let in just four goals in 575 minutes of play.
Pakistan were worth every bit of their win and according to former editor of World Hockey, Patrick Rowley, "Unlike all their rivals, Pakistan were strong in every position and certainly a beautifully integrated team."
Five of them had the second taste of a World Cup winner's medal -- Islah, Shahnaz (vice captain), Akhtar Rasool , Munawwar and Sherwani.
What do we need to rediscover?
By Dr Nauman Niaz
There are two kinds of administrators, good ones and delinquent ones! Both are trend setters in their realm and sphere, both are trail blazers in their own right, both leave a lasting impact on public memory yet they are as different from one another as chalk and cheese.
A good administrator is one who has his head in the clouds but feet firmly planted to the ground, he is metaphorically that tall. A clumsy and delinquent administrator only has his head in the clouds while his feet plumb the depths of ineptitude and fecklessness. A good administrator is a tiger with a temperament; a delinquent administrator is a flibbertigibbet with an attitude. A good administrator neatly combines abstract philosophies with empirical evidence to glean the true recipe of success; a delinquent administrator spins yarns, only to let the thread snap and gets buried under the labyrinth of drivels.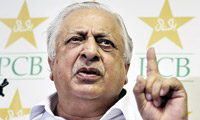 A good administrator leads from the front and sets an example; the delinquent one beats a hasty retreat and sets a precedent; a good administrator is perspicacity personified; the delinquent one is flattery falsified; a good administrator is a win-win person; the delinquent one is a lose-lose person.
The moment of reckoning for a good administrator is a red letter day in the career of the institution he heads; while the moment of reckoning for a delinquent administrator sounds the death knell for his institution. Acclaim for a good administrator is sweet meat for the institution with acclaim for delinquent one being its poison. The future and destiny of an institution is determined by the caliber of hands shaping it; deft and nifty the hands, rosier shall be the destiny, feckless and fiddly the hands, wobbly shall be the future.
The boats with frail oarsmen always capsize; the gun with a timid man behind it shall always perish; an army of sheep may stand victorious, but an army of lions led by a sheep shall never stand tall and proud!
Either we are under a celestial curse, or our stars are destined never to form favorable combinations; or we have fallen foul of lady luck; or we are serving a punishment, one does not know, but the kind of cricket leadership we have been lumbered up with, leaves one disgusted. We are the most generous nation in the world, when it comes to squandering national wealth, spurning prime opportunities of salvation and putting up with humbug of all humbugs masquerading as our leaders. Masochism seems to be our national trait, while delinquency the favorite sport.
We love to pine, regret and sigh at our wretched lot, our sorry predicament but when it comes to translating our angst into revolutionary action, we are always found wanting. A nation in decline is ideologically confused, practically paralysed and vulnerable to loot and plunder from all sides. Same is true for us. We have lost the faculty of distinguishing friends from foes, saviors from wreckers, good from bad and efficient from inept.
We love yielding to humbugs but enjoy berating the heroes. We prefer gossiping and rumor mongering over introspection and brainstorming; there is no sense but unbounded sensibility, there is no merit and equality of opportunity but much trumpeted cricket democracy; there is no transparency but ruthless accountability; there are heroes galore but little national achievement; there are awards aplenty but performance wanting. With everything going haywire and everyday springing an unpleasant surprise, Ijaz Butt still surviving, being part of the status quo comes as cold comfort. What should we be doing?
Lord Mancroft, the politician, who developed into adulthood in the 1930s described cricket in his biography 'Bees in Some Bonnets (1979) as 'a game which the English, not being a spiritual people, have invented in order to give themselves some conception of eternity (p 185). Pakistanis, of course, whether spiritual or otherwise, frequently claim that watching cricket seems like eternity. Cricket and its prospects in Pakistan were cremated at the Sydney Cricket Ground, only recently.
It isn't the time for debating points it is the time for much to be discussed. The collapse of the Pakistani game is evident. What are the solutions to take it to its revival, to its rejuvenation and to its reincarnation?
First and foremost we do not need cricket rebuilding, we need character development. Conscientiously we need to evolve a cricket culture in Pakistan without its linked hypocrisies, where the passionate common people are also major stakeholders, equally part to the development of cricket at all tiers. To understand that cricket is an organised, competitively and skilful physical activity requirement commitment (both by the management and players). Identification how the Pakistan Cricket Board, game's governing authority in the country has to be run: Either it has to function as a democracy where the Chairman is elected through vote and not selected by the President of Pakistan, PCB's patron (In a society where democracy itself isn't convincing, where feudalism and low literacy are the biggest impediments). Or it has to be a quasi-democracy which isn't really sustainable or as an autonomous and semi-autonomous body (that it is presently) or as a completely modernised functional corporate enterprise. (As it was registered with the SECP in 1995 and changed from the BCCP to PCB keeping in view the globalised marketing demands that compelled the International Cricket Conference to be converted to the International Cricket Council. This seems to be the most viable solution. It could also be run as a subsidy to the Federal Ministry of Sports or Pakistan Sports Board (since it is an independently earning organisation and not dependent upon the government for financial compensation and support and also, being affiliated, it if is, with the Security and Exchange Commission of Pakistan.
Sports Management Experts are now administering professional sports in the world, why couldn't an initiative be taken by the PCB to bring in such people, each fitting in a role-defined work space. If we could import coaches, why couldn't such professionals hired from abroad until Pakistan's education system starts producing their own pedigree. The PCB then should evolve and disseminate its foreign policy, first class cricket development (software, management and concrete infrastructure), their plans to use cricket as a product linked to world market, merchandize, a saleable commodity, television rights and other commercial modalities.
The focus should be attached to concentrating on character building and attitude of the players identified as 'talented' or tagged as 'future investment'. Their behavior in cricket is observed and these players should be developed in accordance with the modernized demands of psychology, kinesiology, psychological/mental factors that affect performance in cricket, applied to enhance endurance, individual's and team's performance. These should deal with goal setting, nutrition, physical make-up pertaining to different roles, relaxation, visualization, self-talk, awareness and control, concentration, confidence, using rituals, attribution training and prioritisation, sentiments (patriotism/nationalism and not emotionalism) and periodisation. Senior players, refined products of the strong systems should then be developed with reference to cohesion, imagery, attention focus, motivation, internal monologue and criticism.
The National Cricket Academy should be streamlined, impregnated with thoroughbred professionals, even if they have to be imported from abroad and the coaching/rehabilitation should include the character development that might be viewed as an integral area of cricket because we believe that achievement and success are not as important in their own right as they are because they can help create moral men. If applied to cricket, the hierarchy of values found in such a philosophy suggests that there are good players and bad players; there are talented cricketers and less-talented but mostly based on their moral conduct. We need to have a chairman of the PCB who identifies, characterizes and assesses problems, assessing the vulnerability of critical decisions with reference to specific inferences, determining the issues, prioritizing risk reduction measures based on strategy, to create the value of the product, be an integral part of organisational processes, he has to be dynamic, iterative and responsive to change and he understands mitigating the problems and discusses objectives, scenario, taxonomy and eliminating the visible ineffectiveness.
Kabbal event proves sport erases conflict
By Aamir Bilal
The world is passing through a period of great transformation. Conflicts and wars have assumed new dimensions in the post 9/11 scenario. Tsunamis, earthquakes, terrorism and genocides have led to radical changes in the landscape of humanitarian assistance. These events have forced aid agencies and governments to modify their way of thinking and intervening in conflict, disaster and trauma situations, by utilising verity of applications to address the situation, including the intervention of sport.
Lederach a well known conflict resolution scholar defined "peace building" as: "a comprehensive concept that encompasses, generates and sustains the full array of process, approaches and stages needed to transform conflict towards more sustainable, peaceful relationships"
Pakistan had been amongst those unfortunate countries that faced the issues of refugees and IDP's since its independence. The country faced a large influx of Afghan refugees in the decade of eighties and a major earthquake stuck AJK and Northern areas of Pakistan in 2005. The last five years had been significant in the history of Pakistan as the country was subjected to worst kind of terrorism and high intensity conflict, especially in its North West Frontier Province.
The serene valley of Swat had been the centre of focus in national and international media when Pakistan Army unfolded operation "Rah-e-Rast" in the district to uproot the stronghold of Taliban. The valley started getting back its color of festivity when the local military commander in Swat, the MPA of the area and district government decided to join hands to celebrate the much needed "KABBAL Sports Week" from 4th of January 2010.
The invitation to attend the Kabbal Sports Week, from a local friend in Mingora (Swat), was like a breath of fresh air from age old solitary confinement. I wasted no time in confirming my availability to attend the proceedings of sports week, as I was engrossed to compare Kabbal sports of Swat with the successful Beslan sports project of North Ossetia and Terre-des-hommes sports project of Sri Lanka.
On 3rd of January while on way to Swat I was thinking of Taliban's atrocities, the destruction of schools, the burning of houses and fruit laded gardens and the quietness of death in the valley. The same day, terrorists targeted the Lucky Marwat sports stadium, resulting in massive loss of human life. The 4th January activity at Kabbal seemed to be in great jeopardy. But I salute the determination of the people of Swat who were steadfast in their resolve and did not back out from their commitment of continuing with the planned activity.
The community in general and the youth of Swat in particular were determined and motivated to great extent. They wanted to celebrate the return of IDPs to their native land and this time there was no holding back. The message to Taliban and terrorists was loud and clear. "There will be no more lashing and no further political gatherings in sports stadiums, we want sports and healthy activities like Kabbal sports week" said Ahmad Jawad a leading football player from Babu Zai Red football team from Mingora.
Psychological sports programmes aim to restore social well being and psychological health through group focussed practices, tailored to fit the context of local culture, traditions, needs and resources. It provides a safe, structured and friendly environment for people to begin to share their emotions through verbal and non-verbal communication. The emphasis is on building social cohesion and encouraging community members to interact and communicate with each other. And this was precisely the aim of Kabbal sports week.
The empirical evidence shows that sports help youth and societies to overcome emotional conditions and poor psychological health that has resulted due to disaster, conflict or war. It has been further proved that sports play a key role in humanitarian post emergency setting as trauma rehabilitation tool. But the extraordinary thing about Kabbal sports week was its setting in a high intensity conflict in the area of operation.
The sports week opened on 4th of January with a colourful opening ceremony. The stadium was jam-packed with almost ten thousand people who came to attend the ceremony from all parts of Swat district. Palwasha, Jawad's younger sister, said that she wished to be part of active women sports in Swat. She was quite confident that the day is not far off, when women will actively participate in sports in Swat.
The locally followed sports of football, volleyball, cricket and tug-of-war were included in week long sports extravaganza. Twelve local teams and one team each from Pakistan Army participated in the event. The standard of the competition and quality of games was of very high standard. In spite of the participation of brigade level teams from Pakistan Army, almost every competition with exception to tug-of-war were won by local club teams.
Nik-P-Khel white of Kabbal won the football championship by defeating Babu Zai Red of Mingora after a thrilling final. Abakhel club of Devoli tehsil won the volleyball cup, while the England club of Kaju defeated Elum Cricket club of Kabbal to win the cricket championship. The brothers in uniform could only manage to win the tug-of-war competition in a well-contested final.
The sports week beside healthy activity gave chance to local authorities, sports clubs, education institutions, and law-enforcing agencies to come close to each other through the common platform of sports. The unity and coordination displayed by community during Kabbal sports week was unprecedented. The activity proved that sports were not only about winning or losing, but about support and participation. It also showed that sport is the most vibrant platform for the youth, children, gender and community to enter into a dialogue and build long-lasting relationships beyond ethnic and social boundaries.
A recent UN study on the impact of Armed conflict on children reports that armed and extremist groups around the world have recruited tens of thousands of children, most of them under 18 (many under the age of 10) in the past 30 years. The report states that children need the intellectual and emotional stimulation that is provided by structured group activities such as play, participating in sports, drawing and storytelling. Research further shows that sports help children and younger people who have been involved in armed conflicts, by drawing them out of violent routines and offering them socially-acceptable and structured patterns of behaviour.
I would personally rate Kabbal sports activity far higher than Baslan and Terre-des-hommes international sports projects, which were supported by international donor agencies. The Kabbal sports week was a local affair, backed by brilliant Kabbal military commander Brigadier Salman Akbar, MPA Waqar Khan and community leader Ali Khan -- three men who who deserve big pats on their backs.
The international donor agencies and international sport development agencies of United Nations should take a note of this wonderful, well planned and well thought activity, where daily turn out was not less than five to seven thousand people. The UN agencies pursue programs and sports projects in developing countries but God knows why they feel shy to come forward in supporting sports development initiatives in Pakistan.
I am well aware of certain strong proposals regarding sports for development which were submitted to US Aid and UN agencies like UNICEF and UNIFEM in Pakistan, but no worthwhile development took place despite high sounding promises. The same helpless situation is there in Federal Sports Ministry, PSB and other sports bodies where "baboos" are having fun and joy rides.
I hope that normalcy will soon return to the valley, due to collective effort of Pakistan Army and the people. I am sure that the day is not far when Swat would start producing physically and mentally tough, talented athletes of international level, who if given a chance would prove to be icons of peace and harmony, committed in bringing glory to the country at international level.
Amir Bilal is a trained coach