issue
The journalist who became a uniform contractor
Khalid Bilal Mengal is on the list of the Baloch missing persons. His father has a scary story to share…
By Mohammed Hanif
Mohammed Bilal Mengal, 59, works as an honorary journalist in Noshki. In 2009, he was a correspondent for a newspaper called Independent that came out of Quetta, Gawadar and Islamabad. It's one of those newspapers that you are not really likely to find on a news stand. Bilal Mengal studied till Class Six and he could read and write in Urdu.
Independent didn't pay him a salary, of course. He was usually paid by the subjects he covered. He is an honest worker. He refers to his work as "making news". "Usually NGOs pay about a thousand rupees for making one news. Sometimes you cover a press conference and they pay about five hundred. It also depends on how many journalists are there, because obviously they have to distribute the money properly."
Bilal also covered the Pakistan day ceremonies organised by the Pakistan Army unit stationed at Qila Noshki. "I used to cover August 14 and March 23 ceremonies. If ten journalists turned up, we made seven hundred rupees each." Although the army didn't pay as much as the NGOs did, Bilal Mengal made friends in the Noshki Fort. A kind-hearted Colonel asked him if he could be of any help. Anything, Bilal said. Bilal landed a contract for stitching uniforms for the unit in November 2009.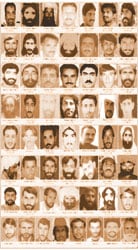 One might think that going from being a reporter to a uniform tailoring contractor is a drastic career move but Bilal had nine children to feed. Noshki is not really an NGO-rich district, press conferences were few and far between and Pakistan day gigs came around only twice a year. Bilal Mengal's elder brother was a professional tailor, so he did have some background in tailoring. The contract offer made perfect sense to Bilal Mengal and he embarked upon a new career, not knowing that it'll take away his favourite son from him.
Bilal Mengal set up a shop inside the fort. He was contracted to stitch 3,300 uniforms every year. He was paid 70 rupees per uniform. The Army unit supplied the material. Bilal was expected to stitch civilian dresses for some officers but he was happy with the arrangement. He roped in his 22 year old son Khalid Bilal Mengal to help out.
That probably was a mistake.
Because his contract lasted only four months; Khalid Mengal has been missing for the past one and a half year. Bilal knows that his son is in the army custody. Bilal Mengal saw the army and FC vehicles carrying Khalid drive into the Noshki Fort. The local SHO chased the army jeeps to the gates of Noshki Fort. There is a certain boundary that the bravest SHO in the land can't cross.
Khalid Bilal Mengal is on the list of the Baloch missing persons, but since he didn't belong to any political organisation, didn't have a beard, his name gets frequently ignored in the protests and petitions. But Bilal Mengal has a stack of papers and numerous eyewitnesses to prove that his son was picked up by his former employers: the Pakistan army.
During the four months that Bilal Mengal worked in his tailoring shop in the fort, the soldiers and officers posted in Fort Noshki had standing orders they couldn't leave the premises without written permission from the Fort authorities. And because of the risk of attacks in Noshki town, this permission wasn't easy to come by. But one day, Naib Subedar Ramzan left the fortress without permission, went into the town and was injured in a firing incident.
Bilal Mengal first insists that he had no clue why Naib Subedar Ramazn went out without permission but later speculates: "May be he had a date in the city. It was most probably a woman. Otherwise why would anyone take such a risk?"
Bilal Mengal and his son Murtaza were accused of the attack.
Initially, the case was filed against an unknown assailant who, according to the FIR, had long hair and blue eyes. "Look at me," says Bilal Mengal, pointing to his short hair, long beard and charcoal eyes. "I can cut my hair, I can grow a beard but can I change the colour of my eyes?"
Bilal Mengal was the first one who was arrested on the suspicion of the attack. "The attack happened at 6:30 in the evening. That is recorded in the FIR. According to the Fort Guardroom, we left the fort at 7:15. So when the attack happened, my son and I were both inside the fort, doing our work."
Bilal Mengal was often sent off to the city to run officers' personal errands because they themselves couldn't go. "But that day I didn't leave the fort. There were no errands."
Later, Bilal Mengal was to find out the truth when the staff officer to IG FC told him bluntly. "What did you expect them to do? Their man was ambushed in the city, what were they supposed to do. Sit quietly and tell their bosses they didn't know who attacked their man?"
The FC high command demanded results or 'recovery' as Bilal Mengal puts it so the Noshki Command, already working in an area so hostile that you needed written permission from the highest level to even step out, went ahead and apprehended the first people they could. Those people happened to be their own tailoring contractor and his son.
"They kept us in the fort for four days and then handed us over to the local police," says Bilal Mengal. They booked them on terrorism charges and their case was transferred to an Anti Terrorist court in Quetta. The case went on for ten months. From February 2010 to December 2010, the father and the son were in jail. "They couldn't prove anything and at the end we were released honourably." This was December 2010.
While Bilal and his son Murtaza were still in jail facing the trial, his son Khalid was picked up by Noshki police while he was in Quetta to attend his hearing. Bilal heard about his son's arrest through other prisoners who happened to be in the court. "Khalid was the breadwinner in the house. He had started doing my reporting job, while I was in jail. Other prisoners who were present in the court told me that your son was picked up from the court premises. At my next hearing, I pleaded with the judge that my son has been picked up from your court, please do something."
Khalid came back home after twenty five days. Bilal Mengal was relieved. But he knew that his family's ordeal wasn't over. He asked the Noshki police to provide security. They refused.
On the night of May 16, 2011, there was a raid on his house. After being acquitted, Bilal and his son Murtza had been home for five months. "There were lots of double door vehicles, men with their faces covered. They were accompanied by some FC jawans in uniform. They broke into my house at 2 am." They left at 2:15 am along with two of his sons Khalid and Murtza. Bilal called up the local SHO and pleaded with him to follow the kidnappers. He himself climbed on to the roof of the house from where he could see the vehicles' movement. "They were going towards the Fort's Gate No 1. The SHO followed them till the gate but he was not allowed to go in. Three vehicles went in and the door was shut." His son Murtaza was thrown out of a moving vehicle and walked back home.
Bilal filed an FIR in the morning and then went and started a hunger strike in front of the Noshki Press Club. Bilal Mengal followed a path which almost everyone with a missing family member has followed in Balochistan: You follow the law, you file an FIR, you file a petition even though you know that the law wouldn't do anything. Then you start protesting and hope that someone will notice.
The members of Noshki's Bazar Committee intervened saying they will speak to the military authorities in the Fort and, if his son is not released, they'll all go on hunger strike together. His son wasn't released. Nobody from the Bazar Committee joined him in his protest.
Like many others, Bilal Mengal filed a petition in High Court and started to appear at missing persons' families' protests. He kept trying to use his past goodwill in the Army to get his son released. The high point of his efforts came when he managed to wrangle a meeting with the personal staff officer of Quetta's Corps Commander. "We don't pick up people and we don't dump bodies," he was told in clear terms.
He also managed to meet the personal staff officer of IG FC where he was told something about himself he had never heard. "This major looked in a file and then looked at me and said: but you have been sentenced to twenty five years imprisonment; you should be in jail. What are you doing here?"
"I am standing here, in front of you. You registered a false case against me, and I was exonerated." The meeting ended at this note of confusion, with the Major insisting that he should be in jail and Bilal arguing that he was a free man.
Bilal Mengal has been appearing in the Supreme Court hearings started by the Chief Justice but doesn't seem to have much faith. "Chief Justice comes here only to keep up appearances. He is only concerned about saving his own face. Nothing has changed, nothing will change."
What about Mengal's own politics? Does he support the insurgency in Balochistan? "I was a member of Ghulam Mustafa Jatoi's National People's Party (NPP). He was the last decent politician in the country and I supported him. Since then I have never supported any political party." Anyone who has even cursory knowledge of Pakistan's political history can tell you that NPP is as far away as you can get from any nationalist struggle or anything to do with an armed struggle for people's rights.
Bilal Mengal now works for a newspaper called Khabardaar. His last journalistic assignment was for an NGO called Mercy Corps. They paid him seven hundred rupees.
The story is part of a study conducted by the writer on missing Baloch published by HRCP.
Tailored to new realities
While some analysts note the apparent lull in PTI's popularity graph, others predict it will see a major spurt come the month of March
By Waqar Gillani
One party that generates a lot of interest in Elections 2013 is Pakistan Tehreek-e-Insaf (PTI). It is the first time that the PTI is contesting a general election with its full might and is being considered a serious contender. While some analysts note the apparent lull in its popularity graph, saying that it has reached a saturation point, others predict it will see a major spurt come the month of March.
So what exactly is happening in the party that claims to have elected 'tailors' and 'cab drivers' as its office-bearers.
PTI has recently held its all Pakistan union council level intra-party elections, also conducted through accepting vote via SMS. This will be followed by district level elections scheduled for the last week of this month.
The elected office bearers at UC level will elect their district leadership which will further choose the representatives at regional and provincial level. The election was conducted in Punjab's 3,308 union councils last week with four million registered members of the party in the most populated province of the country.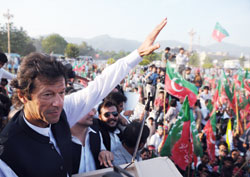 "The rat race of 'electables' joining the PTI has appeared as the biggest challenge for the party. There are intra-party rifts and groupings in grabbing the key and decision-making positions at different levels. This has disgruntled the veterans who were struggling with their leader for the almost 17 years," says a party insider.
The October 2011 Lahore rally of the party stunned the old players on the country's political ground, urging the floating politicians to decide their future political career.
"The PTI's major success was the October 2011 rally. This encouraged the politically alienated personalities in other parties to join it and give a boost to the party," views political analyst Hasan Askari-Rizvi. However, it also created a problem within as PTI started looking like any other political party with emerging conflicts between the new comers and old guards.
He says that intra-party elections and their mechanism, in future, also might add to these problems, intensifying grouping. The party graph seems to have declined in the past six to eight months but it is still a credible political faction.
Recent intra-party elections have given a public level boost to the party inviting people from all walks of life to contest the party elections. Imran Khan has planned a Lahore-style big show in Peshawar in the first week of March. This will be followed by a gathering of around 70,000 elected office bearers of the party at all levels again at Minar-e-Pakistan likely on March 23 with the possibilities of also launching manifesto of the PTI for the 2013 general elections.
Punjab and KP are the main political battlefields of the party in the next general elections, insiders view.
With its populist anti-US, anti-drone and anti-corruption slogans, the party has been unable to come up with some practically viable slogans or agenda to attract masses like Zulfikar Ali Bhutto in the 1970s. "The party is becoming popular but it seems to have failed to give practical solutions to the issues of poor. There is no slogan directly related to masses like 'Roti, Kapra aur Makan'," views a member of the steering committee of the party.
"There are serious problems which have made the PTI somehow static," Rizvi expresses, adding, "Imran Khan's thinking is still considered naive and simplistic while its advisors are seen as realistic and down-to-earth." He says there is also a conflict within the party top leadership and the advisors in terms of agreeing on certain issues. The medium is different, he adds.
The biggest challenge for the PTI will be to bring its youth out of homes to the ballot boxes. But no one would risk giving an estimation of the number of seats it is going to win. "The PTI has emerged as a credible political party. However, it is not going to sweep the polls. It can get some seats in the urban Punjab and urban KP," says Rizvi.
Yeh Woh
Milking emaciated cows
By Masud Alam
More than 10 million adult citizens have, in the past year or so, ensured that their vote is registered and that their details held with Election Commission of Pakistan (ECP) are correct and up to date. That leaves only 80 million or so eligible voters who haven't.
The figures quoted here are rounded to the nearest million, but even these inexact numbers tell the story of 'Pakistani approach to democracy' more exactly than a 100-page academic paper. There are three characters in this story: The election commission that has done its job by heavily advertising the SMS number that any CNIC holder can use to find and confirm or amend their voter records, the eligible voter who has made this enquiry, and the eligible voter who hasn't bothered to.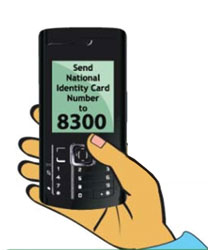 The ECP has traditionally been a toy in the hands of the ruling elite; they buy it, play with it, and break it when they get bored. It has watched helplessly — and played on the side of the devil when it did play a part — as election after election has been rigged before, during and after the polling day. The 2008 election was termed the cleanest by observers and cynics, but when the afterglow of consummation with democracy faded, we learnt that the electoral rolls used for the 'transparent' elections contained tens of millions of bogus votes.
To fix this problem ECP has been adding and deleting millions of votes every few months, adding confusion to the distrust the citizens hold towards democracy and the institutions meant to sustain and strengthen democracy.
The ECP is headed by a retired judge whose integrity and reputation is held in high esteem by ruling and opposition parties. His appointment in July last year, was hailed as a victory for democracy and an assurance the elections under his watch will be free and fair. Then we heard the commission he heads is unconstitutional because due process was not followed in the appointment of four brother members on the commission, representing, and leading ECP operations in the provinces. The upholders of electoral laws are now in the dock of procedural law. To its credit the commission has shown independence in its decisions and innovation in its outreach efforts.
Offering electoral information and dispute resolution through SMS is a smart tool to nudge citizens towards democracy, and a brilliantly simple solution to a mass communication problem. Why isn't it working then?
The second character of the story, the potential voter who has verified their voter details, plays the part of a dutiful citizen. They are normal, common, average people like you and me. And they are one ninth of the total. It does not make them any less important as voters, but the eight million as yet unverified votes will eventually decide our next leaders. And that brings us to the third character.
Why this character can't be persuaded to perform an easy, cheap and routine action on their mobile phone to make a big contribution in the country's march towards democracy, can be due to three factors. One, they don't care because they have given up on the will and ability of political parties to bring any change, except in the personal wealth and influence of a few. Two, they don't owe their vote to a country, or a system, or an ideology. Their vote is for the candidate who has influence over them through relation, loyalty, or coercion. Adding and checking voter details is their responsibility, and so is transporting them to the polling station and back. And three, they can't afford it.
A text message on average costs 50 paisas. But that's only on paper. In practice, stiff competition has brought the unit price down to the absolute low, a paisa, as in mass SMS packages being offered by telecom operators. How can then a citizen not afford sending a text message? It's because this particular SMS costs Rs 2. It is a premium-rate service used by businesses to offer audio or text based information to the public, at a price.
So the ECP, instead of offering a toll free number, chooses to make a neat profit from those enquiring about their voter status.
Still, it's only two rupees. Surely it's not too heavy a price to pay in discharging a national duty? Telecom industry reckons a good 60 per cent of mobile phone users in Pakistan maintain a balance of less than a rupee. That is, they use their phone to receive calls and to SMS people asking them to call back. And this majority of mobile phone users is excluded from the ECP's initiative, by its very design.
elections
NA-1
Battle begins
An analysis of this prestigious constituency, the
contestants in the past and how it is making way for new
By Rahimullah Yusufzai
There are 342 seats in the National Assembly, but NA-1 Peshawar is considered important and prestigious because it is listed ahead of the rest and the winner from this constituency is the first to be called on the inaugural day of the House after the general election for putting signature on the attendance register or subsequently for voting purposes.
Some of the well-known winners from NA-1 have been the late Khan Abdul Qayyum Khan and Yousaf Khattak, both Muslim Leaguers and Unis Elahi Sethi and Syed Zafar Ali Shah. Those still alive who won this seat include Ghulam Ahmad Bilour, Aftab Sherpao and Jamaat-i-Islami's Shabbir Ahmad Khan. The famous losers from the constituency include Benazir Bhutto and Air Marshal (Retd) Asghar Khan.
NA-1 is easy to remember and thus the most known constituency not only in Khyber Pakhtunkhwa (KP), but also in the rest of the country. Comprising the densely populated inner and old city localities, it is one of the four National Assembly constituencies in the district of Peshawar, which happens to be one of the oldest cities in the subcontinent. The population in the constituency is largely urban and, therefore, better educated and affluent compared with those living in the rural areas of the province. Some suburban villages in rural Peshawar are part of NA-1, but the outcome of the election is decided by the urban voters, who mostly vote on the basis of their political orientation.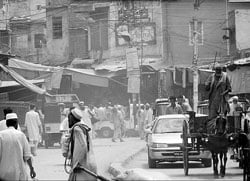 Political parties always had a strong presence in the constituency. The Awami National Party (ANP) and Pakistan People's Party (PPP) have been dominating the electoral politics in NA-1.
A significant segment of the population in Peshawar is Hindko-speaking, though many among them have become bilingual as they are able to speak Pashto. The Pashtuns have grown rapidly in numbers due to migration from all over KP and Federally Administered Tribal Areas (Fata). In particular, the Pashtun tribe of Mohmand has a visible and politically strong presence in the city. Kashmiri settlers have a visible presence in Peshawar, its most famous son being Maqbool Butt who was hanged in the Tihar jail in New Delhi for waging armed struggle against Indian rule in Jammu and Kashmir.
The ANP, which champions Pashtun rights, has greater support in the Pashto-speaking population while the PPP has strong following among the Hindko-speakers. However, other political parties have stepped up to challenge the ANP and PPP. The religio-political parties, Jamiat Ulema-i-Islam-Fazal (JUI-F) and Jamaat-i-Islami (JI) won election from NA-1 in 2002 from the platform of the six-party alliance, Muttahida Majlis-i-Amal (MMA), which had benefited from the anti-US and pro-Taliban sentiment following the US invasion of neighbouring Afghanistan to sweep the polls in KP and Fata and make gains in Balochistan and even in parts of the other provinces. The winner with 37,179 votes was JI's Shabbir Ahmad Khan, who originally belongs to Swabi district, and the loser was ANP's Usman Bashir Bilour, the young son of Bashir Ahmad Bilour, who was recently killed in a suicide attack claimed by the outlawed militant group, Tehrik-i-Taliban Pakistan (TTP). Usman Bashir, who polled 23,002 votes, was fielded by the Bilour family because his uncle Ghulam Ahmad Bilour being a non-graduate couldn't contest the election.
However, the depleted and disunited MMA due to the boycott of the 2008 general election by the JI lagged far behind in the third place as its candidate Abdul Jalil Jan, belonging to the JUI-F, could get 4,103 votes only compared to the winner, ANP's Ghulam Bilour, who polled 44,210 and the runner-up, PPP's Ayub Shah with 37,682 votes. There won't be any chance of victory for candidate of a religio-political party in NA-1 in case the MMA isn't revived in its original shape as it appears at this stage and its main components, JUI-F and JI, opt for separate electoral alliance or seat adjustment with other parties, including the PML-N and Pakistan Tehreek-e-Insaf (PTI). Even otherwise, the original MMA too would not have been in any position to repeat its 2002 electoral triumph in view of its unsatisfactory performance in power and also on account of the changed political situation in Pakistan.
One party worth watching would be Imran Khan's PTI, which according to the two 2012 public opinion surveys by the US-based International Republican Institute (IRI) is consistently at the top in KP. The last survey showed the PTI with 32 percent public support followed by the PML-N with 12 percent only and the PPP and JUI-F placed third at five and ANP at three percent. Most parties and many analysts have challenged the IRI findings, but the gap between the PTI and others in KP is so big that it won't be easy to dismiss the figures outright. There has been talk in the PTI circles of fielding Imran Khan as a candidate in NA-1 even though the names of Mohammad Salim Jan, grandson of late Khudai Khidmatgar leader Khan Abdul Ghaffar Khan (Bacha Khan) and cousin of ANP head Asfandyar Wali Khan and businessman Ghulam Sarwar Mohmand as likely candidates have also been mentioned. Imran Khan's candidature would raise the stakes for PTI and make the NA-1 contest absorbing.
The wealthy Bilour family and its patriarch Ghulam Bilour have dominated electoral politics in NA-1. Ghulam Bilour, presently federal minister for Railways, won the seat thrice in 1990 when he defeated Benazir Bhutto, again in 1997 against PPP's Syed Qamar Abbas and in 2008 by beating PPP's Syed Ayub Shah. He lost in 1988 to Aftab Sherpao and in 1993 to Syed Zafar Ali Shah, both PPP candidates. Despite being 75 years old and the subject of a controversy after having been denounced by some of his party colleagues for announcing $100,000 head-money for the Egyptian-American film-maker of an anti-Islam movie, Ghulam Bilour is unlikely to stay out of the 2013 general election. The ANP too cannot afford annoying the Bilour family by not giving the party ticket to Ghulam Bilour, who is a proven vote-getter. In fact, the Bilours would be expecting tickets for not only NA-1 but also two provincial assembly seats from Peshawar, PK-2 and PK-3, as was the case in 2008. On that occasion, Bashir Bilour had won the PK-3 seat while his son, Haroon Bilour, lost from PK-2 to PPP's Syed Zahir Ali Shah. The Bilours were shattered by the loss of Bashir Bilour, who knew the tricks of the trade while contesting elections and catered to the needs and demands of the electorate in Peshawar city. Haroon Bilour has now taken his place and his brother, Usman Bashir Bilour, and cousins would be by his side as the Ghulam Bilour-led family tries to retain its NA-1 and PK-3 seats in Peshawar.
The PPP could field its former provincial president Syed Zahir Ali Shah, presently health minister, as its candidate from NA-1 even though he is interested more in contesting and retaining his KP assembly seat, PK-2. His late father, Syed Zafar Ali Shah, had defeated Ghulam Bilour in NA-1 in 1988 and PPP activists believe he is the only party candidate capable of beating him again. Though the PPP has solid vote-bank in NA-1, the poor performance of its government after the 2008 polls would affect the chances of its candidate in the coming election. The same holds true for the ruling ANP, which being the dominant partner in its coalition government with the PPP in KP is facing accusations of corruption. This would create an opening for other parties, notably the PTI, JUI-F, JI and PML-N. A joint candidate of some of these parties could even spring a surprise and defeat the ANP and PPP candidates as was the case in 2002.

"Maulvis in our society are powerful people"
Allama Tahir Ashrafi embarked on the jihadi path long ago, in 1982, at age 11. Three decades on, he heads the Pakistan Ulema Council and has been nominated as member of the Council of Islamic Ideology, Pakistan.
Ashrafi, who belongs to a well-known Deobandi religious family of Lahore, was among the first to condemn the murder of Governor Salmaan Taseer and the attacks on Malala Yousufzai and anti-polio workers in Pakistan. He also served as adviser to the Punjab government during the Musharraf regime. He claims to have brought back more than 3,100 Pakistani detainees from Afghanistan and Guantanamo Bay.
A former active member of defunct Sipah-e-Sahaba, where he rose to the rank of central information secretary, Ashrafi now talks about sectarian harmony. Several quarters suspect his intention; they maintain he played a role in the release of Malik Ishaq. But Ashrafi dissociates himself from this.
There seems a gap between what Ashrafi says and does. On one hand he favours Pakistan-India peace talks, on the other he is an active member of the Pakistan Defense Council which is against the peace process with India. On one hand, he talks about human rights and girls' education, on the other he's a staunch supporter of Mullah Omer who banned girls' education in Afghanistan.
TNS met him in Islamabad last week to talk about these contradictions and discuss his views on issues concerning Pakistan.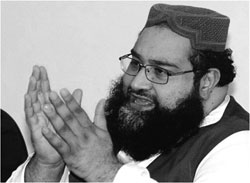 By Aoun Sahi
The News on Sunday (TNS): It is said that most of the terrorist activities in Pakistan were carried out by people belonging to the 'Deobandi' school of thought. Do you agree with this argument?
Tahir Ashrafi (TA): No. I don't think Deobandi youth is involved in terrorist attacks in Pakistan. Unfortunately, there is no one in the 'Deobandi' network who'd sift through the myth and reality, and present their side of the story effectively. When the government of Mullah Omer was toppled in Afghanistan, Deobandi youth considered it unjust. The government of Pakistan arrested key Deobandi jihadi leadership, leaving no one behind to direct and guide the Deobandi youth. This religiously-motivated youth became cat's paw in the hands of foreign Mujahdeen. No one really tried to bring Deobandi youth on the right track.
Our security agencies apprehended some suspect individuals and kept them locked in torture cells, where they developed a terrorist mindset.
I think Deobandis were suppressed, and in reaction, they retaliated.
Extremism gained momentum in Pakistan after the Iranian Revolution, when some elements attempted to initiate a similar revolution in Pakistan, which led to the killing of scores of ulema in Pakistan.
TNS: So, you don't think the Saudis played a role in promoting an extremist mindset in Pakistan?
TA: I think Saudis have nothing to do with it.
TNS: Then who's responsible for promoting Taqfeeri in Pakistan?
TA: Saudis are not Taqfeeris. This thinking has come from Algeria and even they consider Osama Bin Laden an infidel. As they participated in the foreign jihadi organisations and al-Qaeda, our mujahdeen got in touch with them during Afghan jihad. The Taqfeeris use the mindset of Deobandi youth for their advantage.
The problem is the ulema didn't rescue the youth from the dark alleys and influence their thinking.
TNS: The Deobandi jihadis want to impose Shariah on gunpoint. A majority of them consider Shias infidels, who deserve to be killed. What are your comments?
TA: The Deobandi ulema have never done Takfeer (apostatising) of Shia Muslims. No eminent Deobandi scholar has ever demanded that Shia Muslims be banned from visiting Makkah and Madinah. This in itself is a proof Deobandis consider Shia sect to be a part of Islam. I strongly believe that both Shia and Sunnis will have to live harmoniously in this country. Sunnis cannot eliminate Shias from Pakistan and vice versa.
TNS: What is your relationship with Malik Ishaq? You welcomed him the day he was released from jail.
TA: I have met Malik Ishaq four times in my entire life. I was not a signatory of any agreement pertaining to his release. I held meeting with Saqlain Naqvi in jail but no one objected to that.
I met with Ishaq in jail and asked him that he created a lot of problems for his friends and followers during his 15-year-long imprisonment, and that now when independent judiciary was releasing him, he should consider living a peaceful life. He promised me to spend his life according to law and constitution. I have his words in writing which were published in my magazine Al-Hurrya.
Later, I developed disagreement with him on different ideas and disassociated from him. If someone considers me his aide, for being photographed with him, then I also have pictures with Allama Sajid Naqvi that I can show them. I have no links with Lashkar-e-Jhangvi but we value peace and for peace we can engage with any organisation.
TNS: If Tahir Ashrafi comments bluntly on blasphemy laws, no one bothers, if Salmaan Taseer comments on them, he gets murdered. What's the difference between Salmaan Taseer and Tahir Ashrafi?
TA: I don't think that Salmaan Taseer was murdered for this reason. I was the first one to have raised this question as to why Salmaan Taseer was murdered. He was a blunt person who spoke his mind. He was liberal and the thinking that was ideologically opposed to him punished him.
I think that there is no ambiguity or loophole in blasphemy laws but the issue is different from other criminal cases. If someone is charged under blasphemy laws, others don't spare him and feel proud to have killed the accused even if he or she is freed by the court of law. So, the procedure of registering the FIR under blasphemy law should be monitored carefully. The recent case of Rimsha Masih has proved it. This is a sensitive issue and ulema should come forward to devise mechanism for registering of FIR under Blasphemy Law.
After Rimsha's Case, eight cases of such nature have been withdrawn.
TNS: You talked about Rimsha and played an important role in her release. But no one condemned the action of Maulvi Khalid Jadoon who manipulated the case. Why?
TA: Khalid Jadoon was arrested on my call. The Interior Minister has promised that Jadoon will be punished. But because he is a maulvi no one is ready to punish him.
TNS: So, maulvis in our society indeed are powerful people.
TA: I think being a maulvi is an esteemed job. In the name of religion, mafias have made maulvis so strong that even capitalists, feudals and industrialists have made alliances with them.
TNS: You talk about sectarian harmony as member of Islamic Ideology Council among different sects of Islam in Pakistan, but what about bridging gulfs between Deobandis and Brelvis? Brelvis accuse Deobandis of occupying their mosques by force.
TA: We are focusing on this issue as well. A board will soon be established to check the affairs of mosques and seminaries. This should be the government's responsibility to ensure such arrangements. We can only suggest some remedies. The government is really the implementing authority.
TNS: On one hand, Hafiz Tahir Ashrafi talks about human rights, Rimsha Masih and Malala Yousufzai, while on the other, he supports Mullah Omer, who had banned girls' education in Afghanistan.
TA: I urged Mullah Omer to allow women education as women have equal rights to education as men. Taliban acknowledge they made mistakes. Time has made them wiser. At the same time, our political parties, establishment and ulema should acknowledge the reality that Afghanistan is not our fifth province. I can't tolerate the interference of Mullah Omer in Pakistan and oppose Pakistan's interference in the affairs of Afghanistan.
TNS: Your views on the suicide attacks owned by Tehreek-e-Taliban Pakistan. TA: Shariah doesn't allow any sort of killing of innocent people. Attacks on military installations, carried out by TTP or others, will benefit only India. A lot is being done in the name of TTP.
TNS: You have been involved in peace process in Afghanistan and have held meeting with Afghan ulema in Pakistan last week. Do you think Pakistan and Afghanistan are reaching a common ground in the peace process?
TA: America is disturbing the peace process. They didn't fulfill their promises. They have not yet released the Guantanamo Bay detainees. But these dialogues held in Dubai, Paris and Germany have provided an opportunity to Taliban to give their message to the world.
Without the participation of Afghan Taliban, no peace talks can be successful.
Similarly, ulema of Pakistan and Afghanistan, instead of indulging in attestation of the Karzai regime, should focus their attention on the Islamic World. The issues can only be settled with consent from the US and Mullah Omer. We can be the bridge between the two stakeholders.
While the law promises everyone the right to try and have his/her day in court, the law does not make any promises about outcomes. To his detriment, Dr Tahir-Ul-Qadri had to learn this the hard way. Appearances can be deceptive — that goes for Dr Qadri and he might say the same about other quarters right now too.
So, for the time being Dr Qadri has lost. Many in Pakistan saw his recent actions as part of a larger clandestine move against democracy. Now that his petition has been rebuffed by the apex court, should we celebrate the outcome?
The positive way of looking at this is to say that the Supreme Court made it clear that it will not entertain frivolous petitions meant to delay the upcoming elections. Maintainability standards should be clear and must always be satisfied before jurisdiction of an apex court can be invoked.
Viewed from one angle, this is a good result. But that isn't the only issue here.
Focusing only on the result should not allow us to ignore how we got to the result. Firstly, there is the issue of consistency as far as the Supreme Court is concerned. If you adopt a myopic consequence based form of reasoning then the result will consume you — at your own peril for the future. The apex court didn't seem keen to assume quo warranto jurisdiction. But it has in the past displaced heads of bodies like OGRA.
This isn't meant to suggest that the court should have interfered with the composition of the Election Commission; this is just meant to put in perspective its earlier actions — maybe if the court had been more careful in interfering with matters within the prerogative of the Executive, such petitions would be deterred from a distance.
It is clear that dual nationals are not eligible for membership of our legislatures. But there was discourse regarding dual nationals during oral arguments that seemed unfortunate. As the short order of the apex court rightly notes, dual nationals are of course voters in this country too. So their interest in matters affecting this country cannot be discounted. Now whether that "interest" can be defined so broadly as to demand dissolution and reconstitution of election commission is a separate question. I don't think that can or should be done — the Supreme Court is the last body that should be indulging in such matters. Dual nationality cannot and should not mean that we doubt the loyalty of people who are our citizens.
People could be holding dual nationality for a number of reasons — some may see it as an investment, a guarantee of more rights or a promise of a better future (for themselves, their parents or children). None of that should be held against individuals. No one has the right to judge their fidelity to obligations of citizenship of Pakistan on the basis of this fact. And as far as oaths and declarations go, Dr Qadri wasn't far from the truth when he hinted that the Supreme Court's own record is not particularly flattering.
A lot of immensely hard working Pakistanis who are responsible for significant remittances are dual nationals. Our officials and institutions should be more worried about complying with their own obligations under their oaths rather than questioning oaths which others have taken. Pakistani nationals not following their oaths have done more damage to this country than any dual national's allegiance to a Queen or another flag.
The public mood wasn't with Dr Qadri either. So in one sense I think he missed a trick. Maybe if he had approached the apex court when he was causing titillations in the public imagination, without receiving hostility, he might have found a more receptive audience in the Supreme Court.
This of course presumes that courts sway with public opinion and I am willing to say, on most days, that they do.
Some senior leaders in the various bar associations of the country have also raised demands that Dr Qadri be declared guilty of contempt of court. Apart from the fact that these demands are smartly calculated to ingratiate these bar leaders with the court, the claim is amusing to say the least. If we want a strong judiciary then surely that judiciary cannot be expected to act like a pigeon confronted with a cat. It cannot close its eyes to its past and our discourse should not allow them to.
If they made mistakes, those mistakes must be mentioned openly and criticised. In fact confronting its difficult past is the only way that the apex court can build an enduring reputation. The court should therefore welcome unabashed criticism of its actions including individual judges in the past. I say this only because I want to see an apex court that commands respect and is not weighed down by the historical burden of guilt.
We may not have seen the last of Dr Qadri. He gambled on a few things and was surprisingly successful at the beginning. Then people started asking questions — about his motives, about his past and his version of democracy for this country. When people finally decided they don't really agree with him he began slipping. A man seen for a short while as a revolutionary then looked ineffective, desperate and the victim of his own uncalculated ambition. Now the Supreme Court has added to his woes. But Dr Qadri did throw some questions at the apex court too — not in his petition but during oral argument. The court didn't exactly handle his questions or his petition well. The interesting question is this: will someday this Supreme Court be remembered the way Dr Qadri is too? Revolutionary at first, high on populism, then the questions started coming — particularly about the past. You get the point.
The writer is a practicing lawyer. He can be reached at [email protected] or on Twitter @wordoflaw