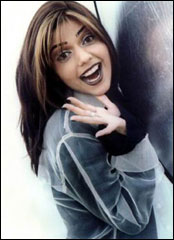 Critics may have slammed her for being a Nazia Hassan imitator when Hadiqa Kiani first started out. Her debut album, Raaz (1995) still managed to make a mark. From the early days of 'Jaan E Jaan' to 'Mann Di Mauj', Hadiqa continued to experiment. With her second record, Hadiqa tossed the "imitator" tag aside. Critics and fans were waking up to her rising star power in an industry where female musicians were still a long lost dream.

With Roshni (1999), Hadiqa began her string of even more wild videos. Whether it was The Matrix-inspired 'Dupatta' or the wholesome 'Boohey Barian' - Hadiqa Kiani kept reaching for the stars and more.

In between touring the world, Hadiqa recorded her third record, Rung (2002) and with it came a spate of videos such as 'Yaad Sajan', 'Jogi' and the stunning 'Mahi' in which Hadiqa donned the role of a vampire.

After 2002, Hadiqa continued touring and recorded singles, collaborative efforts and the timing also coincided with her being a mother. And now she is back with her fourth record, one that is edgy, young and fitting the global changing sound.

Hadiqa Kiani released the groovy Aasmaan last year. And since then she has been making news constantly. The latest is perhaps the most distinctive.

And that's Hadiqa's entry in the field of beauty (for a lack of a better term). With a few ads in local magazines, one wondered if it was really the singer Hadiqa. And Hadiqa confirms this fact herself.

"I've worked with so many beauticians. I've observed their techniques because I've always been interested," says Hadiqa.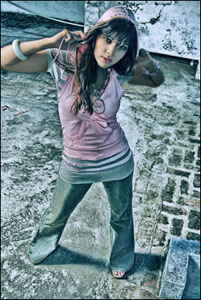 Having worked with stylists like Nabila, Tariq Amin and Khawar Riaz, Hadiqa is now testing the waters herself.

Her love for color - which has always existed throughout her career and the music videos that Hadiqa pulled off such as 'Mahi', 'Dupatta', 'Mehr Ma', 'Sohnya' to name a few - has turned Hadiqa towards a slightly different path.

It began at home.
"I worked on a couple of brides in my family. And it's an incredible feeling to make someone else beautiful," Hadiqa recalls.

And now Hadiqa is slowly turning it into a professional idea. While music still remains her first love (after her son), the field of styling is also a calling.

Hadiqa isn't just styling some of her own videos, she is doing more.
"I'm going on that path slowly. I haven't launched it yet but it's getting there. A friend of mine owns Lajwanti. That's a fashion line so in her premises there is also a salon. She asked me to set it up, give the girls some training and with my affiliation it'll bring a lot of clientele. And I also get a platform," Hadiqa says candidly.

At 37, she looks better than ever. Motherhood, music and now hair and make-up - that's how Hadiqa prioritizes it in real life.
In person, she is soft-spoken and opinionated, aware but not disillusioned. Most of all, she is an optimist. It reflects in the sound of Aasmaan which celebrates life, love, relationships. It's a fun record and not one that is laced with poetry that is driven from current surroundings.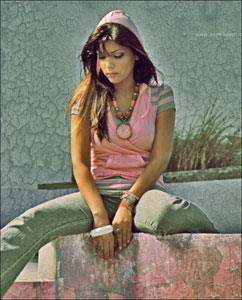 Aasmaan may be Hadiqa's first full-fledged album since Rung (2002) but she never truly left the scene.
Whether it was singles like 'Yeh Hum Naheen' or 'Mehr Ma' or 'Iss Bar Milo', Hadiqa stuck it out. And it hasn't been an easy ride.
Hadiqa's collaborative album, Rough Cut (2007), with Aamir Zaki, saw her under fire. For one thing, the album was in English, making the market limited. And then there was other criticism.

"Rough Cut had two kinds of responses. One was excellent and the other was trash," Hadiqa laughs. "Some of my fans loved it and there were those who thought I was going through an identity crisis. Starting from 'Jeevan' to Aasman, maybe I am going through an identity crisis," says Hadiqa. "I feel that as a human being it's all part of our journey to discover. Music is something you need to explore."
But Hadiqa isn't clueless about her fan-base or where her career is headed, even as some things continue to remain unpredictable.

Aasmaan is very much a young sound, the kind that is slick yet desi, slightly pop-ish and slightly dance with just the right tinge of electronica thumping.
"People have really liked Aasmaan. But I can't say that the next album will be the same," she says.

"I do think about what the youngsters are listening to. I like to cater to everyone and isolate no one but my main focus is youngsters. Kids have this energy about them. They go on the Internet to buy/download the music, they explore new sounds and they make for the most loyal fans," Hadiqa says with a smile.
The other factors...
Considering Hadiqa's consistency and star power, it comes as a surprise to note that she is not looking at Bollywood as a possible medium to expand.
"I go with the flow. Who doesn't want to expand? India is a bigger market. But the project," she maintains, "has to have some kind of credibility. I am not interested in doing a trashy project. I don't have that kind of desperation. If something good comes my way, I'll definitely do it."


And she reveals an interesting story.
"Indian film music director Pritam wanted me to do a song ('Yeh Ishq Haiye') in Jab We Met. It was shot on Kareena Kapoor who had her own preference. Bollywood stars have their own clout and they often push certain names or voices they like."
But while Hadiqa is not pushy about Bollywood at all, she is very much clued into the digital world of music and its potential to grow as an independent medium.

"We should tap into this market. It is our market. Everything has it's pros and cons. But I do feel that this medium creates awareness and is a quick and easy way to interact with fans and even critics."
Times are changing
After over 15 years in the music business, Hadiqa is unfazed by the limelight. She was candid with fans when her marriage didn't work out. Hadiqa posted a Facebook letter.
"Yes, I did."
She is a woman, and one of the first few who entered the fold of music at a time when it was not common. There was no media boom and Internet users, it's reach hadn't grown as much in Pakistan.
But through it all, Hadiqa remains brutally honest about her personal and professional highs and lows.

"Being in this profession... it effects your personal life. If you have an understanding partner then it can work out," Hadiqa says on a positive note.
"For me," she reveals, "both times it was just one factor. The men I married… they married me because I'm Hadiqa Kiani. They didn't fully understand that music means more than money and fame. It's something that gives me balance and it's important to me on a personal level," she says.

"The stakes are a little higher when you're in the spotlight," reflects Hadiqa. "Despite being completely normal at home, insecurities come to the forefront if you don't have an understanding partner."
Hadiqa, the pop-star, doesn't have an aversion to the media. She has come to terms with it even as she struggled in the early years.

"Life, she says, "comes under scrutiny. Initially, I used to get conscious that people are staring but now I've become quite carefree. When kids come and ask for my autograph, it's very humbling and every now and then I come across people who stare and say demeaning things and that's hurtful but overall it's all good," she says with that pleasant smile.
For Hadiqa, the real change came with her son, Naad-e-Ali.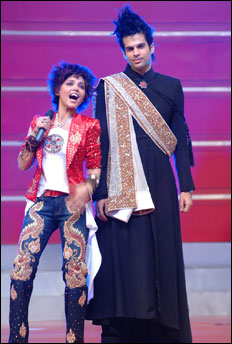 "He's four now," she says as she shows his picture to me. It's the one subject Hadiqa indulges in the most. And Naad-e-Ali, it seems, already has a penchant for rock 'n' roll.
"He loves the drums," she says, "and Ali Azmat. He'll happily watch him perform. He adores Shahram Azhar of Laal because Shahram sings his name when he meets him. Naade calls Shahram his friend," she laughs proudly.

"If I'm traveling anywhere for longer than a day, I take him with me," she tells me. "I was and still am invested in my career but there is a difference now. My son is my priority. My mother is not well and she is also my priority. Then there is everything else," she says honestly.
But all this hasn't stopped from looking at the larger picture. It is with this reason that Hadiqa is collaborating with the defiant and brilliant band that is Laal.
"Laal are amazing. They do music that is relevant to our situation, our surroundings. Ignorance is not bliss. We can't be naive about who we are."
In other words, it is because of this reason that Hadiqa is collaborating with Laal on a political song with poetry.
"So, where did you guys land, finally? I ask her. Laal have made Habib Jalib a name for a whole new generation.
"Yes," she finally answers and laughs.
She recalls, "Shahram and Taimur (of Laal) came to see me and together we read a lot of poetry and finally agreed on Habib Jalib," she says.
It'll be an interesting collaboration to say the least. And that's not all.
There is the Pushto song, 'Jaanan' (featuring Irfan Kiani) which has become hugely popular and is plastered all over the web with fan-made videos on YouTube. A video is in the pipeline because Hadiqa loves to experiment with languages. And she would love to see Pushto becoming as common a language in music as Punjabi has become.

""I like exploring new languages. Every language has its own feel. From a singer's perspective, Turkish music is so diverse, Chinese music is very challenging."
Neither threatened by the success of the likes of Zeb and Haniya nor in a rush to become the next singing sensation in Bollywood, Hadiqa is ultimately comfortable with her eccentricities and her streak to experiment is still in place. For Hadiqa, it's never say never.
Photography & Design by:
Osman Zia
Coordination:
Umair Khan @ Anamorphic Ideaz
Wardrobe, makeup and styling : Hadiqa Kian