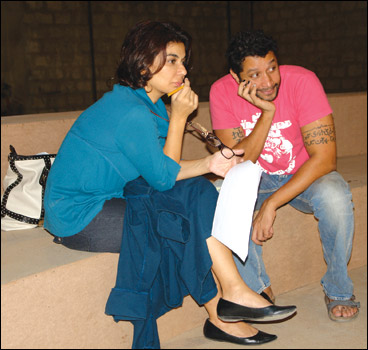 You do not miss a show by Nabila. Any dedicated follower of fashion will tell you that. She doesn't do very many shows, but each one of them surpasses surface beauty. Her shows are not just about how beautiful she can make girls look, or how well she can cut and colour their hair. Nabila, without fail, always creates an experience, each one different from the next. You walk into another world, some weird, wonderful Pandora born of her imagination.

A bonafide show from Nabila, with that unmistakable brand of creative edginess always pushing the envelope, has been a long time coming. Her last major events were the Lux Style Awards for which she gave celebrities individual looks for a big carpet and orchestrated the massive styling job backstage. It was a mammoth task, and unprecedented as far as Pakistan was concerned, but it wasn't pure, unadulterated Nabila, like the L'Oreal Rock and Folk Show one witnessed at Studio 146 last weekend.

One walked into a sparse, neutral space, a wasteland almost, with earth-toned walls, sawdust floor and circular seating that blended in. Zain Mustafa, who directed the show, had created an arena in the studio in which to witness the action. Deepak Perwani, Sonya Battla, Amin Gulgee, Frieha Altaf, Saqib Malik, Nomi Ansari and many others milled around partaking of hors d'oeuvres and little glasses of drinks provided by Koel. The tangy imli ka sherbet, the slightly salty Kashmiri chai gave a taste of what's to come.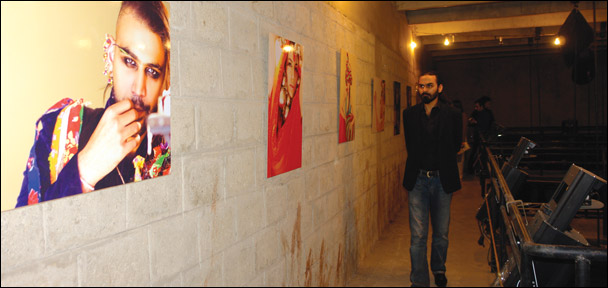 You were directed up the wrought iron spiral stairs to the lighting grid of the studio that had been turned into the gallery. Walking on the railings that criss cross right below the roof one saw images beginning with L'Oreal's official campaign, and going on to the edgier images of what one knew one would see at the show: girls with exaggerated technicolour eyelashes swathed in gorgeous Ather Hafeez creations, with hair that oozed attitude so extreme that you could never get away with it in an ad for hair and beauty products in this straight blow-dry loving nation.

The show began with a band playing. There was Emu on keyboards with a laptop in front of him, Shallum Xavier on guitars and Gumby on drums, in t-shirts with glow in the dark stuff on them and strategically placed flurorescent feathers. The strains of Pakistani folk music filled the studio and two lights went up on the raised aisle revealing two men in black Baloch style shalwar kameezes with turbans that covered their faces, leaving the eyes open, dacoit style. They walked down the stairs and were joined by a girl, Maha, wearing a feathered Ather Hafeez creation - with a train with men under it, covered with cloth crawling backwards round the arena. It was as if the train of her skirt was pulling her backwards like a caterpillar. It spoke volumes for the regression of our time, the backwardness of a land which resounds with the liberating kalam of sufic saints, yet where women are still repressed and shackled.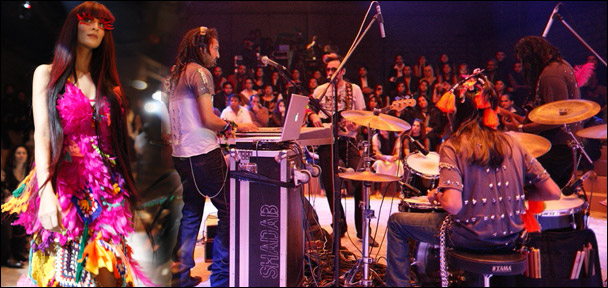 This was the juxtaposition that continued throughout the evening as Tufail Saieen and a young man called Shehryar Mirza performed live with songs like 'Teray Ishq Nachaya' that sent goose bumps up one's spine. There were dacoits, women whirling in burqas, and two dancers in tight leather, shirtless with mirrors on their back and helmets on their heads who came down on a rope form the celing and cartwheeled around the arena. It was the models, who showcased Nabila's vision with hair and make-up, who were still and static as the rock and folk circus was unleashed around them.

Aneela wore a corseted dress with a bubble skirt that seemed composed of big iron balls. With red hair stiffly structured as a hill around her head, a pale face and a skirt that seemed like all the weight of the world was pulling her down, she was a stylized symbol of the cross women have to bear in a patriarchal society.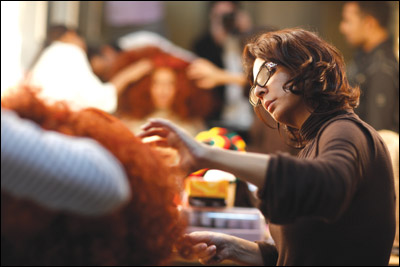 Fayezah Ansari was the last model out with punk hair, a liberated woman but still a misfit in the conformity of her surroundings. It was Rock and Folk as it truly exists in Pakistan; a deconstruction of our liberalism, our stylized society that may wear the right clothes and have a happening social scene, but essentially remains bereft of real freedom.

The show was mind blowing and thought provoking. But it had also been meticulously put together, without a hitch. Afterwards, Nabila gave full credit to Zain Mustafa, one time wonderboy of Pakistani fashion. One remembers Zain's shows and installation that were far ahead of his time well over a decade ago. Now, a successful interior designer based in Dubai, he had flown in to art direct the shows. He maintains a close relationship with Nabila. So does Ather Hafeez, whom Nabila had called in from Lahore; he too has collaborated with her many times before.

"It's what I like to do," Nabila told Instep. "I like working with creative people and set the ball rolling with them. The process is always exciting and one gets such an adrenaline rush with all this creative energy."
Apart from the fashion lot, the introduction of rock happened in the show via Emu who had produced the music played that night. He roped in Tufail Saieen who came into the limelight with Coke Studio and Shehryar 'Sherry' Mirza, who one was surprised to discover is a Karachi-based singer. Shehryar laughingly admitted to not being a sufic singer though he is classically trained under one Ustad Naeem. Emu had done a fabulous job, amalgamating the best of rock and folk. One hoped for better sound, but that to be honest is not up to the par at any live event in Pakistan.

However, what did strike one at Rock and Folk, apart from the fashion statement, was that this too is how music concerts should be. They should be an experience as opposed to a crowd gathered to see some musicians jamming on stage. It would take an art director like Zain Mustafa to take them to the level of visual feast, by playing with lights and visuals perfectly timed with the songs being played.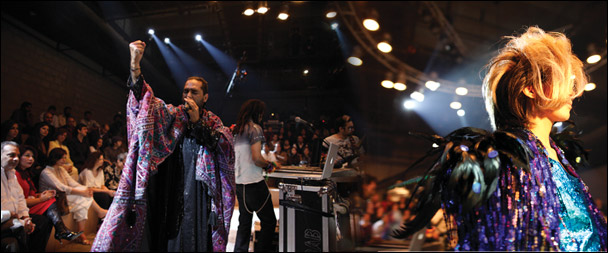 Essentially, the theme of Rock and Folk was derived from Fashion Rocks, the global event that has spawned umpteen carbon copies in Pakistan and round the world by teaming music and fashion. However, Nabila took it to the next level. She stylized that which was indigenous even as she did very Western hair and make-up to edgy perfection. One got up from their seat feeling that we had never seen anything like it before.

Musharraf Hai, who is setting up and launching L'Oreal in Pakistan was beaming by the end. It was heartening to see her meet Tufail Saieen and Shehryar Mirza after the show, hands folded saying "aap logon se insaan aur kya keh sakta hai", even as people were congratulating her on a job well done.

If this show is a taste of what to expect from L'Oreal in the future, then one is excited. Musharraf Hai has brought in Nabila for creative, Selina Rashid for PR and Sabene Saigol's Red Communication for advertising. It is a certain type of woman she's brought on board: stylish, classy, ambitious and a thorough professional - the new age of Pakistani women who perhaps embody what L'Oreal is all about. After all in the beauty business, image is everything and in life experience is what it's all about. Nabila can take a bow for being a master at both.
- Photos by Kohi Mari and Ayaz Anis
- Nabila used L' Oreal Professional Majirel Colours