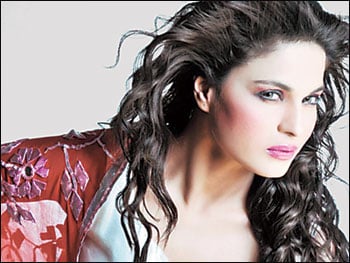 Ever since she began her stint in India's reality TV show, Bigg Boss 4, Veena Malik has been called many things. There are people who have applauded her for being 'honest', 'funny' and 'interesting'. And then there's the huge majority that has pronounced her 'cheap', 'vulgar' and 'shameless', among other more colorful words. Probably, Veena doesn't care. As she's always known, any publicity is good publicity.

And Veena Malik certainly knows how to get publicity. You have got to hand it to her. Love her, hate her, ridicule her all you want, but the woman is a pro at maneuvering the limelight around herself. A few months ago, nobody cared much for her. Sure, she drew a the laughs through her spot on imitations and comic timing on Geo TV's Hum Sab Umeed Se Hain and then, for some time, she raised eyebrows as she sobbingly went on air and admitted to her liaison with cricketer Mohammad Asif. But Veena was never in the public eye for long enough. Even as a Pakistani film heroine, she always played second fiddle to the main heroine, the gregarious younger sister or the supportive best friend.

Along came Bigg Boss 4 and it changed everything for Veena. She became the talk of the town not just in Pakistan but also in – the supposed hallowed ground for the entire Pakistani film fraternity – India. All it took were weekly histrionics on screen. Easy stuff, for Veena - she'd done it before. Flashing back to the earlier months of 2010, she had wept crocodile tears on TV, blaming her ex-boyfriend cricketer Mohammad Asif for having stolen money from her. Then, later in the year when the Pakistani cricket team was accused of match-fixing, she had chipped in with her two cents' worth, claiming that Asif had told her that he was involved in the matter when they were together and heroically professing that she had broken up with Asif because of his wayward match-fixing ways. The woman has always known how to make waves and isn't afraid of controversy.

With her infamy as a drama queen, Veena was an ideal candidate for Bigg Boss 4. After all, the show has always been notorious for its in-house cat fights and scandals. Last year, they had opted for the loud Indian item-girl Rakhi Sawant, this time they decided upon Veena Malik.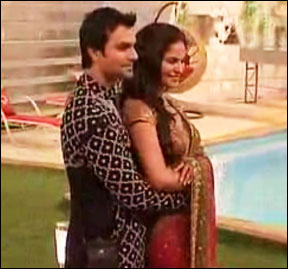 And boy, did Veena fit the bill. When the show started off, hardly anybody in India knew of her. But by the end of the first week, she had the audience agog. Veena Malik knew that, as a Pakistani in India, she didn't have a fan following like her other counterparts. So, she just made sure that she became the most talked about inmate in Bigg Boss' house. She swooned over Bigg Boss' voice and threw a ridiculous, bizarre kiss in the voice's direction. She appeared to fall in love with model and fellow house-member Hrishant Goswami. And once Hrishant was ousted, she moved on to actor Ashmit Patel, (or 'Ash-mit' as she insists on calling him), openly fondling him on screen and sitting in secluded corners with him having long, intimate discussions. She pirouetted and preened on camera, proclaiming herself to be 'beautiful, sexy and a good cook – ideal marriage material'. She sashayed around the house in short skirts and high heels while the other females resorted to slacks and T-shirts. She swam in the pool, flirted outrageously and had no problems getting touchy-feely with the male house members, shocking the Indian audience right out of their preconceived notions of the submissive Pakistani woman. She clambered onto the house's dining table in high heels and gyrated to 'Abhi Toh Mein Jawan Hoon' leading to Bigg Boss punishing her for having shown 'disrespect'. She made sure that all attention was on her.

And while there were those who loved her and many who hated her, there was no doubt about it that everybody tuned in to the show night after night to see what new stunt Veena would pull. Here in Pakistan we were also curious to see how a fellow country woman would fare in a house full of Indians. But even across the border, Veena more or less carried the show on her self-declared 'sexy' shoulders. Why would anyone want to watch an oversized, mute Khalli or a mundane Sameer Soni when you had a Veena Malik giving massages to a smirking Ash-mit and dancing in front of the washroom mirror? Aside from the foul-tongued Dolly Bindra, Veena proved herself to be the only other interesting member in the household. Which is the reason why that even though she had the largest number of nominations from her fellow inmates for being evicted from the house – seven, to be exact – she would always be magically saved by her 'loyal' fans. More likely, she was rescued by producers who were fast getting rich by the ratings brought in through her crazy histrionics.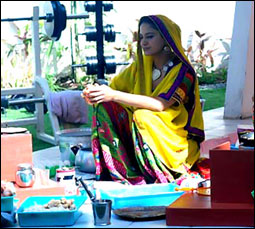 For even though Bigg Boss professes to be a show based on audience votes, it often appears to be completely scripted. Actor Rahul Bhatt said as much in print once he had been booted out of the house, declaring that Veena had asked him to enact a fake love affair with her, for the sake of gaining popularity. Rahul had allegedly refused and Veena had tenaciously moved on to the more susceptible Ash-mit. Bigg Boss' voting process seems rather suspicious, on the whole. The insane, colorful household members are allowed prolonged stays while the less interesting ones are systematically kicked out. Abusive inmates like Dolly were supposedly voted back in through a 'Wild Card' while Pakistani Ali Saleem, more well-known in his Begum Nawazish Ali avatar, was very conveniently voted out in the early weeks when the Shiv Sena began protesting about the inclusion of Pakistani celebrities. Popular Indian actors like Sarah Khan and Manoj Tiwari were excluded while a vivacious Pakistani Veena Malik stayed on. As the show drew close to its final weeks, though, the producers probably decided that it was time for Veena to leave. For while she was great for the ratings how could they, heaven forbid, cause an uproar by letting a Pakistani win the show?

However, with Veena gone, most regular watchers expect Bigg Boss' house to take a turn for the dull. The remaining house members are all B-grade Indian celebrities and while they may have solid fan followings, their petty squabbles over food and household chores can't hold a torch to Veena's lascivious antics. It is no wonder that the producers kept Veena on for as long as 80 days – the show would have sunk a long time ago if it wasn't for her.

Veena, finally out of captivity, is all praises for the adulation she has gotten from 'Hindustan' and her undying love for Ash-mit, who she now claims is just a good friend – hey, with the show over for her, why should she continue on with the pretense of romance? With her so-called new found Indian fan following, she is all set to make her career fly. Rumor has it that that Pooja Bhatt is considering casting her opposite Ashmit Patel in the sequel to her once-upon-a-time hit Jism. And there will most certainly be Pakistani producers who will want to cash in on the Bigg Boss propaganda and cast her in their projects.
But before she blazes forward with her career, past lurid rain dances and forgettable side-roles, Veena may just have to face a bit of flak. She has Pakistan's mullah brigade in a furor and even fellow actress and old foe Meera has declared her to be a discredit to Pakistan. The internet is crowded with her detractors. She has even instigated boisterous online Pakistan vs. India bickering where Indian bloggers have wished her to be 'thrown back into her terrorist nation', automatically kindling a debate on Pakistan's long worn-out terrorist label!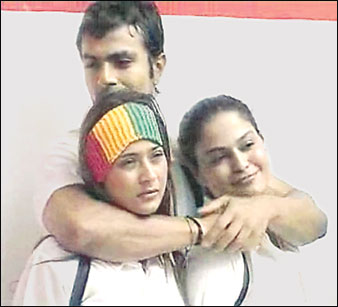 Moving away from the ever-raucous cyberspace, the Pakistani clergy has denounced her to be a disgrace to Islam – that too, on Indian television. Come to think of it, when was Veena Malik ever a credit to Islam in the first place? Even before she went wild in Bigg Boss, she was wearing micro minis and gyrating in the rain, albeit on the Pakistani silver screen. Perhaps then, our vigilant clergy has issues with her being vulgar in India while within Pakistan, they may still consider overlooking her antics with a kindly eye?
As for Meera, she was appalled enough by Veena to undergo an uncharacteristic goody-two-shoe personality turnabout and declare to an Indian daily that "Veena is a cheap girl who shows Pakistan in a bad light. I was asked to be part of Bigg Boss 4 but when I found out that Veena was going to be part of the house's inmates, I immediately opted out." Meera hopes to now be a part of Bigg Boss' fifth season where she will, it seems, somehow depict Pakistan in a good light. Hard to believe, yes, but let's see how that turns out.

In her defense, Veena remains unfazed as she explains, "The camera was scrutinizing the household members 24/7. I just acted the way I normally do. Nobody could expect me to put up an act for 80 long days. This is how I am." Simply explaining that with the camera constantly upon her, she as well as the other inmates were just representing themselves rather than their country. If she made herself a point of ridicule through her dramatics, it was really no big blot on Pakistani women but just an individual deception of herself.

A clever reply, really. But then again, Veena Malik is a very clever woman. She is an opportunist who realized the chance provided to her by Bigg Boss and used it to the best of her abilities in order to gain fame. And while she may have teetered towards vulgarity in order to gain recognition, so what? Didn't Karisma Kapoor act in a spate of outlandish David Dhawan movies before she moved on to more meaty, acting-oriented roles? Then why can't a Veena Malik act outrageously in Bigg Boss in order to gain the necessary push that might just jumpstart her career? During her stay at Bigg Boss' house, Veena occasionally refered to herself as a Pakistani superstar. And while this claim may seem rather delusional at the moment, you never know. With a toss of her unruly curls and a jilted boyfriend here, there and everywhere, Veena Malik just might sashay her way up to true superstardom.