Role of Afghan scavengers in recycling industry
By Qadeer Tanoli
Young, vulnerable and impoverished, teenage Afghan scavengers continue to play an important role in the recycling industry while earning a meager living for themselves that hardly sustains their existence.

By M. Waqar Bhatti
There are places in Karachi which can easily be mistaken for Qandahar, Qunduz, Mazar-e-Sharif or any other town of Afghanistan as camps of Afghan refugees pouring in the country for the last three decades have become a permanent feature of the city.

Role of Afghan scavengers in recycling industry

By Qadeer Tanoli

Young, vulnerable and impoverished, teenage Afghan scavengers continue to play an important role in the recycling industry while earning a meager living for themselves that hardly sustains their existence.

Their existence in the metropolis keeps the streets free of discarded pieces of paper, wrappers, plastic bottles, small iron pieces and a lot of other things which citizens throw carelessly all around. The same garbage, when collected by these young scavengers, is used in the recycling industry. Generally torn papers pieces are used for producing paper cartons which are used for packing numerous items. There are a large number of industries in the Korangi Industrial Area which recycle the collected garbage into useable products. Meanwhile, the iron scrap collected by these young Afghanis is shifted to godowns of the junk dealers of Shershah for recycling purposes.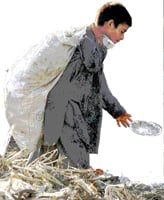 This young generation was landless in their native country Afghanistan and is homeless in Pakistan as refugees. They are often considered the first suspects in any incident of crime because of their vulnerability. After being picked up by the police for whatever reasons, they need to pay large sums of money to get themselves released.
A majority of these scavengers are also vulnerable to a lot of deadly diseases as well. Poverty keeps them away from hospitals and doctors. Picking of used syringes and needles exposes them to the threat of becoming victims of deadly diseases like hepatitis and HIV AIDS. However, there are few institutions that spread awareness about the risks to them or provide treatment if they are ill.
Hundreds of scavengers live on the banks of the sewerage drain of Manzoor Colony which ultimately spews its sewerage into the Mehmoodabad drain. Most of them use the carpeted ceiling of the drain as their dwelling places and the rest have managed to acquire different open plots of 60 square yards where they have constructed shabby huts for themselves. One such hut may cater to 15 to 20 scavengers. These makeshifts dwellings are also used as temporarily godowns for collected garbage.
When approached, all the garbage pickers were scared and reluctant to be interviewed due to fear of a police crackdown. A teenager, Saeed Muhammad, who lives alongside the bank of the drain, earns a living as a scavenger. He is 16 years old and he has been earning a livelihood from garbage collection for the last ten years. He speaks Urdu well and tells you about his profession with confidence. He says his ancestors had belonged to Starchi, Kunduz in Afghanistan.
Most scavengers prefer to work in groups, and Saeed Muhammad is part of a five-member group which collects garbage from the congested main road of Azam Basti which is commonly known as 100 Foot Road. Saeed Muhammad's parents live in Sohrab Goth, and generally he gives his parents Rs5, 000 per month after spending a small amount for his own basic necessities. According to him, he is paid Rs200 for each 40 kilograms of garbage of all kinds. He says he can manage to earn Rs200 to Rs250 in a day. Collected iron scrap is more precious for these scavengers than anything else. They are paid Rs20 for each kilogram of the material collected.
Generally, all the scavengers follow certain rules for picking garbage which have developed after years of experience in the field. A group may operate only at one place and is not allowed to work in the vicinity of another group. The working routine of Said Muhammad is very similar to other scavengers. All of them get up early in the morning, pick up their bags and start roaming their respective streets in search of garbage. Around noon, they return to their dwellings where the collected garbage is stored. They then have lunch and take a short nap. After that, they usually start their work again and continue collecting garbage until sunset.
Their shabby huts are without any basic facilities like electricity or gas. Dry wood is used for keeping their huts warm during the winter season and for cooking. When asked what his father does to earn a living, he says that he has become too old to do anything. Similarly, eight-year-old Misbahuddin and his five-year-old cousin Rehmatullah responded with the same answer over the same query. The milk teeth of Rehmatullah have not yet fallen but he has no other choice but to work as a scavenger along with his cousin. When asked about the profession of his father, he replies, "Woh budha ho gaya hai (he has become old)."
Their difficult life experience has taught them a lot and made them street wise. They have learnt what to do and what not to do. Even asking them a polite question puts them on alert and they try to wriggle out by saying they must go home as they have some urgent work to attend to.

The police plays a crucial, and negative role in their lives. When interviewed, a majority of scavengers say that the police will take Rs30 from each of them as extortion when they patrol the streets in their mobile vans. Whereas, police personnel on motorcycles demand Rs20 from each scavenger on visit to their locality. There is no set time for the police to descend on their dwellings. It may occur daily or can be delayed for a day. A few have acquired identity cards issued by National Aliens Registration Authority (NARA) which identify them as refugees but such cards are of no use to them in most circumstances.
A few of the more fortunate scavengers have bicycles and such teenagers prefer to go to the more affluent parts of the city for the collection of garbage. Many of the scavengers eat at places where food is served free of cost. Those who have bikes and live either in Azam Basti or Akhar Colony visit the offices of the Saylani Welfare Trust to eat their meals without paying a penny.
Most scavengers are either Persian, Dari speaking or Pushto speaking but their language has no bearing on their living conditions. Their relatives in Afghanistan are generally known as Kotchies. They do not own any land but are traditionally nomadic and travel from place to place like gypsies in search of a livelihood.
Afghans: registered and unregistered
- -In 2005, a census for Afghan citizens was conducted by the Population Census Organization, Government of Pakistan, funded by UNHCR. As many as 135,000 Afghans were counted in Sindh.
- The National Database and Registration Authority (NADRA) issued the Proof of Registration (PoR) card only to those who were counted in the 2005 census. A total of 92,000 PoR cards were issued in 2006.
- Since then, every year, the Voluntary Repatriation Centre (VRC) updates a record of the Afghans who have been repatriated to Afghanistan since 2002.
- -According to the VRC, the statistics of repatriated Afghans are as follows:
Year No. of repatriated Afghans
2007 4,649
2008 9,148
2009 4,733
2010 5,156
Total 23,686
- As many as 23,686 out of 92,000 registered Afghans have been repatriated since the issuance of PoR cards in 2006.
- Currently, some 67,000 Afghans are living in Sindh of whom 95 per cent are living in Karachi.
- Gadap, SITE, Ladhi and Korangi are the towns in Karachi which show Afghan presence. Gadap Town is home to 70 per cent of the Afghan population.
- When issued in 2006, the PoR card was valid till 2009. However, the Ministry of States and Frontier Regions, Government of Pakistan, has extended the validity till 2012.
- Thus, the process of renewal of PoR card and its conversion into Secure Cards for Afghan Citizens (SCAC) has started on September 20, 2010 and will continue till February 2011.
- The process of registering unregistered members of registered Afghan families has also started under an Unregistered Member of Registered Family (UMRF) programme.
- The procedure involves the verification of documents by a panel of three institutions: Commissionerate for Afghan Refugees (CAR)/ Afghan Refugees Repatriation Cell (ARRC), UNHCR and Ministry of Refugees and Repatriation, Government of Afghanistan (MoRR).
- Information released by ARRC
By M. Waqar Bhatti

There are places in Karachi which can easily be mistaken for Qandahar, Qunduz, Mazar-e-Sharif or any other town of Afghanistan as camps of Afghan refugees pouring in the country for the last three decades have become a permanent feature of the city.
A visit to the Afghan camp on Northern Bypass near New Sabzi Mandi is like a vis The mud-houses, the boundary walls, poverty and lack of infrastructure all remind you of any of the video-footages you have ever watched on the war-torn country.
Interestingly, almost all Afghan ethnic groups - Pashtuns, Uzbeks, Tajiks, Hazaras who are usually at war with each other in their native country — reside together in this town. Pashto and Dari are the most commonly spoken languages.
Although poverty and illiteracy are not alien to the people of Pakistan, the muddy walls, roads engulfed by dust, piles of garbage, the language and customs of the refugees and traditional Afghan tea-shops take you to a journey to Afghanistan.

The refuge camp has no natural gas supply, so people use wood or coal to cook their meals. Water is supplied through tankers in absence of a pipeline network. Electricity? Well, it is available, but not in a legal way. People pay a sum on monthly basis to some 'contractor' who provides them with electricity through illegal connections.
There is no concept of sewerage system. Therefore, gastroenteritis, cholera, hepatitis and other waterborne diseases are common in the locality. There seems to be no end to this life as the people of this locality do not seem to exist for the authorities.
In the morning, when most of the children of the city go to their schools, the Afghan children wander around the streets of the city – sometimes aimlessly and sometimes in search of garbage which may earn them a few rupees a day.
The only school – named after the Afghan king Amanullah who ruled the country in 1920s – in the entire locality has been shut since its establishment due to unavailability of teachers.
Similarly, except for a few medical stores owned by the Afghans, there is no government or private health facility. The residents usually seek medical advice from the owners of those medical stores who are of course not qualified pharmacists. But they do not hesitate to prescribe them medicines for any disease.
Although the camp comes under the jurisdiction of the Gulshan-e-Maymar police station which has set up a picket outside the camp, the Afghan refugees normally prefer to resolve their issues through Jirga.
Almost half of the residents of this camp possess Computerized National Identity Cards (CNICs) issued by the National Database and Registration Authority (NADRA).
"I and my two brothers have Pakistani identity cards which we got after payment of Rs20, 000 to some NADRA officials. But one of my brothers is still without a CNIC, though I've offered Rs25, 000 to the same officials," Noorullah*, an influential resident of the town, told Kolachi.
Noorullah is responsible for resolving the issues of Afghan refugees with police and other local authorities. He has been an employee of the Sindh government for the last 11 years and has connections in most of the departments.
He believes if they are recognised as Pakistanis and given passports, it would be a great help for them. "We are Afghans, but most of the Pakistan Pashtuns are also basically from Afghanistan. So where is the difference," he looked very proud of his argument.
Other residents of the town demanded basic facilities. "We need education and health facilities. We are human beings. Being Afghans does not make us animals," Abdul Shakoor said.
* Name has been changed to retain privacy