In Salmaan's tragic assassination, two stories unfold: that of a brave man who had the courage to say and act on what he believed in and that of a country where darkness pervades like never before. The two stories will run parallel in the coming days, occasionally crossing and impacting each other.
Taseer's story will run its course a little earlier. After people have said what they had to say about him, his name will shine through history for upholding the right cause.
The other story will go a long way. The story of a country where a sitting governor gets shot by his own security guard for expressing sympathy for a poor innocent Christian woman will be heard for a long time. It shall draw attention to an intolerant society that this country has turned into; where every voice of disagreement is silenced by violence. It shall make people aware of their vulnerability in the face of sheer ignorance.
It will be a story of a country where political parties did not set the agenda; in fact they left this job a little more than three decades ago. A country where people mistook blasphemy laws for blasphemy and deemed it fit to kill all the accused to get straight to heaven.
The story that reverberates in the coming months and years will be of a state that wore religion on its sleeve and let the unelected institutions prevail over people's will; a state that bred intolerance among its young minds through biased text books and made them hate other religions; a self-righteous state that created the other as an enemy among its populace and thrived on hatred of divisions rather than on the strength of commonalities.
The retelling of the story of this country will bring about an introspection of sorts. After a while people will tire of killing each other and seeing so much blood shed in their midst.
It is then that this story is going to take a twist. People of this country shall start marching towards a tolerant and progressive Pakistan where every shade of opinion coexists in peace, where people get education and health benefits, where people smile and even laugh. This will be a time of civilised politics, which is equally lively and has a sense of humour just like that man who laid down his life some time ago.
Demise of progressive politics?
This, perhaps, is the last opportunity for the political parties to reclaim their territory
By Farah Zia
It is difficult to say when exactly did the slide begin. Apparently, the ascendancy of politics and its demise in this country came about at the same time.
A little before the first general election in 1970, about a hundred mullahs got together to issue a fatwa that anyone voting for the political parties carrying the banner of socialism will cease to be a Muslim and his or her nikah will be annulled. The people voted overwhelmingly in favour of Pakistan People's Party (PPP) and Awami League, exactly the two parties that were warned against.
In 1974, the PPP government led by Zulfikar Ali Bhutto declared Ahmedis as non-Muslims. ZAB was led to believe that by doing so, he shall get the credit for solving a 90-year-old dispute. The dispute may not have been resolved the way he wanted it to, but the religious forces got an inkling of their power. For them, there has been no looking back since. Bhutto's ambition of becoming a leader of a united Muslim bloc culminated in steps like banning of alcohol and horse-racing and declaring Friday a holiday. The stage was already laid, by none other than ZAB himself, for the launch of a movement for Nizam-e-Mustafa in 1977.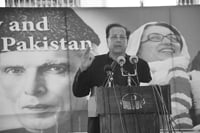 Nothing could stop him from being hanged.
In Salmaan Taseer's death, one also hears the requiem of progressive politics if not all politics. His death must be condemned because of what he stood for. If the cause for which he laid his life does not figure in today's politics, more so in the statements of the leaders of the party he belonged to, should it then be assumed that he went to Aasia Bibi's house as an individual and the party does not have a position and commitment on blasphemy laws.
Privately, Pakistan People's Party is opposed to all discriminatory legislation done in the name of religion during Ziaul Haq's time. Privately, the party thinks Sherry Rehman's bill came at the most inopportune moment. The party was hoping that a public debate on the issue (like the one after the public lashing of a woman in Swat) would create conducive conditions to bring in the desired changes at some point in the future. It was the proposed private members bill, the party admits privately, that united the religious forces and there was nothing the party could do about it.
Truth is that the Aasia Bibi case or Salmaan Taseer's attempts to get her justice or even Sherry Rehman's bill did not radicalise the society; they only brought this regressive streak out into the open, leading to Taseer's brutal murder.
This had to happen. Sooner or later. If anything it should be a wakeup call for political parties; they have been rendered into the weakest of state structures and only have themselves to blame. The Afghan Jihad changed everything in this country; the political parties' loss in the process was the gain of the religious forces. Today, the mullah has it all — the money, the jihadis to fight his cause and the weapons. The politician does not even have the courage to speak the truth before a state that is still waiting for the Americans to leave Afghanistan so that it can have a pliant Taliban regime. Again.
Truth is that after Ziaul Haq's 11-year rule, people find it more convenient to align with their sect or their biradari than a political party which incidentally is supposed to neutralise such affiliations.
This is an opportunity, perhaps the last, for the political parties to reclaim their territory.
Some analysts think it proper to make this demand only of PPP which lays claim to being a secular party and holds the banner of a progressive and tolerant Pakistan. They begin by criticising Benazir Bhutto for wearing a dupatta and a chadar on her head when she returned to Pakistan in 1986. Accepting a conditional and trimmed power in 1988 and playing on a pitch selected by the deep state on its terms helped neither the country nor the party.
Even her tragic death could not mark a new beginning. Today, her party, which is in power, is only struggling to create a semblance of stability. The committee on constitutional reforms dared not touch the religious clauses in the eighteenth amendment; retrospectively it looks like a mistake to have brushed them under the carpet.
What about PML-N? Yes, what about PML-N which has a conservative constituency?
And why give up on PML-N. Political leaders have changed the fate of nations; Jinnah and ZAB rallied people of all shades under one banner. Besides, parties grow and mature. Even Mian Nawaz Sharif who made his party look just like Jamaat-i-Islami till he was under the shadow of Ziaul Haq — with identical policies on India, Kashmir, Afghanistan, the US and role of Islam — gradually came out of it.
Why pin hopes on PML-N — whose government in 1991 was responsible for withdrawing the appeal against Federal Shariat Court's decision that declared alternative punishment of life imprisonment unIslamic in 295-C — the critics ask again. The answer is simple. In his last days, Nawaz Sharif seemed committed to a progressive and prosperous Pakistan: he was opposed to the Taliban and the Afghan regime; he held forth a hand of friendship towards India; was opposed to the military's adventurism in Kargil; declared Sunday a holiday. Therefore, if anyone found it easy to make a movement on these ossified laws, it was him. The division within the rightist vote bank has become sharper and it is becoming more difficult for PML-N to support this sect or that. This may prove to be a blessing in disguise.
If the two political parties, PPP and PML-N, do not want to trivialise the death of Taseer, they must together with ANP and MQM reopen the debate for a secular Pakistan. They don't need to rush but the path must be clear in their minds and should be stated for all times.
Solo fight
A brief profile of Salmaan Taseer
By Waqar Gillani
The blasphemy accused Aasia Bibi, a 45-year-old Christian labourer and mother of a special child, is languishing in jail. Aasia is still up against the odds as her chief spokesman and defendant, the late Salmaan Taseer has been silenced to death by a religious fanatic. "I was under huge pressure and sure to cow down before the rightist pressure on blasphemy. Refused. Even if I'm the last man standing," he had tweeted on his twitter account, showing a deep commitment to his (solo?) fight against the controversial blasphemy law introduced by the politically motivated dictator of yesteryear, Gen. Zia ul Haq.
Taseer's murder, then, was clearly prompted by his defense of the rights of a woman belonging to a religious minority. His murder is termed as the assassination of a voice of reason and tolerance in an environment which is filled with extremist elements that deny others human rights and impose a specific brand of religion on the society.
Taseer was educated to be a chartered accountant and grew up to be a high profile, highly successful businessman. Yet, he was not an ordinary, fun-seeking billionaire, which had to do with his humble but intellectual background. He was a progressive at heart, who struggled all his life speaking his mind. A proud son of a poet, M D Taseer, Salmaan was a great connoisseur of art and calligraphy.
Politically speaking, Taseer was a staunch supporter of Zulfikar Ali Bhutto and was jailed in Lahore Fort.
Taseer was conscious of the fact that Zia's Islamisation and attempts to radicalise the society had a vested interest. Zia was trying to counter Bhutto's liberal influence on the society. Taseer not only supported Bhutto in his heydays but lived by the latter's policies even after Bhutto was jailed and hanged.
Taseer stood up against intolerance on the blasphemy issue and invited dialogue and debate from people of all religious and ideological beliefs. And so, he visited Aasia in jail, requested the President, his close friend, to grant her amnesty and promised her full support.
Taseer was known also for his great sense of humour. The first butt of his jokes, however, was none else but himself. A man with an obsession for sunglasses, he grew up in interior Lahore city and knew the ethnic, religious and cultural complexities of the country well.
He was an arch-opponent of Pakistan Muslim League-Nawaz and kept no secret about it.
He was not just talk but also action; a valiant soldier who fought without weapons — as brave in his death as in his life. His death is synonymous with the death of tolerance in Pakistan.
As Aasia soaks in grief and misery, in a distant cell of a remote jail that is, of course, not part of the Pakistan that Jinnah created, she and her daughters will forever remember Taseer for his valour and compassion.
The gruesome murder of Governor Punjab, Salmaan Taseer, has slit open the ugly can of religious confusion. From people showering roses on Malik Mumtaz Qadri to various Facebook groups springing up in support of the cold-blooded murderer (Last time we checked, there were four groups with 550 members!). TNS interviewed some youngsters and found that the views ranged in extremes. What is more disturbing, even frightening, is the fact that many have little or no solid knowledge of the blasphemy laws, religion or even that cold-blooded murder is unacceptable whatever the reason be. The reason why we have allowed this space for what constitutes 'hate speech' is because we want to understand why the young people think this way, what are their sources of information and conclusions
By Aoun Sahi and Ali Sultan
Taimur Ahmad, 23, a resident of Samanabad, Lahore, a masters from the Punjab University, has no problem with Taseer's murder. "His [Taseer's] argument about the blasphemy laws was simply unacceptable," he says, adding that the "daring act of Mumtaz Qadri" should "serve as a warning to all those so-called enlightened moderates who think they can comment on Islamic issues including the sanctity of prophethood."
Taimur claims that all his friends share his views.
He thinks that the course of law is not needed to follow in cases of blasphemy. "Pakistan is a declared Islamic State and we need to send out a strong message to all blasphemers, once and for all! There is no harm in using force against them".
Even the parliament doesn't have the authority to change these laws, he says.
Taimur admits studying at a Maulvi's "for the past two years". "It was during this period that my concepts about Islam became clear. …My family is also very religious."
He also regards the implementation of the Islamic code of life (Sharia) as the solution to all problems.
He thinks that Zulfikar Ali Bhutto, "who was otherwise not a good Muslim, may be enjoying a special place in Heaven [only] because he declared Qadianis as non-Muslims".
"Zia also did a good job when it comes to blasphemy laws". He strongly doubts the intentions of Qadianis and Shias living in Pakistan. "These two groups have been trying to strengthen themselves [in Pakistan] which is not good news."
He believes that the whole world is hatching conspiracies against Pakistan " because it is the only declared Islamic State in the world".
Hina Tarrar, 28, a resident of Model Town, Lahore, and a teacher by profesion, says: "Let's start by declaring Qadri and all those who support Qadri as being outside the circle of Islam. Let's see how they like being referred to as blasphemers."
Hina thinks that the problem is that the focus is on religion instead of humanism. "Why are you using Islam as a focus of debate instead of using/appealing to people's natural, moral conscience?"
The fundamental problem, says Hina, is the interpretation of holy texts. Why are holy texts the only focus? If holy texts indeed prescribe violence or preach intolerance and people accept that, then what next? This I think is the crux of our problem. We should look into our own conscience to find the solutions."
Waseem Ali, 18, a resident of Defence, Lahore, is a student of literature and sounds angry. "People like Qadri are nothing more than blasphemers themselves for they equated love for the Holy Prophet (PBUH) and God with murder and mayhem. Haven't they studied religion?"
Waseem believes that a solution is possible only if the Pakistanis allow themselves to be open-minded. "If you ask me whether I read the Quran cover to cover and understood everything, my answer would be NO.
"There are a lot of things I do not understand. There are a lot of things I disagree with also. There are things I may be very sentimental about. But does that mean I should go on a killing spree?"
Muhammad Aneeq, 25, a resident of Temple Road, Lahore, who owns a printing press, terms Malik Mumtaz Qadri, the murderer of Salman Taseer, as "my hero". "He did a great job. He is the Ghazi Ilm Din Shaheed of our age."
Aneeq says he never heard or read about Salmaan Taseer calling blasphemy laws as black laws, "I got to know about it through my friends. I don't know much about [these] laws but I've heard that these were implemented to punish the blasphemers."
Most of his knowledge about Islam has come through the oral source, says Aneeq. "When I was a child, my parents taught me about religion. Then I started going to a mosque to read Quran and understood the religion through the eyes of our maulvi sahib," he says. "I also read books [on Islam] but they are not the primary source of my knowledge about religion.
I follow media to update myself [on different issues]."
Aneeq believes that Islam is the only religion that can guarantee success in the world and also the world hereafter. "We are Muslims, in the first place. Countries or states come later." One day the whole world will have to follow the Sharia, he beckons.
According to Aneeq, there "isn't a single person in our vicinity who has lamented the murder [of Salmaan Taseer]. Everybody is happy!"
He reveals that his group of friends includes two engineers, a doctor, an accountant and a scientist. "All of us believe Taseer deserved it!" Period.
Fizza Aslam, 20, resident of Cantt, Lahore, works at a call centre. She says, "I don't think killing innocent kids with drones or killing a governor are two different things. A murder is a murder.
"Want a practical solution? Preach tolerance, and start at your own house, your school and your own office. Make people understand that it's ok to disagree, that it's ok to have blatantly controversial perspectives on everything including religion, God, Shahid Afridi and everything in between. Arguments have always led to solutions not wars."
Shrinking space for debate
Mass media is making an eager lurch towards the right, riding the crest of an
ideological battle that is giving disproportionate coverage to forces in the country that are extra-parliamentary and have no mandate and accountability
By Adnan Rehmat
The script was not supposed to go like this. When the airwaves were opened up for private ownership in Pakistan in 2002, the general expectation was that the country would become more pluralistic, more tolerant. The hope was that from a national narrative scripted by a security state that has traditionally promoted paranoia for its own benefit through a tightly controlled information regime, Pakistan would make a shift from information darkness to information openness.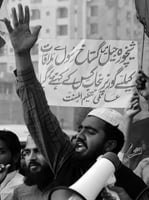 This, it was expected, would bring people and their welfare, as articulated by themselves rather than by the self-appointed establishment, at the centre of national policy and daily business of politics. But a confounding thing has happened: in the last eight years, a discernible shift of the mainstream broadcast media, particularly TV channels, has gone to firmly right of centre.
The events of recent weeks, leading up to the ghastly murder of a progressive public figure — Punjab Governor Salmaan Taseer — in the backdrop of a media debate that has promoted extremist views, seem to indicate Pakistan's mass media is making an eager lurch even further to the right, riding on the crest of an ideological battle that is giving disproportionate coverage to forces in the country that are extra-parliamentary and who have no mandate and no accountability.
Freer media or fear media?
Here's the paradox: the result of eight years of independent, pluralistic media is a supposedly democratic society that is more radicalised and more violent than ever. Was there something wrong with the medium? Or wrong with the message? It would seem it is both, if the mandate was to promote a more open and tolerant society but which has turned out to be the opposite. How did it come to this?
Traditionally, the media agenda in Pakistan has been dictated by the deep state through its terrestrial monopoly over audiences via Pakistan Television and Pakistan Broadcasting Corporation until independent TV channels started sprouting in the last few years. There are now about 100 of them with a third of them being current affairs, 24/7 news channels; half of which are in vernacular languages such as Sindhi, Punjabi, Pashto, Seraiki and Balochi.
Child of the times
All these channels have been flooded by mostly unqualified and untrained journalists that make up the bulk of their reporting teams and who made the shift from Urdu language print media whose distinct characteristic has been its rightist worldview deeply coloured by religious beliefs. But then there are no formal training institutes for journalists (unlike for doctors, nurses, lawyers and bureaucrats) that could have enforced a minimum level of professionalism and ethics.
It has also not helped that the average age of a journalist in Pakistan has fallen from 47 in 2002 to about 23 now. So, paradoxically, as the media sector has aged, its practitioners have become younger and younger! And the number of journalists has also swelled from about 2,000 in 2002 to about 17,000 now. This "horde", in general, has little or no journalistic training or subject expertise and even less understanding of the concepts of balance, right to reply and contextualisation, with the result there is no depth or nuance in their reporting. The result: stereotyping at best and bias and prejudice at worst.
Political issues, religious narratives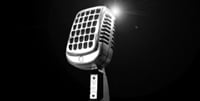 Then there is the space for debate and dialogue offered by the dozens of talk shows on the mainstream channels. Thanks to the rise of terrorism and militancy in the last few years, conflict narrative has crowded the airwaves, in particular by the religious parties that ruled Khyber-Pakhtunkhwa as MMA and as part of the Musharraf dispensation at the Centre, as well as by other non-electoral religious groups. The latter, in particular, which include sectarian groups, have risen as the principal narrative providers on issues such as blasphemy. To keep the chatter of the talk shows going, the TV channels have come to rely heavily on the religious groups for all things religious instead of balancing out with views from the publicly mandate political classes.
The fierce business competition of ratings has done the rest to fuel radical interpretations — the channels have discernibly promoted soundbites that get them eyeballs and this has meant that even politics has been covered with the angle of religion in the last three years. Foreign policy (particular Afghanistan) and security policy (war against terrorism) has been reported with religion mixed in.
Talking without mandate
Whether it's dealing with Afghanistan ("non-Muslim Western occupation forces there") or the war against terrorism in-country ("this is not our war", "Times Square would-be bombing by a Pakistani is a conspiracy against us", "free Aafia"), religious groups have been given disproportionate space by the media in offering interpretive narratives about the foreign and home policies.
The overall result is depressing: the mass media, in general, turns to religious groups for their soundbites disproportionate to their representation in parliament. Worse, the last few weeks show that religious groups that are not even in national or provincial parliament venting extremist views are getting equal billing with the disproportionately high microphone-time to religious that are in parliament.
Not the right write
But the mother of all media paradoxes is that most religious and sectarian groups espousing radical views getting airplay on Pakistani current affairs channels are in Punjab and Sindh that are supposedly ruled by secular (PPP, MQM) and centrist (PML-N) parties. While there are few voices overall from Khyber-Pakhtunkhwa (the principal war-against-terrorism theatre) on national media and almost none from Balochistan or the tribal areas, there are virtually no voices from Balochistan and KP of forces that are secular-nationalist (ANP, PPP, BNP) even though both provinces are being ruled by such forces.
The overall accumulative result, therefore, is that the mainstream TV channels — the primary source of information for most Pakistanis — are letting those groups shape the general narrative and people's perceptions that are either not in parliament or whose representation in the legislatures is disproportionate to the airplay they get and that people voting for non-extremist parties are getting a menu of fire and brimstone.
Media-ting where undue
The problem with TV, of course, is that in the reporting realm it has to operate in the instant and you can't plan for the instant. Hence, they go straight for the shrillest soundbites and no marks for guessing who they go to, particularly on issues of religion such as blasphemy. Take the case of Aasia Bibi-Salmaan-Taseer-Mumtaz Qadri. It was the media that helped shape this fateful troika. Since Taseer's meeting with Aasia in jail and his consequent remarks on the blasphemy law, the media has been giving extraordinary coverage of the reaction by the religious groups.
By Qadri's own account so far, he planned to kill Taseer in advance because the latter had termed the blasphemy law a black law. Clearly he was influenced by the views of one religious group leader/activist after another given coverage by the media. It was, arguably, the media that helped Qadri make up his mind to murder the governor by helping him have access to extremist views of representatives of different religious groups calling for punishment for Taseer. The media almost never shows, on prime time, meetings and conferences of civil society groups that take place regularly but rarely misses offering prime time coverage to conferences by religious groups, some of them fringe, including those airing declaratory edicts inciting murder and mayhem.
Shrinking space for debate
There are some prime time TV shows in the wake of Taseer's death that are now urging restraint but why were they not doing the same when demands for death for Taseer and Sherry were being made while their opponents were being given astonishing amounts of airtime? The media has failed to educate people on the difference between blasphemy and blasphemy law.
By offering self-appointed representatives of religion as experts on contentious issues, the media has ensured that the space for rational discussion has dramatically shrunk — secular minded citizens of Pakistan are being denied space on media to either openly express their grief or offer criticism. Talk show hosts are openly inviting their fellow talk show hosts who, contrary to the basic principles of journalism of balance and of neutrality (not being part of the story), are alarmingly coming across as religious party activists themselves. Some journalists are even condoning Taseer's murder and support incitement to murder in the name of religion and justifying Qadri's act.
Assassination as
censorship
In short, for the liberal and secular minded in Pakistan, media has made it difficult for them to present their side of views on the subject of religion in general and blasphemy issue in particular. This is a censorship being forced by the media itself. The entire Pakistani media has failed to report that Taseer also owned a progressive media group, including a newspaper and channel and, therefore, his murder this is also an attack on media freedoms. Also, since he was killed for expressing his views, his murder is also an attack on freedom of expression.
The fact is that censorship always defeats its own purpose, for it creates, in the end, the kind of society that is incapable of exercising real discretion. By becoming part of the story and siding with one school of thought, the Pakistani media is contributing to radicalisation in the country. By censoring only the liberal school of thought, the Pakistani TV media is proving that censorship reflects society's lack of confidence in itself. Assassination is the extreme form of censorship. And Taseer's murder is not only his life that has been lost; it is also the death of the concept of agreeing to disagree.
A, B and C of the law
Making the necessary distinction between blasphemy and the blasphemy laws
By Asad Jamal
It is common to say that a law is introduced to provide remedy for a mischief. What is the mischief that section 295 C of the Pakistan Penal Code (PPC) provides remedy for?
The issue of Tauheen-i-Risalat (insult of the Holy Prophet PBUH) first raised head in the 1920s when a publication in Lahore by a Hindu publisher Raj Pal agitated the minds of some segments of Muslim population. Raj Pal was prosecuted under Section 153A which provided to punishment for acts (words, either spoken or written or by visible representations, or otherwise) that promoted feelings of enmity or hatred between different classes. He was convicted and sentenced by the Sessions Court at Lahore. The conviction was however set aside by the high court with the opinion that though Raj Pal's act may have outraged religious feelings of Muslims it did not fall within the mischief of Section 153, and that another legal provision was needed to be incorporated to remedy the mischief (Raj Pal versus The Emperor: AIR 1927 Lahore 250).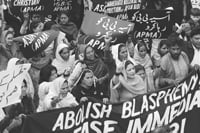 Raj Pal was later murdered in 1929 by Ilm Din.
In 1927, after the Lahore High Court judgment, the British Government introduced section 295-A (to the then Indian Penal Code, 1860) which provided for punishment for 'deliberate and malicious acts intended to outrage religious feelings of any class by insulting its religion or religious beliefs'. It was thought to take care of acts, among other things, of insult to the person of the Holy Prophet (PBUH) that should be deemed to be covered under the umbrella of acts intended to outrage religious feelings. Between 1927 and 1986 (the year when section 295-C was introduced), only a handful of cases (around 10) of result of the Holy Prophet were reported.
Several provisions were added to the religious insult laws in PPC's Chapter XV titled "Offences relating to religion" during 1980s during the rule of the military dictator, General Zia (1977-1988). Those provisions included the Anti-Islamic Activities of the Qadiani Group, Lahori Group and Ahmadis (Prohibition and Punishment) Ordinance, 1984, which introduced sections 298-B & C to the PPC specifically targeting the Ahmedis. Another section 298-B was also introduced by Gen. Zia through an Ordinance. Earlier in 1980, section 298-A was also introduced by Gen. Zia through an Ordinance. 298-B provides for punishment for use of derogatory remarks, etc., in respect of holy personages, and was apparently intended to target Shias.
Yet another section 295-B was added to PPC in 1982 which provided punishment for defiling of the Holy Quran.
Section 295-C, which was introduced through Criminal Law (Amendment) Act, 1986 (Act III of 1986) seems to have proved to be the harshest. Originally, the draft bill moved by Jamat-i-Islami's Apa Nisar Fatima, provided for death sentence alone for acts constituting insult to the Holy Prophet (pbuh). It was passed by the then parliament in an amended form by providing alternative punishment of life imprisonment. Later, in 1990 the Federal Shariat Court (FSC) declared the alternative punishment of life imprisonment against the injunctions of Islam. In 1991, Nawaz Sharif government withdrew appeal against the FSC decision. It was thereafter that registration of cases under section 295-C saw a sharp rise.
One of the two main arguments for introducing Section 295 C and later on retaining it are said to prevent vigilante justice so that people did not take law into their own hands as in the case of Ilm Din; the other being the need to punish anyone showing disrespect to the Holy Prophet (PBUH) as said to be necessitated by the Islamic injunctions.
When section 295-A was introduced in 1927, the British Government acted wisely by making a corresponding change in section 196 of the Code of Criminal Procedure, 1898 which prohibits courts from taking cognisance of certain offences unless complaint is made by the government. It empowered the government alone to become complainant and prosecute cases registered under section 295-A.
The most famous case for alleged insult of the Holy Prophet (PBUH) before the introduction of section 295-C was registered under section 295-A against a Lahore lawyer. The case was dismissed by the Sessions Court as it was withdrawn by the Government because there "was no case of Tauheen-i-Risalat by the lawyer".
There was no recorded case of anyone having been killed extra-judicially for insult of the Holy Prophet after Raj Pal till 1986. Indeed, there was no empirical basis which sustained the argument of justifying 295-C for the prevention of vigilante justice. On the other hand, villages like Gojra and Shanti Nagar, have been burnt with scores dead. Twenty individuals are reported to have been murdered since the introduction of section 295-C. Governor Taseer may have been the twenty first. But he only questioned the utility of section 295-C.
asadjamal2006@gmail.com