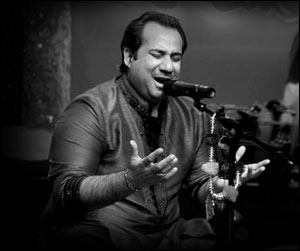 It wasn't the best great start to 2011. Not only did the dancefloor fall down at the Marie Adelaide Leprosy Centre Ball, there was a feeling of utter doom and gloom after the assassination of Salman Taseer just three days after everyone wished that this year would be better than the last. With that great tragedy-cum-sickening episode, one saw the faultline in Pakistan up close, the us and them situation that prevails on both sides of the divide. Long after the shot was fired, the conflict raged on, via television, in newspapers, on Facebook and Twitter. There was no way it could be avoided. The death of liberalism was announced. One heard people saying that this is no longer Jinnah's Pakistan but Zia's Pakistan. Twitter was the site where one witnessed the clash of ideologies virtually in real time and it was scary.

"He is a shaheed."

"No he is a kaafir."

"He is a ghazi."

"No, he is a kaafir."

And on and on they went discussing a matter only God can decide and in the midst of the heated brouhaha, the end of Pakistan was often proclaimed. After all this, it was heartening to experience an evening that subtly showed that it's not all that easy for us to unravel. The Engro Excellence Awards, that took place at the Mohatta Palace reinstated ones belief in this nation, our people and our culture by paying a fitting tribute to the great men that we have, the stalwarts that bring us together and are part of the engine that drives us forward.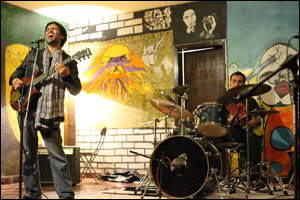 Three of Pakistan's icons were recognized in one of the most elegant ceremonies one has ever witnessed. Maulana Abdul Sattar Edhi for services to humanity, Dr Atta ur Rahman for progress made in science and Mushtaq Ahmed Yousafi for accomplishments in literature, took to the stage after documentaries on their lives and accomplishments were shown and each one of them was given a standing ovation. And while this may sound schmaltzy, it was rather lovely the way the ceremony, the song and dance and the script came together to give us uplifting moments that left the heart warm and at points the eyes teary.

While Faizan Haqquee MCed the event, it was Imran Aslam and Faryal Gauhar who spoke about the winners and put them in perspective. And it wasn't straight out, cut and dry laudatory tributes to the three great men. Sitting up on stage with their script before them, Imran and Faryal enacted a very Pakistani version of the famous Tumhari Amrita performed many a time by Farooq Sheikh and Shabana Azmi. That play is based on A.R. Gurney's Love Letters, that features a man and a woman at a geographical distance writing to each other. A version of the orginal was performed some years ago by Imran Aslam and Rehana Saigol. For the Engro Excellence Awards playwright Imran cleverly used the same technique. He became the man sitting in Pakistan writing to his soul mate, Faryal who was living in London. They spoke easily and informally in Urdu and English, more of the former than the latter, about missing home, old times, Parveen Shakir's poetry, the changing face of Pakistan, how this nation is perceived around the world, the way we were and information about the three great men awarded was turn by turn embedded in the script. That would lead on to mini documentaries on the great men who would then come up to take their award. Faizan Haqquee would step in to make the announcements about performances.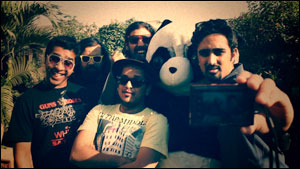 A fluid rhythm knitted the show together beautifully and seamlessly. Till it started, one did wonder how Frieha Altaf, who is known more for glitzy extravaganzas would handle an award ceremony the manifesto of which is more Nobel Prize than Oscar and Grammy. However with Shahi Hasan on board for the music, Omer Rahim who had flown down from New York to choreograph the dances and Imran Aslam on board to handle the script, she managed to put together a truly sublime evening that one noticed was also very true to the Engro brand.

Perhaps best known for their Olper's milk ads that project Pakistani traditions on a grand scale both visually and melodically, Engro succeeded in coming up with a ceremony that did the same. The strains of the bandish composed by Ustad Zafarullah Khan (who passed away a few days before the ceremony) and sung magnificently by Farid Ayaz and Sanam Marvi, saw feisty youngsters take to the stage for an energetic, indigenous dance, while Arjumand Rahim and Joshinder Chaggar did their thing centrestage and a group of cool teen hipsters roller skated around them giving it an electric feel. It was a near perfect representation of Pakistan today, the classical, the contemporary and imported Western coolness that has become as much a part of urban Pakistan as beards and burqas.

The other standout performance was the tribute to women that was presented after Faryal Gohar's recitation of Parveen Shakir's 'Working Woman'. The visual was just a simple slideshow of women ranging from Fatima Jinnah and Begum Liaquat Ali Khan through Benazir Bhutto, Professor Anita Ghulam Ali, Maliha Lodhi to Khalida Riyasat, Roohi Bano and Nazia Hasan but what elevated them were the performances. Fariha Pervaiz hit the right notes with the classic tune 'Phir Sawan Ruth Ki Pawan Chali Tum Yaad Aye'. Ayesha Omar was the revelation with 'Bol Ke Lub Azad Hain Teray' and finally both of them joined Sanam Marvi to sing 'Hum Dekhein Ge'. The moment sent the heart soaring.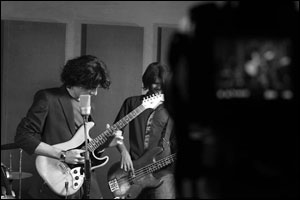 Atif Aslam also performed, sporting a rather overgrown stubble and a pagar, but as we would say in Urdu "jama nahin". When you have performers like Farid Ayaz and Abu Mohammad singing 'Mun Kunto Maula' and 'Chhaap Tilak' and Arif Lohar performing 'Jugni' and 'Alif Allah Chambey Di Booti', you cannot have Atif singing Nusrat Fateh Ali Khan. If pop/rock stars decide to pay tribute to maestros, they should twist the tunes and make them their own. Atif or any pop musician for that matter cannot sing 'Allah Hoo' the way Nusrat sang it. If they want to attempt it, they should play with the song, make it theirs, being true to their genre. Even though Atif did sing some of his signature tunes at the end, it really wasn't the occasion for them. To be successful on the Engro Excellence platform, contemporary musicians need to be given the Coke Studio treatment.

Minor criticism aside, it was a truly uplifting night. Be it Dr Atta ur Rehman speaking about the tremendous talent in this country that needs to be harnessed and propelled forward, Mushtaq Ahmed Yousafi regaling the audience with the wit that has led people to say that 'we are living in the Yousafi era of humour' or Maulana Abdul Sattar Edhi going up on stage in his uniform grey shalwar kameez and chappals and simply thanking Engro and everyone present in two short sentences after getting a standing ovation, it was a night that reflected the real spirit of Pakistan. These are the figures that help, inspire and guide a nation. These are the figures young Pakistanis should aspire to be.

With their very first show, the Engro Excellence Awards held a mirror up to the best in Pakistan as if to say "Look, this is us too!"

Hats off to the company for coming up with a ceremony that seems to be the need of our time and pulling it off with such understated elegance. Hope floats eternal and don't let anyone tell you otherwise.