Extortion thriving in Karachi
By M. Waqar Bhatti
Many employees of a once-thriving garment factory are still jobless since 'Mr Butt', the Pak born British owner of the factory, shut down his business in Karachi and shifted his stitching unit to Bangladesh after he felt unable to continue paying protection money or Bhatta to various criminal groups with political affiliations.
By M. Waqar Bhatti
Many employees of a once-thriving garment factory are still jobless since 'Mr Butt', the Pak born British owner of the factory, shut down his business in Karachi and shifted his stitching unit to Bangladesh after he felt unable to continue paying protection money or Bhatta to various criminal groups with political affiliations.
Mr Butt had established his garment factory in the Korangi Industrial Area where over 350 persons were employed. What the entrepreneur did not know when he decided to invest in Karachi was that he would have to pay heavy sums of money every month to criminals, as well as the authorities, to continue doing business in the largest city of Pakistan.

"Some of my employees were informers of criminals, and I was under pressure externally from gangs with affiliation to a nationalist political group as well as internally from those 'leaders' to pay them Bhatta. Not accepting their demands simply meant that I could not carry out my business here. Thus, I decided to shift my business to Bangladesh where I'm facing no such threat," Mr Butt, who requested that his full name not to be disclosed, told Kolachi.
The British businessman is not the first person who has closed down his business in Karachi for this reason. There are several others who sold their factories and other businesses in Karachi due to fear for their lives and moved, either within the country or abroad, due to fear.
A large proportion of the population is willingly or unwillingly paying different groups to continue earning their bread and butter in the mega city.
The entire business community in Karachi is paying billions of rupees to either criminals or the police, and there is no respite from them unless one chooses to wind up or move their business.
According to a senior police official, a majority of traders and businessmen are paying protection money to this mafia, which is present in different localities in different forms and guises.
"In Lyari, the Amn Committee of Lyari gangsters is the main gang of extortionists, extorting heavy sums of money from businessmen, in their areas of influence. Hundreds of people have been killed by them for refusing to pay them the protection money," he alleged.
He said when these Lyari gangsters tried to stretch their influence to other nearby areas, they were confronted by another group of extortionists, who have the strong support of a mainstream political group and it led to bloody clashes, which have so far claimed many innocent lives.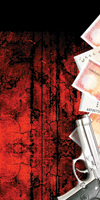 When asked what the authorities were doing to curb the menace of extortion, given that there is a special law in the province to curb the practice of Bhatta and involuntary donations, the police official said unless political backing is withdrawn from the Bhatta mafia, the police and other authorities cannot do much to control the illegal practice.
In 2002, Sindh Governor Dr Ishratul Ibad Khan had promulgated an ordinance to discourage the menace of extortion and involuntary donations but nothing changed. In fact, the practice of bhatta collection has flourished with each passing day.
What the Karachi police official did not mention about the prevailing practice of extortion is that the police and other law enforcing authorities are receiving between 100 and 200 complaints daily of extortion from traders. The complaints are usually about the distribution of Parchis and threatening phone calls demanding handsome money.
"These 100 to 200 complaints are those which businessmen are formally making to the authorities. But there are hundreds of people who are scared to approach to any authority and silently pay the money demanded," Citizens Police Liaison Committee (CPLC) Chief Ahmed Chinoy argued.
Mr Chinoy, who is from the Memon business community of Karachi, terms law and order as the biggest threat to Karachi and Pakistan's economy but believes that unless the business community and the political leadership of the country do not wake up to and stand against the menace, this illegal activity would continue.
President of Karachi Chamber of Commerce and Industry (KCCI) Saeed Shafiq also believe that unless affected businessmen and traders facing threats for payment of extortion do not come forward with their complaints, nobody can help them.
"A few days ago, I approached a businessman from the Burns Road area whose business place was targeted by the gangsters. I went to him and was surprised that he wanted to resolve the issue but didn't even want to report the incident to the authorities. Extortion can't be eliminated unless those who are being harassed resist and seek the help of the state," Saeed Shafiq maintained.
On the other hand, there are scores of small businessmen who are paying protection money to the police to continue earning their bread and butter as they carry out their businesses in places where they are not allowed to.
Thousands of vendors along the roads from Saddar to Liaquatabad and from Gulistan-e-Jauhar to Malir, daily pay Rs. 20 to 100 each to the police as well as the civic authorities to continue earning their livelihood in the city.
Similarly, every transporter operating in the country also pays the traffic police for continuing their business otherwise they have to face action on the basis of various laws, ranging from route permits to the dilapidated condition of their buses.
The menace of extortion is so deep rooted in society that even activists of some student organisations, operating at educational institutes including universities, extort money from the canteen and tuck-shop owners while some do not pay for what they eat from these eateries.
Affected persons, especially businessmen, along with other segments of a society will have to take a unanimous and collective stand on the issue of extortion otherwise they will continue to live in a state of fear, which will ultimately lead to the destruction of the economy.
Making payments for survival
By Saad Hasan
It was just another working day for hundreds of shopkeepers in Karachi's largest scrap market. On October 19, 2010, customers trudged down narrow lanes - wide enough for one car - the uneven road making movement difficult and all kinds of machinery, from cars to boats, being dismantled to be sold in pieces. The Sher Shah market always buzzes with activity.
But on that fateful day, men riding motorcycles barged into the market and sprayed bullets at the workers. Thirteen shopkeepers were killed and many other sustained injuries.
"All of us ran for safety. There was panic everywhere," said a scrap dealer. "The firing continued for quite a while. We were all hiding inside shops or behind cars."
Police has arrested some of the culprits and the crime remains under investigation. However, background interviews point out that the bloody attack was used to create fear among the shopkeepers, who had grown wary of giving extortions to the criminals.
"Just a day before this incident, we had transferred a bag full of cash to 'godfather'," a member of market committee told. "We were meeting all the demands of people who control the area."
In the past as well a dealer of the Sher Shah market who refused to pay extortion money was gunned down in broad daylight. "Payments against one shop have increased to between Rs100,000 and Rs150,000 per week. And they take whatever things they want."
While rangers have now been deployed in the market, which is located on the outskirts of the city, dealers are sceptical about conduct of police. "I can't even remember the number of times police played middlemen between us and the extortionists," another shopkeeper said.
It has been an open secret for the past seven years that dealers in Sher Shah were making payments to do business. In recent years, the menace of extortions and kidnappings for ransom has spread across the city in tandem.
The sprawling Saddar area, where markets for cellular phones, cloth merchants and home appliances are located, has seen a substantial rise in threats from obscure groups demanding 'protection money.'
At least 12 shopkeepers have been killed or injured in the past six months, said Ateeq Mir, Chairman of the Alliance of Markets Associations. "Names of every political party are used by these criminals. But these are all independent groups, which might have some political workers among their ranks."
Amid growing incidents of target killings, which have political undertones, the crime of extortion is hardly being noticed. Most of the killings are a result of a dispute over money, businessmen say.
It is hard to imagine the headstrong traders of Saddar bowing down so easily. These traders have caught and killed bandits. They have protested ferociously against power breakdowns. But Mir said that: "When you are being shot at in front of everyone then even the strongest gives in."
This is also true in the case of industrialists who have the wealth and power to protect themselves. They cannot be expected to be pressurised easily in the face of some random lawbreakers. However, things are different on the ground.
President of Lasbela Chamber of Commerce and Industry Dr Muhammad Aslam had to seek help from Frontier Constabulary (FC) after extortion cases increased. "The situation improved after the deployment of FC. But for some months, these gangs have resurfaced again."
The criminals have become well organised and appear to be professionals in the art of intimidation, he said. "The fact that whole security apparatus is stretched has encouraged these criminals to act openly."
Karachi has a police force of 34,000 while the number of security guards has increased to 90,000- speaking volumes about the general feeling of insecurity.
'Sell mobile phones, buy arms'
By Rabia Ali
On the famous food street of Karachi, where the rush of people and vehicles never stops, a restaurant with its bolted doors and shutters stands out amongst the rest.
Café Laziz, a famous eatery in Burns Roads, which for years has been entertaining customers with its mouth-watering chicken Karahi, is no longer there. Extortionists demanding money from its owner not only issued death threats but also opened fired at the café recently, resulting in the closure of the business and relocation of the owner to a safer abode.
With the menace of extortion now spreading to prominent marketplaces of the city, shopkeepers are now being forced to either wind up their businesses or give in to the demands of the criminals.
An official of the Alliance of Market Associations and a trader at the Aram Bagh furniture market, Ismail Lalpuria talks to Kolachi about the alarming situation.
"The crime of extortion has risen immensely in the last two years. Every other market in the metropolis is affected by it, especially markets in the Saddar area such as the timber market, Kharadar, Sarafa Bazaar and the most recent target, the Burns Road market."
Explaining the methods extortionists use to demand money, he said that Parchis are slipped to the shopkeepers, bearing the amount that is being demanded, along with the phone number of the extortionist. At other times, phone calls are made to the selected trader by the criminal.
The people involved in this crime issue death threats to the shopkeepers, and also warn the targeted trader that in case he does not hand over the money, himself and his family would be harmed.
Lalpuria said that the recent incidents of extortion in the Burns Road market are greatly affecting business, as restaurants are now closing much earlier. In the past, they used to remain open late into the night, and customers fearing violence are simply staying away.
He said that previously, shopkeepers did not report their cases to the association but now they were reporting their cases. A few days back, an extortionist in Urdu Bazaar demanded one million rupees but the matter was settled for Rs 250,000.
Blaming the indifferent attitude of the government and the police, Lalpuria alleges that policemen from the Preedy police station, which is responsible for controlling the law and order situation in the area, are deployed for VIP duties. "All the cops are guarding important government buildings; therefore there are no police officials posted near sensitive markets."
He concluded by saying that traders are now opting for self-defence and applying for arms licenses. "Our new slogan is that people should sell their mobile phones and buy arms. Since the government has failed to provide us with protection, we have decided to keep weapons with us at our markets and deal with the extortionists ourselves."
Why extortion cases go unreported
- Shahid Ismail, the ex-Chairman of FB Area Association of Industry
"Letters are used frequently to threaten businesses into paying extortions. At times letters with bullets attached in them have been thrown in the factories. Things are not good at all."
n Mian M Aslam, Chairman Bin Qasim industrial estate
"Criminals are able to gather all the information about their targets. They know office timings of the CEOs, their addresses, the route they take and at times family info. At least three CEOs have been kidnapped for ransom in recent months. Most of the cases are never reported or lodged with police as companies try to bargain with the criminals."
n Ateeq Mir, Chairman of Alliance for Market Associations
"In past six month at least 12 shopkeepers have been shot at in Saddar area alone. All of these cases were related to extortions. They don't make it to the newspapers because of growing tide of target killings, which has made everything obscure in its wake,"
n Sharfuddin Memon, head of the complaint cell at CPLC
"Criminals are taking advantage of various political parties. They put up flags around their respective areas to hoodwink traders. Police resource is over-stretched with target killings and terror control measures. There is immediate need to increase the number of policemen in Karachi,"
CPLC's registered extortion cases in 2010
n Despite all other unreported cases of extortion,
CPLC has a record of a total number of 402
cases of extortion in 2010. However, no one
was killed among those complainants
according to CPLC.