Artist: Call
Album: Dhoom*****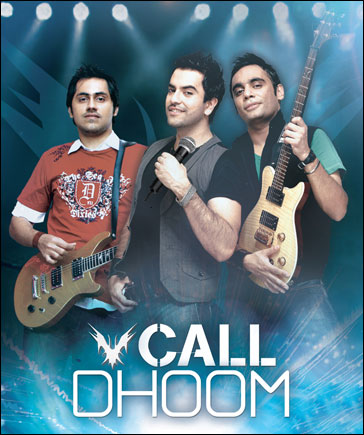 When Call mentioned to me that their album is going to release in early 2011, I began praying that the socio-political situation of the country stays stable. Call's much awaited sophomore album has been a victim of the catastrophic situation of the country. The album has been ready for quite some time but the situation was just not right to bring it out. And of course, since an album involves a band's hard work, they surely want to gain the most out of it by reaching out to as wide an audience as possible. So, here we are finally with Call's Dhoom, the follow-up to the super-hit Jilawatan, which lives in the hearts of die-heart rock lovers to this day. It's a challenging task to bring out a better release or at least one at par with the preceding one.

Firstly, let me clarify two rumours instantly. One, the album is rock-oriented loaded with blistering guitar licks, floor-shaking bass work and heavy and LIVE drum work. Two, Junaid still remains the lead vocalist of the band. The former misconception was generated when Call came out with pop-rock singles like 'Laaree Chootee' (Ek Chalees Ki Last Local), 'Yeh Pal' (Aasma), 'Dharkay Jiya' (Aloo Chaat) and 'Ho Jaane De'. The latter rumour originated from Xulfi singing the above mentioned tracks. ('Hojane De' was a duet).

Coming to the credits, album is single handedly produced, mastered and recorded, by Xulfi at his Xth Harmonic studio. The sound is fresh, live and rocking. One aspect worth mentioning is the live drumming. In Xulfi's words, "The drums are LIVE, ALIVE and KICKING!" Farhad Humayun, Fahd Khan and Kenny share the drum kit throughout the course of the album. Dhoom is also blessed with Javed sahib's heavenly violin work and Pappu's cello.

Enough of prologue, let's get to the real deal. The album gets into the groove with crashing drums beats and roaring guitar chords of the title track. The song is all about inspiration and motivation with verses like "Nadaan hai jo ro para/Josh tera kyun so gaya hai/Jag tera/Jeekey dekha/Dekh idhar/Jaag zara ( only fools cry, why has your passion withered away , this world is yours, live it, look here and wake up). The song motivates all of us to go beyond our limits and make changes in our lives! "Hai kyun chor chor teri baaton mein/Hai dum tau dhoond na kismet haathon mein". The track can also be taken in a patriotic perspective. I am still mesmerized with the guitar work. Could there be any better opening to the album? I doubt it! As the launch track 'Mein Aisa Hi Hun' opens up with mellow guitar waves, one expects it to be a calm beat. But, what turns out is a rockier number than the opening one. An absolutely astounding song, it has all the elements of classic Call. Rock. Slow. Amazing lyrics, topped with Junaid's versatile vocals. He can sing anything. From classical to rock to pop, he has shown off his range. And the equation is balanced. As much as Junaid is a hypnotic vocalist, no one strums guitar like Xulfi. My favourite of the lot!

If you're looking for something not too hardcore then 'Rung Do' is the song for you. It's a song that incites hope and making the most out of every single moment of bliss that one gets a hand on. It has beautiful lyrics like "Yeh Ansoo palkon per aaker bhi muskerayen/In lamhon ka aisa sang ho/Ghum saare jeevan key khushiyon me mil jayen/In sapnon ka aisa rung ho." And Xulfi also provides his vocals on this one alongside a rousing chorus at the end of the track. Interestingly, Call did a jingle for a local telecom for their annual celebrations. The single was appreciated so much that the band decided to shape it into a full song. 'Kyun' defines Call's true essence when one talks of hardcore rock music. Gets ready to head bang, for this is a great number for those Call concerts we all love. The best part of the track is definitely how Junaid manages to execute this tricky rock anthem. Thumbs up!

'Abhi Der He', is an intense ballad which actually takes the album to its pinnacle. The song kicks off with a smooth guitar riff and swiftly moves on to the vocals. For the people who loved 'Sab Bhula Kai' and 'Bichar Kai Bhi' from Jilawatan, this is the song to watch out for. It's amazing how Junaid can deliver in a plethora of genres. And, his performance is flawless. Another high point of the disc arrives with scorching guitar riffs of 'Teri Haar Hum', a slap on the face for our opponents and who consider Pakistanis mere puppets. It is a song about self-awareness and realization in one's own strength. We, as individuals, need motivation to reach any particular goal that we want to achieve in our lives. This track talks about realization of the power that we already have in us but we don't use it in verses like "Saamne Tau Aa/Dekhen Kitna hai dum/Aankhen tau mila/Toren tera bharam/Teri haar hum". At a time, when the nation is passing through a tough time, the best thing about the track is that it gels well with all parts of our lives bringing a smirk to our face.

The passion of patriotism continues with 'Aasmaan', a track about the life of a PAF cadet and his desire to defend his beloved homeland. It's a loyal effort which also has a video in which the band featuring Xulfi (guitars), Junaid (vocals), Sultan (rhythms), Kenny (drums) and Farhan (bass) are seen head banging on the base runway surrounded by PAF fighter jets and inside the hanger. Junaid, in his riveting voice, lifts the spirit of the brave airmen in this rock ditty with the lines "Ab yehan rukna hai nahin/Paalenge Aasmaan/Yeh nishaan reh jaye yaheen/Fizayen hain apna jahan" equally supported by Xulfi's scorching riffs. Bravo, Call. On the patriotic and morale boosting front, one finds another treasure in the rock ditty 'Hum Sa Hai Yeh Zamana', which was originally composed for the Cricket World Cup 2007 but couldn't be released owing to the early ouster of the national team. The song, however, was released in 2009 on the occasion of T20 world cup in which Pakistan became the world T20 champion. I especially love the Xulfi directed video which is quite morale boosting and features the high performance clips of our national cricketing heroes.

The much heard 'Ho Jane De' witnesses the band touching the pop-rock genre. A happy-go-lucky track, with a colourful video, this one is for the fun loving out there.

It's time now to talk a bit about Xulfi's vocal stunts. His voice is sweet, catchy and gels well with the pop-rock nature and also on the playback front. It's evident in 'Yeh Pal', sound track of Aasma, an extremely dreamy number, with a delightful chorus, smooth guitar riff and mesmerizing violin work. Most people would not know this, but this song also got nominated for the Best Debut at Airtel Radiomirchi Awards, the Grammy's of India, showing how Call have crossed boundaries and proven their mettle. 'Dharkay Jiya', OST of Aloo Chaat, is the first time Call have created a song which is completely about love. Mostly, when rock bands try their hand at the lovey dovey, they do not succeed. But Call has actually made a song that will be remembered for times to come. The emotion emanating from the song is artistic, deep and absolutely establishes 'Dharkay Jiya' as one of the best romantic numbers our country has heard. Perhaps, the biggest hit of the album, 'Laree Chotee', OST of Ek Chalis Ki Last Local appears at the tail-end of the album. It is an appealing, sing along track by the virtue of superb musical arrangements while the marvelous application of violin, gives a soothing effect through and through. One aspect the band should be commended for is that all their OSTs are their original numbers and picked in their original forms.

Verdict:
Surpassing the effect of Jilawatan was always going to be quite a task. The songs from that album were imprinting. You cannot forget a single song. Luckily though, Dhoom is an extension to it. This album has many layers to it. Songs are mastered well. It sounds like an international album with immaculate mastering. The depth in the music layered over each other is remarkable. Junaid has matured. Xulfi's guitar playing is simply captivating with innovative themes executed to perfection. Also, the lyrical content is strong which all the verses penned by Xulfi except for 'Aasmaan' & 'Dharkay Jiya' where Sami of Lagan gives him company. It's a matter of time when tunes like 'Dhoom,' 'Main Aisa Hi Hun', 'Kyun', 'Abhi Dair Hai' take the nation by storm. To sum up, Dhoom might just be the revival of quality production in the Pakistani music domain.