review


The issues
we face
Sexual harassment needs to be fought bravely. Fouzia Saeed's book is an excellent record
of how 11 women did exactly that
By Dr Faisal Bari
Working with Sharks:
Countering Sexual
Harassment in Our Lives
By Fouzia Saeed
Publisher: Sanjh
Publications, 2012
Pages: 438
Price: Rs. 995
Man with a view
Farooq Khalid once locked himself in a room to write a novel, now he likes to travel in a car
By Altaf Hussain Asad
It was 1975 when Farooq Khalid decided that enough was enough. He had been toying with the idea of writing a novel for the past couple of years as he wasn't satisfied with writing short stories. The fact that his short stories were published in the famous literary magazines like Savera, Funoon and Seep didn't satisfy him too much. Something was amiss. "I locked myself in a room to write a novel. For five months I stayed in that room and severed all contacts with the outside world. I used to ponder, write and sleep in the room. Nobody was allowed to come into the room as I needed complete seclusion. I enjoyed writing in the darkness as I felt distracted by the light. My family was very much concerned about me. They thought I had gone insane."
Zia Mohyeddin column


An incredible Magnum Opus
I first read Tristram Shandy on a train travelling from Sydney to the Blue Mountains. I was puzzled. The pages were numbered wrong (as though by a mistake of the binder), sprinkled over with odd series of zig zag lines that you see on weather charts, dashes of every length, stars, imitations of violins and tuning forks. Was it the work of a febrite mind? I got up to a little more than 85 pages and then put the book down.
review
The issues
we face
Sexual harassment needs to be fought bravely. Fouzia Saeed's book is an excellent record
of how 11 women did exactly that
By Dr Faisal Bari
Working with Sharks:
Countering Sexual
Harassment in Our Lives
By Fouzia Saeed
Publisher: Sanjh
Publications, 2012
Pages: 438
Price: Rs. 995
Many years ago I had done some survey work to document issues that women faced in the workplace. Our mandate was to focus on women who worked at up to the middle level in any organisation. And while it was a small survey, the number of issues that cropped up, with tremendous regularity, was very instructive. Transport related issues presented one cluster: taxis were expensive, public transport was difficult to access and there was lot of harassment when using public transport. At office, in many places, attitudes of co-workers, especially male co-workers, presented a whole cluster of major and important issues, and then there were issues of infrastructure (non-existence of separate facilities such as washrooms), salary equivalence, promotion related issues, and time/flexibility issues. Where the demand for "professionalism" was made on women, what professionalism meant, was embedded in how men behaved and what worked for them and, in many ways, how they acted.
Our surveys were not designed to probe deeper and were not accompanied by detailed qualitative work that is usually needed to make sense of what is caught in larger and/or quantitative surveys, and so we could only list some issues and provide only a few details on what the main issues in the various sub-areas were. In particular, though the issue of harassment, sexual or otherwise, came up now and then, we did not have time to explore the issue in detail in that work as such. But it was clear that harassment was a major issue, and underlay a lot of the other issues such as transport, separate facilities, time flexibility, promotions, salary negotiations/equivalence and so on.
I was not in Pakistan through the early to mid 1990s. I was not aware that 11 women working at UNDP had filed a complaint of sexual harassment against a senior manager and the case had gone through the system, over a period of years, and finally reached the decision that not only found the person guilty of misconduct, but also prompted changes in the way some of the UN and other international agencies addressed concerns regarding gender equity.
Dr Fouzia Saeed, one of the 11 women who filed the complaint with UNDP, has written about the experience in Working with Sharks: Countering Sexual Harassment in Our Lives. While some of the names of people involved have been changed, for privacy, the book is a work of non-fiction. Saeed, setting the issue in her own biography, gives a detailed account of the harassment the group faced, what led them to decide to file the case, what happened to them during the investigations and the hearings, and some details on what happened to people afterwards. Since the case was so central to the lives of the people involved, at least over the years it was going on, the biographical and narrative way of writing the book made eminent sense and the result speaks for itself.
It is a revelation to read about the kinds of abuse and harassment these women were subjected to, and that they had to bear, for one reason or another: some could not speak against it due to family reasons, others were afraid of losing jobs that were badly needed, and all of them were also aware of the fact that our society does not hesitate in blaming the victim. The phrase about this being a "man's world" can clearly be seen from the book.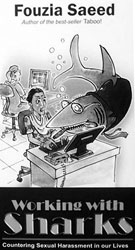 But what is much more surprising, and we are talking of the 1990s and not a century back, is what these women had to go through when they formally complained about the abuse. Some of them lost their jobs, almost all of them were threatened with dire consequences and even violence, all of them had stories circulated about their characters, and almost all of them had to face the non-cooperation of co-workers. All of this happened in an international multilateral organisation that works for development and that even had a gender programme: talk of darkness under the lamp.
In the end though, the case was won. This was important for the women and for truth. But the case was also important in highlighting all of the issues that women face when they come out to work, and it also highlighted a number of social and attitudinal issues in our society that need to be corrected. Saeed connected the case to the struggle for recognition of these issues at the national level in Pakistan and some successes that have been had in this area, including the recent legislation through Women's Protection Bill. The struggle for equal rights and acknowledgement of problems in the area continues, but the case, the discussion surrounding them, and the debates it led to and what they, in turn, highlighted, have been an important contribution to the overall debate on women rights in the work place and generally and human rights as a whole as well.
The Pakistani women were all afraid of voicing their concerns when they were being subjected to harassment and hostile environment. They were afraid that if they were to raise their voice they would be the ones to be blamed. They would be portrayed in negative terms by the society, their families will face problems, their husbands will get angry at them, they will no longer be allowed to work, they might lose jobs, they would be ostracised and so on. This is a terrible condemnation of our societal attitudes and social values. We might be conservative and draw our values from our religion, but which religion and what sort of conservatism justifies blaming the victim and tarnishing her image? Does the religion actually not go the other way and ask us to protect the reputation of people? And does it not forbid us from joining in any kind of victimization? And the same attitudes are recommended by our culture too. But we still find that not only were the women victimized, they were attacked, by both men and women, once they lodged their complaint, and though a lot of people kept quiet and/or joined in due to fear, the fear cannot justify it all. For some the fear of losing jobs was real, but this does not explain the attitude of all people completely. A lot joined in willingly too. This aspect of the whole picture needs a lot more exploration.
The complaint was against a Pakistani male, at the Pakistan office of UNDP. Most of the complainants were also Pakistani, and the cultural context was also Pakistani. But this was not just a Pakistan specific issue. A couple of complainants were non-Pakistani, the higher management which chose to ignore earlier grumblings and complaints, and also chose to protect the culprit as much as they could, were mostly non-Pakistani, the organisation was headquartered outside of Pakistan, and the people who investigated the complaints, sometimes not without strong anti-women biases, were also not Pakistani. Gender equality is an issue in a lot of places and this story clearly shows that. But, of course, the problems that we have in our culture are specific to our cultural context. Thus the battle for equality has to be fought everywhere, though it will have to counter local conditions in all the locales of the battle.
Saeed has written a very a taut narrative. The story has been told in detail, which was necessary bringing out full complexity of the issues being dealt with, their social and societal context, and the impact of these on the lives of the women who braved everything to pursue the case. The book is a big one: at 438 pages it takes time to read through, but it is very well written and easy to read.. Saeed does use her own life as a means of contextualising and setting the narrative in, where it does anchor the book well, I did find there was a lot of detail on the developments of Saeed's relationship with her husband-to-be in the book. I found that part to be of lesser interest but since the narrative was integrated and Saeed's life was going on as the case was progressing it is hard to skip the more personal parts and stay with the developments in the case. But this was not much of an irritation as the narrative is good enough to carry the reader through quite easily.
Harassment of any sort is unacceptable. But sexual harassment, given the social/societal context we live in, is simply odious and needs to be fought bravely. Saeed's book is an excellent record of how 11 women did exactly that. It clearly brings out what women have to face everyday (and what they will have to face if we do not take on the issue), and the uphill battle that is needed to protest and carry it through. It is also a record of how perseverance can pay off: kudos to these women and their families. Since we still face many of the issues and battles detailed in the book, the book is important not only as a historical record but as a way of seeing what still needs to be done: at the legislative level, for implementation, and for facing/changing social/ societal attitudes.
Man with a view
Farooq Khalid once locked himself in a room to write a novel, now he likes to travel in a car
By Altaf Hussain Asad
It was 1975 when Farooq Khalid decided that enough was enough. He had been toying with the idea of writing a novel for the past couple of years as he wasn't satisfied with writing short stories. The fact that his short stories were published in the famous literary magazines like Savera, Funoon and Seep didn't satisfy him too much. Something was amiss. "I locked myself in a room to write a novel. For five months I stayed in that room and severed all contacts with the outside world. I used to ponder, write and sleep in the room. Nobody was allowed to come into the room as I needed complete seclusion. I enjoyed writing in the darkness as I felt distracted by the light. My family was very much concerned about me. They thought I had gone insane."
After writing the novel, he sought out publishers to get it published. It was Ahmad Nadeem Qasmi who told him that he needed to show his manuscript to Safdar Mir and Muhammad Khalid Akhtar before getting it published. "Safdar Mir and Muhammad Khalid Akhtar liked the novel. Muhammad Salim ur Rahman was also my mentor who made a few changes in my novel," says Khalid with a smile.
Khalid is of the view that those who write for publicity don't love literature; rather they are flirting with literature. "Commitment with literature," he adds, "should be pure."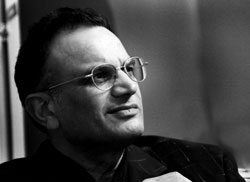 Khalid was 25 years old when his novel Siyah Ainay was published, which was later awarded the Adamjee Award. Khalid's inquisitive nature landed him in trouble in school as well as college and he decided to leave the country where there was complete paucity of logic. Thus he landed in Holland where he continues to live to this day. When Siyah Ainay was published, Khalid was in Holland. It was his publisher who sent the novel to the literary committee which used to nominate books for the prestigious prize of Adamjee Award.
Another novel Apni Duaon Kay Aseer followed which was also the continuation of his first novel. Khalid plans to write a couple of novels that would be the continuation of his earlier novels as he wants to write a saga of novels.
Apart from Umrao Jan Ada and Bagh-o-Bahar, he does not like any other contemporary Pakistani novels. "I am under the influence of Flaubert, Doestovesky and Kafka. "The Idiot is a novel which I adore". Khalid likes the short stories of Asad Muhammad Khan, Naiyer Masud and Mansha Yad. He says that stories of Qurratulain Hyder are impressive but not her novels. "Few portions of Aag Ka Darya are inspired by Virginia Woolf's novel The Waves. Akhir-e-Shab Kay Humsafar is a bogus novel. "Hyder had an exceptional command over the Urdu language though," he states.
Khalid is least impressed by the novel Mirza Ather Baig's Ghulam Bagh. "Ather Baig failed to produce a great story out of the novel as he lacks in craftsmanship". There is no compactness in Ghulam Bagh, he further adds, as the story is scattered.
Apart from reading and writing in Holland, Farooq Khalid loves to see places and countries in his car. He has seen 65 countries and now he plans to go to Siberia in his car. Khalid has written about his travels in Asfar-e-Shab-o-Roz. "I was immersed in fantasy and in the characters of my novels. I decided to taste the real life, so I took to seeing the world in my car."
Khalid met Naiyer Masud and presented him his travel writings. Masud immensely liked his travel pieces. "Masud made a few photo copies of my travel book and sent it to his friends. This was a huge compliment for me." He also cherishes meeting Safdar Mir. Khalid was simply wonderstruck to see piles and piles of books scattered in the study of Safdar Mir.
Farooq Khalid loves the genre of novel. "I feel that writing the novel is a bit easier for me as one finds a certain freedom; writing a short story is harder."
Zia Mohyeddin column
An incredible Magnum Opus
I first read Tristram Shandy on a train travelling from Sydney to the Blue Mountains. I was puzzled. The pages were numbered wrong (as though by a mistake of the binder), sprinkled over with odd series of zig zag lines that you see on weather charts, dashes of every length, stars, imitations of violins and tuning forks. Was it the work of a febrite mind? I got up to a little more than 85 pages and then put the book down.
Years later, in London, my director — my mentor, and my dear friend — Frank Hauser, mentioned during a break in the rehearsal that Tristram Shandy was one of the greatest works of fiction. He asked me if I had read it and, brazenly, I said yes. Well, I had read eighty five pages.
Frank, whose conversation was an intellectual hop ship and jump was a wit par excellence and I valued his observations. Ashamed of having lied to him I decided to read the book at once. Notwithstanding the forks and the fiddles I read on and became absorbed.
Tristram Shandy is a marvel. Lawrence Sterne's ideas are curious, fantastic; his characters are delightful, and loveable. Walter Shandy (the father of Tristram) is always attempting to do the elaborate rather than the simple thing with the result that he does nothing at all. When he has to scratch his right ear, he will invariable try to do it with his left hand around the back of his head. His hand is thus twisted in pain and his right ear remains unscratched. Walter has magical beliefs and a splendid repertoire of mystical quotations. He is "like a perspiring juggler before a company of the blind."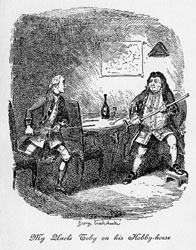 Walter Shandy's brother, Uncle Toby, a retired soldier who is spending his last days with the Shandys, is a man full of goodness and empty of thought. While his brother holds forth on philosophic matters, Uncle Toby smokes his pipe and catches flies. He catches them only to set them free. "'Go' says he, to an overgrown one which had buzzed about his nose, and tormented him cruelly all dinner time. 'I'll not hurt thee', says my Uncle Toby rising from this chair and going across the room, with the fly in his hand, — 'I'll not hurt a hair of thy head:— Go', says he, lifting up the sash, and opening the hand as he spoke, to let it escape; — 'go poor devil, get thee gone, why should I hurt thee? The world surely is wide enough to both thee and me!"
The novel leads us out of nowhere through infinity and back into nowhere again. On the journey it provides us with the utmost absurdities and excitements and revelations. We gasp as we follow this crazy carnival of masked characters as they whirl about without reason "each dragging his neighbour by the feet, head, coat, amidst the most promiscuous and unforeseen hubbub."
Laurence Sterne's grandfather was Archbishop of York, an exalted position in the Church of England. His father was in the army, "the Ulysses-like plaything of adverse gods at the War Office" as Laurence Sterne described him. He was always broke and was shunted from one garrison to another between England and Ireland. When he was posted in Gibraltar, Captain Sterne was run through the body in a duel "about a goose." He recovered from his wound, and retired for his convalescence in Jamaica. His malady took away his senses and finally in a month or two walking about continually, without complaining, he sat down in an armchair and died.
Captain Sterne had left his family without a penny. Fortunately, for Laurence, a cousin came to the rescue and paid for his education in the hope that he would someday become an Archbishop like his grandfather. He was ordained and settled down, with a wife, as a clergyman in a Yorkshire parish. Aware of his own imperfections he sympathised with the imperfections of others. He was kind to everyone. As a man of the cloth he was loved by this flock.
To get away from his prosaic domestic life he joined a group of cultured voluptuaries who called themselves the "Club of Demoniacs." They gathered at a country estate which they had nicknamed "Crazy Castle." Here they ate and drank and discussed literature and love and wrote sonnets:
"And in the evening when they met
(To think on't always does me good,)
There never met a jollier set
Either before or since the Flood"
Sterne was not a well man. He was bleeding to death of infected lungs, but the spirit of laughter kept his body alive and, in this atmosphere, tucked in a corner of England, he prepared a book that amazed and inspired and scandalised the world. He wrote about the wisdom and the stupidity of the world, its fears and its foibles, its hatred and its loves and kneaded it all together into a story as rich in interest — and as empty of plot — as life itself. It had no shape, no logic and no plot. Nothing like it had ever been written before. He titled the book The Life and Opinions of Tristram Shandy.
Sterne read the first pages of the book to some friends after dinner. They promptly fell asleep. He was so deeply hurt that he walked over to the fireplace and was about to toss the manuscript into the flames when one of the company still awake snatched the manuscript and saved it for posterity.
The book was published in the same year as Voltaire's Candide which in Sterne's view was "the funniest book of all time." The initial reports that he received from his London friends were that "in the opinion of the judges, without exception the book cannot be put in the hand of any woman of character". "I hope you except widows" replied Sterne sarcastically, "for they are not all that squeamish."
But when he went to London he discovered that "Shandy" had become a cult. The Shandy family had been added to the gallery of great fictional portraits. The work was a triumph and he, Laurence Sterne, the preacher-poet from Yorkshire, was a celebrity overnight.
"Shandy" in the Yorkshire dialect is a word which means crack-brained, unsteady, full of gaiety, and this characteristic is true of the entire book right to the style and appearance of its printed matter. Sterne was a "shandy" who felt that the world was sad and it must be amused.
The level of absurdity to which our political shenanigans has now reached has compelled me to re-read Sterne's incredible magnum opus. The joy it gave me knows no bounds.