instep
analysis
Films are not always what they seem
Putting Ramchand Pakistani in perspective
Ramchand Pakistani is being plugged as a real life political drama when in truth it is the story of a little boy coming of age in a prison populated by characters that will make you laugh and cry even as they make you think.
By Muniba Kamal
It is the film we have all been anticipating since Khuda Kay Liye and yet some people I know have been put off by the promos, Nandita Das in a starring role, a Pakistani Hindu Dalit boy who crosses the border running away from anger from his mother, a father who follows him and the Indian patrollers who arrest them and put them in prison do not make the kind of a film that most people are dying to see. And unfortunately, as a nation we are used to taking things at face value.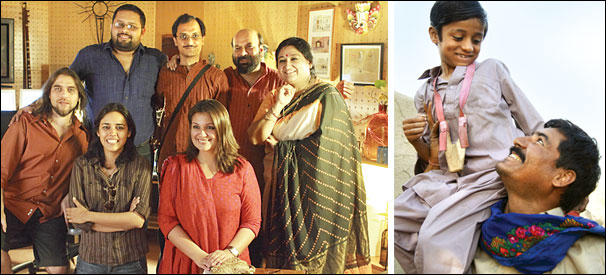 Ramchand Pakistani is being plugged as a film about "three lives changed by the vagaries of Pakistan-India relations". That is the angle that the international press has taken and Ramchand Pakistani has definitely made waves internationally. Reuters calls it a true-life Pakistan border drama and said that 'Ramchand Pakistani follows the young Hindu boy of the title, as he accidentally steps over the ill-defined border between old rivals India and Pakistan'. Across the border The Hindu calls Ramchand Pakistani 'a film project with a difference' and the article opens with the words "'Two nations poised for war. One family torn apart' reads the tag line for the soon-to-be-released film Ramchand Pakistani. While this dramatic description would seem to fit the bill for any of the numerous war movies Bollywood has produced, Ramchand… is a film project with a difference. The first-ever film from Pakistan whose main characters are from the country's minority Hindu community, Ramchand seeks to emphasise the commonality between the people of the two countries rather than focus on the differences and the violence, as many Bollywood movies have tended to do."

All the publicity, promotion and numerous articles the film has spawned seem to miss the point. Ramchand Pakistani sounds like a film with socio-political overtones, when in fact it is a film with socio-political undertones. It is very much a film with a heart that focuses on the love between a husband and wife and their child, their pain at their unfortunate parting, the bonds formed in prison between the men who find themselves their and the unlikely bond between a higher caste police inspector forms with a Dalit child. At face value, Ramchand Pakistani may be about India-Pakistan relations, but as a film it transcends them, painting characters that are true to life, that we can relate to, who we laugh with and cry with. And the most lovable of them are the two Ramchands.

Mehreen Jabbar has found two gems. The younger Ramchand is played by the incredible Syed Fazal Husain who is a child actor on television. Ramchand Pakistani is his feature film debut and his performance reminds one of that of Darsheel Safary in the excellent Taare Zameen Par. There are similarities between the two. While Ishaan in Taare Zameen Par struggles with his dyslexia and is overcome by remorse and self doubt for not performing well, Ramchand has a similar crisis of conscience in the film. He is manhandled by Indian army personnel, gets himself arrested along with his father and sees his father being tortured in prison, all because he ran away. Syed Fazal Hussain looks bewildered as a boy taking it all in, and when he finally breaks down in his father's arms in prison after seeing a mentally unstable prisoner having a fit, you can't help but cry with him. And then there is perhaps the most touching scene of the film, when Ramchand finds a beetle and puts it in a match box, to play with at night. The joy on his face when he takes it out is that of a child who's just been given a new toy, which is precisely what the beetle is for him. That is a quintessential Mehreen Jabbar touch. She looks at Ramchand as a child, and that he happens to be a prisoner through circumstance is only a backdrop to his emotions.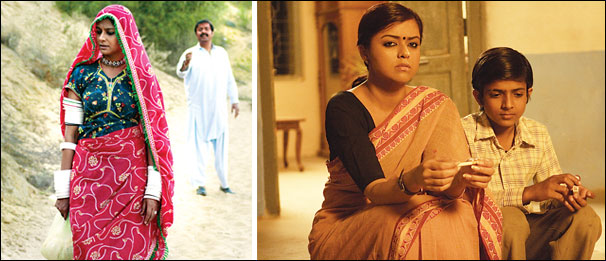 And it is touches like these that dot every scene of the film that make Ramchand Pakistani a great film.
The older Ramchand (four years after the imprisonment) is played by Navaid Jabbar. Mehreen Jabbar discovered him in Mirpurkhas where he works as a mechanic with his father.

Navaid is a student, Ramchand Pakistani is his first acting job and what a debut he makes! Four years on, when Syed Fazal Hussain makes an exit and Navaid Jabbar arrives, it is clear that prison life has worked wonders for Ramchand. He is street smart, able to hold his own with the prisoners and get his way with prison guards to whom he has endeared himself to over the years. Thanks largely with the help of the benign police woman Kamla played by Maria Wasti who is a revelation and my personal favourite character in the film.
Kamla is a Hindu, very proper and strict, but a woman at heart. She meets the younger Ramchand and immediately gets clothes to fit him. But of course she doesn't like it when she discovers that he is Dalit (Untouchable). She gets him trained to sweep the floor, make tea and run errands like getting her video tapes of Bollywood films to watch in her office. But along with this, she educates him, teaches him to read and write and cares for him. He in turn becomes her eyes and ears in the prison and covers up for her when she is carrying on an affair with a policeman Deepak in her room. The most radical scene (in terms of Ramchand Pakistani being shown in India) is when she is leaving prison to marry Deepak. She gives Ramchand a kiss on the cheek and he smiles up at her. The relationship between them over a period of five years bridges the physical divide between Brahmin and Dalit. It a poignant moment, one that to my mind has never been shown by any Indian director.

The last film that one remembers that touched on the Brahmin-Muslim divide was Aparna Sen's excellent Mr and Mrs Iyer. In the film, Meenakshi Iyer who is a devout Hindu Brahmin is traveling by bus at a time when communal riots break out in India. Her companion on the bus is Raja Chowdhary, a Muslim photographer. She will not drink from the same glass as him, but when the bus is attacked by Hindu hardliners, she claims that he is her husband and saves him. Lost in the riots, the two develop a relationship that comes very close to passion, but that remains unrealized. Had they consummated their relationship, perhaps riots would have broken out against the film in India again. Anyhow, that was a bridge director Aparna Sen chose not to cross. Mehreen Jabbar does it with ease, using the maternal instinct of a Brahmin woman for a Dalit child. I wonder if an Indian director would have done the same. It is nuances like this that make Ramchand Pakistani a landmark film. Mehreen Jabbar as a storyteller follows a low key text, but the subtext of her work always packs a punch. Those who have followed Nivala, Marhoom Colnel Ki Betiyaan and other teleplays will know this.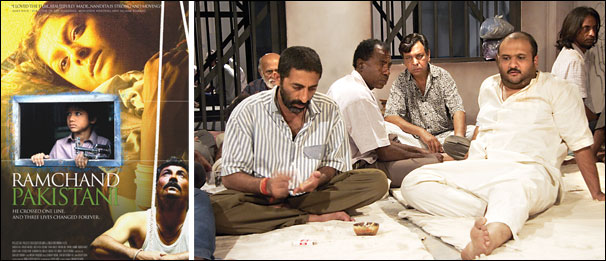 And ultimately, the two locations of her film, the village in Thar and the prison across the border in India don't employ magnificent sets but they are real. And they allow for a real story to be played out. Mehreen and her crew were let into an Indian prison in Bhuj as a reference point for the sets that were then recreated in Karachi. The village was shot in the Thar desert in Pakistan to capture the stark beauty of the landscape. And yet it is the stories that pan out here that are important.

The village in Thar is where Champa (Nandita Das), Shankar (Rashid Farooqui) and Ramchand (Fazal Husain) live and love in the harshest of conditions. After father and son are arrested, the village becomes a place where Champa pines for them. She doesn't know where they are and she almost gives them up for dead but then doesn't. When her brother comes to take her away (Tharis migrate during the harsh summer months) she runs away and hides in the village ruins. And in this village, as the years go by, she is also attracted to Abdullah (Noman Ijaz) who also feels for her. Yet, nothing happens because a Muslim marrying a Hindu woman is as much of a taboo in Pakistan as a Brahmin woman kissing a Dalit boy is in India.

Nandita Das is superb as Champa. But it is a role she has played before, most notably in Bhawander, so her performance doesn't come as a surprise. Rashid Farooqui is Shankar is a revelation though. A TV actor with a great reputation, Ramchand Pakistani elevates him to another position altogether as a big screen actor.

And then there is the prison and the many characters that populate it. There is a Muslim Indian police inspector (Shahood Alavi) who feels for Shankar and Ramchand but can do nothing about the system.

There is Deepak (Hasan Niazi) who secretly conducts an affir with Kamla (Maria Wasti). There is a Mullah (Iqbal Motilani) who is sick and tired of the prison food that is largely meatless. There is Vishesh (Salim Meeraj) who loses his mind in prison haunted by demons that remain unexplained. There is Moti (Adarsh Ayaz) a small time crook who reads the newspaper out to prisoners and smokes joints in the prison.

There is Baba Gull (master Yaqoob) the paternal figure in the prison who deals with Ramchand with great humanity and is the buzurg (wise old man) loved by all. There is the Professor (Kasim Raza) a sexual predator who tries to lure Ramchand with biscuits and gets a beating from other prisoners. There is Sharma (Adnan Shah) a politician who manages to secure a release though his political connections.

In the press kit, the special aspects of Ramchand Pakistani are mentioned. It is possibly the first Pakistani film where the characters are Pakistani Hindus. It is adapted from actual events about what happened to a boy and his father during the tension between India and Pakistan in 2002.
It is a collaborative effort between talent from India and Pakistan but it is a Pakistani story at heart. It deals with the affect the Pakistan-India conflict has on human lives. But to me all these aspects of the film, while going down in the history of Pakistani cinema are peripheral to the viewers. The biggest danger of the way the film is being plugged is that many Pakistanis might be put off by the sheer worthiness of the project.

The comparisons between Ramchand Pakistani and Khuda Kay Liye are being made. And one hopes that Ramchand is as big a hit as its worthy predecessor. When it is finally released in three days on August 1, it will be the acid test of how Pakistani viewers will react. Did Pakistan flock to see Khuda Kay Liye because as a nation we like good stories or did we all head for the theatres because the film generated so much controversy that everyone wanted to see what the fuss was about? The box office reception of Ramchand Pakistani that has no glamour will be revelation when the film is released. After all, let's look realistically at the differences between the two. Ramchand has Nandita Das as a village woman as opposed to Iman Ali as a London returned. It has two little boys as playing the lead character as opposed to Lollywood megastar Shaan. It is based in a village and a prison at the Indian outpost as opposed to Lahore, America and London. In the strangest way, Ramchand Pakistani will reveal so much about this nation's taste in cinema.

But there is hope in one's heart that by word of mouth word will spread and people will flock to theatres. And that they will do so because as a nation we have an abiding love for stories well told. That the glory days of national television when our dramas made waves across the border will come back to our big screen. This is what one is hoping for but when one hears reports that the cinematic dud Love Story 2050 is running house full in Pakistan despite bombing in India, one's heart sinks. Here's hoping that Ramchand Pakistani does well.

But Ramchand Pakistani has been made and it is a fantastic cinematic experience. So to Mehreen Jabbar, one can only say, "Well done and thank you!"