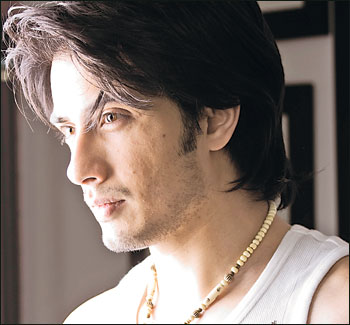 Tere Bin Laden. The film is slated for release this week, July 16 to be precise and just the publicity for it has seen Ali Zafar's star rise and rise in India. The promos are all over the place. Ali is currently stationed across the border and is all over the world wide web thanks to the pre-publicity for the film that is seeing him featured in every newspaper in the country. It helps that Karan Johar and Salman Khan are openly supporting the film and Ali Zafar himself on Twitter.

It's a big, big, scratch that, huge deal to see a Pakistani star promoted this way in India. The only thing one can compare it to really was Raj Kapoor's launching of Zeba Bakhtiar as the proverbial Kashmir ki kali for his feature film, Henna. Back then, Indian media wasn't as prolific and neither country was really in the mood for peace. Also, Zeba Bakhtiar was not one of the biggest pop stars with a global fan following. Ali Zafar is. And with the publicity Tere Bin Laden is generating he is all set to trump our own Atif Aslam in popularity across the border. Indeed, if Tere Bin Laden turns into a box office smash, Ali Zafar will reach a level of stardom hitherto unprecedented in our industry and he will also become a one of a kind phenomenon in Bollywood. Of course, that's a big 'if', but it is entirely possible.

After all, which actor does Bollywood have who can act, dance and sing his own songs? The answer is none. Ali Zafar is a rare breed. He is the complete package. Apart from singing, which he does so well that Farida Khanum approves, Ali Zafar has the looks, the style and the histrionic abilities required to work in Bollywood. The peppy songs of Tere Bin Laden to which Ali has done the energetic dance routines so typical of Indian films are working well. This is the kind of stuff that an Ali Azmat, a Shafqat Amanat or an Omran Shafique, or anyone of Ali Zafar's contemporaries on Coke Studio where he made such a mark, wouldn't be able to pull off. The only one who could perhaps is Atif, who we will see soon enough in Shoaib Mansoor's film, Bol. In the modern music scene, it is Atif and Ali Zafar who rule the roost and when it comes to penetrating the Indian market, they are doing a far savvier job of it than their predecessors. They are the right men at the right time.

If Atif reached popularity across the border first, by singing one catchy song after another for their films, then Ali Zafar has played a far more careful and calculated game. His one foray across the border has been the video of 'Sajania', which used crew and talent from both countries, but otherwise, Ali kept his guard up.

He regularly made trips to India, but nothing seemed to come of them, as opposed to Atif who would sing a song for some film, do concerts or shoot videos there on every trip.

Back at home, Ali Zafar also got flack for not doing Khuda Kay Liye. He had been approached by Shoaib Mansoor for the role eventually essayed by Fawad Khan of EP. News had it that Ali wasn't comfortable with the controversial nature of the film, so one naturally wonders why he agreed to do Tere Bin Laden that could potentially stir up a hornet's nest here at home.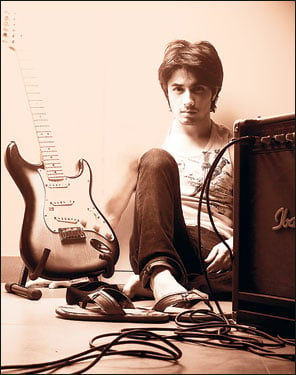 "I really liked the script," says Ali smiling simply sitting at a table at the Karachi Sheraton's Cozmo where we met for lunch between his whirlwind schedule of making television appearances and holding meetings. "I knew that I didn't want to do a typical Bollywood film with romancing a girl around trees. I didn't want to play second lead in any film and when I was offered the script, I read it and I could see myself doing it. It's very funny. I think I suit the role." On being probed about the controversial nature of the film, Ali says, "I don't think there will be a problem. My character cons a man into playing Osama to get a sellable news report. It has nothing to do with the real Osama. The film pokes fun at the Bush era and his war on terror which the whole world is making fun of anyway and it does it in a very Pakistani way." In an email sent from India recently, where he is stationed till the film's release Ali Zafar states: "Now that I have seen it, I can hardly believe that an Indian has made such a pro-Pakistan film."

There have been reports that Tere Bin Laden will release as Tere Bin in Pakistan, after of course clearing censors. According to newspapers across the border, the makers of the film have received an anonymous letter threatening them with dire consequences if it is released. But surprise surprise, the letter is not from Al-Qaeda, because it accuses the makers of supporting Osama Bin Laden and terrorism, making one smell the Shiv Sena rat.

Speaking about his film debutant director, Abhishek Sharma told Hindustan Times: "The story is about a Pakistani journalist who wants to go to the US to make a career. But his plans never succeed. While moving around the countryside, he finds a man who looks exactly like Osama Bin Laden and he forces him to record videotapes the way the real man used to. It's based on the most bizarre, though not unheard of, rumour."
"Whether it's in India or anywhere in the world, we've all watched the CIA videos of Saddam Hussain and Bin Laden. The satire in the film is around the fast-growing Islamophobia in the First World. My film doesn't lean towards the politics of the situation," asserts Sharma.

It's a bold edgy subject, and while one is inclined to think that Abhishek Sharma is a novice debutant director talking, the people backing the film come with strong credentials. Tere Bin Laden is a Walkwater production, the company set up by the hugely experienced Manmohan Shetty who also set up ground breaking film house Adlabs that went on to be acquired by Anil Ambani. Shetty continued as MD till 2008 and recently, he launched Walkwater Media. The board of the production house boasts industry heavyweights that range from director Shekhar Kapur and the CEO of NDTV Imagine., all people who pull their weight in the behemoth that is Bollywood. Instep also learned from a source that Karan Johar came on as a consultant in the final stages of the film as a favour to help out his friend Pooja Shetty. And one is inclined to think that a company like Walkwater would know how to treat a subject this edgy - after all, like Pakistan, India is hardly immune to terrorism.


So far, there has been no backlash to the film, here at home. And one is hopeful that it will see a release here. After all Khuda Kay Liye was released and went on to have a hugely successful run despite fatwas and bomb threats to Geo Films that distributed it. In Pakistan, Ali Zafar has the rights for distribution, provided the film doesn't run into censor trouble. He has launched his own film house, Alif Films and a record label Alif Records. Ali Zafar is a smart, smart man and is using his musical talent as a spring board to other things that he can do.

"I am never selling the rights to my music again," he says confidently. "I am sure about that. So I have set up a record label that will not only be for my music, but also for other musicians. Right now, the right people are not being promoted in the right way. I think as a musician, I understand what is needed. So let's see where it goes."

At the Sheraton, Ali Zafar is calm and self assured. The innate shyness from his Huqa Pani days has gone and a quiet self-assuredness has come in. What may have looked hesitant before has now turned into a calm patience of letting things run their course. And it is truly phenomenal to see how far he has come, from the Channo boy to the musical powerhouse who gave us two phenomenal versions of 'Allah Hoo' and 'Dastaan e Ishq' via Coke Studio.

"I really enjoyed doing those. After 'Allah Hoo' was such a success and I was approached to do the next season I told Rohail (Hyatt) that I don't want to do songs from my album. At Coke Studio I want to do something new. That is what the platform is for," he remembers. "The song that was the most well-received was 'Allah Hoo' so I did 'Dastaan e Ishq'. I think as a musician if you want to do what you've already done, you are wasting the platform. It's the perfect space, perhaps the only space, where we can experiment."

Ali Zafar has hit the nail on the head. Be it Shafqat Amanat Ali in Season 2 or Entity Paradigm (EP) and Aunty Disco Project (ADP) in the ongoing season, the musicians who have stuck to their signature tunes have not made a mark. It is the ones who have made the effort to do something different that have shone. Ali Zafar is hitting his stride in every sense of the term. He knows his limitations and is very clear on what he wants to do; be it thinking that he could not have played the intense role in Khuda Kay Liye or choosing to do the light-hearted Tere Bin Laden which he insists is more his style.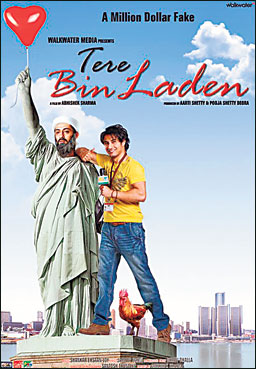 On the film, Ali Zafar has sung his own songs - why would he need a playback singer? And has collaborated with the hugely talented trio of Shankar-Ehsaan-Loy who have composed the music for the film. Ali shares credit on some tracks and one 'Bas Ek Soch' is completely his own. It's getting critical acclaim in India but of course the big hits they are predicting are the thumpingly catchy 'Ullu Da Patha' and 'Shor Sharaba' that have club appeal in Bollywood loving India.

Whatever the fate of Tere Bin Laden, chances are Ali Zafar will leave a lasting impression across the border. He is going to come back and continue working on his next studio album, which will have more Sufi and folk influences. And he is also intelligent enough to think about the future of marketing it in India. It is possibly this quality that the super savvy Karan Johar recognized when he tweeted: "Introducing @alizafarforu </alizafarforu> ...the actor-star of TERE BIN LADEN is definitely a man to watch out for!! Talented, soulful and with perspective." And Karan is so right!
"All people are interested in in India is Bollywood, and if I become a well-known film star there then the channels might give time to things like 'Dastaan e Ishq' when I do them," Ali smiles.

He is all praise for Atif, admitting that his contemporary has tremendous impact in India and the Middle East. "He is very talented and while people keep on bringing up the competition factor, we do talk. Atif has his way of doing things, I have my way. Anyway, there is room for lots to happen in music."
"When you have been around the industry and worked your way up, who has the time to be a diva?" he points out. "I remember when I was a struggling artist and doors shut on my face. Now doors open, because I have made it. So I want to use that to the maximum, do what I can to help the industry grow. And the memory of that time, of struggling keeps it all in perspective. There is so much to be done. I believe you have to do what you are doing without looking at what others are doing and following them"
You are so right, Ali. That is exactly how people carve a niche of their very own.