Stop the Baloch's bleeding
The cold-blooded murder of Habib Jalib Baloch is another blow to the crumbling state of Balochistan
By I.A. Rehman
His face, physique and bearing gave no indication of the fire in his heart. He did not interrupt any speaker for putting in what he thought of the matter in debate, he quietly waited for his turn. It was only when he started presenting his ideas that one discovered his tendency towards argumentation along with a touch of the youthful impatience. He reminded one of political activists who had been through a few study circles.
"Radicalised by Soviet education", a somewhat senior leader from Balochistan whispered in my ear as we proceeded with the discussion on federalism in Pakistan.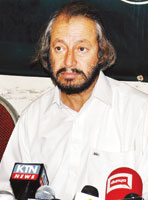 That was Habib Jalib at the beginning of his political career.
There were quite a few ups and downs in Habib Jalib's journey in politics. He became a Senator quite early in life and took time to find his place in the fragmented nationalist plank in Balochistan till he settled down in the role of a key player in the Balochistan National Party (Mengal). With time his speech became angrier and his impatience with all those who failed to see and address his people's exploitation grew. At the same time he earned high marks for shepherding the flock while the party chief, Akhtar Mengal, was in prison in Karachi as a result of one of the most horrible cases of abuse of power in the country.
Unfortunately Balochistan's politicians have, throughout the six decades of Pakistan's history, been condemned to fight for their very basic right to political autonomy and the inherent dignity of their people. They have never been allowed to demonstrate their capacity for promoting their people's weal and uplifting the under-privileged. Even those who have been invited to join the games of musical chairs in the halls of power have had to spend most of their time in trying to retain a fickle-minded centre's favour. Thus, it is difficult to judge what Habib Jalib, like many other Baloch leaders disposed of before him, was capable of and what he might have done on an even playing field.
From the point of view of the ordinary citizens of Pakistan, who care for the state's solidarity and Balochistan's rights more than their rulers, the most important feature of Habib Jalib Baloch's political creed was his faith in peaceful, constitutional change. He belonged to the fast dwindling band of politicians who still believed in the possibility of bringing Balochistan into the country's political mainstream. Everyone should be able to realise what the brutal cutting down of such a person means -- for the future of Balochistan and for the future of Pakistan.
It is necessary to keep in mind the fact that events derive their significance from the context. Habib Jalib might not have been among the most important of the national leaders; his murder has taken place at a time when the Balochistan people have reached the end of their endurance. Nobody need ignore the weight of a straw on a camel's over-burdened back.
All kinds of efforts -- some earnest and some others for mere demonstration -- will be made to identify the hands that committed the foul deed. Much is likely to be made of the state of lawlessness in Balochistan and the spate of target-killings. Anarchy, like an epidemic, often offers a ready excuse to all those who cannot, or do not wish to, deal with crimes of high order or plain reality.
Even if Habib Jalib's killer is caught it will not be easy to convince the Balochistan people that he (or his accomplices) alone can be blamed for the murder. Assassins are often not independent agents. The Baloch people have been driven into a state of living by their impressions. There is good reason to listen carefully to Akhtar Mengal when he includes Habib Jalib's assassination in the list of unsolved murders of Liaquat Ali Khan, Akbar Bugti and Benazir Bhutto and points his finger towards an establishment about which nobody has any illusions. The danger that the angry militants will use the latest events to increase their hold on the population is too obvious to be ignored by anyone.
No, catching a man or two won't do. It will not be possible to persuade the people of Balochistan that Habib Jalib's assassination can be seen in isolation from the killing of many nationalist politicians, the enforced disappearance of a large number of young persons, the denial of the people's right to be the masters in their land and to the control of their natural resources.
Thus, while the so called law and order agencies may do what they must to secure the ends of justice, Islamabad should realise the dangers of allowing Balochistan's alienation to continue any further. The situation there can no longer be managed through half-hearted promises and long-gestation packages, especially in view of the fact that the region is becoming a hotbed of international intrigue. Whatever is necessary to stop the bleeding of the Baloch must be done and sooner than it takes to make such a statement.
It is time the Baloch were enabled to learn through practical experience that they are free to live in their land as they want to. Once this happens Islamabad might find in the Baloch a friend such as it does not have anywhere else.
The steps that need to be taken to start the process of winning the Balochistan people's trust have been identified many times over. These are: an end to military's dominance in all Balochistan affairs, recovery of the involuntarily disappeared persons, restoration of Balochistan's control over its lands and other resources, and fresh elections to undo the harm caused in 2008. Nothing short of this will bring peace and order to the ravaged land of the Baloch. One can only hope that even this may not be too little, too late.
By Sanaullah Baloch
Despite the tall claims, in last six decades, no Pakistani government has ceased its policy of exploitation, extermination and elimination of Baloch people.
The cold-blooded murder of Habib Jalib Baloch, the sectary general of Balochistan National Party, including recent target killing of Maula Bakhsh Dashti in Turbat, Nawab Akbar Khan Bugti in August 2006, Mir Balaach Marri in November 2007, Zahid Baloch in 2008, brutal daylight abductions and killing of three senior Baloch leaders in April 2009 and assassination attempt on prominent Baloch intellectual Jan Mohammad Dashti in February 2009 are a fraction of systematic and slow-motion "genocide" in Balochistan, a process that has been taking place since 1948.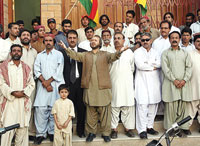 Habib Jalib, a former Chairman of Baloch Student Organisation (BSO) was a committed fellow. He was not just a Baloch nationalist, but a human rights defender, intellectual, author, Supreme Court lawyer, ex-parliamentarian and an active political campaigner.
With the inclusion of Ghulam Mohammad Baloch's cold-blooded execution-style murder in April 2009, the total count of assassinations of former BSO chairmen comes to three in a short period of 16 months, all under a so-called democratically-elected government.
There cannot be a greater loss to the Baloch nationalist movement than the cold-blooded murder of ideological, educated and rational leaders. Jalib was a highly educated leader of the Baloch movement who had a clear sense of Baloch nationalism. Along with Ghulam Mohammad Baloch and Maula Baksh Dashti, he also belonged to a middle-class family. He was purely a self-made man who was widely respected in the BNP cadre as well as in other political parties. The killing of Dashti and now that of Jalib proves that NP and BNP face a common threat which needs to be fought with unity.
The People of Balochistan are going through a very painful period of their history. The Baloch history is full of violent conflicts. They had a long struggle against British colonialism, conflict with Afghans, Iran and encroachers, but they did not experience such a brutal and inhuman repression by any regime and state that they are experiencing in the beginning of the new millennium by the hands of "rulers" in Islamabad.
The century-long conflict with British started after killing of Khan of Kalat Mir Mehrab Khan in November 1839 and continued till 1947. During the colonial era not a single case of enforced disappearances was reported and neither was there a humiliating case of killing a Baloch elder or political activist. They jailed, punished and even executed several "rebels" but in a very lawful and respectable manner.
But unfortunately, the state of Pakistan and its security apparatus have been employing brute methods to silence the people of Balochistan's voice for freedom, self-determination and equality.
A fresh episode of Baloch-Islamabad conflict intensified in March 2005. The world watched incredulously as Pervez Musharraf declared an all-out war on Balochistan -- on Dera Bugti, Kohlu, Makran, Jalawan and particularly Nawab Bugti. Tanks rolled into Dera Bugti and other parts of Balochistan in January 2005, forces began to smash Bugti's house and Dera Bugti town, killing dozens of civilians and leaving him besieged in a few rooms without electricity and water.
Then Musharraf came up with a more inhuman plan to use all available air and ground power to eliminate Nawab Bugti. His associates planned a so-called visit to the remote town of Kohlu, bordering Dera Bugti district, to find an excuse to escalate the military operation against the Baloch people and their leaders.
In order to silence political dissidents, he introduced the practice of enforced disappearances, abducting family members, relatives and even female members of top political activists to divert their attention and compelled them to remain quiet during operation in the province.
Islamabad could not get away with strong perception and fact that prevails in Balochistan regarding the discriminatory and abusive role of military and para-military forces in prolong political conflict. There is a common understanding and opinion that certain security agencies and their death squads are involve in assassinating high-profile Baloch leaders.
While in the Musharraf era, focus of establishment was to eliminate patriots from the Baloch tribal elite such as Nawab Akbar Khan Bugti and Mir Balaach Marri; the current strategy has shifted to the destruction of the middle strata leadership to weaken the grassroots connections and Baloch intelligentsia.
The impact of Islamabad's harsh and inhuman policies has been particularly severe in the province. The current and long-term consequences of this practice pose a serious detriment to the living conditions of the Baloch people, including efforts for sustainable development, and to any prospects for peace in the region.
The writer is a Baloch leader and former senator. balochbnp@gmail.com
His pupil's voice
Artists from Sindh acknowledge their teacher Ustad Fatah's role in guiding them as aspiring artists in a recent show at VM Gallery
By Quddus Mirza
A life-like figure of lord Krishna stood in the middle of the room, holding a flute in his hand. Executed in fibreglass, with the colour of dried clay, the sculpture appeared so realistic that one could not but believe in the power of image (if not in the power of mythological god!). The piece was by Fakeero, one of the artists included in the group show 'In the Milieu of Fatah Halepoto' held from July 1-15, 2010, at the VM Gallery Karachi.
The incredible level of skill was impressive as was the anatomy, the posture and the rendering of details, especially in the jewellery and the crown. More than that, the presence of this piece invoked awe about the maker's command over pictorial representation. It also led to the question about the nature and definition of art -- because statues like this are prepared and purchased (although not at such a high price like the piece at VM Gallery) by local Hindus for their temples.
In fact, there is not much difference between the statues made for temples and the sculpture created as art for viewing in an art exhibition. This contradiction probably does not disturb the artist -- a Hindu himself -- who fabricates these forms for a purpose that is beyond this division -- between art and utilitarian images. It is only when his work is being transported out of its usual space and is put into another context that this debate about the different uses of art is stirred -- without providing a sufficient or satisfactory answer.
In a strange way, both Fakeero and his teacher Ustad Fatah Halepoto are not concerned about the issue. Halepoto has been practising art in his city, Hyderabad, and has taught drawing for decades. The exhibition was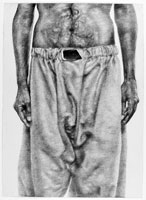 an attempt to recognise his contribution. Ahmed Ali Manganhar, Ayesha Jatoi, Arif Hussain Khokhar, Fakeero, Imran Channa, Mohammad Ali Talpur and Nizam Dahiri -- all (except Ayesha Jatoi) former pupils of Halepoto -- have now turned into significant artists of the country. They wanted to express their respect and wished to acknowledge their teacher/mentor's role in guiding them as aspiring artists: a commendable but rare occurrence in art, indeed. Students often tend to forget the role of their teachers in formulating their ideas and art practices after becoming successful artists (there are a few exceptions to this rule; Rashid Rana, for example, always mentions the significance of his late teacher Zahoor ul Akhlaq's work in his art).
The exhibition illustrates as well as compares the art of reality and the reality of art. Fakeero, the only pupil of Halepoto who did not study in an art school, reflects the master's views and preferences of art. Like a diligent and brilliant follower, Fakeero has continued making naturalistic work, both in round and on flat surfaces. His pencil drawings depict the artist's ability to capture the difficult visual phenomena. Droplets on glass sheets, textures in mud walls and views of rural Sindh are rendered in a sensitive and convincing manner. This tendency of portraying faithfully the visual world (learnt from the master) is visible in the work of other participants too, even though each deviates from simple and direct representation of reality. One felt that each artist aims for a complexity of ideas and themes in a variety of mediums and scales.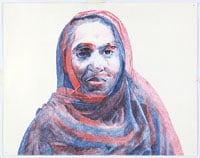 One found fleeting images of some unidentifiable objects/entities in a series of works (titled Memories) of Channa, next to split objects made by Dahiri. These drawings, of one image rendered in three or two colours, which do not fit on top of each other, depict ordinary items, such as bottle, a pair of scissors, cigarette in an ashtray, match box and figures of a girl, mother and child, and the artist's self portrait. The simple device, of displacing different layers, adds another meaning, related to optical illusion in these works. Similarly Talpur's large and small works also deal with the act of perception and how that is punctured with the help of a web of vertical, horizontal and diagonal lines. Manganhar (like Jatoi's print) has focused on nostalgia and the way it is transmitted and transformed into ideas about identity of a nation and region. His work, in acyclic, pastel and video animation, explores pictures from history in order to convert these into contemporary statements/interpretations of the past and places. Khokhar too expounds upon the idea of identity, both of gender and cultures, through his sensitively-rendered comparison of shalwars with leather belts and knots of traditional decorative strings.
Despite the differences in materials and subjects, one realised a unifying aspect in the works of these students of Halepoto: the element of drawing. The act of denoting world through lines and marks of pencil, a basic training of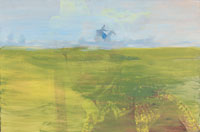 art, has been extended in the work of these artists, revealing the strong presence (but not the influence) of Fatah Halepoto.
Intriguingly, the exhibition -- which was homage to the master -- did not have any works by him. Except for the examples of book jackets that he has designed (printed in the catalogue), not many have seen his work. The absence may have mattered to some, but actually his creations in the form of his students were on display. Just like Maharaj Kathak who once remarked that it was he who danced in the form of his students. Similarly, it was Ustad Fatah who displayed his work at the exhibition in the form of Ahmed Ali, Mohammad Ali, Arif, Imran, Nizam and Fakeero!
What makes Silent Voices, a documentary on the state of home-based women workers, watchable and credible? Its simplicity. Period
By Usman Ghafoor
It's not the first time that the plight of home-based women workers of Pakistan has been documented. Silent Voices, therefore, has the unavoidable disadvantage of being pre-judged as a film that will have little new to offer in terms of presentation. A lay audience is already expecting a show of 'gonzo journalism', involving some superficial, reportage-style accounts of the exploited and the exploiter(s). For the more enlightened, anything government-or NGO-financed reeks of a strong slant anyway.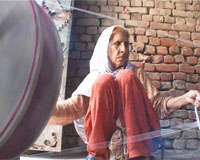 So, what is it that makes this film project of Sungi, a leading rights-based non-government organisation, watchable and -- more importantly -- credible? Its simplicity. Period. A Films D'Art production, directed by former Chevening scholar (in Human Rights) Aisha Gazdar, Silent Voices makes no pretentious claims about showing a never-before-seen side of life. And, it is not obliged to run high on emotional quotient either. It simply captures the lower-middle-class women from suburban Punjab and interior Sindh, on their usual workday, without much glorification or moral judgement. Here, a dupatta-clad, barefoot Zareena Bibi is pasting stones on shoe straps "for Rs 15 per 12 pairs" and an old, grey-haired Sughra Bibi is spinning the wheel "for Rs 7 per kilo" while also complaining about the middle-man's exploitation. In the industrial city of Faisalabad, young girls are shown working on handloom machines in their homes, risking injury and lung disease as they are constantly exposed to fibre-filled air. Together with their mother and a sister who does the sorting, these four women barely make Rs 300 a day -- a low-wage indeed, considering the amount of work they put in and the hazards involved. But, "we cannot afford to stop working, so we accept whatever money we are offered," says the middle-aged Zebunissa who has been working ever since she got married.
In Lahore's densely populated neighbourhood, young Saima and her mother are commissioned to prepare kids' shirts -- through cutting, stitching, ironing and packing -- for a meagre Rs 200 a dozen. Saima also shares a secret, "My heart is not in this kind of work. I always wanted to study, but I couldn't. Our financial situation does not allow me to fulfil my desire." In Hyderabad's Choori Parra, young girls between ages 12 and 18 paint and decorate the bangles to be sold throughout the country. The bangles are neatly divided into units called 'Toras', each Tora carrying about 300 bangles. The remuneration: Rs 2 per Tora! Gujranwala's Zainab, a young woman, is engaged in intricate embroidery and other needlework. She gets a mere Rs 100 a piece. "I begin my workday at 7 in the morning and wind up late in the evening. (There's no lunch break or something). When I wake up the next day, my whole body is aching," she breaks into tears.
There are some 12 million home-based workers in Pakistan. The film poses a pertinent question: will their voices ever be heard? Former MNA Mahnaz Rafi, who makes an appearance in the film, speaks of the exploitation of these hard working women in a larger context, "No one takes notice of the fact that these women make products most of which are exported. That means they [the women] have a very important role in our GDP. But their role is not recognised."
The documentary then glances through the part the civil society and the labour activists are playing in highlighting the issues of home-based women workers. Finally, the camera cuts to women in Hazara villages who have been able to organise themselves, with the help of Sungi Development Foundation, and now bargain collectively and fix the value of their work themselves. This has brought a marked change in their lives.
Shot on the modest DV Cam format, Silent Waters nonetheless makes an impactful viewing, what with its interesting camera work and straightforward narration, credit for which is due to DOP Mehr Elahi and, of course, Aisha whose earlier projects include the KaraFilm award-winning docu-drama Roz-e- Qaza: Hibakusha Ki Aapbeeti (2003), based on the true story of an atomic bomb survivor who had visited Pakistan and India after both countries tested their nuclear devices in 1998.
The Indian partition saw Dhaka as a city housing filmmaking facilities
By Sarwat Ali
After the creation of Pakistan, Decca (Dhaka) too emerged as a city which housed the facility to make films. Many films in Urdu and Bengali were made in the period when it was still East Pakistan till 1971.
When the films started being made in the subcontinent, the two centres that emerged were Bombay and Calcutta while a number of regional centres too developed including Lahore and Madras. But, due to the dominance of Bombay and Calcutta, most of the talent from all parts of the subcontinent was drawn towards these two centres, which impoverished the local and regional centres.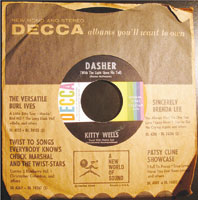 With the creation of Pakistan this one-way traffic of human talent was disrupted and the local centre -- like Lahore -- was really given a fillip and it soon started to attract talent and also material resources. The local industry was given a head start with the release of films like Teri Yaad and Hichkolay in 1948 and 1949.
Dhaka was never considered to be a centre of filmmaking and all its talent too was absorbed by Calcutta. Looking at many of the top actors, musicians and technicians who blossomed there, it was clear that many of them hailed from areas that subsequently became East Pakistan but their talent was honed and displayed in the films being made in Bengali and Urdu/Hindi at Calcutta. It was only in the late 1950s that films passed censor certification from the newly created centre of Dhaka and probably the first film released Akash Amrati was in Bengali followed by Matir Pahar and Ae Desh Tomar Amar.
The first Urdu film to have been made in East Pakistan was the famous Jago Huwa Savera by A. J Kardar with creative input by Faiz Ahmed Faiz. Nauman Taseer produced it. The second film, which remained incomplete too by the same team Door Hai Sukh Ka Gaon, could obviously not be released. In Jago Huwa Savera, Timir Baran who had composed music for the famous K.L Saigol's Devdas in 1930s composed the music. Timir Baran was also a very good sarod player and then he was almost considered at par with ustads like Hafiz Ali Khan and Alauddin Khan.
The next film made in Dhaka, Hamsafar, directed by Shaukat Hashmi was released in 1960 and the cast included Yasmeen, Aslam Parvez, Nighat Sultana, Asad Jaffery and Nazar. Music was composed by Muslehuddin while the songs were written by Tanveer Naqvi. These songs were recorded in Lahore and Calcutta because the technological facilities were inadequate in Dhaka. The song Is Jahan Main Kash Koi Dil Lagae Na sung by Salim Raza was recorded in Lahore while another very popular song Raat Suhani Hai Bhega Bhega Chand Hai was recorded in the voice of Hemant Kumar in Calcutta. The two other geets written by Shair Siddiqui also recorded in Calcutta where Anjum Taseer, son of producer Nauman Taseer who now divides his time between Dubai and London running his business, agreed to foot the bill of making the copies and thus the film was screened again in Paris after about four decades. He now has visited Pakistan with the film and hopes to see greater film ties between the countries of the region. Sung by Sindya Mukherjee -- Sawarya Re Sawarya Re and Akhiyan Chalke Mera Dil Dharke.
The first Urdu film that made Dhaka as a centre of Urdu films was Ehtesham's Chanda. Ehtesham, a film distributor who also owned a cinema, had his finger on the pulse of the industry and being familiar with the circuit and the industry in the western wing released an Urdu film made in Dhaka. The film did well at the box office of both the wings and, since he was also the producer of the film, Ehtesham was encouraged by the success of his maiden venture. The film had songs by Saroor Barabankvi, music by Robin Gosh and the songs were sung by Firdosi Begum.
Ehtesham was encouraged to make Chakori introducing Nadeem and Shabana, which broke all records at the box-office and then went on to make Daag and Chand Aur Chandni. In the latter Karim Shahabuddin composed the music. Zaheer Rehan made the first colour film Sangam in Dhaka. After this success others were motivated to make films in Urdu at Dhaka. Talaash with Shabnam, Rehman and Subhaash Datta, Chote Sahib with Nadeem and Shabana. Paise, Mala, Sagar, Dak Bangla, Kuli and Payal were subsequently made there.
Qazi Zaheer also made films like Bandhan, Meena, Meharbaan and Bayya famous for its qawwali Madina Waley Se Mera Salam Keh Deena written by Shair Siddiqui and sung by Ahmed Rushdi.
Rehman made Milan with music by Ataur Rehman and he then made Darshan and its music by B.A Deep (Bashir Ahmed) became very popular. In his next film Kangan he introduced Sangeeta and then made Chalo Maan Gaey.
Attaur Rehman also made films like Nawab Sirajuddaula and Soe Nadya Jage Paani. Saroor Barabankwi also directed films like Akhari Station, Tum Merey Ho and Aasha. Nazarul Islam also started his career from Dhaka and made Kajal but his real talent was to bloom in Lahore subsequently.
Famous composers belonged to East Pakistan and they composed very good music like Robin Gosh, Kareem Shahabuddin, Attaur Rehman, Subal Das, Ali Hussain and Bashir Ahmed. Subal Das composed music for Kajal, Indhan, Preet Na Jane Reet, Saat Rung, Pyasa and Jalte Suraj while Ali Hussain composed music for Chote Sahib.
Calcutta after the rise of Bombay had become a place where only realistic Bengali films were made and some of the greatest directors like Satyajeet Ray and Miral Sen worked there. In Dhaka too many of the films made were realistic and contributed hugely in balancing the glitz and glamour of mainstream Lahore industry. One wonders what happened to film industry in Dhaka and whether any films in Urdu were ever made after 1971.
Dear All,
Even though I am not much of a football aficionado, I have to admit that towards the final rounds of the recent soccer world cup I got quite involved in the whole tournament. Even though technically I should have been supporting the English team, I found this very difficult primarily because the players are all not quite good-looking. Oh, and also because they play quite a dull game.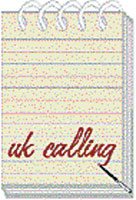 So since I spent about four years of my youth living in Argentina and I love the way that the South Americans play, I was supporting Argentina in particular, and the South Americans in general.
I do admit that the finer points of the sport are beyond my comprehension (or interest) but what I -- and so many others around the globe -- really enjoy is the spectacle of the whole event: the ambience, the excitement, the colour, the expressions of the players, the tension in the air.... And of course the expressions of each team's coach as they watched nervously from the sidelines; I mean what with their clenched muscles, grim faces and periodic outbursts you could practically sense their blood pressure rising to worryingly hypertensive levels. Argentina's coach Diego Maradona provided endless entertainment whenever his team was on the field. His reactions made for great television exuberant and outrageously expressive, yelling, leaping, hugging, kissing, sulking. He was a mini soap opera for us to enjoy.
Alas, once the two South American giants, Brazil and Argentina, got knocked out, I had to resort to supporting Uruguay and Paraguay, and then Spain.
What really annoyed me was that the Dutch team made it to the final even though they played such a vicious and thuggish game. Seeing their brutal collisions and histrionics reminded me of the days of my youth when we'd see very strong, burly Dutch hockey players behaving in the same manner against the rather fragile Pakistani team, concentrating less on hockey and more on physical collision and nastiness... Anyhow, thank God Spain won. Those Dutch played really rough, and made the atmosphere of that final extremely unpleasant.
The other thing I love about these big tournaments is the national representation, the pomp and ceremony as each country's flags are waved and national anthems played. I love the teams who actually sing the words to their national anthems. For some reason I find this rather moving. And apart from the history of the game and the tournament you also begin to think about history in general: I mean there they were battling it out -- the Spanish and the Dutch -- the European nations who had once dominated the seas and colonised half the world, small countries who were once world powers with economic and cultural influence way out of proportion to their geographical size and strength.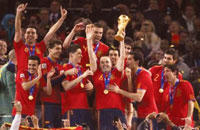 Countries historically on opposite sides of the Catholic-Protestant divide, nations who shaped world history so dramatically and whose national character is perhaps something we should all reflect on.
At the end of the day, South Africa did a great job in hosting the tournament. But as some British journalists pointed out, the media coverage of this achievement was a trifle patronising, like a collective and rather condescending pat on the head....
And of course a major reason the tournament was so enjoyable was because so many of the players are so gorgeous. I know it is not politically correct to say something like this but aesthetic appreciation of these chaps was an enjoyable part of the whole experience: Kaka the cutie, Messi's hair bouncing as he ran, the ancient-Greek-warrior looks of Uruguay's Diego Forlan, the athletic exuberance of Miroslav Klose's flip after scoring for Germany, David Villa looking frightfully dishy despite the weird mini triangle beard, Iker Castilla's lovely chiselled face as he saved Spain time and time again.... Yes, I know it is non-PC and quite sexist, but you know, aesthetics are an important part of life too!
And the whole thing was cathartic -- tension, excitement, tears. Operatic and wonderful and just a whole lot easier to follow than an event like the Olympics. The cup was a reminder that these tournaments are not just a waste of money or an indulgence -- they bring the world together for a time, they showcase national spirit and character, they encourage excellence and change economies.
And they bring us beauty....
Best wishes,
Umber Khairi