Le Monde made first appearance on the scene during the last days of the second World War -- when many French newspapers lost their prestige because of their tilt towards the occupying Nazi forces. General de Gaulle had played a role in arranging the publication of Le Monde and had wanted it to be an independent voice of his country. Soon it also won over the support of the French intellectuals and writers, including Jean Paul Sartre, who were upholding the banner of resistance. The newspaper has been universally acknowledged as France's paper of repute since those long-past 1940s. It is valued by those who are more interested in French literature, culture and arts than politics.
In love with
Baba Fareed, again
This selection, though short, is fully representative of all colours of the great poet's works
By Nadir Ali
Khawaja Ghulam Fareed
(English translation and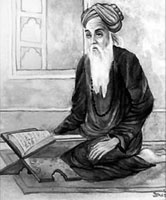 commentary on selected kaafis)
Author: Muzaffar Ghaffar
Publisher: Ferozsons Limited
Pages: 390
Price: Rs. 1095
In the landmark series on classical Punjabi poetry, more than a dozen volumes have been published -- varying from four on Heer Damodhar to this single volume on Khawaja Fareed, and five on Heer Waris to follow shortly.
Khawaja Fareed, along with Mian Mohammed Bakhsh, is the last of Punjabi all time greats. Though some people insist on limiting him, expropriating him for the Seraiki people, his language is what the majority of the people of Punjab speak -- which is another version of what we call Punjabi.
Most of us were first introduced to Khawaja Fareed through great singers like Zahida Parveen and Pathaney Khan, among dozens of others. I have had the honour of reading him along with Muzaffar at Najm Hosain Syed's sangat (group reading).

Najm Sahib himself will be counted among the all time greats of Punjabi. A major part of Najm's 32 volumes of prose and poetry is in Seraiki. His venerable wife Samina Hosain Syed also masterfully sang Khawaja Fareed, during Muzaffar's lectures at NCA and LUMS. Her recording will also be distributed separately with Muzzaffar's volume.
Muzaffar has selected only 20 of the 300 odd kaafis that appear in most popular selections like those by Sharif Sabir, Dr. Faqir and Prof. Asaf Khan.
Although Khawaja Fareed is following the same tradition that stretches over seven centuries from Baba Fareed Ganj Shakar to Khawaja Fareed, he along with Mian Mohammad Bakhsh are somewhat different from the tradition of Baba Fareed, Baba Nanak, Shah Hussain, Damodhar, Sultan Bahu, Bulleh Shah, Waris Shah and Sachal Sarmast. Khawaja Sahib was a working pir, whose routine was like a member of parliament of our times: dealing with dozens of supplicants everyday, not all of whom were seeking spiritual guidance. He was a very spiritual person but had an upbringing of royalty and was economically well off.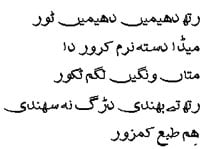 Muzaffar calls Khawaja Fareed's poetry "sufi" and "romantic". I do not subscribe to either of these categorisations. I would say his poetry, with individual features, is as much or as little a 'sufistic' classic as any Punjabi great. They are neither religious nor 'sufistic'.
Khawaja Fareed very uncomfortably tries to play the pir occasionally. There are two clear divisions of his poetry: one, in which he is visibly alienated and agonised, and the other in which he is full of 'joie de vivre'. He is grim when in the seat of a pir, whether dealing with problems that beset the corrupt and confused upper class or dealing with problems that can be broadly called religious or spiritual. The second category is when Khawaja Sahib is one with the common people and with nature in the desert. These poems are full of joy and celebrate love, life and nature. Those who are lucky enough to have this volume or those who will read it in future will find kaafi number 1, 3, 9, 7, 10, 11, 12, 13, 16, 18, 19, 20 extremely grim, while 2, 5, 6, 7, 8, 15, 17 are full of joy. Kaafi number 4 deals with the religious code of life that Khawaja Fareed believed and preached.
Some time ago, some progressive friends thought if such compositions could be called poetic or a major function of poetry. Let me deal with this first and show how Muzaffar has interpreted it:
"Perceive, apprehend, there is no other comprehend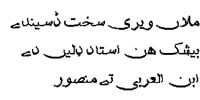 All appearance is Manifestation Absolute
Be sure it is true don't lead astray
Facing the kaaba, temple, gurdwara all one way
Mosque and temple, one Light, one Absolute"
And another aspect:
"Their intense enemies, the
Mullahs appear
Without doubt they rule to them
our hearts veer
Ibn al Arabi, Mansur we salute
Perceive, apprehend there is no
other we comprehend
All appearance Manifestation
Absolute!"
According to Fareed, Ibn al Arabi and Mansur rule peoples' hearts. This is not the world in which Fareed actually lived. His was a colonised world of railroads and other overwhelming forces of the new imperial power ruling over the Punjab. His pir khana, his abode, was full of feudal lords and toadies of the new Raj. This was ideologically a world far off from the world of Ibn al Arabi and Mansur. Did this alienate Fareed?
I do not subscribe to the term "Sufism". Nobody can explain what they really mean by this term. If we go by the 'Complete Idiots' Guide', Sufism means "those who wore thick/rough woolen garments" (suf).
It thus became an exclusive, somewhat obscurantist group that communicated in 'mystic" codes and symbols. The study is an effort to solve these "sufi" riddles; a grown-up game of kiss and tell.
Sufism is the name given by Muzaffar to this entire series of remarkable and many splendoured gems. For those like me, who were only semi-literate in English and illiterate in Punjabi or even Persian and Arabic sources, Muzaffar is a guide par excellence. His selection, though short, is fully representative of all colours of Khawaja Fareed's poetry. Pouring over these kaafis and Muzaffar's elucidation and open-ended explanations has made me fall in love with Khawaja Fareed again!
I consider Khwaja Sahib's poetry of nature his essential element -- where he has no peer. Borrowing from folk does not make it light. These are songs that in Punjabi poetry remain the last great gift from the heavens, speaking figuratively.
"Like soft first light the carriage
go fore
My bangle set's made of weak
glass
Lest tripping, these bracelets may
not endure
Light soft first light the carriage
go fore
On the carriage I sit, jolts can't
bear
Weak am I, to the core!
"First light" is Muzaffar's addition. In the original she says "drive the buggy gentle/slow". It echoes folk, "gari walley gari/dheere hank ray!" of the Punjab and Purab. But it is such a combination of sensual bantering that it is too difficult to convey and translate in another alien language, where even fuoton disappeared a century ago. You saw it in Karachi till mid-century but that is almost home territory to Fareed. Anyway "Rath" is bullock cart and not a fuoton! We rode that in the countryside in Punjab till the mid-century. But the joy and symbolism is forever. The addressee is not the coach man but the lover.
From the one lover we move to the territory of all lovers' land:
"Come friends together a-picking
let's go
Peelon are ripe a-picking let's go
Some are bloodless white, some
green, some yellow
Some brownish, some with a light
blue glow
Some violet, some scarlet red
A black red, some grow dear
Peelon are ripe a-picking lets
go dear"
This, as a Seraiki scholar Abid Amiq told me, was a popular folk song full of broad physical allusions that bordered on pornographic elements. But this turns into a lovers' commune/collective where you find all colours of love.
We should thank Ghaffar for this among the countless other gifts. Only he should not use the term romantic for some of these numbers. Romantic is now used in a derogatory sense only and not for neo-classicism of the Romantic Movement of English poetry. But the reviewer's penny worth of nit picking aside, these are monumental works. Any South Asian Languages Department would be poor without these books in their libraries.
Unveiling society
If you thought the Urdu short story was on the decline, the collection of Shahnaz Shoro might convince you otherwise
By Altaf Hussain Asad
Zaval Dukh
By Shahnaz Shoro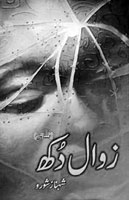 Misaal Publishers, Rahim Center,
Aminpur Bazar,
Faisalabad
Pages 224
Rs 200
Women's plight in rural environs is as deplorable today as it was in the times gone by. Though technology has made great strides, yet women are at the receiving end in our society. So it continues to be a male-dominated society, leaving no breathing space for the hapless women.
The situation is slightly better in urban areas where women are less dependent on men as the high cost of living in the big cities has given women employment opportunities. But who will tell us the stories of women languishing in our rural areas? Reading regional literature would serve the purpose. But one can say that literature is not a completely male-dominated arena; many versatile women stunned readers with their proficiency.
The list of such female writers is long and illustrious. One can add Shahnaz Shoro to the list of highly-talented writers. She is a bold writer whose pen draws characters which are as bitter as real life has become.
'Zaval Dukh' is the latest collection of her stories in which there is plenty of food for thought for all those who want to be acquainted with the plight of the Sindhi woman, since Sindh is the writer's homeland. There is no tendency to ignite unnecessary sensationalism in her stories. She does not camouflage her stories with false standards of morality as she plainly describes the whole story with deadpan seriousness. It is not her responsibility if some of the facts are unpalatable for readers. The moral filth and depravedness of our society is her main theme.
Her story 'Karokari' leaves the reader in relentless pain. In my opinion, Shoro is at her best in this story as she weaves a powerful narrative which is severe commentary on the barbaric norms of rural Sindh. We read about karokari quite often in newspapers but we are not fully aware of how this gory crime is being enacted.
Shahnaz Shoro, a daughter of Sindh, shows us the cruel fate of the countless women that fell prey to untamed lust of males. Murad, the main protagonist of the story, hatches a gruesome plan when his beloved is married to another man. He sacrifices his own sister to falsely implicate his rival, winning huge accolades from the villagers for being a ghairatmand. Here is how a cruel act gets the approval of the whole village as they find it well-entrenched in their rural culture.
'Haveli' is a harrowing tale of how the feudals treat their womenfolk as their chattel. Women are a matter of honour and thus are kept in repressive circumstances. Their marriage is out of question as this will cause the divide of wealth which is not tolerable for any feudal lord. They are simply married to Quran in order to keep them under the veil till their death.
Shahnaz Shoro has no mercy whatsoever for such customs and she tears them to shreds by carefully crafting her stories. She does not preach, but instead strives to portray the bitter realities of society
Now to shift from a rural setting to urban environ. There is very little difference in our collective attitude. 'Log, Lafz aur Anaa' mirrors the moral plight of our so called educated urban class. What we learn from this story is that we love to poke our noses into the affairs of others. Our entire society suffers from this norm. Fozia, the protagonist, exhibits a liberal outlook which is quite intolerable for the custodians of morality. Her husband becomes the victim of taunts by the entire vicinity for allowing his wife too much freedom. The final result is divorce.
'Zaval Dukh' is the second collection of Shahnaz Shoro's stories. Her deep study of western literature has helped broaden her outlook. She does not only tell plain tales; there are stories in which she uses heavy metaphorical prose as well. She is perhaps the most honest contemporary female Sindhi author. If you think that the Urdu short story genre is on the decline, the stories of Shahnaz Shoro might convince you otherwise.
By Kazy Javed
The future of Le Monde
Le Monde made first appearance on the scene during the last days of the second World War -- when many French newspapers lost their prestige because of their tilt towards the occupying Nazi forces. General de Gaulle had played a role in arranging the publication of Le Monde and had wanted it to be an independent voice of his country. Soon it also won over the support of the French intellectuals and writers, including Jean Paul Sartre, who were upholding the banner of resistance. The newspaper has been universally acknowledged as France's paper of repute since those long-past 1940s. It is valued by those who are more interested in French literature, culture and arts than politics.
Le Monde has not been doing financially well for many years and has reached the brink of bankruptcy. This state of affairs may make the Le Monde journalists to accept an offer made by a trio of tycoons for a take over. The tycoons, a newspaper report says, have promised 100 million euros to repay the paper's debit.
These euros may pull Le Monde from the brink of financial disaster but many people look at the deal as the 'swansong for the journalists' independence in France'.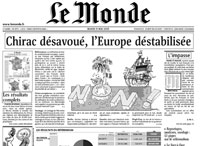 Literary
journals
The latest issue of the Sindhi Adabi Board's quarterly 'Mehran' has seen light of the day. The journal is edited by Tariq Aalam Abro and is published from Jamshoro in Sindhi language. The 35-page section on poetry introduces works by some of the noted Sindhi poets like Ahmad Khan Madhosh, Rubina Abro, Afzal Qazi, Ali Mohammad Solangi, Mushtaq Gobal, Arif Mazhar and Niaz Humanyun who passed away four months ago.
Sindhi translations of Gogal's famous short story 'Overcoat' and Krishan Chandar's 'Budnazar' are also included in the issue. Also, Dr. Nabi Bakhsh Khan Baloch's article on Hazrat Nizam ud Din Auliya's visit to Sindh and Dr. Muhammad Ibrahim Sindhi's review of 'Hadiqatul Auliya' are part of its research. Dr. Baloch's article is a fine piece of historical research.
These and other writings notwithstanding, I think that the current edition of 'Mehran' will be long remembered for its section on Ghulam Rabbani Agro who died in January this year. He was a noted intellectual and writer and is usually rated as the first modern Sindhi short story writer. He headed the Sindhi Adabi Board in the 1980 and later on served as the chairman of the Pakistan Academy of Letters. In this section, Shaikh Ayaz, Ghulam Muhammad Lakho, Nisar Ahmad Memon, Amam Rashdi, Gul Muhammad Imrani and Syed Zawar Naqvi have paid rich tribute to him.
Jisarat Khayali brings out the Urdu quarterly 'Naya Qadam International' from the godforsaken far-flung town of Paharpur in Layyah. The June-September 2010 edition of the journal has been devoted to the memory of the well-known Marxist intellectual and poet Khayal Amrohi. It contains some 50 prose and poetic pieces on his literary achievements, his life and his personality. They have been penned, among others, by Dr. Anwar Sadeed, Dr. Mohammad Ali Siddiqi, Dr. Qasim Jalal, Jamshed Sahil, Riaz Rahi, Karamat Bokhari, Manzoor Bhutta, Tanvir Shahid and Muhammad Zai.
Jisarat Khayali has done a good job in compiling and publishing the present issue of 'Naya Qadam'. It will be benefited by all those who are interested in progressive literature.
Going through the current issue of 'Meyar', the biannual academic and research journal of the Urdu department of Islamabad's International Islamic University, one gets the impression that the Urdu department is probably the only active section of the University.
The two dozen articles carried by the issue are remarkable pieces of academic excellence and research. Half of them have been contributed by Dr. Arif Naushahi. In one of his articles he has introduced 'Mathnavi Taufutul Punjab' composed by Hakim Mita of Gujranwala district in 1689 in the reign of Aurangzeb Aalamgir. The Persian language 'Mathnavi' carries verses in praise of scholars, saints, historical buildings and cities of the Punjab.
Two special items carried by the 49th edition of the quarterly 'Irtiqa' are a 90-page section on the noted literary critic Professor Qamar Rais, who died in Delhi recently, and Mustafa Karim's novelette 'Shadi ka Din'. Wajahat Masood has contributed a study of the crisis faced by the nation while Ishfaq Salim Mirza has compiled his memories of Professor Khawaja Masood. Many other articles are also published in the current issue of 'Irtiqa' which is edited by Wahid Bashir, Dr. Muhammad Ali Siddiqi and Dr. Syed Jaffar Ahmad -- and is published from Karachi.