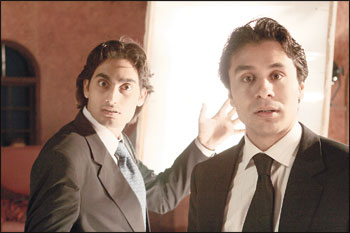 Saad Haroon occasionally organizes open mic night at different venues. On one such night, four years ago, he met Danish Ali. "Our eyes met over candlelight and we shared a cigarette … no, wait, that's a bad joke. Don't print that!" chortles Danish Ali.

Danish Ali's jokes are hardly ever bad though. He opens for Saad Haroon's stand-up act and has the audience in stitches within seconds. He delivers his punch lines with theatrical flair - often in Urdu - reiterates between being inanely funny and cleverly witty and does uncanny, ridiculously amusing imitations. Earlier on, in the TV show The Real News, he was the reporter with the deadpan expression who went berserk over women drivers, questioned actress Meera about the situation in North Korea (!!!) and examined tiny multicolored chicks for signs of Bird Flu. Off-stage, Danish is still goofy, wacky and endearingly likeable.

"I was horrible when I attempted to do stand-up comedy for the first time," he recalls. "I thought I was really funny but, except for one joke, no one laughed during my act. It was terrifying." And yet, Danish persisted on and eventually became the hilarious comedian he is now. "I had no choice," he reasons. "Seinfeld once said that comedians don't just want to be on stage, they have a need for it. Even though it petrifies me, I still love performing and while I support all my fellow-performers, during a show all I want to do is be out there and make people laugh."

Despite his craving for the stage, Danish still occasionally gets nervous. "But the best way to deal with nervousness is to talk to the audience about it," he discloses. "Once when I was feeling unsettled, I told the audience, 'You know, they say when you're nervous you should imagine your audience in their underwear'. Then, I stared down at the crowd and this got a few titters. I said, 'You're lucky I am not nervous' and they laughed some more. Next, I added, 'But I am a pervert' and scrutinized them again and they thought that was really funny. That's how I deal with nervousness. I get the audience on my side."
Danish is 26, married and in fourth year of medical school. Still, he manages to squeeze in time to write and perform comedy. "When I first started out, people told me that I wouldn't be able balance studies and comedy," he says. "I am very stubborn. This only got me determined to prove them wrong." Still, it hasn't been easy. On a regular day, Danish returns home from school in the afternoon and then works on comic scripts until late in the night. "It's tiring but both comedy and medicine are a passion for me. I can't leave either though I may die young attempting to do both at the same time! I often don't get enough sleep and have a body that creaks and groans all the time."

Exhausting though it may be for him, Danish Ali certainly knows how to have the audience rolling in the aisles. His joie de vivre on stage is infectious. Poker-faced, he begins his act and from the very first joke, the audience begins to snigger. He hopes to perform his first solo stand-up act in the summers and judging from his repertoire of work so far, it's bound to be great. While he continues to pursue his medical career, he needn't worry about his path as a comedian at least. Here's hoping we see a lot more of Danish Ali in the future!
Photos by Kohi Marri