Catching up with Zeb and Haniya is a rather taxing effort. Two very unassuming young women, and incredibly humble musicians, they prefer to let their work speak for themselves rather than personally take on the task of extolling themselves to the media. As interesting, engaging and forthright as they are in a personal rendezvous, speaking frankly on a wide spectrum of subjects from graduate schools, family, politics, society and music, the slight appearance of a much contemptible dicataphone or recorder is enough to render them instantly quiet.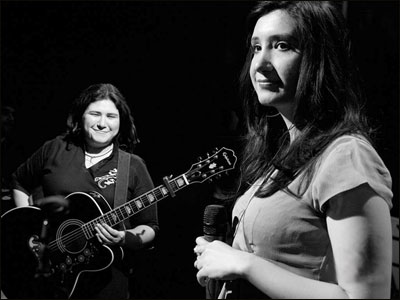 It's a Jekyll and Hyde situation but not that grave. A side that friends, family and acquaintances know. And quite another that the media knows. The former hold profound absorbing conversations that can enrapture you; the latter are so laconic and reserved, one is at a loss on how to relate to them. It can be frustrating and rather futile exercise as a reporter to extort their true sentiments on a topic, but yet one cannot help but feel a great deal of respect for these two young women whose maturity and reverence for the work they do shines through that defiance to speak. They understand the nature of the business they are in, their position as women paving way for other women, and very careful of the way they would and are portrayed in the media. The fact that they are always wearing the simplest of ensembles, and yet stand out, in an industry steeped in glitz and glamour, and where women have always been sex symbols, is a strong statement of who they are and who they want to be seen as. Instep manages the monumental task of getting Pakistan's finest female musicians to counter 'Chup'!
Instep: After Hadiqa Kiyani, you're the only female musicians to take over (and following suit are several more). How's it like being women in a very male dominated industry?

Zeb and Haniya: It's been great. We have been supported and encouraged every step of the way by musicians and audiences alike.
Instep: How much has it hurt you, as an upcoming act in the previous year, to have had no concert?

ZnH: We have had quite a few concerts in the past year. We have also gotten business from projects other than live shows. Last year has been a very productive and exciting year for us.

Instep: How's the Coke Studio experience been? Will you be part of the upcoming season?

ZnH: It was wonderful, from beginning to end. And it continues to be wonderful, since every day we are bombarded with positive feedback still discovering our Coke Studio songs over the internet. The concept of the show, the execution and the supporting promotional campaign were groundbreaking, and proved to the industry that projects where everyone involved can benefit are not only possible, but also the most successful. Coke Studio has done such a great service for the Pakistan music industry. It has put us on the map. The internet was used very effectively, and people from all over the world have discovered Pakistani music and artists. When we went to India, we were recognised and approached by fans who had discovered us through Coke Studio. Imagine that! Hats off to Rohail and Umber for doing such a great job.

Instep: Copyrights have been a rather contentious issue vis-à-vis music. What's your take on the issue?

ZnH: The copyright issue is one of most important yet overlooked issue amongst musicians in Pakistan. Everyone may not be aware of the fact that in recent years, the Pakistani government has taken a lot of steps to protect intellectual copyrights. We have researched this issue at length since our album release, and in the process have learnt a great deal and met with some real advocates of artists' rights. The Intellectual Property Organisation (IPO) office is doing a lot of work in this regard. They have copyright registeration forms available on the internet, and for a nominal fee authors and creators can now easily register their works. Also, Pakistan is now a signatory of the Berns Convention, which protects intellectual rights of artists globally. This means that by registering our work in Pakistan, our rights are protected the world over. Now we can easily trade our work in the global music industry.

Another issue that artists must be aware of is that according to the IPO regulations, no third party can register copyrights on behalf of the artist (creator) unless an official NOC is issued by that artist. We are big proponents of artists registering their works as soon as they're created, regardless of what deals they may be offered.
Instep: How has the deal with Fire Records fared for you?

ZnH:It was a great learning process.
Instep: Ali Azmat and Mekaal Hasan, two of your good friends, have opted a very different route vis-à-vis releases. Why didn't you take their route?

ZnH: We were not aware of this option at that time. Mekaal and Ali are both very savvy. They are senior artists in the industry and as such provide guidance for the rest of us.
Instep:What's your media strategy?

ZnH:We're more concerned with developing our skills as musicians at the moment. As long as one has work that one can comfortably talk about with the media, things just fall into place.
Instep:At a time when concerts are a relic of the past, videos become all the more important but we haven't seen any videos lately? Why not?

ZnH:Videos cost a lot of money to make. With the success of Coke Studio, we essentially had four singles released last summer, apart from our debut video on TV. Since the primary purpose of a video is to introduce singles to audiences, we felt that need was already taken care of.
Instep: There were rumours about you and Shafqat Amanat doing a song? True?

ZnH: Hopefully! We are hoping to collaborate with Shafqat sahib for Shaan's upcoming film. It's very exciting, let's see what happens.
Instep: How's it been working with Mekaal Hasan?

ZnH: It's been wonderful. We couldn't have gotten a better start. Being a world class musician, Mekaal is extremely meticulous and has a very evolved sense of music. We learnt, and continue to learn, a great deal about music and the technical aspects of sounds through working in close proximity with him.
Instep: Any updates on your next album? What's going to be its general feel?

ZnH: There are several songs and ideas we're working on these days. We're very close to starting recording, but can't really comment on what it will sound like or what direction it will take.
Instep: Where's the industry heading (with the current situation)? What direction should it take, in your perspective?

ZnH: With the digital revolution, this question remains unanswerable the world over. Nobody can really tell at this point. One thing is for sure, that the need to protect the rights of authors and creators of music is now being recognised globally. Additionally, artists have understood the value of an unmediated link with their fans. It's an exciting time. The old models have failed, and creative new options spearheaded by the artists themselves are emerging.