WHO Ammar Belal & Aaminah Haq
WHAT Fashionable Couple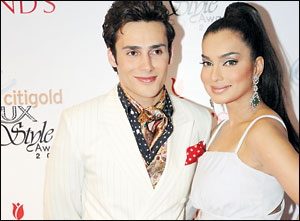 These two stars have been at each other's side since the longest time and eventually tied the knot not too long ago. It doesn't hurt that our pick for the most fashionable couple are both from the fashion industry. What makes Ammar & Aaminah good together is that they play off each other but do not do the matchy-matchy that looked so bad on Gwyneth Paltrow and Brad Pitt. Aaminah has sported many looks from Ammar's collections from time to time but she's still stood out by adding her personal style twists. Ammar remains bold and trendy especially when wearing his own line but keeps the east coast chic look for his days off the red carpet.
Being genuinely happy to be in each other's presence is a very good accessory to have any season.
Fashion Forward Duos
Seal & Heidi Klum walk the red carpet for an awards show looking seamlessly fashionable
Gavin Rossdale & Gwen Stefani spend a night out on the town with perfect accessories to round off their looks
Demi Moore & Ashton Kutcher go glam for an event yet remain age appropriate in their choice of attire
Send Instep your pictures if you think you have a quirky sense of style and be part of Flash!