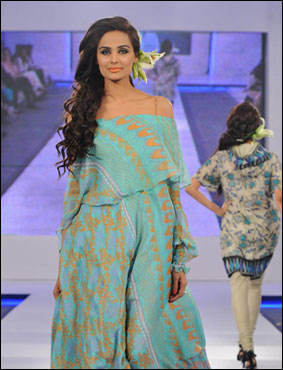 Every year a wave of excitement and palpable tension is felt. On the cusp of the spring season it brings euphoria for many fashion starved women. Women love to shop, that's a fact, but lawn is the one thing that can make graceful women turn into a throng of blood thirsty vampires glistening in the sun but only because they've been waiting hours in the heat for the lawn exhibition doors to open. Elegant and otherwise graceful ladies elbow their way to the counters armed with tens of thousands of rupees worth of merchandise; which isn't a lot taking into account that a complete lawn outfit can cost upwards of 4,000 rupees. This is a Pakistani phenomenon of fashion beyond the frenzy of a Lanvin line for H&M.

The lawn season has caused quite a stir in the country with a myriad of exhibitions held throughout the month. None more so than Gul Ahmed has excited die hard fashion goers and lawn connoisseurs by breaking away from the exhibition tradition. The textile mill giants announced their first ever Gul Ahmed Fashion Awards setting them apart from the mainstay red carpet showcases that have been seen thus far. Adding designers and students, the lawn brand injected innovation to the lawn season extravaganza. Where lawns are a popularity contest; Gul Ahmed managed a corporate event with the right mix of fashion design.

The excitement generated from the event at the DHA Golf Club was more than one could hope from a lawn collection. Gul Ahmed has all the clients they want from their sales at their Ideas outlets. The Gul Ahmed Fashion Award presented an opportunity to bring the future of fashion to the forefront with awards being given to the Best Fashion Designer and Best Accessories Designer from the country's top fashion and art schools. This was an experience of what a major brand could do for the future of fashion design. Students working in tandem to experience firsthand designing for a company and for an event is priceless; even with a 100,000 rupee cash prize to be won. Being judged and guided one on one with industry experts is not an opportunity one gets often. Providing this environment and opportunity is a great first step more so than adding a Bollywood starlet to your lawn campaign. While the Bollywood queens Kareena Kapoor, Deepika Padukone and Sushmita Sen have been used in major marketing campaigns to bring in clients, Gul Ahmed banked on Pakistani designers; The House of Kamiar Rokni, Karma and Ayesha Farooq Hashwani.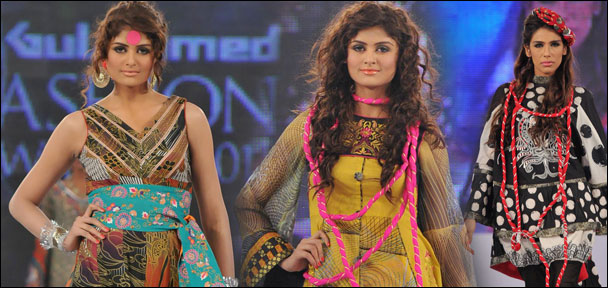 The designers were asked to create a twenty-two piece collection using the Gul Ahmed fabric from their Summer 2011 collection with their own design aesthetic and theme. In addition, the fashion awards provided a platform for thriving fashion students to make their entry into the design world with encouragement from Gul Ahmed and guidance from the judges' panel consisting of Fareshteh Aslam, Nabila, Tariq Amin, Aamna Haider Isani, and Muniba Kamal. Fashion students from Karachi, Lahore and Islamabad submitted their portfolios to win a chance to show on the ramp with Kamiar Rokni, Karma and Ayesha Farooq Hashwani. Art students also received the opportunity to work their magic using Gul Ahmed fabric to make accessories which resulted in innovative uses of the fabric to make everything from headbands to rings.

The Designer Collections
Karma's collection for the evening took a cue from Bollywood '70's style using the silk lawn to accentuate the freedom of the era with inspiration from Zeenat Aman and Sridevi. The contrasting prints in complimentary colors were highlighted with gota and floral truck art motifs. Short flared shirts with churidar pajamas, jumpsuits and ghararas made up most of the collection. Though the collection was less Bollywood-centric since the '70's are now the 'it' trend for all designers to pick up on this season. One would have hoped for more of the sensuality associated with the '70's and with Bollywood's Zeenat Aman and Sridevi.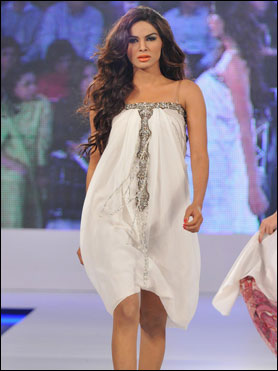 Ayesha Farooq Hashwani's white collection was the designer's usual route to all things fashion. Unfortunately the designer took a beautiful color but made it the safe option to show her designs on, which contributed to neither the brand's fabric nor to Ayesha Farooq Hashwani's ability to work outside of her own safe zone. The collection was said to be 'western cuts with eastern embroidery' but made no show of it. Cocktail dresses with fringe detailing is typical of an AFH creation and showing long shirts with churidar pajamas isn't an east meets west fusion but typical of the fashion of eastern fashion we are seeing everyday. The floaty pieces were embroidered with thread and blingy motifs and didn't add much to the fabric which could have been anyone's for that matter. Gul Ahmed's black and white collection which features every year in their lawn campaign could have been better used and didn't serve the purpose of the evening's theme. Though a dhoti jumpsuit worn by Fauzia was well made, it was one of the many that weren't. A teal creation was also very heavily inspired by Jennifer Lopez's Versace dress though the plunging neckline was mercifully omitted. One expected more from this designer.

All eyes were thirsting for a view of The House of Kamiar Rokni's collection and being the finale it did not disappoint. The Romantics collection used the floral prints that we all adore and infused it with 1930's femininity. The collection was a simple take on the prints and used one print per outfit and so focusing the collection and marrying design to fabric seamlessly. Kamiar Rokni was like a magician whose sleight of hand was the design that created a wave of pleasure and anticipation with each creation. Today women are given add-ons and contrasting prints which have always been a part of lawn but Kamiar showed that less is more and style can not be learned. The stand alone prints with their floral designs proved that sometimes going all out means leaving a little to the imagination. One shouldered gowns and peasant blouses gave way to two piece suits but with a subtle touch. The House of Kamiar Rokni worked with lawn in a way that its movement and draping made it seem as if the designs were made of pure silk. This is the reason why the fashion label has been breaking new ground within fashion and Kamiar is one of Pakistan's most sought after designers in the country and guaranteed to make a name for himself beyond our borders (and Dubai) as well.

The Student Collections
In a short film introduction the students were shown in various stages of working on their creations and spoke about their excitement to be a part of the Gul Ahmed Fashion Awards. The students were given the theme of Fantasy/ Reality and made one outfit each individually. Three students from PIFD, Lahore, AIFD, Karachi and Iqra University, Islamabad were chosen to show at the grand event. Between the designers' collections the fashion students' pieces made their way onto the ramp. It made it a bit difficult for the audience to differentiate between the students and their own pieces as the models came out consecutively representing the respective university. If the students were shown together with their pieces it may have been easier for the audience and the judges to point out the student designer and his/ her own piece. This flaw should be taken into account especially since live judging was taking place at the same time.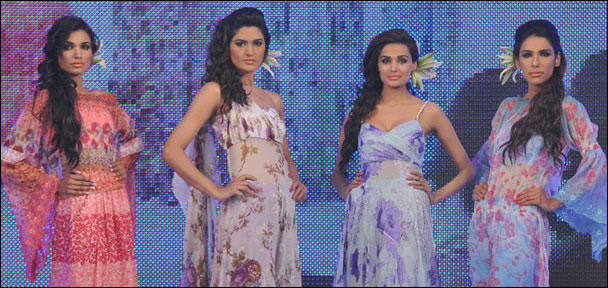 Iqra University, Islamabad by far showed the most wearable and creative pieces and their technical skills really shone since their collection was the most polished out of all the schools. No wonder then that they proved to be the winning school with a collection that showed a strong aesthetic sense and marvelous finishing. Sehr Sadiq of Islamabad's Iqra University won over her peers with her pieces that could well have found their home in any designer retail outlet. An understanding of methods, cuts and construction is what persuaded the judges. The Fantasy/ Reality creations may very well have been made for Gul Ahmed's ready to wear G Woman label.

The unofficial capital of fashion is Karachi but by the display put on by the Islamabad institute, the future is looking bright for the country's capital to take over this title.

At the end of the evening the students were given plaques by the Chairman of Gul Ahmed, Bashir Ali Mohammad for their participation. The award for Best Accessories was awarded to Sidra Asim from NCA for her unique use of fabric to create a range of rings and headbands. While everyone waited for the Best Fashion Designer award the result still had not been tabulated and while everyone was partaking of their dinner the result was announced and while a teary eyed Sehr Sadiq was congratulated her moment of achievement was missed by the audience.

First time mishaps, and one hopes they will not be repeated. If the focus is on taking fashion forward by giving students a platform, then the winner needs to be the star of the show. However, Gul Ahmed did make it a point to capture the moment on camera, if not in front of a cheering audience. Teething problems happen, and hopefully they will be sorted out next year. The buzz was that Gul Ahmed wants to make this an annual event, in which case it would be the first of its kind platform for Pakistan's fashion students.

The Lawn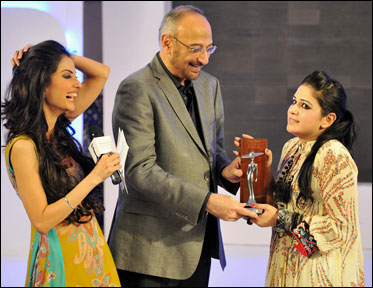 Taking lawn to a new level can be attributed to Gul Ahmed. The brand introduced the lawn catalogue, thick and glossy, with hundreds of pages of new designs and the latest styles to wearing them well. International models, photographers and make up artists in exotic locations make women drool for the designs. While local designers are asked to stitch the suits for the catalogue no mention is made of them; local models and photographers are also seen within the glossy pages. Many lawn brands have followed suit but the coveted catalogue still belongs to this brand. Women can be seen going to their local tailors and asking that their lawn be stitched exactly as it's shown in the catalogue.


With so many wearable pieces shown at the awards and in their catalogue the brand should branch off into a designer retail brand. The House of Kamiar Rokni collection proved that lawn should not be limited to just day wear and, when done right, is glamorous and infinitely easier to wear in the sweltering summer months. The fashion competition winner Sehr Sadiq should also have her designs replicated and sold for their youthful take on a fabric which most young girls feel is too mature for them.

Though mostly a corporate event the limited media was not out of place at the awards. Too many fashion events have become a free for all leaving many individuals miffed and the event itself hap hazard. Most fashion journalists are women and events should limit unnecessary traffic as seen at all the fashion weeks most notably on the finale day. A few unwanted individuals can hamper the exhaustible efforts of putting together a major fashion event. Fortunately the electronic media has been limited to the red carpet but selective media within such events can also benefit all.

Gul Ahmed took it upon themselves to create a noteworthy event in a sea of indistinguishable lawn exhibitions with their Fashion Awards. The feat may not have been small but the need for big brands to give back to students and make a way for them to enter into the world of fashion will encourage and positively influence the profession and industry.
The winners of Gul Ahmed
Fashion Awards
Fashion Competition
Winner- Sehr Sadiq, Iqra University, Islamabad
Runner up- Scerezade Muzamil, PIFD
Accessory Competition
Winner- Sidra Asim, NCA
Runner Up- Ali Yousuf, Indus Valley School of Art and Architecture