review
The saga of a
people's worker
An autobiography of a political party worker who struggled and suffered for a cause and had the courage to pen the tale of humiliation
By Sarwat Ali
Yey Baazi Ishq Ki Baazi Hai
By Farkhanda Bukhari
Publsher: Sang e Meel
Pages: 272
Price: Rs 1200
Insanity and then hope
An immaculate account of partition-related stories and events drawing
on both written and oral evidence
By Adnan Adil
The Punjab Blooded, Partitioned and Cleansed
By Ishtiaq Ahmed
Publisher: Oxford University Press, Pakistan
Pages: 592
Price: Rs 2100
Zia Mohyeddin column
The gismo called 'Remote'
Except for snooker or the odd cricket match featuring Sri Lanka, I do not watch much television these days. The BBC, having been banned from our screens, I no longer have the luxury of listening to news read in an intelligent and unself-conscious manner. Whatever viewing I do is during the search for the channel showing a match between Ronnie O'Sullivan and Stephen Hendry.
review
The saga of a
people's worker
An autobiography of a political party worker who struggled and suffered for a cause and had the courage to pen the tale of humiliation
By Sarwat Ali

Yey Baazi Ishq Ki Baazi Hai
By Farkhanda Bukhari
Publsher: Sang e Meel
Pages: 272
Price: Rs 1200

It may be truistic to say that the path of politics in Pakistan is strewn with iron and blood, but its deadly imminence comes to life when one reads or hears the account of those who actively participate in it. Farkhanda Bukhari's autobiographical account 'Yeh Baazi Ishq Ki Baazi Hai' is a very sad and disturbing book.
The stakes in politics have always been high because the takht can easily tilt inwards to become a takhta. It has traditionally been the preserve of the rich since it can involve repression, imprisonment and even execution. Only people with adequate means have the sustaining power to withstand the ordeal. Many persons from the not so well-off classes have been involved, and with deep sincerity too, with politics.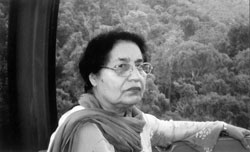 During the freedom struggle, many from the lower and lower middle classes ventured forth and sacrificed everything, even their lives for the cause they believed in. But, in Pakistan, this remained a rarity. Untill the rise of Zulfikar Ali Bhutto's Pakistan People's Party which, espousing the cause of the dispossessed, embraced those hailing from less privileged backgrounds. Those attracted in their simplicity to the cause did not have an easy passage; they had to suffer all the hardships which people hailing from the less privileged backgrounds are most vulnerable to.
For women, it has been doubly difficult for obvious reasons. During the independence struggle very few Muslim women were in the forefront, some indirectly like Bi Amman, Fatima Jinnah, Begum G.A. Khan, but hardly any leading the movement. In Pakistan, the peculiar circumstance of the execution of Zulfikar Ali Bhutto forced Nusrat Bhutto to lead the struggle from the front followed by Benazir Bhutto who in the process had to pay the ultimate price.
It has been a very difficult struggle from top to bottom, no matter what detractors say about it, and some of the unbelievable hardships can be glimpsed from this extremely intense account of one of the most dedicated workers of the Pakistan People's Party.
Realising the imminent travesty of justice in the trial of Zulfikar Ali Bhutto, Farkhana Bukhari became involved in political struggle too. Her resolve was strengthened when she met Nusrat Bhutto and accompanied her to the Gaddafi Stadium where the latter was lathi charged by the police and seriously injured. Zulfikar Ali Bhutto was sentenced and executed which further fired Bukhari's enthusiasm. During this phase she, with some others, was led into believing that the cause of the party was better served by sending emissaries to foreign countries as well. She with others was sent to Turkey and then to Libya where in one of the meetings Colonel Gaddafi also lectured them. On returning to Pakistan she was picked up, humiliated and tortured in the notorious Lahore Fort. Many political workers went missing and it is impossible to tell their whereabouts. In her case, besides the running around by members of the family, petitions were filed in the courts to challenge the validity of such detentions covered by martial law provisions.
During Bukhari's imprisonment, a plane was hijacked and, in exchange for the release of passengers, a certain number of political prisoners were released. Farkhana Bukhari among those released was flown with others to Libya where they stayed for some time and then were taken to Damascus where she also met Murtaza Bhutto. With great difficulty, she managed to go to London, where she was reunited with her family and then stayed on — being granted asylum for the next eight years. In London, she met Benazir Bhutto and her resolve was strengthened yet again to continue with the struggle for the restoration of democracy in Pakistan.
Bukhari came back to Pakistan once the People's Party government was formed in 1988, but it appeared that she was sidelined and not given any important assignment either in the government or in the party. She decided to quit politics and spend the rest of her years picking up the pieces of her life, tending to an ailing and broken husband and the demands of growing children.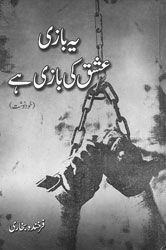 Her husband Shohrat Bukhari was one of the leading poets of Urdu, and when he, and more so his wife, decided to join active politics it was a bit of a shock to his friends. Farkhanda Bukhari was a housewife who was projected as one of the most dangerous prisoners under Ziaul Haq. Though she retains till to date her great admiration and love for the Bhuttos —Zulfikar, Nusrat and Benazir — she is very bitter about how she was led into certain situations without being fully informed of the consequences by her own party leaders. This is a tale of immense sadness, and at times recriminations.
It appears that the People's Party was not equipped for the reprisals and repression unleashed under martial law and many decisions were taken out of reflex, bravado and desperation. In such a situation, very few can think and act straight, and very few in the People's Party did. But those who get caught in this muddle faced the consequences. Farkhanda Bukhari did face the full brunt, and perhaps by writing this account, she has tried to get it all out of her system.
Usually the struggle of the people coming from the upper classes is dismissed by others not from that class. It is thought that money, status and publicity mitigate the heartache and humiliation. But this is not so and only tells a tale of insensitivity about others. This notion of suffering and by women has been described by Benazir Bhutto and also by Fatima Bhutto, and it was the example of women offering their services and lives for political struggle which women like Farkhanda Bukhari found worth emulating.
This is the tale of a party worker who struggled and suffered for a cause and not very many from such backgrounds have the courage to pen the tale of their suffering and humiliation.
Insanity and then hope
An immaculate account of partition-related stories and events drawing
on both written and oral evidence
By Adnan Adil
The Punjab Blooded, Partitioned and Cleansed
By Ishtiaq Ahmed
Publisher: Oxford University Press, Pakistan
Pages: 592
Price: Rs 2100

The partition of the subcontinent, accompanied with mass migration and genocide, has been a recurrent theme for historians and fiction writers. The impact of the tragedy on people's lives and the scars it left are still visible. Punjab and Bengal were the two most affected regions because they were partitioned on religious grounds.
Political scientist Ishtiaq Ahmed, a Lahori based in Sweden and Professor Emeritus at the Stockholm University, has documented a voluminous and immaculate account of such partition-related stories and events, drawing on both written and oral evidence.
The book, titled 'The Punjab Blooded, Partitioned and Cleansed', also digs out some precious data and information regarding demographic and political facts at the time of partition.
Ahmed starts off by explaining the concepts of identity, ethnicity, forced migration, ethnic cleansing and genocide that provide the framework for a historiography that follows.
Ahmed explains these complex phenomena with brevity and clarity that speak of his scholarship and firm grip on the subject. He summarises relevant theories, quotes major examples of ethnic cleansing and genocide from the past and develops a context to understand what happened in the Punjab of 1947. This conceptualisation makes the following narrative in the form of first-person accounts of those who witnessed the history and the secret British papers now made public more meaningful.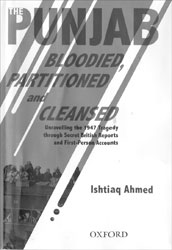 He then dilates on the pre-colonial social structure and dynamics of Punjab where Muslims, Hindus and Sikhs lived in peaceful coexistence for centuries. Although Punjab's society was plural —different religious communities were identifiable— it was also bonded together by strong and common linguistic and cultural traditions. However, the advent of British rule and modernisation sharpened the divisions and created movements of religious revivalism in urban centres and religious identity started becoming stronger among the urban population. A kind of religious nationalism came into existence that gave birth to the politics of the religious divide in Punjab. Ahmed delves into the political context of Punjab's partition — the division of India and the political events leading up to partition.
Following the 1946 elections, the All India Muslim League emerged as the single largest party in Punjab Assembly, but could not form the government owing to an alliance of the Unionist Party, Congress and the Sikhs.
The protracted election campaign (1945-46) had already accentuated the group identities based on religion and media played a pernicious role in fomenting hatred and conflict. The League's agitation against the Khizar ministry ended up in governor' rule in March 1947, further escalating the political tension between Muslims, Sikhs and Hindus and created a sense of insecurity and anxiety about their survival among the Sikhs and Hindus. The League leadership did little to placate the fears of non-Muslims. Congress and Sikhs demanded the bifurcation of Punjab on religious lines. Jinnah belatedly moved to appease Sikhs with generous political offers but failed to win them over.
Ahmed believes a democratic formula would have helped surmount the communal differences and emphasise common culture and tradition, but the political leadership of the three communities failed to agree to a fair power-sharing formula.
From March 2, 1947 onwards, no political party was in power in Punjab who could be held responsible for public safety. The political actors representing the religious divide failed to negotiate peace and power-sharing, the administration was weak, unruly elements were on the rampage and different religious communities were fearful of each other — a perfect setting in which people kill the 'other' out of fear or for one's own survival.
The killings of Muslims in Bihar and Bengal in 1946 and migration of Muslims to northern areas of Punjab inflamed riots and barbaric killings of Hindus and Sikhs in Rawalpindi by Muslims in March 1947. Evidence suggests ex-army servicemen and outlaws were leading the attacks on Sikhs and Hindus. The exodus of non-Muslims started to the eastern districts. The gory tales of the Rawalpindi victims set in motion the ethnic cleansing and genocide of Muslims in East Punjab by Sikhs. The Hindu communalists were not directly involved in killings but funded the bloodshed. Eye-witness accounts say Congress' leading light Sardar Patel was also involved in financing mob factories and goaded Sikhs to kill Muslims of Lahore.
Punjab was up in flames from mid-August to December 1947. The religious identity took precedence over the ethnic Punjabi identity and assumed an aggressive and macabre dimension. The criminal elements and their political patrons took charge. Some 10 million Punjabis crossed the border and around 800,000 were killed. These facts may already be known, but Ahmed has recorded them with a great sense of responsibility and non-partisanship. He has painstakingly collected written and oral accounts of the brutality and victimhood of both Muslims and non-Muslims.
Ahmed has tried to explain the causes of violence carried out by Muslims and Sikhs against each other. Historical evidence shows how inflexible and short-sighted the political leaders were, and how oblivious to the horrible outcome of their actions. Secret government reports existed showing the government was aware that all the three communities had set up 'private armies' and could be dangerous for the law and order situation. The British government looked the other way and devoted its meagre force to save European lives.
Ishtiaq Ahmed concludes that what happened in Punjab in 1947 was essentially ethnic cleansing because the overriding intention was to get rid of unwanted populations, but the organised terror employed for this purpose did carry the characteristics of retributive genocide. He argues the Sikhs had a special interest in expelling Muslims from East Punjab in order to concentrate their co-religionists in those parts of Punjab which they wanted to become their separate homeland, Khalistan, at a later stage.
Ahmed has also interviewed the Punjabis who migrated and still have nostalgic and fond memories of their birthplaces on either side of the fence. He also narrates recent events in which Punjabis from both sides came closer and showed great respect, generosity and hospitality to each other.
Except for snooker or the odd cricket match featuring Sri Lanka, I do not watch much television these days. The BBC, having been banned from our screens, I no longer have the luxury of listening to news read in an intelligent and unself-conscious manner. Whatever viewing I do is during the search for the channel showing a match between Ronnie O'Sullivan and Stephen Hendry.
The cable operators have begun to play childish tricks with me. Until three months ago, ESPN used to be channel number 72 on my television screen. It then became channel 11 and then channel 81. Last week it was shifted to channel 22 but this channel now only shows snowy balls and flickering asteroids.
Television in the subcontinent is a victim of its own clichés. The various Indian channels which keep dishing out endless fare of the so-called 'family entertainment' have come to an amicable agreement with each other: their soaps and serials may have different titles but the same simpering, bejewelled, over made up, bovine ladies appear in each one of them. Also they make sure that the ten-year old girls in their sit-coms are played by pigtailed, revoltingly precocious children that you ache to push out of a high window.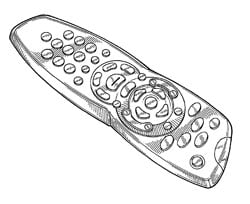 We, in our part of the world, have aped most of their soaps. A well- established writer of serials for television told me not so long ago that the producers (and financiers) of a high profile channel gave him a copy of an episode of the long running Indian soap, Kabhi Sas Bhee Bahu thee and told him to fashion his creative effort exactly along the lines of the given script.
For the viewing public the main attraction of a talk show, which has almost disappeared from our screens, is the slow eradication of the aura of a famous personality. The public is ever greedy to become privy to the private lives of the rich and famous. Our celebrities do not like the viewing public to become privy to their private thoughts. This is the main reason why they spout so many clichés "Maan ke paon tale Jannat hai" (paradise lies beneath the feet of one's mother) etc etc. I realised this when I hosted my show forty years ago. I let them ride their hobby horses. The high moral tone that they adopted soon betrayed their timorous vulnerability.
A famous actress — shan't name her — whom I had invited to my show asserted that she strongly disapproved of dressing immodestly, that she never went anywhere without being chaperoned by her mother and that she only wanted to work in 'good films'. (Her concept of a 'bad' film was the one which flopped at the box office) but "kabhi kabhi dunyadari bhee karni parti hai". (Sometimes one has to be worldly-wise). I hesitated to ask if she had ever wanted to ask for a script before accepting a role. In those days actors never ever read the script before the start of a movie simply because there never was a script as we understand it. So I just let her ramble on about her piety. "There are heroines" she said primly, "who sign a film on a single phone call from directors. I never do." How many phone calls did she receive before she agreed to sign a film? I ventured to ask. Innocently, she answered, "Oh jee hamaray to rate fix ho jatay hain". This produced a big laugh. The poor girl was blissfully unaware of the fact that she had revealed the seamy background from which she had emerged.
When I look back at the inner working and the ritual of my 'talk show', I remember that it was the only format in which my favourite as well as my embarrassing moments occurred within the span of the single programme. The 'talk-show' is a form in which an unknown personality sparring with a celebrity (or the host) can gain enough notoriety to become a highly sought-after guest or even the host himself. The trend-setter, Quentin Crisp, was right when he said, "No matter how ignominious a person's public image is, as soon as he gets on television he becomes a virgin in the eyes of the viewer".
The gismo known as the remote control is a lethal weapon. Once you hold it in your hand you are goaded by unknown forces to press your thumb on the button marked 'channel'. With so many channels to choose from and nearly all of them interrupted every few minutes with endless insipid advertisements (some of them repeated as many as six or seven times within the same break) it becomes obvious that the real purpose of 'entertainment' programmes is to allow advertisers to have the maximum amount of time. I don't know about others but I — thanks to the surfeit of commercials — only end up by seeing what else is on, rather than the programme I set out to see.
What bewilders me — if and when I want to see something on the box — is that the same programmes are shown over and over again at the same time each night. Whichever 'family orientated' drama serial I chance upon, the same hapless girl seems to be torn between filial loyalty and the dictates of her heart.
If you happen to watch TV during the day you will find your screens hogged by some of the has-been politicians who offer a panacea for all our ills. In the name of Current Affairs, most of our television networks hold slinging-matches between high profile politicians of the main political parties. There is one rule they have to follow strictly: they must all speak at the same time in such a manner that the viewer should not be able to understand a single word. All of this happens in between advertisements for various mobile telephone companies.
We assert, at every opportunity, that, we have a free media, which is commendable. I wish we also had the wherewithal to match our assertion. The host's chair in the morning chat shows — a mid-morning phone-in programme about unruly adolescents, an afternoon health programme, or a late afternoon discussion about discrimination against women — is occupied by model girls, ingénues, school teachers, and unsuccessful movie starlets, possessing no other assets but the patronage of channel owners and influential producers. There are exceptions, of course, but, in the hands of these 'anchors' as they are called nowadays, serious issues are dwindled because of the ineptitude of the presenters who are so taken in by the notion of their own popularity that they refuse to do their homework and rely, instead, on the theme of survival that binds them to their patrons.