face to face
Star-struck with a white Mughal
An interview with William Darlymple on the sidelines of LLF or just a brush with greatness
By Haroon Khalid
The first time I was recommended to read William Dalrymple's work was about a year ago. This was when I was working on my first book, a travelogue and a historical narrative. "White Mughals" is his most famous work, yet enticed by the title and the cover picture I chose "City of Djinns" to start with. In the words of the book, I found my voice. I had been unsure as to how to combine travel with history and journalism but the book made it clear for me. I was particularly interested in how the author used oral history interviews to create a larger picture of the history of Delhi.
It was also for the first time I was reading a historian who was able to draw a link between the contemporary and the past with so much ease. Dalrymple became my favorite author and this love affair continues.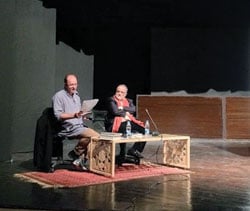 Soon after, I emailed him introducing my work to him and also expressing a desire to meet him in Delhi or Lahore, depending on who was travelling where. I was surprised by his quick response and the lack of inhibition he had for any such arrangement. However, nothing materialised because of our individual schedules.
An opportunity finally emerged last week when he travelled to Lahore for the literary festival. I sneaked past the security and somehow managed to find him. On introduction, he recognised me immediately and took me to the author's lounge amidst the protest of the organisers.
While I was reading "City of Djinns", I had no idea what the "White Mughals" was about, but then in the book there is a part when he talks about William Fraser and other early colonial officers. It becomes quite evident that he is fascinated by the topic. You can trace the origin of "White Mughals" in the "City…", I asked him as we sipped black coffee in the lounge, with Mohsin Hamid sitting on our right. "That's an old book! Yes. I got obsessed with the topic. Later, when the book came out I received bundles of photographs sent to me by various people of their ancestors with long Mughal-ish beards, earlier hidden in their personal vaults."
The conversation continued as I took out his books from my bag for autograph: "In Xanadu", "City of Djinns", "From the Holy Mountain", "Nine Lives…" and "White Mughals".
"You are a groupie," he told a blushing me.
I know it's really an inappropriate question but which one is your favourite out of all your books? "My latest one," he told me with a chuckle. "It's always the latest one." I had seen the newly printed editions of the "Return of a King" in a pile at various books stalls at the festival but hadn't yet purchased it. Sobering down he said, "It's this one," tapping an old man walking in the ruins of the Byzantine Empire on the cover of "From the Holy Mountain".
"It's not much popular in South Asia because it is about Middle East. I was away for nine months for this one."
In this book, using the techniques of journalism, a historian, an anthropologist, a pilgrim and a traveller, Dalrymple has beautifully narrated the plights of Christians living in the Middle East, in the environment of a rising political Islam. The book particularly attracted me because it dealt with the issues of minorities and that's what I was working on. What is so special about the book is how he doesn't look at the religious minorities in isolation but looks at them in contrast to the society they are living in — one marred by jingoistic nationalism and the rise of fundamentalist Islam. The book made me realise that in order to show something beautiful one needs to highlight the ugly.
Four of his initial books are travel accounts in the Middle East and South Asia, while the last three books are history books. Reading all of his books in a chronological order one can see clearly how he has evolved as a writer and become an orthodox historian from a travel writer who would also write about history. However, in their approach, his latest books are a departure from his earlier style. Why does he not write travelogues anymore?" "That's because I have a family now; wife, kids. I can't afford to be away for long."Nine Lives…" is my last travel book."
And I think for that book he may not have needed to a travel a lot anyway, I ask. With stories of nine individuals associated with different religious cults, the book aims to search for a religious country in the backdrop of a 'shining India'. This is one of his less popular books but an amazing one nonetheless. However, unlike his other travel accounts, the book is not a continuous journey but interviews of nine people which the author has come across in India, where he has been living for the past thirty years – ever since the "City of Djinns". "You are right. Some of these people I have known for years, while I met others by an accident."
Suddenly he said, "Do you know Mohsin? Mohsin meet Haroon," he said as I extended a hand towards perhaps the best-known Pakistani author in English language. "He is writing a book on 'exotic' Muslim shrines. Right up my street," said Dalrymple as he let out another laugh.
While I explained my work to Mohsin Hamid, Dalrymple got busy socialising with other writers introducing me to all. I was amazed by his energy.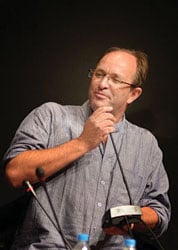 You know what I love about "White Mughals" sir, I tell him as soon as he is done talking to Raza Rumi. Dalrymple is impatient, not for anything particularly, but as a person. Instead of narrating history through individuals, which is how it is usually, you've explained the environment, the culture, of which those individuals were a product. "There is nothing new in that technique. I am in fact following an established tradition of writing history in Britain. You should read "The Aristocrats". It's a marvellous book. Asma dear! where is the session on Vasco da Gama. I want to attend that one," he said as he got up to head towards Hall 3.
There are too many questions to be asked, but I can't think of them. I have never been so star-struck. "Do send me your stuff. I would love to read it. But give me a couple of weeks for that," he said laughing as he seems to do on every comment and headed out of the door.
I didn't get a chance to meet him again but I did attend his session with Ahmed Rasheed titled "Cultures in Conflict". "I have often been told by students in India, which I am sure also applies to Pakistan that history is their least favorite subject. That's because of the way it's taught here. It could be really interesting," he began his session with the aforementioned words and then gave a short presentation on his new book. Looking around the hall, I was surprised to see it packed to the brim. For a historian to be so popular is really incredible.
"As a foreigner how have you managed to capture the essence of India so well, even outdoing the native writers?" asked Sabar, one of my friends and another groupie, at the end of the session. "I have lived here for thirty years. I have friends here. I have travelled around the place. I feel more at home here than I do anywhere else. The environment and culture here in India is more to my liking," he explained.
Listening to his answer, I thought of the most important question I had wanted to ask. "Are you a white Mughal?"
Gas tricks
The cash-strapped SNGPL is now calculating bills solely on the basis of highest slab applicable, the reason behind exorbitant increase in bills
By Shahzada Irfan Ahmed
The consumers of natural gas, especially in the northern region of the country, got a shock of their lives last month. Exactly when they were thinking this commodity was fast disappearing from their lives, it made them realise its presence with a bang.
In fact the monthly gas bills they received this time were many times more than what they had been receiving in the preceding months, when the gas supply was normal. For a moment they thought they were eating, drinking, inhaling and even dreaming this gas.
They could not figure out how the billed amount could be so high for a month in which they had used gas cylinders and bought cooked food from bazaar. Low gas pressure and gas load-shedding during the month of December had kept people away from their kitchens.
A simple answer to all these complex questions comes from the Sui Northern Gas Pipelines Limited (SNGPL) public relations office. In a statement it explains the bills are naturally high due to high consumption during the month and the carefree attitude of consumers. The consumers feel the pinch as marginal increase in consumption and application of a higher tariff slab leads to an exponential increase in the bill, it adds.
Disgruntled consumers reject this justification saying this is not the first time they have endured winter and the gas bills arriving in its aftermath. "Why is it so the billing is erratic just for a month? The winter season is spread over three to four months at least. But this does not happen throughout the season," questions Muhammad Shahid, a lawyer by profession.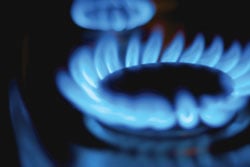 He tells TNS his gas bill was around Rs 1,000 for the month of November but next month it surpassed Rs 10,000. This was despite the fact that the family was out of town for half of the month.
Clueless in the beginning, it took him a couple of visits to the regional SNGPL office and brawls with some unaccommodating officials to understand where the problem lied. It was true the tariff had increased marginally but the real culprit was the formula applied to calculate bills.
Unlike in the past, the SNGPL is now calculating bills solely on the basis of highest slab applicable, says Shahid. "This means the lower rates applied on the units consumed in the start are no more there. All the units in my bill have been multiplied with the highest applicable tariff rate."
A glaring example of what can happen in the presence of this formula follows. If someone consumes 2.99 Hm3 the bill is around Rs 2750 and if the consumption increases by just a unit or two more i.e to 3.01 Hm3, the bill jumps to Rs 6,600. This means mere increase of 0.02 Hm3 when you are close to a slab can cost you Rs 3,850 extra.
An SNGPL official states the formula is effective for many months but its impact has been the severest in the month of December. "The reason is simple: extraordinarily high consumption of gas and nothing else." The official who does not want to be identified says the natural gas is being sold to domestic consumers for peanuts. "The company is under immense financial stress and has no other way but to rationalise tariffs to come out of it."
Another major complaint against SNGPL is the issuance of random bills by meter readers who do not bother to visit sites to take readings. Ahmed Nadeem, a disgruntled consumer who works at a publishing house, has filed complaints with concerned authorities but to no avail. He tells TNS there are a few SNGPL offices in every city making it cumbersome for meter readers to travel long distances and record meter readings.
"They send nominal bills for a few months and then a highly inflated one, based on the number of units accumulated over months. This enables them to apply highest tariff slabs and collect huge revenues," he complains.
The SNGPL official says this happens in very few cases and the practice is not as common as claimed. The company, he reveals, is working to make meter readers check gas meters with Automated Meter Readers (AMRs). These AMRs will take snaps of meters and the images showing readings will be printed on gas bills along with the date and time of the visit.
"The images will be fed into a server and no one including the highest official will be able to tamper it. This will put an end to compounded bills as well as filing of fake complaints."
The plan seems great on paper but its realisation remains a dream since AMRs were introduced on an experimental basis a good three years ago. Years down the road, its implementation is pending for no genuine reasons. "How can the company take a step which hits its financial interests badly? It's the easiest way for them to collect extra revenues," says Nadeem who believes the mafia of meter readers will not let the plan succeed.
TNS contacted Oil and Gas Regulatory Authority (OGRA) for comments and was told by its spokesman that the authority was inundated with such complaints against inflated bills. He added a high level OGRA team was present in Faisalabad at that time to hear cases of inflated bills sent by SNGPL to domestic and industrial sector and the CNG pump owners.
An SNGPL source says the authority is trying every possible measure to avoid financial collapse, caused mainly by unviable political decisions. The source adds that in 2008, the Economic Coordination Committee (ECC), on the recommendations of a parliamentary sub-committee, decided to raise the territorial limit for new gas connections from a well head to 1500 kilometers up from the previous 250 kilometers. This means more operational costs including those required for laying of infrastructure to supply gas to distant localities. Secondly, it was also decided in the same meeting to raise the bar of Rs 20,000 to Rs 57,000 — the cost which SNGPL can incur on adding every new consumer to its network.
Adding insult to injury, OGRA has also taken a pro-consumer stance instead of backing SNGPL — something very rare in its history. This shift has been attributed by many to the Supreme Court's decision against the authority's ex-chairman Touqeer Sadiq. There are allegations that Touqeer had raised the acceptable limit of Unaccounted For Gas (UFG) from 4.5 per cent to 7 per cent during his tenure. This, experts claim, is tantamount to allowing theft of gas with impunity.
Yeh Woh
Where are the honest ones?
By Masud Alam
There are justifications and then there are excuses. There can be a hundred excuses, they say, but not one justification. Nothing justifies a violation or an omission.
There is no justification for not voting, for instance. Politicians are the proverbial dog tails that cannot be straightened. And their masters, the generals, are in no hurry to give up power voluntarily. Nothing will change. Election is just an eye-wash. The same set of people will continue ruling us and abusing us. All the party flags are made of the same recycled rag; there is no difference in style, only in colours. The leadership of all major parties is corrupt and complicit in each other's corruption.
These statements may or may not be correct but they are bad excuses for not voting. If anything, these are very good reasons to vote. If you don't have anyone to vote for, vote against someone. If you don't want your vote to count in favour of or against any party or candidate in your constituency, stamp it in two three places. If enough voters spoil their votes, that's a loud and clear statement about how people feel towards politics. But not being counted among those who used their vote is a confused admission that I either don't care about politics or I have never thought about it, or I'm sure politics is inherently corrupt and therefore must be avoided by all 'clean' upright citizens. A clear majority of Pakistani voters falls in this category, and include forcefully vocal supporters of one or the other political party who know and discuss enough politics in a day. These are the people most in need of change, and they are the ones with awareness that democratic change comes at a painfully slow pace, and they are the ones who do not give democracy a chance. That is people like you. People like me.
If you are prepared to test the power of your vote in the upcoming elections, you may be pleasantly surprised at the quantity and quality of choice candidates present you. I am thinking of khawaja saras — India has several as elected members of Parliament — their campaigns are always well attended and thoroughly entertaining. I am thinking of Saleem Kirla who introduced himself as 'iqtadar key bhookon mein aik aur izafa' (another one of the power-hungry), then promised voters he'll make every effort to divert state funds towards his constituency, and that he'll share the money fairly with everyone who votes for him. He quickly developed such a cult following that the big parties' candidates fought a bidding war to buy him out of the race, in their favour.
I am thinking of Maulana versus Musarrat Shaheen contest. I am thinking of Haroon Rashid who announced himself as a candidate for president of Pakistan and then campaigned tirelessly on the streets of Sargodha where large crowds turned up to hear his charged, well articulated speeches. Only, he needed Parliamentarians' support, and not that of the voters I am thinking of.
No, seriously. The list of candidates on the ballot paper is always longer than your hate list. You find names of independent candidates you never heard of during the campaign. There are smaller parties you never knew existed. And among these little known parties and individual candidates, is the person who is honest, educated, and motivated enough to represent your interests in the Parliament and to pursue a pro-people agenda in their legislative work. But if they don't advertise their candidacy how will you know, and vote for them?
Electioneering in the traditional sense is an expensive business. You pay a party to get the ticket, you spend on posters and banners, you feed scores of people every day for several weeks, you hire transport and a team of workers, you bribe voters and officials … The candidate of a major party spends millions of rupees just to make himself or herself known to you. You, on the other hand see all this spending and you know this is another punter investing his or his financiers' money to buy power. These are the candidates you don't want to vote for.
This is the voter's dilemma then: the candidates that reach out to you are mere punters, and the honest ones do not have the money to advertise. The only solution is for the voters to make an effort to get to know all the candidates in their constituency before making a decision.
You'll make the effort because this is the most important decision you are going to make in five years.
masudalam@yahoo.com
follow-up
Crack down or blame game?
The recent crackdown against LeJ and its allies will be meaningful only if it
translates into a strict government policy that entails zero tolerance for sectarianism
By Waqar Gillani
The Punjab police claims to have arrested and detained at least 50 LeJ activists including one month detention for the much-maligned LeJ chief, Malik Ishaq, under the Maintenance of Public Order Law.
Lashkar-e-Jhangvi, a militant wing of hardliner anti-Shia Deoband Muslims, and an aligned organisation of the defunct Sipah-e-Sahaba Pakistan (SSP) and Ahle Sunnat Wal Jamaat (ASWJ), has claimed responsibility of almost all sectarian attacks in the country in recent months. Before the crackdown began, Maulana Muhammad Ahmed Ludhianvi, chief of ASWJ, was consistently uttering his anti-Shia tirade in repeated interviews.
Acoording to a police official, these crackdowns were conducted in Rahim Yar Khan, Khanewal, Muzaffargarh, Bahawalnagar and some other districts of Punjab after the deaths of at least 200 Hazara Shia in two attacks in the past few weeks and target killing of many other people in Karachi and Lahore.
Apart from countrywide protests organised by the Shia and supported by the civil society, the federal government's consistent pressure on the Punjab government — articulated largely in the Interior Minister Rehman Malik's statements — to act against the LeJ and its network apparently seems to be a major reason behind these crackdowns.
The reason why this crackdown did not happen earlier was because of some alleged political ties between the PML-N and the leadership of LeJ and ASWJ. ASWJ denies any link with LeJ or SSP, while the police and intelligence operatives think otherwise. PML-N, reportedly, is said to be in an electoral patch-up with the ASWJ to support each others' candidates in the next general elections.
The agreement, made through Punjab Law Minister Rana Sanaullah and ASWJ Chief Maulana Muhammad Ahmad Ludhianvi aims at seat adjustments in the next general elections — a factor apparently a hurdle in taking action against LeJ. According to some report, even the ruling Pakistan People's Party has been contemplating many such electoral alliances.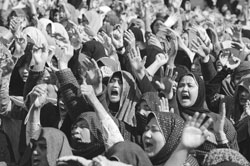 According to the police, the main leadership of LeJ, mainly comprising Malik Ishaq in Punjab, Akram Lahori in Karachi with further connections in Quetta and suburbs of Baochistan, is masterminding all these attacks and provoking hate speech against the Shias. The LeJ, according to police sources, is also working under the umbrella of Tehrik-e-Taliban Pakistan (TTP), and has also been found involved in planning, facilitating and executing various attacks against law enforcement and intelligence agencies in the Punjab province.
In the recent crackdown, Punjab Government has also arrested Malik Ishaq for one month. He was released after almost 14 years in July 2011 when no evidence was found against him. Later, he was put under house arrest for a month. He was detained for 24 hours after the LeJ claimed responsibility for the killing of 29 Shia pilgrims in Mastung area of Balochistan. Ishaq was detained for one month to pre-empt sectarian strife because his release had instantly caused sectarian tensions because of the anti-Shia sermons he started delivering soon after being set free.
In December 2011, the Provincial Review Board agreed to extend the detention period for another 30 days. Lahore High Court finally released him for lack of evidence on January 20, 2012. Malik Ishaq was again detained on August 30, 2012, from Lahore. He was questioned for making hate speech but he was freed within two weeks, as a local court granted him bail for lack of evidence.
Only a week after his release, Ishaq was appointed as the vice president of the ASWJ with the 'assurance' that he would remain peaceful.
Seeing detention of these leaders and activists in jail for a month and their release through court for lack of proofs against them, Shia organisations question the purpose of these crackdowns on the LeJ and consider all these acts as an eye-wash.
They have considered these 'crackdowns' a temporary act to pacify emotions of the community, says Ameen Shaheedi, leader of Majlis-e-Wahdat-ul-Muslimeen, a prominent Shiite organisation.
Interior Minister Rehman Malik publicly said that two groups of LeJ were operating in Pakistan — one under Malik Ishaq and the other under the leadership of Maulana Ludhianvi.
"All provinces need to take action against terrorism. If the Punjab government had acted on the letters sent by him pertaining to the LeJ, a tragedy such as the one on Kirani road in Quetta would not have taken place. A list of 734 terrorists had been provided to the Punjab government and those people should have been arrested but the Punjab government took only half-hearted action against LeJ," says Ameen Shaheedi.
"Nobody should even think that the Punjab Government is allied with the terrorist groups for political gains," says Punjab Law Minister Rana Sanaullah. "There are no proofs against the leaders of master-minding terrorist attacks. We took them to the court but they were acquitted. If the federal government or intelligence agencies have any proof against any such person, they should come up with them to make sure such terrorists are sentenced by the courts."
Political and security analyst Ayesha Siddiqa says this crackdown will not be effective at all. This is an eye-wash to diffuse the situation and cannot solve the problem.
"This small crackdown is limited only to arrest old activists on the Fourth Schedule of the government and many of them are not even terrorists now," she says.
"This is the least the government could do to bring down the rising temperature. When real terrorists are arrested, the ISI takes them from the police and then you don't know what happens to them. Also, these counter terrorism departments of political governments are not technically and financially equipped," she says.
She says we need our establishment's active interest in ending the menace. Without their will, there is not going to be a solution. She cites the 1990s operation of PML-N against sectarianism, saying even then the government was alone in taking action and there was no proper support from the mighty corners.
Shaukat Javed, former chief of Punjab police and head of Intelligence Bureau in the province, further terms this crackdown a mere waste of time, energy and resources. Even the list of Fourth Schedule people is not accurate or scrutinised for the past many years. During my tenure, a couple of years ago, a committee was set up involving all agencies to revise this list but nothing happened except delays in meetings and decisions." The job was done in a half-hearted way.
He says the solution lies in sound prosecution and legislation. "Currently, there are 76 terrorists who have been sentenced to death by anti-terrorists courts and their sentence is pending before the President of Pakistan, as the government has stopped executing death sentence," he says. "After all we need to set some examples."
He says, in the tribal areas, no provincial laws apply so how can the governments take action against those who have taken shelter there? "We need to think about these issues rather than wasting our time in the wrong direction."
vaqargillani@gmail.com
Graduating to an issue
Why is verification of degrees made into such a big issue when it is not a requirement to contest election?
By Aoun Sahi
The issue of 'fake' degrees has become the most debated issue of the parliament after a letter was issued in the name of Chief Election Commissioner (CEC) to 249 parliamentarians on February 7, 2013, to have their degrees verified including Secondary and Higher Secondary School Certificates from Higher Education Commission (HEC).
The letter stated in clear words that those who would fail to submit their degrees within 15 days would be treated as fake degree holders and face criminal proceedings. Only 26 parliamentarians respected the deadline set by the CEC.
This issue of degrees of parliamentarians came to limelight first in 2010 when the Supreme Court sent some lawmakers home after their degrees proved fake. The SC asked the ECP to verify academic credentials of all parliamentarians with the help of the HEC. The HEC asked all 1,168 legislators to submit their educational degrees. In next couple of months the HEC found degrees of 56 parliamentarians fake or invalid. A tug of war started between parliament and the HEC after that and several parliamentarians refused to submit their matriculation and intermediate certificates, a requirement necessary to validate graduation degrees.
The issue died down by middle of 2011 but the CEC's letter once again has brought the issue to the fore.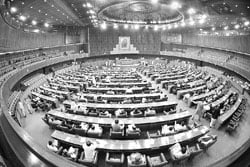 The letter according to the ECP sources was part of the 2010 order of Supreme Court of Pakistan in which it asked the commission to get degrees of all parliamentarians verified. But, political parties in the parliament sans the MQM took it as an attack on parliament. Opposition leader in the National Assembly Chaudhry Nisar Ali Khan on February 20, 2013 on the floor of the house strongly objected to the 'insulting' language of the letter and refused to submit his degrees to the ECP. "We have been made a joke, with the media spreading baseless stories and flashing contemptuous headlines," said Nisar. The PPP and PML-Q also endorsed him. The MQM in the parliament talked in favour of verification of the degrees while Imran Khan criticised both the PPP and PML-N over their stance on the issue.
The Speaker National Assembly also formed an eight member special parliamentary committee headed by Law Minister Farooq H. Naek to convey the concerns of the parliamentarians to the CEC.
A member of the committee on condition of anonymity says that the ECP instead of focusing on the dead issue of degrees should focus on the elections. "The issue has been brought to limelight out of the blue. Some elements want to extend the tenure of the caretaker government because of the fake degrees issue. Graduation is no more a condition for contesting elections. 32 Pakistani parliamentarians have already been penalised for fake degrees," he says.
The Commission earlier wanted to extend the scrutiny period for nomination papers of candidates from the existing seven days to 30 days. But the parliament has allowed extending the period to 14 days only.
Last week, the ECP also finalised the new nomination form for the candidates for 2013 elections and sent it to the Ministry of Law and Parliamentary Affairs to seek approval from the president. The new form, according to the ECP officials, includes 15 major amendments to previous one.
"It requires the candidates to submit details of their three years financial history, bank loans, details of their property with their market price, foreign travels, payment of agriculture tax along with several other details," a senior official of the ECP tells TNS.
"The Chairman HEC requested the CEC to write a letter to parliamentarians as they were not cooperating with HEC for degree verification. Under the SC orders, the ECP is bound to get their degrees verified," he says, adding Section 3 of Article 278 of the Constitution of Pakistan clearly states it is the duty of the ECP to guard against corrupt practices while Section 3 of Article 78 of The Representation of the People's Act, 1976 clarifies wrong information about educational qualification, assets and liabilities comes under corrupt practices.
The ECP officials say the Election Commission is committed to control corrupt practices in upcoming elections. The commission is going to have meetings with representative of FBR and the State Bank of Pakistan on Friday March 1 to discuss the verification of financial and tax history of candidates for 2013 elections.
"We also want to make sure that those who indulged in corrupt practices in the past do not contest the next election. Fake degree holders can be disqualified under Article 62-63 of Constitution," says another ECP official.
More than 2000 out of 9000 candidates who contested elections last time submitted fake degrees, it was learnt.
"Most of them would contest in the upcoming elections as well. We have been trying since 2010 that parliamentarians submit their degrees to HEC for verification but several of them are not ready to do so," says an official of the HEC which played an important role in bringing this issue back to life. He says the HEC can verify the degrees of all parliaments within a few days provided they submit all required documents to the HEC.
"Some individual did submit fake degrees but it does not mean we should start blaming politics for corrupt practices," says Suhail Warriach, senior political analyst. He says that most of those who provided fake degrees have already been scrutinised by the courts during last few years. "Many lawmakers had to leave parliament over fake degrees. Let the law take its due course. No need to show haste," he says, adding that mainstream political parties fear the issue of fake degrees can be used to postpone elections for a few months.
This is not going to be a well-liked piece. I can only hope that it is not misunderstood — regardless of the unpopular arguments I plan on raising.
A few days ago, a leading English newspaper carried an article penned by one of the senior members of its editorial staff, Mr. Zarrar Khuhro. This article made the rounds on Facebook and Twitter. It deserves publicity and all of you must read it — but not because it says the right things. Only because most of the things it suggests are fundamentally dangerous for a society — particularly a society trying to fight extremism.
The arguments made in the said article are symptomatic of a mindset quickly becoming acceptable — that abandoning constitutional safeguards is kosher when our liberties are threatened. This viewpoint, rather bafflingly, is often voiced by the ostensibly "liberal" section of the population in Pakistan. Now I do not identify either as a liberal or a conservative since my positions vary but I do not know of one strand of cogent liberalism that would find these arguments acceptable. Unless, of course, you think Bush Jr and Rumsfeld are liberals.
Here are some of the suggestions made by this allegedly liberal section: allow secret evidence in trials of terrorists (if that means not confronting the accused with it, God help us), suspend right of appeal if necessary (one strike and you are out), special courts/tribunals (think abuse of judicial process), condone "disappearance" of certain accused (detain, kill, we don't care?) et al. What underlies all of this? Another sweeping claim: "these people deserve it." I can think of one striking parallel to all of this: Guantanamo Bay. John Yoo, the legal architect of Gitmo, would be very proud. He clearly has an avid following in Pakistan and yet he does not get enough credit. Somewhere in Texas, Bush Jr. too is grinning and saying, "told ya!"
Let's get the obvious objections out of the way first. No one supporting due process and fair trial is condoning the actions of militant organisations like LeJ. Anyone killing our citizens including minorities should be held accountable and given exemplary punishment. But since when did we start deciding who among the accused in a trial do or do not "deserve" constitutional protections of a fair trial and due process? These protections do not depend on the enormity of the crime but on the fact of the state being subject to the constitution. Should criminals, apart from terrorists, who commit heinous crimes be denied these protections too? I assure you some gut-wrenching crimes are committed against children and women all over the world — should we make those people disappear and be tortured?
Constitutional protections are not accorded because they are convenient. They are provided precisely because a people decide that their rash impulses for "quick" justice will need to be checked. They are written down precisely because the rhetoric of difficult times should not be allowed to drown them.
Now the irony is (and I wonder if they even realise this) that this section of the Pakistani liberal intelligentsia automatically loses the moral and legal justification to condemn Gitmo or US drone strikes. Personally I think there are multiple strong legal arguments for drone strikes and why "due process" will not apply in a "theater of war" but these people are not citing those. Plus even if they are trying to be assertive, they are being wishy-washy. Either make a dangerous argument that fight against sectarian killings is somehow a theater of war in which due process will not apply or do not throw in sugar coated words like trials and special courts!
In a war there are no trials but for people treated as criminals under domestic law there are constitutional protections. First decide what the argument is. Right now it is quite frankly a regrettably hollow argument — neither here nor there. This is without prejudice to fundamental objections that can be raised if you define groups spreading sectarian hatred and violence as enemies in a theater of war. But a lawyer could make that argument. And a good lawyer could make that argument to make you pause and think, "Wait a minute." No one in the liberal intelligentsia so far has done that. And this confuses the debate and hurts it.
The next limb of this discourse is even more problematic. It suggests that political wings of terrorist organisations should be treated like terrorists themselves. Fine. For a second, let's buy that. Then what is your problem with Israel hitting Hamas over and over? The Israeli government is making the same argument as these liberals — no difference between Hamas and Hamas's political wing. In any case this argument runs into problems. If the ultimate aim is to win hearts and minds and ensure rehabilitation of those who can be saved, why not engage with political groups? TTP has no such political wing willing to contest elections but some other extremist elements may do that.
Now, fine you can say that PML-N (as a matter of principle) should not cater to groups spreading sectarian hatred but spare a thought for a political party that actually does so in the bona fide belief that something can be salvaged from this. Call that view naïve, maybe, but don't equate a political wing of an extremist organisation with a terrorist organisation. If you do that then you are suggesting that no one should have negotiated with Sin Feinn (political wing of militant IRA) or the political wing of the Basque separatist movement in Spain. Hardly cogent and deeply problematic. Both those actions helped bring peace. And peace is what the PML-N is striving for. It may fail and it may get it wrong but it would be unfair to suggest that PML-N's policy of engagement with political wings of militant organisations is somehow to be blamed for the terrorism itself. That is a separate fight and must be carried on. And of course, Punjab government must do all it can to bring perpetrators of violence to justice. But the PML-N effort has some force of history to back it up.
The actual reason for this highly confused allegedly liberal discourse might be simple: frustration and a genuine desire to see justice being done. And since the "deep state" is often part of the problem than the solution, a lot of people are thus forced to make arguments supporting detentions, extra-judicial killings (or willful ignorance of them) or gagging other protections. But if the problem is law enforcement and willingness to act, then a trial that makes a mockery of justice will not solve the issue. Neither will extra judicial killings help. Just because the state of Pakistan may have been party to illegal actions in the past cannot and does not mean that we insist on making a mockery of the legal process to get results we deem fit.
By doing away with constitutional protections, we threaten ourselves rather than terrorists or our enemies. It is high time we stand by principles — they are a promise to the citizens of this country and not merely nods of convenience. Whatever you do, please do not look away. This is our fight and let's fight by the rules. I am pretty sure that your religion (regardless of which one you follow) and this country's constitution will tell you the same.