Insecurity explodes
Amid the blame-game between the MMA-led provincial and the federal government, common people in NWFP suffer from growing insecurity


By Rahimullah Yusufzai

With the deterioration of security situation in NWFP, leaders of the ruling coalition have started a blame-game to hold each other responsible.The verbal sparring has become intense but not much is being done in practical terms to provide protection to the people.

interview
"Curator dominates art today"
Ahmed Ali speaks about conceptual and formal concerns, originality and Pakistani art in general
By Quddus Mirza

Pablo Picasso, the great painter of twentieth century, could never have imagined that he would be declared a Sindhi in the next century by an artist in Pakistan. Ahmed Ali declares him so because to him it is not necessary to be born in Sindh, to have Sindhi as the mother tongue, or belong to the race, because to be Sindhi is just a state of being.

Diagrams of devotion
Mobina Zuberi's latest paintings on display at Khaas Gallery may be abstract but the concept certainly isn't


By Aasim Akhtar
"Authentic art is rooted in metaphysical awareness"

--Mahasukhaprakasa,

12th century

Tantra, simply stated, is devotion with the body. It is best known for its elaborate system of controlling energy. Use of harnessed energy in pursuit of divine union is one aspect of tantra, but not its total philosophy. Central is the recognition of the human body as the dwelling place of cosmic truth and the body as a device for access to that truth. Much about the current suite of paintings by Mobina Zuberi at Khaas Gallery in Islamabad reflects her personal evolution as a 'tantrika'.

Rebels of tradition
Salamat Ali Khan along with his brother was the architect of the Kheyal Gaiki Gharana
By Sarwat Ali
It has been observed that the Pakistani classical musicians are more easily prone to experimentation compared to their counterparts in India or what their tradition usually allows them.

The whole lot of Patiala Gharana musicians have ceaselessly experimented and the Sham Chaurasi have not lagged far behind if the concert of Shafqat Salamat Ali Khan held last week at the Alhamra can be quoted as an example. This ceaseless experimentation can perhaps be easily explained by the total lack of respect and veneration of the classical traditions and forms of singing.

Amid the blame-game between the MMA-led provincial and the federal government, common people in NWFP suffer from growing insecurity

By Rahimullah Yusufzai

With the deterioration of security situation in NWFP, leaders of the ruling coalition have started a blame-game to hold each other responsible.The verbal sparring has become intense but not much is being done in practical terms to provide protection to the people.

There have been 16 bomb explosions in Peshawar alone since September 19 last year. The latest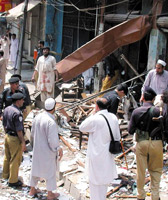 one on May 15 in Marhaba Hotel and Restaurant, located in the old part of the city opposite the historic Mohabat Khan mosque, killed 25 people and caused injuries to 28. It was a suicide bombing apparently targeting the restaurant's Afghan owner Sadruddin, and other members of his family. Sadruddin, an ethnic Uzbek who had lived for years in Peshawar after escaping the fighting in Afghanistan in the 1980s and generously promoted the tough Afghan national game Buzkushi in refugee camps for Afghans in the NWFP, was killed in the blast along with his two sons, a grandson and a brother. There have been theories galore as to why Sadruddin's family was targeted and whether there was some other motive for the suicide bombing but the over-worked and under-staffed Frontier Police and the several intelligence agencies investigating the incident have yet to come up with something concrete and credible to fix responsibility.

It would also be difficult to put the entire blame on the police for its failure to prevent such bombings or track down the perpetrators of the attacks. So much is happening on the terrorism front and there have been such a large number of suicide bombings and other terrorist acts that no sooner have the investigators started to make some progress in one case that another one happens. In fact, the blame-game starts whenever those tasked or required to resolve an issue fail do so and then efforts are made to find a scapegoat.

Maintenance of law and order is a provincial subject but here in the NWFP, the PML-headed federal government is running the affairs of the Federally Administered Tribal Areas (FATA) where military operations against local and foreign militants have been going on for some years now, while the MMA-led provincial government is responsible for the security situation in the settled districts of the province. However, in the so-called 'war on terror,' the responsibilities of the federal and provincial governments have become blurred and the intelligence agencies, all managed by the Pakistan Army or the federal government, are actively involved in operations in the settled districts of NWFP in which the provincial government has no or insignificant role.

Prior to the May 15 Peshawar suicide bombing, the terrorist act that was on everybody's mind was the attempt on the life of federal interior minister Aftab Sherpao. It was on April 28 in his hometown Charsadda that Mr Sherpao was targeted in a suicide bombing following a public meeting organised by his party, PPP-S, at a poor locality Station Koroona. He survived the attack, and so did his eldest son Sikandar Sherpao and some of his fellow MPA's. But 35 others, mostly civilians and some policemen, lost their lives and 50 more were injured. The suicide bomber hasn't been identified yet and his sponsors too remain unknown. The Imam (prayer leader) of a mosque near the site of the attack has been quoted as saying that the teenager whom he saw reciting the Holy Quran and weeping just before the blast could be the suicide bomber because he was a total stranger and has not been seen afterwards. He could be right but how does one find total strangers who leave no trace after blowing themselves up along with scores of others?

However, the more worrying thing is that the law-enforcement and intelligence agencies have yet to apprehend a single potential suicide bomber anywhere in the country. If this could be done, the investigators would get some clues about those sponsoring the suicide bombers and their modus operandi. Even then it won't be easy getting to know all the cells of suicide bombers which operate independently and in small numbers. If true, this is very much like al-Qaeda, whose members function in small and independent cells without any links to each other or with the top leadership. Such organisational strategy makes it difficult to infiltrate into the main organisation or bust all the cells after having broken up one cell of suicide bombers.

The Charsadda blast was preceded by the suicide bombing on January 27 in Bazaar Dalgaran near the famous Qissa Khwani bazaar in Peshawar that killed 16 people, including the city's chief cop Malik Mohammad Saad, deputy superintendent of police Khan Raziq, two nazims of union councils and a naib nazim.

The ongoing bombing spree in Peshawar began on September 19, 2006 when the parking lot at a police station, Peshawar West Cantonment, was bombed and some vehicles were damaged. Subsequently, bus stops, hospitals, bazaars, Peshawar airport, police stations, and offices of the International Committee of the Red Cross (ICRC) have been bombed. The deadliest among bomb explosion was in a crowded bazaar outside Jinnah Park that killed eight people and injured 35 others on October 21 last year.

The bomb blast in the lounge of the Peshawar airport took place on the same day as the Charsadda suicide bombing. It didn't kill or injure anyone but the bombing itself would have made headlines as it occurred in a maximum-security area of Peshawar Cantonment had it not taken place on the day the suicide bomber struck at interior minister Sherpao's public meeting in Charsadda.

The 16 bombings in Peshawar since September 19 have claimed 52 lives and injured 108. The investigating agencies, which include the police, have yet to work out a single case of terrorism. From the Inspector General of Police to low-grade cops, the standard answer to questions about these bombings is that there is little they can do to stop suicide attacks. While most people would agree with this assessment, still such helplessness on the part of the police creates uncertainty among the general public. With the cops generally demoralised due to some deadly suicide attacks directed against them, the people cannot be faulted if they no longer trust the police for providing them security.

Apart from the bomb explosions, which have also taken place at other places apart from Peshawar and Charsadda, other incidents making life insecure for some people are generally anonymous letters that are thrown at the doors of barbers and music shops and threaten them with dire consequences if they don't stop shaving beards or selling music CDs, DVDs, etc. In some instances, attacks have followed the delivery of letters and leaflets in Charsadda, Nowshera, Mardan, Tank, Bajaur Agency, Lakki Marwat, Bannu, Dir Upper, Dir Lower, etc. Recently, the police achieved its first success when a 25-year old man, who was a mosque Imam in Charsadda town, was caught red-handed after bombing a music shop in interior minister Sherpao's village named Sherpao.

Another issue that was threatening to get out of control and trigger violence related to radical cleric Maulana Fazlullah's activities in Swat district. It has now been resolved, for the time-being, after intervention by a jirga of Swati elders. Fazlullah is son-in-law ofTNSM (Tehrike Nifaze Shariate Muhammadi) leader Maulana Sufi Mohammad, who was jailed in December 2001 after returning from Afghanistan where he had taken several thousand fighters to assist the Taliban in resisting the US invasion. He has been doing preaching on his illegal FM radio channels, asking women to stay at home and describing polio vaccination as wrong.

In parts of southern NWFP, growing influence of local Taliban has prompted the police to incorporate and organise them into village peace committees to tackle petty crime and keep out the more radical Taliban who are coming from Waziristan to enforce decrees that bar music as well as drugs.

The MMA-led government in the NWFP and chief minister Akram Durrani are convinced that some of the bombings and the re-activation of the banned TNSM in Swat and rest of the erstwhile Malakand division are part of a federal government plot to destabilise the province and malign the ruling MMA. The federal government on its part denies this and instead blames the provincial government for the deteriorating security situation. Islamabad is also concerned about Talibanization in the Frontier and is blaming the MMA government for allowing this to happen. Amid the blame-game, the common people are suffering from the growing insecurity as they don't know where to turn to seek protection.


interview
"Curator dominates art today"

Ahmed Ali speaks about conceptual and formal concerns, originality and Pakistani art in general

By Quddus Mirza

Pablo Picasso, the great painter of twentieth century, could never have imagined that he would be declared a Sindhi in the next century by an artist in Pakistan. Ahmed Ali declares him so because to him it is not necessary to be born in Sindh, to have Sindhi as the mother tongue, or belong to the race, because to be Sindhi is just a state of being.

What appears to be a jestful remark is in reality a statement about the meaninglessness
of nationality and regionalism. Hailing from interior Sindh, Ahmed Ali shines as a distinguished young artist of our times. His concerns range from the conceptual to formal and his work reflects his unmatched ability to think visually and express poetically.
After graduating from NCA in 1997, he held a number of solo exhibitions and participated in various group shows. Known for his sharp mind and crisp observation, Ahmed surprises with the unusualness of his work and for not being confined to one particular style or a set of imagery. As his work offers a refreshing voice in Pakistani art, he makes valuable comments on our aesthetic practices too. Here follow the excerpts from a recent discussion on his life, art and other issues.
The News on Sunday: How did you start painting?
Ahmed Ali: To be honest, I never considered art as a career when I was a child, even though my father was a commercial painter and so was my elder brother. But when I got interested in art, I thought of it as something about acquiring perfection in depicting whatever I see. Later when I joined NCA, this point of view seemed pointless, because I realised that art was a way of life.
Just like a potter, whether or not someone purchases his pieces, he continues to be a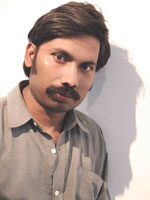 potter, an artist remains one, regardless of whether his work is appreciated or not.
TNS: Besides you, there are many other significant young artists from Sindh. Do you see this as a phenomenon?
AA: There are not many artists working in Sindh because most of them have come to Lahore to make a name for themselves. Many painters from Sindh do not have any association with their land. At the same time there are artists who, though not ethnically Sindhis by birth, but they live in Sindh and portray the essence and reality of Sindh like Musarat Mirza.
But then again, the classification of artists as Sindhi or Balochi is as misleading as calling Marquez a Colombian author. In fact what a great writer or artist strives for is a focus on his immediate reality while expanding his geographical territory. It is not the specific details of the region which are important, but the general feeling of belonging to a place to which everyone can relate.
TNS: In your last body of work, you concentrated on the history of Sindh?
AA: Actually the history of Sindh is more of nostalgia like listening to old songs and hearing old tales. It is a whole word for me in which I can live.
TNS: How do you see yourself as part of today's art world?
AA: I can't associate with many of my contemporaries, because most discussions on art end up at the prices of the cars, value of the houses or sales of work abroad. In this situation I feel that working on my own in the studio is much better than talking about things that aren't important to me.
TNS: What do you think about commercialism in art?
AA: I don't think it is bad. It has a long history, as the painters from the Renaissance period have been aiming to get a good place in the court and to receive a substantial sum for their works. Today artists are doing the same thing. But the problem is that they are following easy 'formulas' for that. That is after the success of the first piece, they produce the same stuff again.
The danger is that the artists are setting a bad example for the younger people -- of what to hope to achieve. In this atmosphere of commercialism, if someone is not making money, he is not considered an artist.
Art does not have a value of its own; it is connected with cash. People join art for monetary reasons only. I was also advised to put two of my paintings in every gallery and to keep changing them after every six months -- a sort of updating my goods, but I am unable to do so. I do not possess marketing skills.
However, we are not the only ones faced with commercialism. In India too many painters are working as if in corporate sector and making millions. When I was there I asked them if they had seen different works and they said: "We don't have the time to see art, we are busy in making paintings for the galleries, collectors and for the art camps." These are all sponsored by big businessmen.
TNS: What do you think of Pakistani art?
AA: When we talk about Pakistani art, there is a forced idea of nationality. Perhaps after the creation of the country, efforts were made to fabricate identity but what was forgotten was the fact that art has no boundaries. We can see these 'attempts about identity' in miniature painting these days, where beards are made or kings are portrayed, just to attract foreign buyers through this 'touristic' sense of identity.
In addition, this is an age in which the curator dominates the art scene. Artists are working like labour for the curators. They come and place their order or even give directions, especially in the case of a certain curator from UK. Due to all this, Pakistani art is fighting its case with all its exoticism that includes ethnic stuff, such as truck art, domestic utensils, and of course miniature imagery.
It is interesting to see how the presentation of our art varies according to the venue where we display our work. Pakistani art is different if shown in India or in Japan, or in Australia, USA and UK. Like a chameleon we change our colours.
TNS: What do think of the artists of today as compared to artists like A. R. Chughtai and Shakir Ali?
AA: I like Shakir Ali's painterly quality, his rendering of forms, but in case of other individuals, I think even artists of the past never expressed themselves fully; they were either 'caught in technique' or they created through someone else's eyes.
The painter who makes women of Thar and landscapes of Punjab is not much different from Chughtai, who produced works with his oriental and exotic approach, following the Bengal School.
TNS: Where do you find originality?
AA: I like Zahoor ul Akhlaq's concept of continuity. I think when artists follow other artists; there should be continuity, not just copying someone. But on the contrary what happens is that we do not learn from the artist's work, but we even copy his mannerism; how he picks up his brush, how he brushes his hair, how he talks, dresses up, we imitate all that.
TNS: Why it is like this?
AA: Because our artists often have a superficial idea of their art practices. Of course I am aware of the issues, but we have to respond to the visual language while making art. I don't advocate that artists should be ignorant, but I feel that most of them do not conceive it visually and are clueless when it comes to matters of form which include colour, harmony, mark-making and visual balance. Too much talk turns into an excuse and substitutes for the formal concerns. So I believe that when artist starts speaking about his work, his work becomes silent.
Mobina Zuberi's latest paintings on display at Khaas Gallery may be abstract but the concept certainly isn't
By Aasim Akhtar
"Authentic art is rooted in metaphysical awareness"
--Mahasukhaprakasa,
12th century
Tantra, simply stated, is devotion with the body. It is best known for its elaborate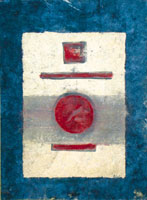 system of controlling energy. Use of harnessed energy in pursuit of divine union is one aspect of tantra, but not its total philosophy. Central is the recognition of the human body as the dwelling place of cosmic truth and the body as a device for access to that truth. Much about the current suite of paintings by Mobina Zuberi at Khaas Gallery in Islamabad reflects her personal evolution as a 'tantrika'.
Zuberi uses thick and slightly rough artisanal paper that she primes for absorption -- just as years of regimented meditation primes the tantrika for his absorption into the Absolute. Once the paper has been treated to amplify the dispersal of colour, Zuberi releases inks and dyes from a loaded brush. But it is an orderly, not chaotic, serendipity, controlled by disciplined practice.
In two almost identical paintings, Zuberi has multiplied the simple square and designed an architectural layout for tantric meditation. The devotee can travel with his mind from one exterior alcove to the next, stopping at each square to focus on the central dot, or bindu that is crucial to the diagram.
The very centre of the cosmic diagram either holds a single dot or remains void. This is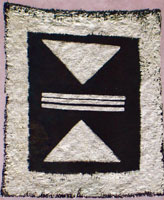 the focal point of yantra. A single point in geometry has no dimension in itself. Mathematically it is zero, yet it holds the promise of infinity. Several dots create a line, and lines form contours, defining space. Zuberi depicts the dot as a portal to the Absolute: her dots are not neat little circles with smooth edges. Rather they are discs with edges that become erose when wet. The effect is visually violent. A scar or wound is suggested, indicating that the path to cosmic absorption -- and pure bliss -- might be painful.

For Zuberi, the idea of a line is made manifest in many ways. Most obviously, it is a boundary of the sacred diagram. But a line can be a path -- the path of energy moving upward along a virtual central channel, where each dot identifies a chakra, a focal point or vortex of energy along the channel.

In several of her paintings, Zuberi illustrates the path of energy within an abstract framework that relates to the human body. Although the diagram is abstract, the concept is not. In one of the untitled works, a line of dots traces the vertebral curvature of a human spine; tracks of short parallel lines on either side of this spine suggest a rib cage. Vertical furrows expand across the mango coloured slate. These thin grooves are closer together at the sides where colour is most intense, emphasising the expansion of consciousness through meditation. Each has a jagged edge, framing a small window of pure white light, subtly reminding the viewer of the duality of pain and bliss.

Acknowledging and satiated by all aspects of his physical life, he is challenged only to let go of the weighty baggage that accompanies them. In another sense, the absorption of fluid colour in Zuberi's paintings signifies a mingling of the human body's vital fluid with that of the universe. The dot in her paintings signifies an orifice through which bodily fluids emanate. The milk, blood, tears, sweat, semen connect the artist with the water, rain and sap of Nature's cycles.

Zuberi does not ignore this physical connection. With her ironic bindu and process of bleeding colours, she proclaims their potential as vehicles of transformation and union with the fluid circuits of the physical and cosmic universe. The bindu is a seed of expansion. It can be perceived as a cosmic egg with primordial functions of regeneration and multiplication. Fleshy reds melt into the dark centres of Zuberi's paintings while colour-saturated broad bands at the top allude to illusive junctures of water and air.

The embrace of the male and female principles and their delight thereby, denote their intrinsic unity, their metaphysical identity. Regarded from the standpoint of logic in the world of space and time, the male and female are two. But in their intuition of their identity (which is the seed of love) the thought of twoness is transcended, while from the mystery of their physical union, a new being is produced -- as though the corporeal imitation of the nondual truth had magically touched the inexhaustible spring from which the phenomena of the cosmos arise. From beej the conception of an icon is developed, and from that conception is derived the external representation of the icon.

The entire task of Mobina Zuberi's current work is to achieve the aesthetic concretion of the metaphysical doctrine. Whether her icons emphasise the void, as in the brooding darkness of some paintings as well as the luminous emptiness, rimmed with darkness, or the seed, as the erotically alive colours of some may suggest, they are tense with the dialectic of void and seed -- the dialectic of creativity. The sexual dialectic is its symbol -- hence the erotic aura of Zuberi's icons.

The ecstatic moment of full consciousness of the metaphysical truth about existence is a moment of aesthetic shock: Zuberi's icons give us an aesthetic shock. Thus meditation on Zuberi's icons is therapeutic. The tensions in them -- between contrasting colours, lines, and rhythms as well as light and dark -- evoke our inner conflicts and distress even as their aesthetic resolution finally raises our spirits.

Salamat Ali Khan along with his brother was the architect of the Kheyal Gaiki Gharana

By Sarwat Ali

It has been observed that the Pakistani classical musicians are more easily prone to experimentation compared to their counterparts in India or what their tradition usually allows them.

The whole lot of Patiala Gharana musicians have ceaselessly experimented and the Sham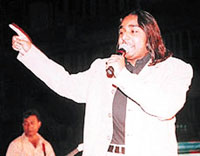 Chaurasi have not lagged far behind if the concert of Shafqat Salamat Ali Khan held last week at the Alhamra can be quoted as an example. This ceaseless experimentation can perhaps be easily explained by the total lack of respect and veneration of the classical traditions and forms of singing.
Partition was the watershed that resulted in a large number of Muslim musicians migrating to Pakistan while losing plenty who supported classical music. These classical musicians were forced into experimentation by the peculiar set of circumstances. People had a different taste and these musicians had to cut the coat according to the cloth of popular inclinations and proclivities. This could be the reason for the development of ghazal gaiki as a serious form of music which nearly rivalled the more respected and glorified forms like the kheyal and thumri. All the virtuosity that otherwise could have gone into thumri and dadra instead sneaked into ghazal gaiki to produce maestros like Barkat Ali Kh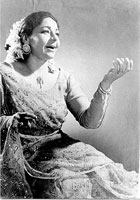 an, Farida Khanum, Amanat Ali Khan, Iqbal Bano and Ghulam Ali.
The musical journey of Ustad Salamat Ali Khan too should be seen in this light. His name was synonymous with kheyal and thumri. After spending his formative years in undivided India, on migrating to Pakistan he soon established himself as the most promising kheyal singer with his elder brother Ustad Nazakat Ali Khan. The duo was to dominate the world of classical music for the next two decades.
Obviously to many detractors this little rebellion from tradition, as they switched from dhrupad to kheyal, was sacrilege. Though severing of a formal ustad-shagird nexus assumes violation of a tradition but these two brothers silenced the critics with their lightening progress in this genre. They were driven to perform at a very early age due to their promise, and also because of poverty. The family just could not bear to see them not become earning members to salvage a near desperate situation at home. They got their early training from their father Vilayat Ali Khan, and probably also benefited from the tutelage of Mubarak Ali Khan, the Jalandhari qawwal.
Belonging to the famous Sham Chaurasi Gharana these two brothers actually were the architects of their own gharana of kheyal gaiki. These professional musicians with proper lineage in the Punjab were dhrupad singers. Of the four major schools of dhrupad in the Punjab -- Talwandi, Haryana, Sham Chaurasi and Kapurthala -- their grandfather Mian Karim Buksh was the flag bearer of the Sham Chaurasi gaiki but the grandsons, Nazakat Ali and Salamat Ali chose to switch to kheyal gaiki. They did not formally submit themselves to any ustad but the influences were many and the most profound were that of Ustad Ashiq Ali Khan and Ustad Barrey Ghulam Ali Khan -- the two giants of the Patiala Gharana who dominated music, with Tawakkel Hussain Khan, one of the most virtuosos of singers.
And proceeded on the path of dikhiya, sikhiya and parikhiya (to see, to learn and to creatively assimilate) with great deal of success. Ustad Salamat Ali Khan was blessed with a good voice which he honed with great diligence. His real fortes were the lightening taans that traversed the three registers in a flash, and laikari, which was nearly unprecedented. Despite all the virtuosity there was a base of the dhrupad as they elaborated the raag and then they astonished everyone with their taans and subtle division of the rhythmic patterns in that tempo.
Needless to say Ustad Salamat Ali Khan was the dominant partner but the elder Ustad Nazakat Ali Khan had a mellifluous voice that could also traverse the three registers, and it was he who formed the basic aesthetic tonal pattern of the raag. One of the most difficult things in kheyal or dhurpad is to establish this aesthetic tonal pattern (shakal) of the raag and Nazakat Ali Khan was very good at making a sketch. Then Salamat Ali Khan took over and started adding colour by dividing, sub dividing and combining the variations of stress that enunciated the musical possibilities inherent in the raag.
The introduction of so many instruments alien to the classical music ethos has totally changed the complexion of music in Pakistan. Then the unnecessary emphasis on virtuosity too is a characteristic of our classical musicians. They do not weave the virtuosity into the tapestry of the overall design of the performance but insist on its display as a separate entity. Some do it by indulging in complicated phrases and lightening taans while some others, still not satisfied, mention it in words to implore the attention of the audience to the difficulty of their art.
This all started after partition when the vocalists and musicians realised that they were performing before uninitiated audiences. Barey Ghulam Ali Khan left the country, some switched to lighter forms while the remaining went about brandishing their virtuosity as classical music in itself.
Can we say that this reliance on virtuosity has added another dimension to our music and if not now perhaps a little later will be considered as a significant contribution? Or that the real contribution will rest in enriching the simpler forms of music with a more complicated and complex rendering.