The Mamma Mia! omnibus is on the road. And it would be safe to say that Nida Butt has launched her second enterprise with all the razzmatazz of the first - Chicago. And while Chicago was in your face, steamy, sexy, darkly comic and murderous, Mamma Mia! is the most palatable, wholesome entertainment imaginable. Relying on nostalgia (read love for Abba) to rope in the audience, the musical centered on their songs has gone down well. So what if you've seen the film starring Meryl Streep and Pierce Brosnan? Just to see actors singing and dancing on stage bursting into songs like 'Voulez Vouz', 'Money Money Money' and 'Super Trouper' ensures that your paisa is completely vasool.

As for all those who say that the play is completely foreign, it's not true… Mamma Mia! revolves around a wedding - can you get any more Pakistani? The firangi twist in the tale is that the bride has three potential fathers who are all invited. What follows is a comedy of hilarious proportions as the bride's mother flips out, her friends console her, the bride-to-be goes through an identity crisis as she bonds with all her potential dads and everyone bursts into Abba songs at the drop of a hat… raucously happy ones when they're walking on the beach, poignant ones between mother and daughter.

It helps that the audience knows them and sings along, so the audio glitches seem to pale into insignificance. And there are glitches; it's a part and parcel of what Nida Butt is doing. Her's is an ambitious, audacious enterprise that rolls ahead on the adrenaline of everyone involved. The glitches of course should be minimized, but one has to commend the infectious energy Nida Butt's brand of theatre infuses you with as you walk out humming 'Mamma Mia! Here I go again' to yourself.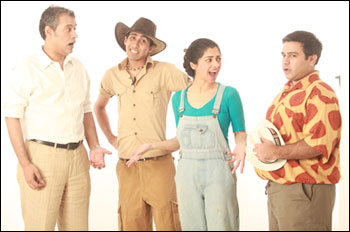 Kiran Chaudhry's rendition of the song is fabulous. One can see why she was chosen for the title role of Donna Sheridan. Out of everyone in the cast, it is her voice that soars through. She is a trained singer with powerful vocal chords that she uses to devastating affect in Mamma Mia! Those who have attended the posh Club Caramel concerts in Karachi and Lahore will be familiar with the girl who performs Rihanna's 'Umbrella' with such verve. Abba tunes are as simple as ABC for her and there is joy in watching a trained singer play Donna Sheridan. She lends a poignancy even to the simple tunes. The only things that dampen her performance are the audio glitches and that one can make out that Mamma Mia! is Kiran's theatrical debut.

In comparison, Rachel Viccaji, who play her daughter Sophie Sheridan is more at home with her character and can carry a tune. She played Velma Kelly in Chicago's Lahore run and has singing experience as the lead player in the aptly named underground band Rachel's Plan B. Zoey Viccaji, (Rachel's sister for real) also fares well in the role of Donna's friend Tanya, but special mention must be reserved for the actor who plays Rosie - Sanam Saeed.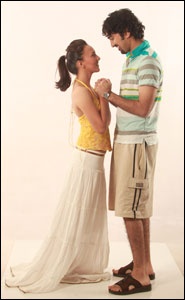 The girl who won so many hearts as Roxie Hart outclasses everyone in Mamma Mia! with her performance to 'Take a Chance On Me' towards the end of the play. She keeps the tone of her singing conversational. As she makes theatrically cheeky overtures towards Bill (Saad Rahim Zubair), she seduces the audience too. Sanam Saeed is a true talent - for me she stole the show. Her vocal chords do not have the power of Kiran Chaudhry's (Sanam has often been a backing vocalist for Kiran's Caramel) but no one comes close to her expressions that are always a hoot and that effortlessly fluid body language.

And then of course, there are the men, out of whom Omar Bilal Akhtar (of the Aunty Disco Project) as Sophie's beau Sky stands out again thanks to his singing talent. Akbar Merchant as Harry, Aly Mustansir as Sam Carmichael and Saad Rahim Zubair as Bill complete the cast as Sophie's dads. They are all competent enough, but what you walk away with at the end of the show is the undeniable feeling of girl power. The girls get all the good songs and all the great line - and justifiably so -Mamma Mia! is essentially a chick flick.

It's the theatrical extravaganza of the year in Karachi, just like Chicago was before it. While they've both been borrowed screenplays and (as critics are quick to point out) the rights to them have not been bought, I wouldn't dismiss the power of what Nida Butt is achieving. She's putting musicals into the limelight, bringing about a culture of live music (courtesy the In Time Band) and singing in theatre, creating stars both men and women who sing and dance on stage (until one saw Chicago, one wouldn't have thought it possible) and forging the all important links between theatre, fashion, celebrity and music that thespians aren't doing.

The acting in a Made 4 Stage play falls below par when compared to that of say a NAPA production, so does literary merit and no, there is no message for society either. Nida Butt's productions are about a band of brothers and sisters who are having fun with the medium. They are men and women who enjoy live music, are related to the performing arts in some way, do plays together and at the end of the day party together. They have a hit in Mamma Mia! because there is an audience in Pakistan that has grown up listening to Abba songs who will flock to see the the desi version of a global phenomenon. As much as purists like to scoff at the effort, the fact of the matter is that a musical on Taansen won't do so well.

But one can imagine a hip original musical in Urdu starring Atif Aslam; done right, it could take both Pakistan and India by storm…