Baba Bulleh Shah, whose 253rd annual urs that was observed last week at Kasur, reminds us that people of the Indus Valley have always been tolerant and broad minded. They despised religious bigotry. When Mughal emperor Aurangzeb adopted harsh policies towards his non-Muslims subjects and damaged the growing interaction among various religious groups of his empire, Punjab strongly reacted against it. Baba Bulleh Shah's poetry was the embodiment of the reaction. It gave a fresh impetus to the teachings of universal love, humanism and tolerance, which had been the hallmarks of Indian Islam and Sufism.
Re-evaluating modern times
An American author shatters the myths regarding Islam's contribution to modern politics and wars
By Jazib Zahir
A world without Islam
Author: Graham E. Fuller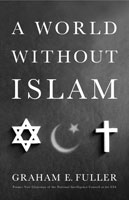 Publisher: Little, Brown & Company
Price: Rs. 1395
Pages: 336
Imagine a hypothetical world where Islam had never taken root. Would the Middle East have been spared centuries of turmoil? Would Europe face the same challenges in assimilating immigrants? Would the 9/11 terrorist attacks on American soil still happen?
According to Graham E. Fuller, the answer is a resounding yes. Fuller's thesis is that the nation of Islam has wrongly been stigmatised as the edifice that supports the clash of civilizations. He uses a blend of rhetoric and historical analysis to assert that even without Islam in the frame, antagonism between East and West would have unfolded in pretty much the same manner. Such speculative books are a rare breed and thus draw plenty of hype. Fuller draws credibility from his past affiliation with the CIA and pedantic knowledge of history, religion and politics.
Early portions of the book are dedicated to the claim that Islam did not bring a radical change to the Middle East. Fuller argues that the Middle East had been through many ideological transformations and the spread of Islam was just one of many organic processes. The verdict is that any alternative ideology that had germinated could have resulted in the same ramifications. This is probably the weakest portion of the book and is likely to be consumed with a healthy pinch of skepticism.
Fortunately, the book does not lose steam in these early stages since Fuller also delves into more intriguing and less controversial analyses of the three Abrahamic faiths. His arguments on how Islam provided a compromise between Judaism and Christianity are not new for Muslims but may provide western readers with a new perspective. The point at which a Muslim reader is first likely to get hooked on the text is when Fuller posits that if Islam had not flourished, Orthodox Christianity would have filled the vacuum of the Middle East. He then devotes a great amount of detail to explaining the source of animosity between Orthodox Christians and the Catholics of Western Europe and makes a worthy case that East and West was destined to remain at loggerheads irrespective of the actors who played the roles.
Ensuing arguments on the Crusades are easily digestible. It is now generally accepted that the primary motivations for the Crusades were political and pecuniary rather than religious. Fuller elaborates that much of the Crusades comprised ignorant people from Western Europe who really did not understand why they were heading East. He insists that the Crusades involved significant conflict between Christians of Western and Eastern Europe. The reasonable conclusion is that the branding of Muslims as a common enemy did not inspire the Crusades.
Much of the book focuses on modern day experiences. A fair amount of ink is devoted to hackneyed arguments on how imperialistic tendencies of the West have triggered discontent in the East, with the added angle that such friction could have been generated with any community not just the Muslim one. To Fuller's credit, he does not attempt to dissect Muslim experiences all across the world. The focus remains on strategic regions that fuel his arguments such as Russia and Eastern Europe. At just about 300 pages, the book is broad enough to cover formidable ground but not long enough to dwindle into a historical sermon.
If the book has a central weakness, it is the thesis that almost seems thrust upon us. There are many thoughtful and original ideas on the complex dance between politics, religion and ethnicity but in forcing all of them to be propped up as evidence that a world without Islam would not be any more peaceful, the author has done himself a disservice. The writing would have also benefited from the more liberal use of anecdotes. The description of the Crusades comes to life because of such vignettes but other portions of the book involve long stretches of bland rhetoric.
If you are looking for a powerful defense of Islam in the modern world, this book will not provide it. But if you want something readable that will expand your knowledge of major world religions and give you some food for thought, this is definitely worth curling up with for an afternoon. Fuller deserves a salute for making a worthy effort to clear up misconceptions about Islam among western audiences. I just feel that if he had adopted a less rigid framework, the results could have been so much sweeter.
Cultivated voices
A literary magazine of merit reappears after a break
By Altaf Hussain Asad
Tasteer
Editor Naseer Ahmad Nasir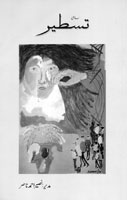 Pages: 430
Price: Rs 200
The hibernation period the magazine Tasteer is over and once again it has started making its appearance once again. Surely this is good news for all serious literary buffs. Naseer Ahmad Nasir, its editor, is a senior poet in his own right and proves that he has tried his utmost to achieve high standards. He raises a few pertinent questions in his editorial and sums up by saying that "Literature is not a slogan, sermon or a research paper. A man of letters is neither a politician nor a social worker. Literature only points out a path, offers us an ideology".
Dr Anwar Sadid shares a few letters of the recently deceased Farkhanda Lodhi, with her brief introduction. Farkhanda Lodhi wrote these letters to various literary figures; in one of these letters she takes a dig at Qurratulain Hyder and dislikes her style. This is open to debate because a writer's standing needs the test of time. The section of Nazms is a hefty one where one can see some major names of poetry. Sarmad Sehbai, a known literary giant, and the original poets of Pakistan stand out in the section of poems. I am particularly impressed by Piaray Lal and Subah Kay Hont Per Bad Dua Hai. Gulzar, the Indian icon and songwriter, is also there in the section and one marvels at his expertise to weave a colourful ambience with his choicest collection of words. Abrar Ahmad, Naseer Ahmad Nasir, Farrukh Yar and Naheed Qamar are also exceptionally brilliant as their poems portray the agonies of the era. The section of short stories boasts of some big names of the country. But it is not up to the mark as, except a few stories, most are average. Rasheed Amjad's Afsos Hasil Ka is a very sharp story where author bemoans the enigma of Time. Muhammad Ilyas, who lives in Mirpur, is getting attention of the known literary bigwigs and many have praised his novel. Sahi Faisla is his story where he narrates the life and times of an honest official in a very simple way. The technique of the story is also quite orthodox which is at times quite jarring for a reader hooked onto modern fiction. Anwer Zahidi shares with us the translated excerpt from a Gabriel Garcia Marquez novel- Watan mein Jalawatan. Muhammad Asim Butt, whose novel Daira was widely appreciated, appears to be quite impressive in his new novel which was published in installments by Tasteer. His novel is moving and not run of the mill. There are fantastic Ghazals by few upcoming poets too. Apart from seasoned poets like Zafar Iqbal, Jalil Aali, Sabir Zafar, Sarmad Sehbai, there are other new voices in this section. Afzaal Naveed and Fakhra Noreen are a class apart too. Shamsur Rehman Faruqi is thrilled by the poetry of Majrooh Sultanpuri and states that despite his affiliation with the Progressive Writers Association, his Ghazal was sublime. Dr Ziaul Hasan, poet and critic, analyses Hasan Kooza Gar, a very famous poem of Rashed. Ziaul Hasan says that the above-mentioned poem of Rashed can be compared with Masjid-e-Qartaba of Iqbal or Mulaqat of Faiz Ahmad Faiz. There are a few other essays too.
Also included in the magazine is the annual presidential address delivered by Abrar Ahmad at the Halqa Arbab-e-Zauq, Lahore. In a detailed piece, he hurls a few questions at creative writers. Lots of pages are dedicated to prose poems. Naseer Ahmad Nasir, Saeed Ahmad, Abrar Ahmad and Naheed Qamar offer us some lovely poetry in this section. In a long piece, Gopi Chand Narang throws light on the creativity of fiction writer Sajid Rasheed.
Tasteer's poetry section is quite powerful as the editor himself is a known poet. He needs to pay more attention to the stories section. It is hoped that the editor will tackle this in the next issue of the Tasteer. All said and done, Naseer Ahmad Nasir needs to be appreciated for reviving Tasteer.
A word about letters
By Kazy Javed
Remembering the rebel poets
Baba Bulleh Shah, whose 253rd annual urs that was observed last week at Kasur, reminds us that people of the Indus Valley have always been tolerant and broad minded. They despised religious bigotry. When Mughal emperor Aurangzeb adopted harsh policies towards his non-Muslims subjects and damaged the growing interaction among various religious groups of his empire, Punjab strongly reacted against it. Baba Bulleh Shah's poetry was the embodiment of the reaction. It gave a fresh impetus to the teachings of universal love, humanism and tolerance, which had been the hallmarks of Indian Islam and Sufism.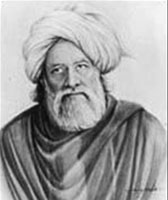 As we now know Baba Bulleh Shah, like many other opinion-leaders and reformers of the 18th and 19th centuries, failed to stop the process of history set in motion by the Mughal emperor. But he is widely revered in Punjab and Sindh as a Sufi poet and saint.
A newspaper report says that Baba Bulleh Shah's urs this year fell victim to tight security arrangements made by the district administration. They didn't even leave room for recreational activities. As a result the devotees of the saint were greatly disappointed.
New books
Mustansar Hussian Tarar refuses to agree with Sartre's observation that when an author puts his pen to paper, he has a clear idea of readers in his mind. He knows well for whom he is going to write. "No", says a confident Tarar. "I never entertain the idea of what audience I am writing for. My stories develop in the direction that I lead them to."
Tarar's latest offering Khas-o-Khaashaake Zamaana, a tome of 740 written pages substantiates his claim. The novel has a number of characters reminding one of his declared guru Tolstoy's War and Peace. These characters are brought on the stage and before they could push others to the wall and take the author for a ride they are made to take the back seat. The story, however, goes on smoothly.
The publication of this novel is an event of unusual literary importance. It makes us believe that some fifty books – travelogues, novels, collections of short stories and newspaper columns that our best-selling writer for the past three decades has penned, have not sucked dry his imagination nor has his passion for experimentation moved downhill. Another point usually ignored is that Tarar's novels and short stories never fail to carry a message for the readers.
Finely produced by Sang-e-Meel Publications of Lahore, Khas-o-Khaashaake Zamaana has been dedicated to the birds reared by the classical Persian Poet Aattar.
Thanks to Nasreen Rashid the birth centenary of Noon Meem Rashid, one of the founders of modern Urdu poetry, has not gone unnoticed. She is the daughter of the poet and has brought out a collection of his father's letters written to her mother during 1936-41 to mark the occasion.
The 226-page book titled Noon Meem Rashid key Khatoot apni Aehlia key nam and self-published by the compiler,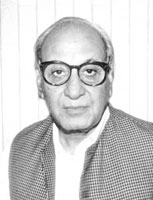 brings out the romantic but conventional poet who rebelled against traditional poetry. But you can also read the book as a document of the feelings of the newlyweds in the Punjab of 1930s.
Mohsin Ehsan died
My last meeting with Mohsin Ehsan took place some three years ago in Islamabad, and I remember many things he said. We mostly talked about the Pathan culture, origin of Pushto language and new trends in Hindko poetry. He spoke highly of Ahmed Faraz, Raza Hamdani, Khatir Ghaznavi, Farigh Bokhari and Qateel Shifai who were his contemporaries and noted poets from his province. Mohsin Ehsan believed his province did not lack talent; cultural conservatism and lack of resources had denied opportunities to the growth and expression of the talent.
Mohsin Ehsan died in London last week at the age of 77. Primarily, he is known as a poet with eight collections of poetry in Urdu and Hindko languages to his credit, but he also penned short stories and plays. He taught English language and literature at the Peshawar University for a quarter of a century.
Mohsin Ehsan was conferred Pride of Performance award in 2000. Earlier he was decorated with Faiz Ahmad Faiz International Award in 1988.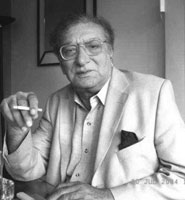 Forgotten Faraz
Ahmad Faraz remained at the peak of his popularity during the past quarter of a century. But the problem with popular poets and writers is that they are usually thrown into oblivion swiftly. Udam and Jigar are two classical examples. However, Ahmad Faraz was so popular with the young generation and influenced them so much that he was admired and remembered for many years to come. "People adore him", Zahid Dar told me the day Faraz died and added "he will remain close to people's hearts for many years to come". Poet Hussain Majrooh endorsed him: "Faraz is not an ordinary poet. People are mad about him".
The sad thing is that the poet's second death anniversary recently passed away silently. Nowhere did the men and women of letters did not find the time to get together and pay tribute to the romantic rebel poet who had the heart to stand up against two military dictators and returned the highest national civil award Hilal-e-Imtiaz because he could not be a "silent spectator of the misfortune" around him.