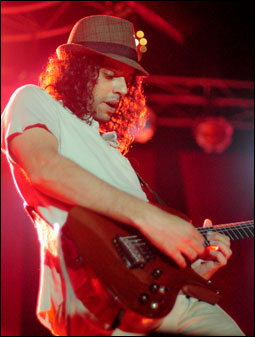 At the start of this week someone wrote that while fear and violence gripped one part of Karachi, another part was enjoying a concert. Perhaps it was overlooked that this eagerly anticipated concert was initially scheduled to take place on September 18 and had to be delayed to October 17 as safety was an uncertainty following the demise of a member of an influential political party. The poignant part is that almost every day Karachi, and Pakistan as a whole, faces some sort of unrest owing to an ever-growing list of calamities. In trying times like these people need days when they can feel a sense of sanguinity rather than desolation.

Sunday night was one such night. Amidst a crowd singing in unison with the performers there was an aura of optimism. A sense that if this nation can offer nights like these then Pakistan can sing and dance in accord rather than grieve.

Between the wailing guitars, beating drums and the hilarity of Sami Shah, people in the crowd sat on lush grass, mingled and ate in a festive atmosphere. The very aptly named Sound of Hope kicked off with a bang and never let up. This is how it all went down!

Indus Valley Students displayed dynamism
Usually attending large events at Indus Valley School of Arts and Architecture (IVSAA) is an exercise in parking skills and driving in close quarters. However, this time it wasn't as dire. Students directed traffic to the best of their abilities, despite Traffic Control not being a popular course over at Indus.

However, the line-up at the front gate seemed more intimidating. Separate entrances for men and women were created by erecting a divider. Females generally breezed through their half, and with more rigorous security checks, men were allowed in before a metal detector where the Indus finally met again.

Despite a slow process, no one really complained, perhaps understanding that this was for everyone's well-being. There were no frustrated customers and everyone seemed to be in a rather joyous mood for which kudos must go to the IVSAA Student Council and Rahnuma. With appropriate discretion and vigor their control of security and set-up of the stage and stalls was impressive.

Sami Shah's wit and valor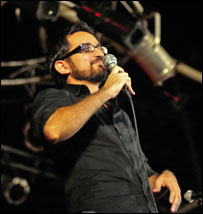 Midway through Sami Shah's opening stand-up routine there must have been certain audience members feeling regret. Regret, that is, at missing Sami's stand-up show a while back. Simply put Sami roused the waiting audience with great aplomb. His jokes were well timed and interactive with an audience anxious to listen to some music.

Most comedians in Pakistan don't have the 'cojones' to use profanity or sexual innuendo in their stand-up routines. Sami is not amongst them. His interplay with certain audience members was well-done and received, even by the poor bloke who was the crux of the joke. That said this should be expected of Sami, as anyone who listens to his radio show knows, he leaves no stone unturned when it comes to finding his material. One feels he might have had a field day with the chap wearing an "I lost my number can I get yours" t-shirt.

Momo and Gumby steal the spotlight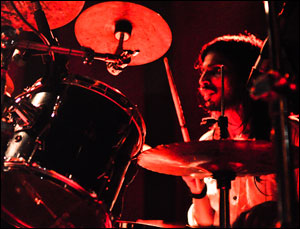 Not in the literal sense, no. There were no missing spotlights so the light crew can breathe easy. However, they did steal the show. Throughout the evening they were a constant fixture on stage, lifting the audience into frenzy, aside for when Sami Shah relieved them for a break in intervals between bands.
Omran 'Momo' Shafique seemed to hit every note that he intended. His guitar wailed and moaned at his command, his control never letting up. After he got warmed up with his own songs, from Mauj, his presence in all the other acts was hard to miss. Having seen him play a few times now, it is most evident that he keeps getting better with each performance, Sunday night being amongst his best. Swaying side to side in true rock-star showmanship, his solos and leads (particularly in Ali Azmat's set) were sweet music to anyone ears.

However, as much as Momo plays a mean guitar, no one beats the drums like Gumby.

It has already been echoed by people and publications alike that he is in a league of his own as far as drummers from this region are concerned. Sunday night he reinforced that belief by playing through the entire night and giving a memorable, moving drum solo in Noori's 'Saari Raat'. He smashed his snare and cymbals on cue with each act which enticed the crowd into chanting his name. Looking like he had taken a swim, by the end of the night it was clear he had put in a massive performance.
Magic music ala Mauj
Being the first act on stage, Mauj, of which only Omran was present, had the responsibility of warming up a swarm of students. Even though the mike initially gave Momo some problems he remained cool, calm and collected. He carried his set with the usual funky riffs that we expect from Mauj. Certain listeners even compared his composition to some reggae beats, a refreshing change from tunes Pakistani artists are accustomed to.

As Omran played some of his recent hits such as 'Mona' and the Zohaib Hasan cover 'Pyar Ka Jadoo', it was 'Paheliyan' that roused the crowd. He also threw in a couple of sweet solos which went a long way in drawing emotion from an eager throng. It even prompted an audience member to break out into his own air-guitar solo, which resembled the 'I need to use the urinal' dance one does after consuming uber amounts of liquid.
Faraz's electric fingers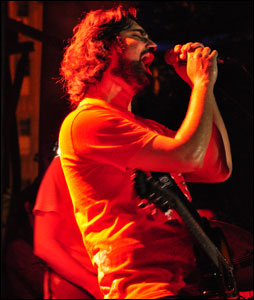 Up next was our very own guitar virtuoso Faraz Anwer. His rapidly moving fingers, across the neck of his guitar, are always awe inspiring. Sadly that was the only awe he could garner from the crowd, apart from some avid fans. As much as Faraz is great with his guitar, he lacks that much in his vocals.
He played crowd favorites such as 'Panchi' and 'Ujalon Mein' but it clearly sounded nothing like the studio versions which polish up certain aspects. That said his heavy riffs and leads prove that he has talent galore. If only he can get a more accomplished vocalist for Mizraab, the sky's the limit. He did however inspire a mosh pit at one point, though that concept seems lost in Pakistan as every mosh pit eventually turns into a 'bhangra' pit.

Noori building bridges and buoying crowd
The one disturbing note about Noori's performance was not related to the brothers at all. In fact it was the ladies who opted for mini photo session while Noori was rocking 'Nishan' on-stage. Apart from that minor inconvenience, Noori oozed brilliance.

A strident applause welcomed the brothers on stage with Momo and Gumby (four and half years later with Gumby), and from there onwards Noori pleased an audience that stormed towards the stage after Sami Shah introduced them. They are performers in the truest sense. From head-banging through 'Nishan', interplay with other members on stage (Omran and Hamza trading bass and guitar leads) to getting the crowd to sing along, Noori know how to rock!

Despite mixing their opener with 'Feeling Good' by Black Eyed Peas, a song so overplayed and to be honest quite irritating, they barely put a foot wrong. Perhaps they should have tried mixing in 'Rock And Roll All Night' by Kiss with one of their tracks, which would have epitomized the night.

There were many highlights through their set. One of which was Ali Noor praising Gumby, which was followed by Gumby's solo in the next song 'Saari Raat'. They also performed 'Bol', 'Tum Hans Diyay' which was the mixed opener and of course the Noori tour de force 'Manwa Re', to a roaring crowd. Their closer, 'Dil Ki Qasam', was as solid as any of their tracks, especially as Gumby came to life closing it down.
Vivid vocals, with a hint of nostalgia, from Ali Azmat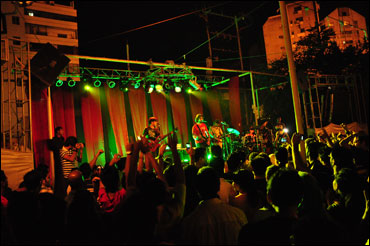 Having to follow a Noori performance couldn't have been an easy task. But Ali Azmat graced the stage, took the audience and ran with it. Starting with 'Mein Chala', Ali had the crowd bouncing from the get go. Throw in a couple of brilliant solos by Momo and it could easily have been the performance of the night.
However, as any Ali Azmat fan or 'Junooni' would say, the performance of the night was 'Mera Mahi'. A crowd pleaser, that induced memories of Junoon concerts from a foregone era, played to perfection.

As Ali worked through his set, playing his new track 'Bum Phata' (a bold and creative tune) 'Teri Perchaiyan' and one of Junoon's more mediocre tracks 'Papu Yaar', it was 'Saeein', with a bit of 'Dhoom Charakra' sprinkled on top, that really hit the spot. He reaffirmed everyone's faith that he is possibly 'the' vocalist in town, despite a mediocre mic.

Smooth spinning with Faisal Baig
On a night reserved for rock a closing act consisting of house music was slightly beyond comprehension. Not to take away from the fact that Faisal Baig is amongst the top DJs in Pakistan, but after a night of heavy riffs, leads, solos and beats, house music seemed a tad misplaced. Perhaps on a Saturday night, in a better setting it would have been more apt, but Sunday was about some good old rock music at its core, and that is the way it should have ended.

Deemed a unanimous success, Sound of Hope will live on in spirit for some time since shows of this caliber, or higher, are rare in Pakistan as artists opt to play smaller gigs. A producer/musician once said in an interview that there are too few shows in Pakistan for artists to play and improve. He was on the money, as this concert shows that we have talent that needs more exposure and live concerts to grow and nurture their skills; talent that should represent Pakistan rather than tales of violence, despair and corruption. If nothing else than to quote the timeless Starship classic, 'We Built This City On Rock And Roll.'
– Photos by Anushay Furqan, Ali Khurshid and Rameez Rehman