The launch of Life's Too Short Literary Review in Lahore last week was a reassuring reminder of the immense potential of writers from this part of the world
Life's Too Short hasn't yet qualified to be a success story. Seeing the attention it has grabbed in the short time since its birth last year, however, the future seems to be rather promising for the duo — the competition and the review.
Pakistani literature in English is a long way from becoming a strong voice on the international scene, and has yet to make a niche in the domestic or international publishing market; and not to mention the overall passivity towards literature. But the name — both the short story competition and the recently-launched review — has managed to create a stir in the literary circle. And a stir it was.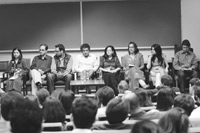 Not that one is used to seeing a big audience at anything remotely related to literature or English literature, the event was rather low profile. The audience mainly comprised young crowd, a substantial number being students. This was rather surprising seeing the publicity that the publishers had done for the event.
The event started off with an introduction to Life's Too Short by Ayesha Raja followed by an introduction of the winners — Sadaf Halai, Aziz A Shekh and Rayika Choudri. From the last year's judges, Kamila Shamsie, Daniyal Moeenuddin and Mohammad Hanif, only Hanif showed up. The winners from the first round were introduced to the audience at the university's Sayeed Saigol Auditorium where the Life's Too Short Literary Review was launched last Tuesday.
Life's Too Short is the brainchild of Ayesha Raja and Faiza S. Khan who is also the editor of the review. It started with the Life's Too Short short-story competition this year and the selected stories eventually came out in the form of a literary review with a collection of the winning stories — and some contributions from Musharraf Ali, Mohsin Hamid and Michelle Farooqi. The winners read excerpts from their stories and answered questions from the panel.
Mohammad Hanif's wit and Ali Sethi's intelligent critique of the stories and fiction were the highlights of the night. Ali Sethi's interesting critique on the importance of food in the subcontinent and its subsequent place in literature was thoroughly enjoyed by the audience when he read from Madiha Sattar's Ruth and Richard. Mohmmad Hanif, who has translated an Urdu short story for the review, complained of lack of sex and violence. On being one of the judges he remarked that when he was asked to judge the competition "judges were our heroes so I thought I might also become a judge."
Ayesha Raja commented that now is probably the most conducive environment for writing fiction in Pakistan because of the wider readership and interest in it. Hence Life's Too Short competition and review. "We want people to take some inspiration from the successes of people like Mohammad Hanif and Ali Sethi and Kamila Shamsie."
The panel which consisted of Sadaf Halai, Aziz A Sheikh, Mehreen Ajaz, Madiha Sattar, Danish Islam and Bilal Tanweer; writers Mohammad Hanif and Ali Sethi and founders and editor Ayesha Raja and Faiza S. Khan. Among the excerpts that were read Bilal Tanweer's and Mehreen Ajaz's generated most interest in the audience.
Unexpectedly, the event didn't end with a question and answer session with the audience. It ended with the announcement by the editor, Faiza. S. Khan, of the next round of competition.
"Teenage angst and suicide blasts" have been "unequivocally avoided" by the editors of the competition for there is too much of all that out there. "This was our chance to present another side of us," said Khan.
The event was a reassuring reminder of the immense potential that writers from this part of the world have the potential, which has already been displayed by names like Daniyal Moeenuddin, Mohammad Hanif and Kamila Shamsie. To be able to leave a mark, one can't depend on a handful of people. Making room for others to grow is the only way forward. Since academic environment is not conducive to literature, competitions like these can only be helpful. One hopes that the next round of Life's Too Short brings something fresher and better.
Progressive, revolutionary thought
Dr Feroz Ahmed was many things, academic, revolutionary and critic
By Zaman Khan
Every generation may claim its own ideologies/leaders. With imperialism the concept of nation state came to the colonies. The Western political thought brought the concept of national liberation. The students from colonies studying in western metropolitans were bugged with anti-imperialist ideas and went back to their countries to wage national liberation struggles.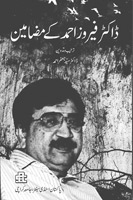 So the 1950s and 60s saw the whole continent of Africa rising against colonial masters and same was true for Far East and South East Asia. No continent was safe. The valiant struggle of Vietnam, a small nation against the biggest and most powerful nation on earth, the United States created a new kind of hope and motivated youth all over the world. China's Cultural Revolution also inspired the youth.
Pakistani Youth was no exception. Most of the intellectuals were committed anti-imperialist and were producing revolutionary literature but when West Pakistani intellectuals "towed" the line of establishment on the issue of the rights of East Pakistani Bengalis there was a trio, living abroad which took up the cause of Bangladesh national liberation and openly condemned the atrocities committed by Pakistani army against unarmed and innocent Bengalis.
The trio of Iqbal Ahmed, Feroz Ahmed and Aijaz Ahmed were publishing Pakistan Forum from USA. In which, besides discussing other issues relating to Pakistan, they especially took up the issue of nationalities and internal colonialism etc.
After the break-up of Pakistan, Iqbal Ahmed and Feroz Ahmed along with his wife Nadera — a dedicated progressive intellectual in her own right— came to Lahore on a probing mission to establish contact with the left-leaning parties in Pakistan.
The trio became close to Mazdoor Kissan Party. They on their own decided that it was the time to come back to Pakistan and take part in the "revolutionary movement."
Feroz Ahmed settled in Karachi and developed a very close relationship with Awami Tehrik of Rasul Bakhsh Palejo.
It was decided to publish Pakistan Forum in Urdu from Karachi and Ahmed was designated as its first editor. The first issue was published in November, 1977. It was a very difficult period. General Zia let loose all kind of oppression against the media and political workers. Ultimately Pakistan Forum was banned for its pro-people, independent stance and Ahmed had to flee the country.
Dr Feroz Ahmed Kay Mazamein contains most of the articles written by Ahmed in Pakistan Forum. The book has been published by the Pakistan Study Centre University of Karachi under the able editorship of its head Dr Jafar Ahmed for which he deserve due credit.
It is worth mentioning that after the sudden death of Ahmed, in USA in 1997, his wife Nadera shifted back to Karachi and donated a handsome amount for the establishment of Feroz Ahmed Institute of Mass Communication at their old Alma mater Karachi University.
At the time of his death, Feroz Ahmed was a tenure professor at Howard University, Washington.
The book contains articles related to politics, economy, international affairs and other fields. It is a goldmine of information for anyone interested in history of that period, particularly students of Pakistani history and politics.
Charles Yu's stunning debut is a breath of fresh air in the world of science fiction
By Huma Imtiaz
To write science fiction novels is one thing — to write them well, is a completely different subject altogether. While there are some stellar authors who are currently writing science-fiction, it is fairly rare to find a debut novel by an author that leaves a lasting impression. It is here that Charles Yu's How To Live Safely in a Science Fictional Universe leaves one not just delighted that it is a stellar debut effort, but is also a thoroughly entertaining read.
How To Live Safely in a Science Fictional Universe is told in the first person narrative, where our protagonist, also named Charles Yu, tells not just his life story, but also reveals to us a world that is in the midst of human emotions relying on machines to relive the best, and in many cases, the worst moments of their life.
"A typical customer gets into a machine that can literally take her whenever she'd like to go. Do you want to know what the first stop usually is? Take a guess. Don't guess. You already know: the unhappiest day of her life."
Sounds familiar? It's because Yu taps into basic human emotions and experiences that many of us have gone through: who amongst us has not relived the worst moments of their life in glorious Technicolor detail? Yu's characters represent every one of us who have been in similar positions in our lives, which is why this book resonates with even the most jaded of readers who are bored with the current fare in science fiction novels.
And it is not just Yu whose story is enthralling — TAMMY, the computer's user interface in the machine that Yu uses, has emotions, is depressed and has, in a delightfully weird way, a chemistry with the protagonist which adds an interesting element to this otherwise morose tale.
"Sometimes at night I worry about TAMMY. I worry that she might get tired of it all. Tired of running at sixty-six terahertz, tired of all those processing cycles, every second of every hour of every day. I worry that one of these cycles she might just halt her own subroutine and commit software suicide. And then I would have to do an error report, and I don't know how I would even begin to explain that to Microsoft."
After outlining the world where technology and human emotions vie to create a world that appears to be perfect yet is anything but, Yu moves on to the subject of his past, his dysfunctional family and his relationships. Yu artfully employs his science fiction narrative to support this tale of growing up, coming to terms with one's past and moving forward.
Let me be clear — this book is not for the clinically depressed, as it may leave one crying buckets of tears by the end of it. Using the world of science fiction, Yu draws parallels with basic human emotions and the life changing situations that we all deal with, in one form or the other. An entertaining rollercoaster of a story, one is highly disappointed when they turn the last page of How To Live Safely in a Science Fictional Universe, and eagerly await Yu's next book.
How To Live Safely in a Science Fictional Universe is available at The Last Word in Karachi, Lahore and Islamabad.
Huma Imtiaz works as a journalist in Pakistan and can be reached at
huma.imtiaz@gmail.com
By Kazy Javed
Organising
Faiz Centenary
Three months are left to Faiz Sahib's centenary birthday and his daughter and chairperson of the Faiz Foundation. Trust; Salima Hashmi, is not happy with the government. She says the government is not taking any interest in celebrating the occasion. So much so, that a national committee of writers and intellectuals "to plan and organize the centenary celebrations" has not yet constituted. The official quarters were requested by the Faiz Foundation to set up such a committee a few months ago.
A notable aspect of the situation is that while the dukes of Islamabad and Lahore have preferred to keep mum, Salima Hashmi says such bodies have already been formed in some other countries including India, Bangladesh, Britain and the United States.
The official apathy is certainly not desirable. The federal and provincial departments concerning culture and literature should have displayed palpable interest. Particularly, Pakistan Academy of Letters as well as the national and provincial art councils should have by now come up with plans for the occasion. Some universities could also join hands with them. I was expecting University of Gujrat to lead other institutions in this regard as its culture-conscious vice-chancellor; Dr Nizamud Din could better visualise the significance of marking Faiz's centennial. However, one could excuse the worthy Punjab University boss, who is busy in making arrangements for renaming 140-year old library of his university as A.Q.Khan Library. Dr. Mujahid Kamran is a scientist. One hopes his devotion to the great Khan will go a long way in guiding him develop a mantra to turn the literary into a fierce weapon of mass destruction.
Anyway, there seems to be little justification in asking Islamabad to form a national committee to arrange and manage Faiz centennial celebrations. If such bodies have been set up in some countries, they have been formed by literary and cultural organisations and not the governments of those countries.
Moreover, we should remember that when governments form committees they never fail to put their incompetent favourites in them. I will request Salima Hashmi to have a look at the list of the recently-appointed members of various boards of directors constituted by the Punjab government to look after the affairs of educational institutions before making another request to Islamabad to form a Faiz National Committee.
The committee should be formed by the Faiz Foundation. It has already planned a number of appropriate activities for the centennial occasion which will start from February 11, 2011 i.e. Faiz Sahib's 100th birthday with the launch of a pictorial book on the poet, a photography exhibition and an international mushaira. An international colloquium on Faiz has been planned for the next day and Tina Sani will sing his verses the same night.
Faiz Peace Mela is scheduled to be held in the first week of celebrations which will continue during the remaining months of the year.
Some other literary and intellectual organisations too have announced programs. The Human Development Forum that has been arranging Sunday morning lectures at the Lahore's Model Town Park for the past seven years has, for instance, announced a public lecture on the life and work of Faiz Sahib on the first Sunday of the next year.
A thought provoking book on a topic of contemporary significance has come from Bahuddin Zakariya University of Multan under the title Islami aur Maghrabi Tehzeeb ki Kashmakash : Fiker-e-Iqbal key tananar main. The learned author Dr Muhammad Asif says he has tried to explain the real components of both the civilizations so that they can move towards peaceful coexistence, supremacy of human rights, inter-faith harmony and useful interaction.
Dr. Muhammad Asif's book should be read by those who look for a deeper understanding of the ongoing conflict between the Muslim world and the West.
However, while going through the book one should keep in mind that the author has borrowed his frame of reference as well as basic concepts from Iqbal.
But the Iqbal's views of the West were based on the realities of the early decades of the past century. The world has greatly changed since those long past days.
The author should, perhaps, use his knowledge gained through the writing of this book to pen a new book on this topic of importance based on contemporary realities.
If Islamabad's National University of Modern Languages could arrange a scholar to write summaries in English of the Urdu articles carried by is journal Takhliqi Adab, its image and value would be greatly enhanced. University journals are required by Higher Education Commission to publish such abstracts but they are usually of very poor quality. The 7th issue of the Takhliqi Adab, for instance, carries a well-written article of Dr. Qazi Abid and Imran Akhtar on the common points between science and literature.
Its English language summary opens with the following sentence."The article is basically concerned with the domain occurred between the entities of Literature and Science, which the land of commonalities in the both"
Its present issue has brought pieces of a number of scholars noted for their work in the fields of literature, criticism and social sciences. They include, inter alias, Dr Tabbasum Kashmeri, Dr Rubani Tareen, Dr Gohar Naushahi, Dr Nasir Abbas Nayyar, Dr Mirza Hamid Baig and Dr Rashid Hameed.
The July – December, 2010 issue of the biannual and bilingual research journal of the department of Urdu of the Islamabad's International Islamic University, too, has seen the light of day.
Produced under the thoughtful guidance of Professor Fateh Muhammad Malik, each edition of the Mayar contributes valuable additions to Urdu studies. In fact, both the Takhliqi Adab and Mayar reflect the state of academic research in the fields of literature and humanities in the country.
The current issue of the Mayar with 500 plus pages carries articles on various subjects written by noted scholars like Muhammad Ikram Chughtai, Dr Tehseen Firaqi, Dr. Najeeb Jamal, Dr Sultana Bakhsh, Dr.Zahid Munir Aamar, Aatesh Durrani and Najeeba Arif.