Interview
"I do not write cold, detached prose"
Mazharul Islam has published many books of short stories, poetry, ethnography of Punjabi folklore, and a novel. In the beginning of his literary career, he surprised his readers with the long and figurative titles of his books, such as 'The Only Man in the City of Horses' and 'A Girl Drenched in the Deluge of Words'.
A word about letters
By Kazy Javed
The state of research
The renowned scholar and veteran researcher Dr. Waheed Qureshi has lamented the poor state of literary research in our universities and other academic institutions. The octogenarian doctor taught Urdu Language and Literature at the University Oriental College of Lahore for a long time and also served as its principal.
"I do not write cold, detached prose"
Mazharul Islam has published many books of short stories, poetry, ethnography of Punjabi folklore, and a novel. In the beginning of his literary career, he surprised his readers with the long and figurative titles of his books, such as 'The Only Man in the City of Horses' and 'A Girl Drenched in the Deluge of Words'. Now, at the age of 57, he is a seasoned writer whose stories have been translated into many languages, including Chinese, German, and Japanese. Recently, a selection of his writings, translated into English by Christopher Shackle, was published by Sama Publications. The News on Sunday met up with Mazharul Islam in his office at Lok Virsa Museum, Islamabad, to discuss his writings and their place in literature.
The News on Sunday: How do you look at your own work?
Mazharul Islam: I have tried to introduce some newness in the diction of Urdu literature. When my books originally appeared, critics made fun of the titles and the figurative language. But slowly things changed. The title of my first collection, 'The Only Man in the City of Horses', started making more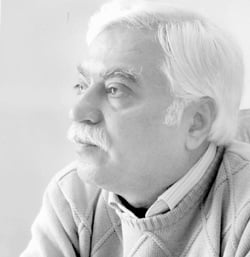 sense to people when Islamabad was awash with the politics of horse-trading. It was almost uncanny because I had written the book before horse-trading entered our everyday political vocabulary. Now many writers are using similar titles. I think I can claim that I started a new trend in contemporary Urdu fiction. If you look in the fiction section of a bookshop, you will find many books with similarly constructed titles as my books.
TNS: Why and how did you take up writing?
MI: I think I could not have done anything else. I would have been miserable if I had not started writing. When I finished high school, my father forced me to take up medical sciences. One day the teacher came to the classroom with a bag full of anesthetised frogs and asked us to nail them to wooden boards and dissect them. I disappeared from the classroom and never went back. Later I enrolled in the humanities and felt at home. Studying and creating literature felt more natural to me than dissecting nature on operating tables.
TNS: But science can also be a subject of literary writing.
MI: Yes, it can be. I am not against science or scientific inventions. But somehow I am not comfortable with the consequences for human societies of many scientific developments. So far, I have successfully resisted the social obligation to carry a mobile phone. I think a handwritten letter is more valuable than an email. The accelerated speed of communication does not necessarily mean we have become better communicators. I think the system through which lovers exchanged secret messages in villages before the arrival of the mobile phone and email were more sophisticated. In that system, you had to be aware of the minutest change in the glint of the eyes of your lover. You could not talk openly so you had to write a note on a piece of paper and crumple it into a tight ball and throw it through the window and pray that only your lover would pick it up. These days, both you and your lover will have a mobile. You may be sitting with your lover and he or she may not be present there because of the mobile phone. What is the use of all these communication devices if people are not present in their relationships? All of my work is an attempt to protect the original purity of human relationships.
TNS: This comes across as an attitude similar to the Luddites' distrust of machine-based production in England.
MI: It may be so. I am just concerned with the consequences of scientific rationality on human relationships. I prefer sentimentality and emotions over calculations and categorisations. My writings are metaphorical, magical, allegorical, and filled with emotions. I do not write cold, detached prose. I put in a lot of similes and figures of speech and try to make my sentences as multidimensional as life itself. I do not even write socio-political analysis in newspapers like many other writers do. I try to live in this emotive world of stories which I have created for myself and my readers. Maybe that is why my books sell better in rural Sindh and the Saraiki belt. I am not as popular among urban readers of Lahore or Karachi as I am among the rural ones.
TNS: What about the critics? How have they received your work so far?
MI: The system of formal critique in Pakistan is not trustworthy. All you have is a system of patronage by established authors. They have created lobbies and private cadre systems. If an established senior author pats you on the back publicly, you are going to be perceived as a fine writer. Otherwise, you may have plenty of bad luck. I have tried to stay clear of all this. I rely more on my readers for my sustenance. In all of my books, I give my postal address and my readers write letters to me. That is what keeps me going. Frankly, I do not care much about what the critics think. If I have ordinary readers on my side, the critics will eventually accept me too. Some of them already emulate me without acknowledging my contribution. In that way, I feel my sensibility is more in tune with contemporary global literature than the national one. I feel at home with Garcia Marquez or Isabelle Allende.
TNS: Are your sources of inspiration local or global?
MI: I spent my childhood and college days in Wazirabad. The everyday experiences in that town remain my greatest source of inspiration. For example, I went to a missionary school and studied the Bible before I studied the Quran. The unpretentious and bare lives of the nuns and teachers were my first impressions. On the way to school, I used to watch the potters, the oil-extractor, the women weaving and embroidering things, the local gamblers, paan and cigarette vendors, and later on used the skills of these people in my craft. You can say I am a weaver or a potter of stories. I do not call my work fiction. I write stories but they are not fictitious stories. They have their roots and inspiration in the reality of everyday life. For example, one day I was driving to work when, at a red light, I saw another motorist in the car next to mine. I felt the motorist looked like he had been dead for a long time but was still driving his car. This was my actual first impression. Then I started looking at other motorists. Some of them felt alive and others dead. How I tell these first impressions in a story is the result of a creative process. The sources of inspiration are real characters and real events in our own culture. The sensibility with which I deal with them is a contemporary global sensibility.
TNS: You have dealt with a lot of topics and themes in your fiction. What do you think are the main concerns of your work?
MI: It is loneliness, love, and death. I have written stories which have political commentary in them, but my main concern is love. I do talk about martial law, bureaucratic nightmares, clerks, and postal workers but my main theme is love. I have written about suicide, which was my obsession for many years. These days I am concerned with the disappearance of purity in human relationships, especially in love. I feel I am a shepherd whose duty is to take care of love.
TNS: I have read all of your books. The collections of short stories were all refreshingly original but your novel, 'Love: A Symphony of Dead Flowers', seemed a bit too dense and burdened with metaphors. How do you respond to that?
MI: Well, you may not have liked it, but the entire first edition was sold out in Sindh in one month. I have tried to do a lot of new things with that novel. I got rid of the traditional plot structure. If life has no plot, there should not be any constructed plot in fiction either. The language is metaphorical but only where the situation demands it. For example, if I find the wind is stubborn, I should call it stubborn. For me, not to call the wind stubborn or the flowers sad, if the story demands it, would be dishonesty. I think I have created my best sentences in that novel. Amrita Pritam wrote a letter to me and said the only thing wrong with that novel was that I had written it too late.
TNS: What are you working on these days?
MI: I am working on my next collection of stories. I keep dreaming about living the life of a writer. I keep thinking I will get a flat in Nathiagali and move there and do nothing else but read and write. But I have a job and other banalities of life to take care of. I am torn between writerly idealism and the drudgery of maintaining a life. But one thing is certain: I am not going to stop writing. If, for some reason, I have to stop writing, I will not be alive afterwards for a very long time. Writing is my oxygen.
A word about letters
By Kazy Javed
The state of research
The renowned scholar and veteran researcher Dr. Waheed Qureshi has lamented the poor state of literary research in our universities and other academic institutions. The octogenarian doctor taught Urdu Language and Literature at the University Oriental College of Lahore for a long time and also served as its principal. He is greatly admired and respected for his academic work, published in more than three dozen volumes. Presently he is the editor of the biennial literary magazine 'Makhzan', which is published by the Quaid-e-Azam Library, Lahore.
In the editorial note of the current issue of the magazine, Dr. Waheed Qureshi says that Urdu literary research is passing through difficult times. Some of the renowned researchers have passed away during the past few months. Their list includes people like Dr. Rasheed Hasan Khan of India as well as Dr. Najam Islam, Dr. Ghulam Mustafa Khan and Mushfaq Khawaja of our own country. They were all at the forefront of research into matters related to Urdu language, literature and culture, and also served as models for young scholars. Their disappearance from the scene has certainly come as a setback to our literary and academic circles.
Dr. Waheed Qureshi has rightly pointed out that the number of good literary researchers was small even in their lifetimes. The Indian situation is different. It has a somewhat stronger tradition of research. Research being carried out in India is considered valuable and is given much respect. Many notable researchers who belong to India have their books printed in Pakistan, and they find many of their readers on this side of the great divide.
Things are different in our corner of world. Dr. Waheed Qureshi is of the view that a general trend to lighten the importance of literary research and pooh-pooh the researchers has been brewing here for the past fifty years. University Oriental College, which used to be the hub of this sort of work, is now concentrating on criticism. Literary research is considered worthless and there are many young teachers and scholars who cannot draw a distinction between research and criticism.
Our writers are no more interested in academic journals and writing for them is considered a waste of time. They now prefer to write for daily newspapers, mostly because newspapers are supposed to bring quick fame.
Another point raised by Dr. Waheed Qureshi is that Urdu writes have been divided into various groups. They have become 'groupthinks' and often confuse the facts. Many literary researchers in the last quarter of the twentieth century kept themselves engaged in academic work and did not pay proper attention to the work of their peers. But earlier researchers like Hafiz Mahmud Shairani and Qazi Abdul Wadood always kept an eye on the academic and literary work of their contemporaries, which greatly helped in increasing the standard of research.
New universities were established after independence and they were expected to promote research and criticism. However the general impression is that these new institutions of higher education have not played their role properly. Teachers are promoted on the basis of their research work. Hence research has been associated with financial gain and social status. The result of this policy is that our scholars have lost interest in research which does not bring immediate material gains.
Some of them have been started publishing works of other people in their own name for the sake of financial rewards. An ugly example of this sort of academic fraud was pointed out by Dr. John Ellis of the European Nuclear Research Laboratory. He has formally informed the vice chancellor of the Punjab University that five teachers of his university have published on article which is a verbatim copy of a paper published by a noted physicist, Sir Christopher Llewelly Smith, in 1997.
New books
Sang-e-Meel Publishers of Lahore have brought out a new edition of professor Hafiz Mahmud Khan Shairani's famous book 'Punjab main Urdu', which was first published in 1928 and has since then been a source of many controversies and discussions. Its basic thesis is that the early development of Urdu language took place in Punjab.
The Punjabis, especially the Muslim segment of their population, were much pleased with this idea which provided them with a strong rationale to abandon their mother tongue is favour of Urdu. But many scholars and writers of the Urdu-speaking areas of the subcontinent were hesitant to accept it.
The first voice forcefully raised against Shairani's thesis was that of Dr. Maulvi Abdulhaq, who is remembered as Baba-e-Urdu.
The new edition of the Hafiz Shairani's book has been prepared by Muhammad Ikram Chughtai, who is a noted research scholar and has recently edited a number of books that are considered classics of Urdu literature. In addition to making a contribution of a scholarly prolegomenon, he has also included many articles written about Hafiz Mahmud Shairani and his thesis in the volume under review.
A well-written and nicely produced illustrated biography of Allama Iqbal, that can also be presented as a fine specimen of the state of printing art in our country, has been brought out by the Iqbal Academy. Published under the title 'Iqbal: An Illustrated Biography', it is penned by Khurram Ali Shafique, who is a Iqbal scholar but is better known and more admired for his stylish writings on men and matters of history.
The dust-jacket of the book rightly describes it as having been arranged like a "library of information, visual and documentary records and memorabilia" about the poet of the East. It carries almost all the available pictures of Iqbal. Pictures of those who played any significant role in Iqbal's life and thought have also been included. Some of these pictures are 'new', in the sense that they have been printed for the first time.