By Rabia Ali
Every year, on the auspicious occasion of Eid, when hundreds of people gather at mosques to offer special prayers, Syeda Ghazala stands guard outside her assigned place of worship, keeping a vigilant eye on any suspicious person or movement.
For the last 15 years, this has been the routine of this female police officer on every Eid. The Station House Officer (SHO) of the Womenís police station (South), Ghazala remains on duty throughout the year, however significant the occasion.
"On Eid day, when Muslims across the country are celebrating the festival with their loved ones, police officers like us are deployed at various points to provide protection to the common man and to safeguard his life," she says. Ghazala, who has now become accustomed to spending Eid like it is any other normal day, says that in the beginning when she joined the force, it was difficult for her and her family to adjust to this lifestyle.
"I felt so frustrated that I couldnít spend the joyous festival with my family and loved ones; wear new clothes or get Mehndi applied or even cook special food. But with the passage of time, my family, especially my children, have gotten used to my absence during the festival. The police station is my first priority and my home is my second."
On Eid, Ghazalaís day starts off with a trip to the Police Headquarters early in the morning, where a gathering of all police officers takes place. Afterwards, she heads off to her station and then head off with her staff to their assigned spots on duty.
On these special days, her duties include providing security to the VIPs, such as those who throng to the governor and chief ministerís houses where the first ladies distribute cheques to needy people. Women police are also dispatched to mosques where females offer prayers, and to recreational spots such as Clifton beach and Sea View. She also patrols various places and inspects whether her subordinates are carrying out their duties or not.
"It is not difficult to be deployed at some place but it is difficult to ensure that all the officers are performing their duties. On such special occasions, everyone is in a hurry to rush home and sometimes officers slip away from their positions, for which I am answerable. Therefore, along with performing my own duty, I have to keep a check on all my staff," says Ghazala.
With incidents of terrorism increasing across the country, Ghazala admits that officers have become increasingly wary about their duty and the job has become tougher, especially on special occasions. However, in case things go well and an untoward incident does not take place, Ghazala can leave early and spend time with her family. "Usually on Eid, I am able to reach home at night. Even though I am very exhausted by that time, I make the most of it and spend as much time as I can with my family."
Emergency call
By Rafay Mahmood
When everyone is celebrating Eid, some people have no time for all the fun and enjoyment the day brings. They have a much more important duty to perform: saving lives.
Belonging to a village in Kohat, Mohammad Shafiq Wali Mohammad has been working as a nursing assistant in the Emergency Room of a well-known hospital in Karachi for the past three years. His Eid has been restricted to this grim place since he took up the job.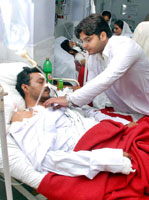 Shafiq is the eldest of three brothers and four sisters, and, in effect, is the head of his family. But due to his hospital duties, he is unable to go to the mosque with his male relatives and members of his large extended family - a centuries-old tradition in his tribe.
"When I was given the day shift at the emergency room in my first year of joining, I was quite depressed and homesick. But gradually, I realised that my duty is more important than everything and even more important is the cause of saving lives," Shafiq told Kolachi.
Eid in an emergency room (ER) can be most unpredictable. Sometimes there are hardly any patients at all and sometimes there is no time to even greet your colleagues due to the heavy workload. However, Shafiq is of the opinion that some things are predictable on Chand Raat and the Eid day. For example, there are always accidents involving motorbikes, children getting injured in market stampedes and sometimes major injuries due to firecrackers and aerial firing.
"I remember last year when I was on emergency duty. It was very quiet and there were no patients to tend to. As there was no rush, all I was left with was the Eid transmission in the emergency waiting area and that also got boring eventually. I had no option but to call my friends over and we passed some time together in the ER," Shafiq told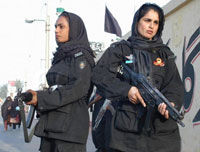 Kolachi.
On the contrary, Shafiqís Eid in the ER in 2008 was very hectic. His night shift converted into another day shift as the ER received some surprises. "I was happy earlier that I only had night duty. But when at 8 am we received two serious gunshot cases, I had no choice but to forego my prayers and my family and treat the emergency," Shafiq told Kolachi.
But Shafiq firmly believes in his work and with time his family has also realised that the profession their son is in requires more attention than family gatherings. Even on this Eid, his entire family will be leaving for their village in Kohat but Shafiq will be on duty on Eid day and on the night shift on the second and third day.
Keeping the customer satisfied
By Saher Baloch
It is been nine years since Ansar Ali, 32, joined a Pizza chain as a gatekeeper cum waiter cum entertainer. No one knew at the time of his hiring that he would become a permanent fixture at the eatery. Standing at the doorway, he greets customers and at the same time keeps the impatient ones busy with his one-liners and jokes. But he admits that even he needs a day off on Eid.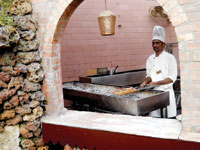 Known as Chotoo because of his three feet four inches height, he said that "I have been working here for a long time and Iím so used to getting a call in the middle of my plans to go out that I donít make plans any more," he said while flailing his small arms in the air. This despite the fact that he spends the first half of the day at home on Eid and then rushes to work later in the day.
Living with his family in Korangi, he said that he takes a half-day off on Eid to spend time with them and to meet relatives. Calling it an "anti-climax," he said that most of the time he is called back because customers either start asking for him or the management needs someone to provide comic relief to waiting customers.
"When Iím at home, I try helping out with things, like cooking and setting the table, but when my family figured that Iím a bit too small to reach the crockery on the table they let me sit and eat instead," he chuckled.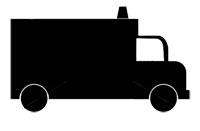 Ali said that, as a kid, his father used to take him to Clifton for rides or to a famous Halwai on Burns Road on the first day of Eid. Now, after his death, it is all about making ends meet and keeping intact what remain of the old family rituals. "Even after he passed away, we follow the same things he used to do. Not that I go for the rides, but I wouldnít have any problem going on them either," he said laughing. "But we cook all the things that he liked and try to have fun like in the old days."
Going for prayers and eating food is what he thinks describes Eid best, but there is just one problem. "Iím a true Pakistani at heart. When I get a day off I donít like it and I am bored at home. But when I donít, I think of every possible way to run away from the workplace!"
He said he is happy wearing even banana leaves for Eid as long as he is content and working. "I have learned very early on in life that one should not take the circumstances you are in very seriously. I like it when I get calls from the eatery telling me that the customers were asking for me, and I wouldnít change that for anything," he said warmly.
Calling himself user-friendly, he said that he easily works for 12 hours straight without complaining. Philosophising again, he added that every day should be celebrated like Eid, "because we complain when we have a lot of work and canít take out time, so itís better to enjoy the madness. Kyun ke jab nahi hota hai toh bohot bura lagta hai."
Wedded to the news
By Zeeshan Azmat
Rahat firmly believes that sacrifice is the price newspersons have to pay throughout their career, as news is what they are wedded to. Sharing his experiences with Kolachi, Rahat, a reporter at a local news channel, said that because of the nature of 24-hour news, he is frequently asked by his management to come to work on holidays and even on festivals such as Eid-ul-Fitr.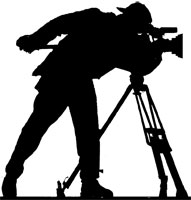 "It is always difficult to report to the office on a big day like Eid. You iron your new Shalwar Kameez and then head towards your office on a deserted road, leaving behind a disgruntled but eventually accommodating family," he added.
"On such days, you will be the luckiest person on earth if you have enough time available to offer Eid prayers. If you are not so lucky, you will have to come on camera to report on the faithful offering Namaz-e-Eid in various parts of the city," Rahat said. It is difficult to appear relaxed and cool before the camera when you have missed out on your prayer session. "I have shared this point with colleagues working in my organisation and other television channels. Most of them agreed that on such occasions our screen presence looks forced and unnatural."
On days like Eid, offices invariably run short of employees, and usually two to three reporters have to show up at work to handle matters, he said. There is no concept of overtime or an extra day off in my organisation if a person comes to work on Eid day, he complained. "Once I spent a couple of days at work (on Eid) despite having high fever", he said.
His wife, meanwhile, feels as if she is married to a doctor. "Any time of the day (mostly night) you run off to work as if a dying patient needs immediate surgery," Rahat said with a big laugh, quoting his wifeís attitude to his routine.
Rahatís wife seems resigned to her fate as a journalistís wife. The phone is his most trusted companion, she informed Kolachi. "He cannot sleep properly if his phones are not at his bedside. Once, I switched off his mobile phone and when he learnt that it had been off for a good two hours, he completely freaked out and started making frantic calls to his colleagues inquiring whether the world had come to an end," Rahatís wife said, sharing one of the lighter moments.
As an electronic media journalist one needs to strike a balance between oneís professional and personal life. It is pretty difficult but not completely impossible, said Rahat. He told Kolachi that he always shares the details and the nature of his work with his family. He tells them the hassles that it entails and the rewards it carries. In return, he said he tries to take care of any hiccups at home and tries to keep his family happy. "I would love to take yearly vacations, in which I could leave that 'satanicí device (the mobile) behind, and spend some quality time with my loved ones and enjoy every single moment of the experience," he said.
ĖNames have been changed to retain privacy
Airborne on Eid
By Zeeshan Azmat
"I will not to be available on Eid as I will be in Paris on the occasion. I have been called on duty," Hyder, a flight steward by profession, told his friends. He is serving in the national flag carrier for several years now.
"I have celebrated only one or two Eids at home since I joined this profession," he told Kolachi. Although he had made some plans with the family and groups of friends for Eid, he will now return to the city on the third day of the Eid-ul-Fitr - a time when most of the activities of the holy festival have come to an end.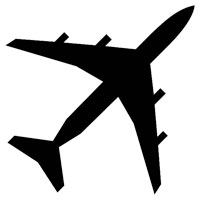 "On top of the list, we had planned to visit a nearby relief camp to distribute some goods which are required on a daily basis by the internally displaced persons (IDPs), who had arrived from various affected localities of interior Sindh, and were living in our neighbourhood," Hyder said. "We have purchased some items for the children too so that the young victims would at least celebrate their Eid," he further said.
If there is no flight, the cabin crew gets a lot of time to enjoy the company of their families and loved ones. But this happens only once in a blue moon, he said disappointedly. "You should have good luck or "tagri sifarish" (influential support) to stay at home with the family on such festivals. Otherwise, you should arrange medical leave, which is nowadays not as easy as it was in the past, because we have our own medical centre and they know this is one of the tactics used to spend Eid at home," he said.
"Actually, there is no proper system in the airline and the management often surrender to the Collective Bargaining Agent (CBA) of the airline. The flight stewards and airhostess, who are close to the CBA or have a good relationship with them hardly call in for duty on such occasions," a frustrated Hyder alleged.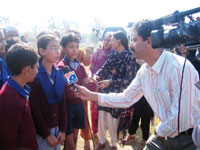 He says he rarely sees any of those lucky ones on board during the Eid period or on Hajj flights. "They only agree to fly when there is a long stay in European countries or if the flight is heading to the United States because it makes them good money," he further said.
However, Hyder also said that there is a trend to mutually exchange flight with other colleagues. Most of the senior crew or those who have families in other towns take advantage and offer their services on Eid or family occasions to the junior crew, he added.
In the past, stewards and stewardesses used to report according to their given schedule. Perhaps this was because they were new to the profession or at that time the rates of overtime and other allowances were really good, Hyder further said. However, there is no such charm left now as the rates have been cut and people misuse the platform of the CBA to take advantage of the situation, he told.
ĖNames have been changed to retain privacy