Editorial
To say that these are stressful times is an understatement.
Just when people in this country are trying to internalise one catastrophe and resolve it, another one, even bigger, hits them. They switch on their televisions to get the news, which at some point replaced entertainment in our case, and become more stressed out. Helpless, they finally decide to cut down on their television in order to avoid getting "bad" news. But just so they forget to switch off their mobile phones. And then there is the radio in the car or the bus blaring tales of misfortunes.
...ways to unwind
"I grab a good book"
Asma Jahangir
senior lawyer, human right activist
To unwind in these stressful times is quite a challenging task for a 'super busyí person like me. I grab a good book or watch a movie to de-stress myself. Though it is not easy for me to make time for the purpose. I have to re-organise my schedule and follow my daily plan chart strictly in order to get some free time.
To say that these are stressful times is an understatement.
Just when people in this country are trying to internalise one catastrophe and resolve it, another one, even bigger, hits them. They switch on their televisions to get the news, which at some point replaced entertainment in our case, and become more stressed out. Helpless, they finally decide to cut down on their television in order to avoid getting "bad" news. But just so they forget to switch off their mobile phones. And then there is the radio in the car or the bus blaring tales of misfortunes.
Life isnít easy as such. The existential concerns include a crazy work routine, children, daily grind, not having enough money, old parents, sick babies, annoying spouses, personal ailments. Of course, people are not happy as they should be.
Once upon a time, they picked up a certain way of life, this that is, in search of happiness which eludes them somehow.
Some brave and smart ones, however, realise the need to unwind and have found ways to relax. In our Special Report today, we have selected faces people in this country can identify with. The celebrities -- writers, politicians, publishers, editors, artists, curators, journalists, activists, lawyers, philanthropists -- share with us how they get out of their blue moods.
A few lucky ones combine their work and hobby, and a part of their work, be it writing, helping people, drawing, painting or reading, is a source of relaxation for them. But at the end of the day, itís work nonetheless. So they all consciously switch to an activity which takes all the pains away.
It could be laughing or crying with a friend, getting occupied with a hobby, finding solace and beauty in nature or watching a hilarious movie. But relax they must, to get ready for the next morning or the next week. In these short interviews there are lessons for us -- itís time to unwind.
"I grab a good book"
Asma Jahangir
senior lawyer, human right activist
To unwind in these stressful times is quite a challenging task for a 'super busyí person like me. I grab a good book or watch a movie to de-stress myself. Though it is not easy for me to make time for the purpose. I have to re-organise my schedule and follow my daily plan chart strictly in order to get some free time.
I believe that mobile phone, even though itís a necessity because you have to keep in contact, is also a great source of stress. So, the first thing I do is, I turn off my cell phone -- usually after 10 in the night.
As a lawyer and a human rights activist I get to meet many people everyday who discuss their issues with me. Every time I am able to solve somebodyís problem I achieve my catharsis.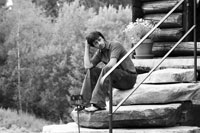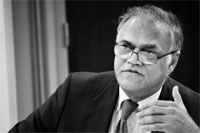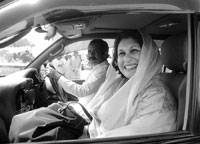 "My weakness is
my grand child"
Dr Pervez Hoodbhoy
nuclear physicist, political & defence analyst
The options for the possibility of unwinding have to be considered first. In the context of the Pakistani society, the religious conservative right has exercised its orthodox muscles have squashed to a great extent forms of free-flowing expression such as dance, music and theatre. Whatever few opportunities still exist are pounced upon by the entertainment-starved moderate lot. Yet, the religious orthodoxy persistently denounces them as sinful and instead advocates that religious rites such as praying and aitiqaf as the only true ways of unwinding, spiritual-style.
On a personal level, I am not even able to especially set aside time for indulging my musical buds. So I can be found listening to Joan Baez, Beatles or eastern classical music such as those in raag Malkos or ghazals whilst working out the intricacies of Nuclear Physics.
One of my weaknesses is my young grandchild who has the power to overwhelm even the scientist inside me from unlocking natureís secrets.
"Something we enjoy together, such as cartoons!"
Juggun Kazim
actor, model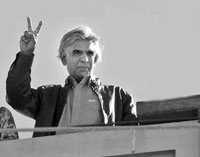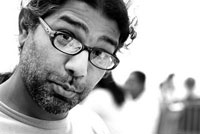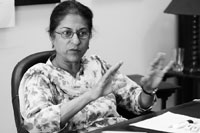 To me, the best way to unwind is to spend time with my son -- watch a movie, dance, listen to music, walk with himÖ I can cook all kinds of foods -- Italian, Japanese, desi (not so good at desi!). And, a workout session is, of course, a part of my daily routine and helps me stay composed.
For reading, I canít stand sci-fi or technical stuff; I love true stories, biographies and romance. Everything on TV is so morbid these days. Staying aware is one thing, but we can sure exclude the gory details that are shown in the news. I canít lock my son away in another room and watch something like that. So, I simply switch the channel to something we would enjoy together, such as cartoons!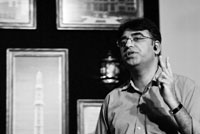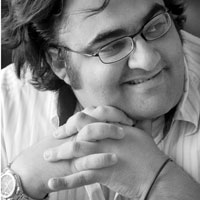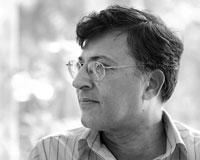 "Govinda and Johnny Lever together"
Fasi Zaka
newspaper columnist, satirist, radio jockey
& tv talk show host
I am fortunate not to be affected by the floods or loss of life on a personal level in these trying times. Find it rather selfish of myself to say I still need to unwind because there is this foreboding sense of distress. I watch comedy, animated series by Seth McFarlane, Ricky Gervaisí work and, oddly, M*A*S*H the series which finds lighthearted moments despite war and death. Comic books do the same for me. And, in the worst of times, Govinda and Johnny Lever together!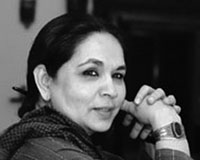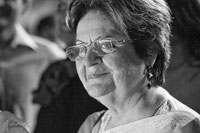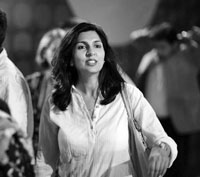 "...starts with going
to the gym"
Asad Umar
president engro
corporation limited
The winding down starts with going to the gym as soon as I get back from work. Then most of my "chill time" is spent with my wife and some of it with the children. With my wife it is either watching TV or a movie together or just chatting. We have lots of interests in common and hence lots to share. My favourite TV programmes are sitcoms and classics like Friends, Frazier and Seinfeld. I also love watching sports, which is something my wife totally does not share with me.
I read a lot. Usually, newspapers, both Pakistani and international, and magazines but also books when I find the time. I only read non-fiction, love Urdu poetry, economics, history and politics.
Like listening to music which includes both English and Urdu but prefer desi music of all types: ghazals, qawwali, pop and folk.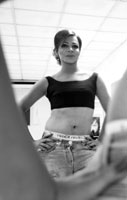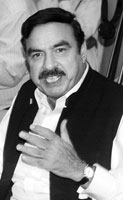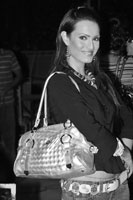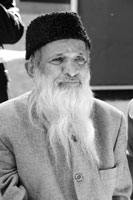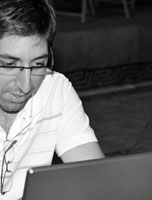 "I am in a state of
constant struggle"
Abdul Sattar Edhi
philanthropist
I donít celebrate Eid. When there are people who lack food and money, there is no point in celebrating. I need one roti and a cup of warm milk. I never get disappointed or depressed, despite poverty, floods, crimes etc, because I am in a state of constant struggle against injustice.
I am not educated, and I have never seen a movie. The only movies I saw were Pukaar, which I saw before Partition, and Jarka which Ayub Khan took me to.
I pray five times a day, offer Tahajjat prayers and help people to relax. I also walk, though I canít take much stretching exercises.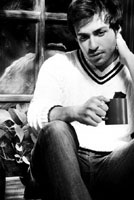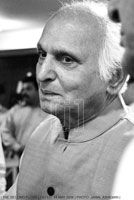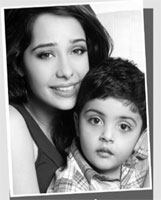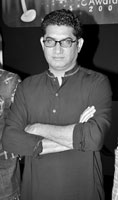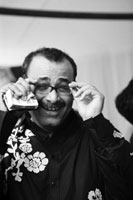 "Humour..."
Sameera Raja
curator, canvas art gallery
You need to expend the energy and I do that by doing a good workout. I unwind by listening to music, reading a book, spending time with friends over a cup of coffee or watching a hilarious movie with my son.
As a curator, I see so much of art and good visuals and that relaxes me. Everything that de-stresses me has a creative side, whether itís music or books. I relax when I see something beautiful and the best way is to surround yourself with beauty. It all depends on how you train your mind; seeing beauty in things around you.
When Iím really upset and I see a beautiful tree or a plant or sunset, it changes my perspective. Or, when I hear a good piece of music, for example just now I was listening to Pandit Jasrajís bhajan, it gives me a lot of pleasure even though I donít understand the verses.
Then, as I said that humour is an important part of de-stressing, therefore I watch comedy films. Laughter is one of the best medicines. You laugh at silly things and it takes the stress away.
"Work with complete focus"
Noorjehan Bilgrami
painter, designer, entrepreneur & educator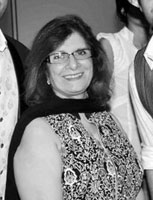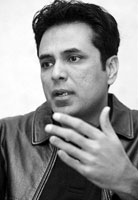 The only way I can cope, face the tragedy or, as you may call it, "unwind" in these severely distressing times is to work with complete focus in trying to find solutions that can change the situation for good, even if itís just a drop in the wide chasm.
I believe in facing a stressful situation squarely and trying to grasp and acknowledge its existence rather than seeking solace through escapism or negation. Energy generated through a positive action thus helps negate the stress that accumulates through non-action. This action can take any form from drawing, painting to working in the field to help the poor and the needy.
I meditateÖ go inwards as a stress buster. Mediation is experiential rather than theoretical. It is about silencing your thoughts, anger or frustration and reducing noise youíre surrounded by. It is about quietening yourself within; then you are able to observe and shift your stress levels. Actually, through meditation youíre not reaching out, rather reaching inside you!
"I watch a movie, or
read Faiz"
Adeel Hashmi
actor, scriptwriter
I try not to take much stress. If I canít avoid it, then I cry my heart out. Or, I watch a movie, or read FaizÖ and the rest, I canít tell!
"Spend time with my friends"
Nadia Hussain
model, actor, anchor person
& professional dentist
I like to spend time with my friends. This relaxes me. Iíve also become part of an amateur volley-ball camp and participated in a couple of fixtures. On the other hand, even those activities that are centred round my kids -- such as a typical bedtime story telling session -- help me relax. Sometimes this leaves me little time to pursue my reading, but I try to squeeze it in after a session with the kids.
I believe, in these times of stress, it is my complete involvement with my work that helps me combat stress. Additionally, rather than just being passive about disturbing news and images of the aftermath of the floods, I like to do works for charity.
"Very simple yet effective activities"
Javed Jabbar
advertiser, film maker & scriptwriter
Relaxation comes from very simple yet effective activities. Itís difficult to relax in these times of stress, but I do so by watching birds, trees and plants around me when taking a walk in a nearby park. It soothes me the most.
Besides, I love traveling by road [in Pakistan] and enjoying the sheer beauty of the country. I also love reading, especially books on history, and listening to songs from the 50s and 60s. Of course, I watch TV as well, especially Nat-Geo.
"I play around with the interior of my house"
Khawar Riaz
hair & makeup artist, fashion photographer
It is wrong to assume that I am never sad or stressed out. But I try to beat the stress usually by playing around with the interior of my house.
A few changes here and there help me unwind. I also buy grocery for myself.
I like to read fashion and interior decoration magazines; they are a perfect antidote to my temporary phase of depression.
I also like to engage myself in little charity works and try to help people overcome their problems. It gives me great happiness!
"A book of my choice"
Intizar Hussain
novelist, short story writer, columnist,
travel writer
There is no scope for relaxation in the current situation. It is only when I read a book of my choice that I get disconnected with the surrounding.
I have an aversion for television channels. Newspapers, on the other hand, have some serious analyses and I do spend a lot of time reading them in the morning. Because of that, I canít get to do so many other things. Iím not sure whether that is relaxing or not. Itís only an attempt to understand what is happening around.
I have stopped watching TV because they show the same news item over and over. And, in many cases, like the recent Sialkot incident, I do not want to watch the visuals but I have to, because it takes some time to switch a channel.
I do meet friends and itís a pleasant change. One gets to express oneís anger and frustration with friends which is kind of relaxing.
I really unwind when I read a good book which I keep getting. Sometimes an old book, a good novel, gets me away from the world around."Carnal pleasures or just food?"
Mohsin Sayeed
Journalist
One has never felt the need to unwind as one feels these days. The stress levels have crossed even all American indicators and signals of danger.
Stress has hugely affected my appetite for good and gorgeous food - I am eating a lot more than before. And like a full-term pregnant woman, I just cannot hide the bulging tummy.
So I turned to other recommended ways. Reading, my passion, required peace of mind and concentration. Television? I hate to state the obvious. Cinema tuned out to be a dicey choice as a bad film added more stress and frustration, and reviews have turned out to be always unreliable. Pakistani fashion invokes the famous violent Pakistani gene in me in the happiest of times. Therefore, I am hiding from it these days. Some people highly recommended sex. It left me even more stressed and emotionally wounded.
Finally, I returned to my all-time proven and tested way to relax and release my stress - eating. In Ramzan, dinners at Okra and Flow are the only choice left. BBC Food works as a sedative these days. I am impatiently waiting for the Eid day when I will get to enjoy the usual spread of delicacies at home, cooked by my mother.
I have figured out a couple of things about good food: its pleasures are instant and you can have good food six times a day as opposed to, say, good sex.
"...by not criticising and cursing my own country"
Azzfer Rehman
actor, model, anchor person
For every Pakistani, itís a situation as if the clock is ticking. Everyoneís counting on you. Well, I try to be a good Pakistani. I do that by not criticising and cursing my own country, but by reminding myself of all the good things that this country has given to us -- things like our identity. I pray that one day Pakistan becomes a country where peace and tranquility shall prevail. And, I hope that one day the youth (me being a part of it) will take complete control over from the corrupt system and make this country a better place to live.
"That half-an-hour gears me up"
Salima Hashmi
painter, art educationist, writer & curator
2010 has been a very stressful year for me. Firstly, because of my husbandís illness and then by what is happening around us. But sometimes it is extreme stress through which you reach deep within yourself to combat it. Iíve developed certain ways of "switching off". I get up soon after daybreak. I take a walk in the garden early in the morning. These 30 minutes rekindle life for me. There is light in the garden... symbolising hope. I find myself facing the day with energy and a smile... That half-an-hour gears me up for whatever the day may bring.
In times like these I also read Faizís poetry -- a few lines rejuvenate me every time.
When one is deeply moved or disturbed, you go back to art, too. But what has been happening is so acute, one might not do justice to the intensity of feeling... the experience has to be deeply internalised before it emerges as art.
"Start
helping the people in need"
Samina Peerzada
actor, film maker
Iíve come to the conclusion that you can unwind truly -- and only -- if you start helping the people in need. I mean, Iíve been depressed and upset to see hordes and hordes of people being uprooted by the devastating floods. I have cried in the silence of my room, and I have tried to calm and please myself in my own ways. But nothing helped as much as actually getting out of the comfort of my home and meeting the affected families and extending support to them. I am presently in Thatta, as I speak, and we [a group of people] are distributing Eidi to the poor children. Earlier, we sent two trucks to D I Khan, carrying the basic food items."
"Find ways to help others"
Tehmina Daultana
politician
The best way to attain a peace of mind is to find ways to help others. I have a family, of course, but there is a bigger family outside which is comprised of our nationís people.
I plan to spend some time in the flood affected areas, with people who have been left homeless. I shall be carrying food and clothing, besides toys for children. This is how I shall spend my first day of Eid. On the second day, I will probably meet the people of my constituency.
I donít watch movies but I like to read, mostly biographies and novels based on history.
"Indulge some gossip with friends"
Sheikh Rashid Ahmed
Politician
I am a man of strong nerves and I donít get stressed out easily, but two recent incidents have upset me a lot. First, I cannot forgo my childhood cronies who were killed in the armed assault on me in February this year. Secondly, the horrific visuals of mob lynching in Sialkot are deeply etched out in my memory and disturb me all the time.
All I can do to unwind is to go out in the street and indulge some gossip with my friends and friendly neighbours. We get perched on a tharra and banter about issues of myriad nature. A cup of strong tea and imported cigar are my companions to these discussions.
Exercise or walk in the open would be a good option but not in the existing situation. To avail these you have to follow a routine. Once you start on a routine, you are exposed to potential assailants and may risk your life.
I also get depressed when I see helpless people. I lament the fact that a packet of Lexotanil -- a sedative --which was available for Rs 150, is now being sold in the black market for Rs 800.
The two and half years I spent in Bahawalpur Jail were also full of stress. The temperature there was around 52 degrees Celsius. Besides, the jail authorities had set up a tandoor (oven) next to the wall of my cell, to add to my misery. I was depressed already as my mother had passed away around that time. I would unwind by having food prepared by some nice cooks available with me in the jail and also by writing my book, Farzand-e-Pakistan.
"I reflect on light issues"
Syed Talat Hussain
executive director news and current affairs, Aaj TV
I exercise a lot, I jog and have my weight training sessions -- thatís how I unwind normally. Though it may sound a little strange, when I travel, I reflect on light issues and try to detach myself from the surroundings.
I would pick up a book and read, primarily history books, because it is only when you read history that you realise you are not the only nation going through tough times; there have been others who have experienced worse.
I donít socialise much. Iím either at work or at home. Whatever time I have I spend with my family. We go shopping to markets, especially old bookstores.
My wife is obsessed with interior dťcor. I also involve myself in purchasing household things such as furniture, carpets and curtains. In fact, browsing through interior decoration magazines itself is quite relaxing, because you get to see creative stuff.
Some people look at writing as a way of venting it out, but since Iím a trained writer, Iíve put many years to learn to write, therefore I donít let my anger dictate my writing. Sometimes when you are worked up your articulation becomes sharper and so does your selection of words, but I try to write in a controlled manner rather than teach categorically through my column. But it is cathartic, I agree.
"My stress was gone
once I visited the
flood-hit areas"
Atif Aslam
pop singer
Honestly speaking, my stress was gone once I visited the flood-hit areas and sat among the victims and tried to help them in whatever way possible. I went to Muzaffargarh twice recently and just got back from Swat and Charsadda. And, it relieves me to see so many young people contributing help to these poor souls. For me this is the greatest stress buster in the kind of times we Pakistanis are experiencing today.
"Fight stress through my paintings"
R M Naeem
painter
In my life, the best way to fight stress has been through my paintings. I paint four to five hours a day, but to ward off painful thoughts I can work for up to 15 hours at a stretch. My catharsis is achieved through my work.
I avoid thinking about the events of the world. Instead, I focus on something positive and productive. I spend most of my time in my home, basically in my studio, also with my family and a couple of friends. One should meet people who can make you laugh. Thankfully, I have quite a number of such people in my life!
"I am spiritually
conditioned"
Ali Saleem
talk show host, actor
One good thing that happened to me this Ramzan was that I was able to fast the entire month and say my prayers with a strong sense of commitment. Allow me to say that this exercise completely detoxified me. I was spiritually conditioned and earned a lot of peace of mind.
Iíve also been occupied with my book that I am trying to finish. This has its own relaxing effect on me.
"Play some video games"
Sultana Siddiqui
veteran tv producer
The best thing I like to do is spend time with my children who are now grown-up and have children of their own. I love playing with my grandchildren. I can manage to play some video games, shop with them, go out etc. Reading and writing is fun too. As a part of my job, I have to discuss business and creative ideas with people around me; which is something I quite enjoy doing.
"Exercise? I do lots of"
Ali Ahmed Kurd
senior lawyer, former president scba
Meditation gives me the kind of relaxation that is not comparable to any other activity. Reflecting on an issue, which could be any issue under the sun, revives my latent energies. ÖExercise? I do lots of. I am an early riser and like to go for a walk in the morning. I also do yoga almost regularly to soothe my nerves.
Reading is an equally rejuvenating activity. I like to read biographies and autobiographies in the calmness of the night.
Another very important reason why I find myself fresh everyday and never fall ill is that I try to remain positive and see the bright side of the picture.