analysis
Why strongmen never come back
Over a long period of time military men have become less and less popular with working people
By Aasim Sajjad Akhtar
Perhaps nothing could be more indicative of the Pakistani media's obsession with non-news than the recent hullabaloo that has been raised over a potential return to the country — and politics — of General Pervez Musharraf. It is a testament to the indefatigable stamina of prime-time journalists for sensation that Musharraf is hogging the limelight at a time when debates over the writing-off of Pakistan's external debt and a restructuring of the state's priorities should be engaging the TV-watching public. First, Altaf Hussain's jibberish and now Musharraf's baiting: what comes next?
Collapsing local governance
Local government legislative framework needs to be finalised immediately
By Raza Rumi
Recent floods have exposed the capacity of the state to govern, especially at the local level. The disintegration of local state is not a recent phenomenon. The continued experimentation with and frequent strangulation of local governance arrangements have led to a situation that Pakistan's burgeoning population is now without a representative, accountable local state.
ifood
Agriculture in post-flood areas
By Tahir Ali
Having been badly hit first by years of militancy and of late by devastating flash floods, farmers in Khyber Pakhtunkhwa are eagerly waiting for financial support from the government and international community.
Unnatural causes of disaster
Lurking catastrophes of the future demand serious investment into disaster prevention and response systems
By Naseer Memon
There is a need to comprehend the role of institutions that exacerbated the impact of recent floods. Many still see recent floods as a prelude to the worst. Without indulging in speculations one can safely say we ought to be equipped to respond to the vagaries of nature.
market
Only option
The economy needs to gradually upgrade the quality of products that it offers
By Hussain H Zaidi
Increasing market access and decreasing protectionism in the wake of globalisation leave competitiveness as the only option. According to the World Economic Forum (WEF), competitiveness is a set of institutions, policies and factors that determine the level of productivity of a country.
Climate change
Lessons to be learnt
Vast stretches of wetlands and adequate forestation could have greatly reduced the ferocity of floods
By Alauddin Masood
While Pakistan's contribution to global warming is negligible — as low as 0.43 percent, it was projected at 12th position amongst states most vulnerable to the effects of climate change. But floods that hit this summer are the biggest humanitarian crisis in Pakistan's history.
Revenues for rehabilitation
Plans should be made by the government to tax the rich to generate relief funds
By Huzaima Bukhari and Dr. Ikramul Haq
Central and provincial governments seem to be confused about how to generate sufficient funds for flood relief and rehabilitation of people affected by this catastrophe. There are also disagreements about the method and mechanism for distribution of money received locally and from abroad. Prime Minister Yousaf Raza Gilani, while addressing the National Assembly on September 4, 2010, informed the legislators that the Council of Common Interests (CCI) would decide the issue of distribution of flood relief funds among the provinces. He, however, did not disclose any plans for generation of funds by taxing the rich and mighty to meet the cost of relief and rehabilitation, which according to him, was in the range of Rs300 to 500 billion.
Untapped promise of G-20
It is time to reflect on how recent successes in the sphere of MDGs can be leveraged for future benefits
By Pradeep S. Mehta
A few days from now world leaders will gather in New York to renew their pledge toward attaining the Millennium Development Goals. MDGs, as they are known collectively, are as much about reducing income poverty as removing other types and forms of deprivation such as hunger, illiteracy and the lack of drinking water and proper sanitation facilities. The rationale for the differentiated approach adopted by the MDGs is sound: income poverty is not only highly correlated with the other mentioned forms of deprivation but often the alleviation of the former can only be facilitated on a sustainable basis if there is a concerted and direct attack on the latter.
analysis
Why strongmen never come back
Over a long period of time military men have become less and less popular with working people
By Aasim Sajjad Akhtar
Perhaps nothing could be more indicative of the Pakistani media's obsession with non-news than the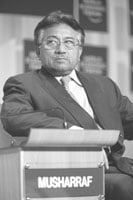 recent hullabaloo that has been raised over a potential return to the country — and politics — of General Pervez Musharraf. It is a testament to the indefatigable stamina of prime-time journalists for sensation that Musharraf is hogging the limelight at a time when debates over the writing-off of Pakistan's external debt and a restructuring of the state's priorities should be engaging the TV-watching public. First, Altaf Hussain's jibberish and now Musharraf's baiting: what comes next?
Lest anyone actually take the media's horsing around seriously, Musharraf will think very long and hard before making a return. His more frequent and well-choreographed TV appearances notwithstanding, it is worth bearing in mind that it has barely been two years since he was forced out of the presidency following a dramatic fall from grace. It would appear, however, that the general harbours hopes of making a splash in Pakistan's turbulent political waters sometime in the not too distant future.
If Musharraf were to make a second attempt to acquire power, he would be chartering new territory for ousted military dictators. Of the three generals that preceded Musharraf, one died while still in power while the other two were forced to abdicate their thrones so disgraced that they did not even countenance a political comeback. Both Ayub Khan and Yahya Khan died in relative obscurity a few years after their ignominious demise. One would assume that General Headquarters (GHQ) 'urged' both ex-chiefs to keep a low profile so as to prevent a derailing of the military's attempts to rehabilitate its image in the aftermath of both disastrous dictatorships.
It is possible that General Musharraf has not been offered similar 'advice' by General Kayani and the latter's cohort of senior officers. Indeed, as I have already hinted at above, Musharraf would only seriously contemplate a return to Pakistan and active political involvement if given a go-ahead by the khakis. It scarcely matters whether the Sher Afgan Niazis of the world align themselves with Musharraf if the latter were to return — ultimately military men, whether serving or retired, rely primarily on the support of the institution that nurtured them to survive in the political mainstream.
As of now, I can see no reason why GHQ would want Musharraf anywhere near the country. For two years, General Kayani and his men — with a very patriotic media in tow — have meticulously rebuilt the military's tattered public image. The urban middle classes are once again singing the praises of 'the only institution that works', and the imperial patron has made clear that it still wants to do business primarily with the military.
This is not to suggest that things are as they always were. Over a long period of time military men have become less and less popular with working people on account of various corporate initiatives that have been ably documented in recent years by a handful of serious academics. While public perception of the military on the margins of the state in Balochistan and Sindh has never necessarily been positive, there are signs that resentment is also growing in the Punjabi heartland. Flagrant abuse of power by retired and serving military men is commonplace, particularly in the form of land-grabbing in rural areas. In border districts of Punjab, Pakistan Rangers' use the considerable coercive force at their disposal to engage in all manner of illegal corporate practices.
It is another matter altogether that public antipathy against such shenanigans in Punjab has not metamorphosed into a coherent and politicised movement against the military's overarching role in the polity and society. This is because there are still large constituencies that remain co-opted by the military-dominated state while the militaristic state ideology that has facilitated the military's power still resonates within Punjabi society. But the objective conditions for continued erosion of military hegemony in Punjab are nevertheless favourable.
For this process to run its course, political parties need to take the lead. In the political mainstream there is no one party that is even remotely interested in breaking with the standard narratives of 'Kashmir banega Pakistan' and the conspiracies of 'Yahood-o-Hunood'. There are a handful of individuals in the academia, media and the arts that continually call for a repeal of this tired hyper-nationalism but they are drowned out by the pro-establishment types. A party to spearhead a new social movement is essential to give impetus to the scattered voices that call for an end to militarism and with it, the military's dominance.
Pervez Musharraf's party will, of course, do nothing of the sort. He pitches a very traditional Pakistani nationalism, and he has a lifetime of credentials to back up his claim of being the very best militarist currently on offer to the establishment. Importantly, however, he has the baggage of being a deposed dictator who towards the end had become a liability to the military institution. The military was glad to see him go and even more so when the calls for Musharraf to be tried under Article 6 of the constitution subsided. If Musharraf were to return, there would be renewed calls for action against him. Even if no such action were taken, GHQ does not even want to ponder the possibility of an ex-Chief of Army Staff facing the remote threat of legal action and attendant public humiliation.
In short, Pervez Musharraf can huff and puff all he wants but he cannot defy history. Strongmen who force themselves upon hapless millions always end up in the dustbin of history, having polarised society and engendering conflicts that outlive them. It is true that Pakistani politics is cynical and that the poorest of the poor often feel compelled to retain as patrons those that have deprived them of basic rights and dignity. But in a land where the military's traditional luster is no longer as bright as it once was, the disgraced military ruler's ex-charges are more likely to suggest an extended stint in retirement rather than a return to the political fray.
Of course, this is Pakistan, and I could be wrong. I get the feeling, however, that if I am wrong, Musharraf would not last and he might even become the symbolic figurehead that galvanises the emergence of the anti-establishment political force that I and many others like myself want on Pakistan's political landscape. In that case, I might even be willing to welcome the good general back into the country.
Collapsing local governance
Local government legislative framework needs to be finalised immediately
By Raza Rumi
Recent floods have exposed the capacity of the state to govern, especially at the local level. The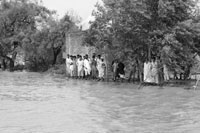 disintegration of local state is not a recent phenomenon. The continued experimentation with and frequent strangulation of local governance arrangements have led to a situation that Pakistan's burgeoning population is now without a representative, accountable local state.
Erosion of state writ: Three historical trends are noticeable for their impact on the overall governance and the writ of the state. First, centralisation is a tendency that is most attractive to those who govern Pakistan at the federal and provincial levels. The post-colonial Pakistani state has retained the official obsession of controlling power and patronage at the top and denuding the local space for democratic development and sound mechanisms of accountability. Secondly, granting local autonomy has, by and large, been a smokescreen for powerful military governments to bypass provincial politics and control the levers of state and society from above. Thus, we have an established pattern: local government experiments flourish under authoritarian regimes and get undermined whenever democracy, a la Pakistani variety, returns. Finally, the constant denial of a responsive state at the local level has led to erosion of state legitimacy and the void has been filled in by mafias, politico-criminal gangs and militant non-state actors.
While the 2001 Ordinance empowered the local governments and led to some improvements in service delivery, the abolishment of executive magistracy led to a complete collapse of social regulation functions of the local state. The local and special laws that require 'executive' action and on-the-spot enforcement (food adulteration, public hygiene, forests, public nuisances etc.) slid from partial enforcement earlier to a wide-ranging non-enforcement. Data is difficult to gather in a secretive and fragmented public sector culture but media reports have cited numerous instances where flagrant abuse and violation of local laws and regulation has taken place. In addition, the non-enforcement and later subversion of Police Order 2002 further compounded issues of local governance. Partial implementation of 2001 reforms has after a decade reached willful non-implementation without alternative arrangements. Lack of police accountability and demolition of executive magistracy have had grave implications.
Service delivery: The recently published Social Audit Survey 2010 revealed that over the period 2002-2010 (during the functioning of the local government bodies), all, considered indicators had improved (level of satisfaction had increased). These included 'sewerage and sanitation' (25 percent from 12 percent), 'water supply' (39 percent from 18 percent), 'health' (33 percent from 23 percent), with marginal increases in quantifiable 'satisfaction' for education and drinking water. The replacement of the local government bodies has been criticized for a lack of empirical evidence against their functioning, and the lost potential during the relief activities associated with the super-flood that has hit Pakistan. However, the more worrying aspect of this provincial conundrum is the slow pace with which a relatively successful system that has been scrapped is being replaced. The void being created by this sluggishness is adding to the deficient capacity of the state to provide adequate services to the country's population, something that has been aggravated and brought to the fore by the ongoing crisis.
Conceptual fallacies: It is unfortunate that most analysts in Pakistan tend to focus on the centre and the top level governance arrangements with little attention to where the state is most relevant: in the remote villages and qasbas, in small towns and union councils. Lack of fair mediation and negotiation of citizen interest means traditional power structures remain intact and prosper at the expense of public interest. Even the hyped lawyers' movement (2007-2009) focused on apex justice institutions and paid scant attention to issues of subordinate courts, local dispute resolution and above all social justice. The discourse remains locked in the conventional wisdom: fix things at the top with 'good individuals' and institutions will auto-correct. This approach to institutional development is akin to the failed and discredited trickle down theory whereby economic growth gains are somehow supposed to reach the poor.
Old wine in new bottles: With the lapsing of temporary constitutional protection on 31st of December 2009 provided to the Local Government Ordinance 2001, the PPP-led government abolished the National Reconstruction Bureau (which had introduced the local government system in 2000). In this context, Punjab and Sindh are yet to enact local government laws, while Balochistan and Khyber Pakhtunkhwa (KP) have enacted the new legislation which essentially reverses the reform achieved in 2001 and reverts to the bureaucratic led, provincialised management of local governments. In Balochistan, the bill named "Balochistan Local Government (Amendment) Act, 2010? has now been passed. The Act provides for deletion of the sub-section (4) of Section 150 of Balochistan Local Government Ordinance 2001which calls for holding of local governments elections every four years. It also empowers the provincial government to appoint administrators in districts and towns/tehsils vice nazims and restricts it to hold local councils' elections within a year. Even if all the legislative frameworks are completed in the next few weeks, the provincial governments are likely to cite floods as a logistical constraint against the holding of local government elections.
Governance vacuum: In Sindh, PPP and MQM face a deadlock between divergent positions, whereby the PPP wants to curtail the powers of the local governments by enforcing the LGO system of 1979, whereas, the MQM favours the empowered local governments in the light of the SLGO 2001. The effectiveness of local government bodies in KP has been stalled by successive crises and parliamentary ineffectiveness. The largest part of Pakistan, the Punjab with a population of nearly 10 crores is being managed by district coordination officers acting as administrators in place of Nazims. Further, the revival of the commissioner's offices in the province has led to another layer of bureaucracy with no provision for citizen participation. With the province and the federation passing to and for the responsibility of holding elections in the province, the Lahore High Court has issued a notice to the province to get its act together and resolve all pending issues. There is a draft law which is being debated by the provincial government, which is a hybrid of 1979 and 2001 models of local government.
Urgent need to engage communities: In the aftermath of the floods which have affected more than 20 million people through the destruction of crops, livestock, infrastructure and residential facilities, it is necessary that reconstruction activities invoke community participation. Involving the affected community in reconstruction not only provides a direct stake to the affectees in reconstruction abilities (thereby, adding the element of ownership to such projects), but also utilizes the resource pool present in the community, in turn creating income-earning potential for those who have lost almost everything in the floods. However, the lack of elected tiers of local government will impede this process. In the immediate term, the options are limited. Thus the role of community organisations and their networks becomes quite significant.
Rural Support Programmes: Grassroots organisations such as Rural Support Programmes (RSPs) are uniquely positioned to exploit their already established local networks. Over the years, the RSPs have been able to acquire intense leverage in rural populations through their programmes of social mobilization. Community mobilization involves the formation of male and female community groups at the village level, and their indigenous management of interventions aimed at rehabilitation. Such an approach can enhance the role of target communities in reconstruction activities of the government and other stakeholders in their respective areas. Given the fact that the flood-affectees will be hard pressed to acquire seeds for sowing at the prescribed time in the context of a dearth of residual resources, such income opportunities will be more than welcome. Involvement in rural reconstruction will also take the pressure off urban centers which promise the flood victims little more than absorption into the already bulging informal sector of the economy.
The provincial governments — especially Sindh and Khyber-Pakhtunkhwa — face an uphill task of restoring livelihoods and arresting discontent. More importantly, after the 18th Amendment they have a huge responsibility to make the local state functional not through unaccountable bureaucrats but through elected representatives. This is vital for their credibility and legitimacy in the medium term. Therefore, the local government legislative frameworks need to finalized immediately and local elections should take place. In the meantime, they should ensure that the local civil society, communities, media and other stakeholders are fully involved in the reconstruction process. Reports on rewarding the favourites and impairing aid flows are potentially disastrous for the future of democracy given the relentless attacks on the political elites these days.
Finally, to curb terrorism, enforce local regulation and to improve services (including post-flood relief and reconstruction) the local state must work. There is no other option.
The writer is a policy expert based in Lahore
(www.razarumi.com). Email: razarumi@gmail.com
food

Agriculture in post-flood areas

By Tahir Ali
Having been badly hit first by years of militancy and of late by devastating flash floods, farmers in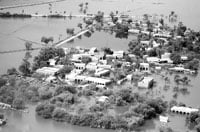 Khyber Pakhtunkhwa are eagerly waiting for financial support from the government and international community.
But the revival of agriculture and rehabilitation of farmers, apparently, may take some time as the federal government and international community have not provided funds for the purpose. Development of agriculture and rehabilitation of farmers is crucial to defeat terrorism and extremism in the region as over 80 per cent of the people depend on the sector directly or indirectly.
The total losses to the agriculture sector, estimated thus far, stand at about Rs43bn, with the losses — Rs34bn and Rs7.35bn — in the crops and livestock sectors respectively. A loss of a few billions more has been incurred by other agriculture sub-sectors for destruction or damages to the assets and infrastructure. Director irrigation Muhammad Naeem Khan says losses to irrigation infrastructure in all the ten major canal systems in KP, that stretch about 1909 miles and irrigate over 1.37 million acres, amounts to Rs10.6bn in all.
Murad Ali Khan, President of Kissan Board Pakistan, says agriculture and farmers had witnessed huge devastations during recent floods. "Farmers in Charsadda, Nowshera, Peshawar, Swat, Dir, Shangla, Dera Ismail Khan and other areas not only lost standing crops and orchards but their fields have either been eroded by floods, or made uncultivable by accumulated sand, silt, salts and water. Water-logging, salinity and soil erosion caused by the floods may deprive them of this income this year," says Khan.
Inundation of vast agricultural lands, destruction of irrigation channels and of thousands of tonnes of ready-to-use- seeds would not only impact crop production in the coming season but is likely to lead to food shortage and food inflation. The loss of around 0.15mn animal is very troubling in that farmers were deprived of source of income but it also would lead to shortage and price hike of animal-products like meat and milk.
The destruction of irrigation infrastructure, like the Munda Headwork that irrigated around 0.3mn acres of land alone and others, was a big blow but officials, working incessantly, have solved the problem temporarily, much to the relief of extremely worried farmers. But farmers have many other problems which must be addressed for reviving the agriculture in KPK. Ali Khan says floods have destroyed huge public and private wheat seeds and fertiliser stocks in the province.
"Farming community faces a potential shortage of seeds and fertiliser in coming months. With thousands of tonnes of wheat and maize seeds having been washed away by recent floods and the wheat growing season to start next month, the government should procure and provide wheat seeds to farmers free of cost. Farmers have no seeds or money to buy the costly seeds from private vendors. If the problem is not solved immediately, there would be little wheat crop which entails food security risk for the KPK," says Khan.
As a short term measure, farmers must be provided free or subsidised agriculture inputs such as seeds, fertilisers, pesticides and medicines and fodder for their living animals. Abdur Rahim Khan, Secretary General of the KPK chamber of agriculture, also says farmers must be provided free farm inputs for a couple of years.
"The escalating debt burden of farmers also needs immediate intervention. Agriculture loans of all farmers, especially small ones, should be written off or at least interest thereon should be remitted. The government should give easy farm and non-farm loans to small farmers to increase their incomes," he says.
"As medium term measures, reclamation of fields and irrigation network should be addressed. For this purpose, the government must arrange for tractors and other field-levelling machinery to the affected farmers. Production and provision of enough fodder and medicines for livestock will also have to be ensured," adds Khan. For this, he says, the government should quickly restore communication system and rebuild farm to market roads.
The construction of chashma lift canal project, which can irrigate around 0.3 million acres of land waiting for irrigation water, is must for developing agriculture in the province.
The disruption of supply of vegetables, fruits and other essential daily food items to market has also resulted in food inflation. Prices of tomatoes, potatoes, meat, fruit, wheat-flour and other food items have registered an increase of about 30 to 150 percent.
This will have highly negative fallouts for the majority poor if the government doesn't come to their rescue by increasing or maintaining the level of food subsidies, which are being cut down these days.
Floods are estimated to have destroyed around 0.19 million acres of farm land. With the vegetables and crops of the summer season having been washed away, the government would have to launch a de-silting and land-levelling campaign for the fields before cultivation of winter vegetables and wheat. To regain soil fertility, the soils will have to be dug deeper. It requires heavy machinery, money, personnel and close coordination between farmers' bodies and officials. Before this develops into a big problem, the government should devise a speedy and efficient mechanism to redress these tussles with the help of local communities.
It also means that the tilled and irrigated land in the province might have decreased further which can have devastating effects on agriculture in KP. This necessitates bringing under cultivation vast cultivable land available in the southern districts of the province.
"All the affected districts are the main sources of wheat and maize, fruit, vegetable, sugarcane, rice, and livestock. KP is a food-deficient province which relies for over 3/4th of its food needs on Punjab and PASSCO which too is badly hit and may not be in position to provide us the wheat we need. Destruction of the maize crop and endangered wheat cultivation for water logging and soil erosion will drastically decrease production," he says.
This year KP's wheat requirements are over 3.94 million metric tons. As the projected local production of 0.99 MMT may not be possible, wheat requirements will surge. The estimated amount of wheat subsidy is Rs14.08 billion. But the subsidy may have to be increased for two reasons: an almost certain drop in local wheat production this year and increase in the cost of imported wheat.
Both the federal and provincial governments will have to divert a major part of their current as well as development budgets to finance the critical phases of rehabilitation and full recovery of farmers in the province.
The Khyber Pakhtunkhwa government, on its part, has suspended its annual development programme and earmarked Rs18 billions for relief and rehabilitation efforts. But the loss is too huge. The federal government should announce and quickly implement a compensation and rehabilitation package for the province.
The agriculture department should involve the Bacha Khan Poverty Alleviation Programme the KP chamber of agriculture, the model farm services centre, and village representatives in the rehabilitation process. This will reduce corruption and expedite the process.
The provincial government seems to be alert to its duties in this regard but availability of funds is halting the process.
"We would provide seeds and fertilisers to farmers for the coming Rabi season with the help of the food and agriculture organisation (FAO) and the matter would be solved by November this year. We would also be reclaiming the lands and water channels and compensating the farmers for their losses as soon as possible," he adds.
caption
Extent of disaster.
Unnatural causes of disaster
Lurking catastrophes of the future demand serious investment into disaster prevention and response systems
By Naseer Memon
There is a need to comprehend the role of institutions that exacerbated the impact of recent floods.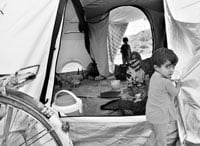 Many still see recent floods as a prelude to the worst. Without indulging in speculations one can safely say we ought to be equipped to respond to the vagaries of nature.
In August, Pakistan received more than half of its monsoon downpour during one week, which would normally have taken three months. This year flood sustained for abnormally long durations.
In Sindh, three barrages had to brace furious flow of over 1.1 million cusecs for almost eleven days. This lunacy of flood is a clarion call from the nature that we seriously need to realign our response mechanism to commensurate with such somersaults of climate.
The recent experience of disaster response mocks at our administrative adequacy. The institutional tentacles of our disaster response system were practically paralysed by the enormity of flood. National Disaster Management Authority (NDMA) and its provincial and district extensions were sent into a tailspin by the disaster. PDMAs and DDMAs were found ineffective.
In disaster response, the lowest tier i.e. DDMA is of paramount importance by virtue of being the first and the last line of defense for communities. The DDMAs, under Section 21 of the National Disaster Management Ordinance are charged to devise disaster management plans for their districts but there was hardly any in place. Certain international donor organisations provided technical and logistical support for capacity-building of selected DDMAs in the country but provincial governments seldom considered institutionalisation of PDMAs and DDMAs as serious business.
Though DDMAs are under administrative control of provincial government yet there were instances when they were reprimanded by NDMA if they approached any donors for any support. PDMA in Sindh is manned by less than a dozen staff at Karachi without any outreach stations in the rest of Sindh.
Punjab till recent days did not have any PDMA at all and those established in the remaining provinces lacked agility due to dearth of human, technical and financial wherewithal. Our shoddy disaster management machinery was soon on its knees as the disaster unraveled the patchwork of dykes.
Bemoaning aside; lurking catastrophes of future demand serious investment into disaster prevention and response systems. DMAs at all levels need much serious attention now to ameliorate their systems, infuse sufficient human, technical and financial resources.
Ideally DDMAs should also have extension at tehsil and union council level. However, the proposition does not envisage inventing mere echelon of bureaucratic strata. Rather, it suggests a more action-oriented, grassroots based, truly participatory organisational structure that can nimbly respond to calamities.
In its current structure, DCOs are the embodiment of DDMA, most of them have little prowess in disaster response which demands a well defined coordination mechanism of various entities at provincial and district level.
Disaster/hazard mapping would be the bedrock of a workable disaster response system. Regrettably, this very fundamental has yet to see the light of day; in absence of which all the rest becomes hotchpotch of reactions in the days of disaster.
The creeping disasters like land degradation, top soil erosion, watershed mauling due to rampant deforestation, pollution of fast dwindling water resources, languishing coastal eco-system and cross-contaminating urban air are mistakenly considered subtle threat as they don't send shockwaves of horror. Unless this country has an all-encompassing disaster map, planning and preparedness would remain a mirage.
Lack of appropriate early warning system has been a major cause of otherwise preventable localised disasters. Timely warning is linchpin of any disaster response mechanism as it can assuage the impact to a considerable degree. Flood map of Pakistan is devoid of any network of localised or integrated early warning web. Sans Nullah Leh in the twin cities, the system is nowhere heard of. This is particularly critical in spate flow areas of hill torrents where high intensity flows can easily outpace evacuation efforts. During recent floods, torrents from Koh-e-Suleman knocked communities without ample warning in South Punjab. In 2007 when Yeymin cyclone smacked Balochistan, cloudburst in its catchement caught western districts of Sindh unguarded due to absence of integrated early warning system in Khirthar range.
In managed rivers, however, forecasting a flood becomes easier, although our prevalent system is too primitive by contemporary touchstones. Telemetry system could have offered some respite but the same was not allowed to function by unscrupulous elements that thrive on data juggling. An aftermath of that was witnessed in defective preparedness in Sindh where initial flood estimates of 0.8 million cusecs proved mere ruse, leaving the province in the lurch.
An initial relief breach in Tori bund wreaked havoc in the province and the upper half of Sindh from Kashmore to Dadu/Jamshoro had to pay through the nose. Flood debacle in Sindh has unmasked the fragility of governance structure where individuals dominate the rules of business.
Trust deficit between the federation and the federating units has been a major source of relentless divisiveness on this issue. Only few days after the floods ruled the canals, riparian provinces were exchanging barbs on opening of Chashma-Jehlum link canal.
According to a leading national daily, the FFC reports showed an increase of 331 percent in the number of flood affected people in Punjab by inflating the number from 1.9 million in its 20th August report to 8.2 million on 1st September. The data managers at FFC overlooked the fact that the number of affected villages, households and acreage remained unvaried in both reports. Likewise, the report inexplicably reduced the number of cattle head killed in Sindh from 129,416 to 24,788.
This numerical non-sense race was stemmed by shear lack of credibility in the system prodding stakeholders to balloon the figures to grab better share in the aid pie. The experiences of this disaster can become a boon if we can harvest some learning for future years and fortify our institutional systems in a prudent manner.
The writer is an environmentalist and Chief Executive of Strengthening Participatory Organization-SPO
nmemon@spopk.org)
caption
Caught unprepared.
market
Only option
The economy needs to gradually upgrade the quality of products that it offers
By Hussain H Zaidi
Increasing market access and decreasing protectionism in the wake of globalisation leave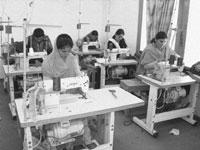 competitiveness as the only option. According to the World Economic Forum (WEF), competitiveness is a set of institutions, policies and factors that determine the level of productivity of a country.
Competitiveness in Pakistan is on the slide. In 2007-08, the country's position on Global Competitiveness Index (GCI) was 92nd, which fell to 101 in 2009-10.
The WEF's latest ranking for 2010-11 has put it at 123rd among 139 nations. A recent publication of the Competitiveness Support Fund (CSF) entitled, Drivers of Growth and Competitiveness in Pakistan—A Strategic Framework, looks into the causes of low competitiveness of the country and comes up with an action plan.
The report notes that although the economy of Pakistan grew at an average healthy growth rate of 5 percent per annum during last five decades and even better during 2002-2007, the same was not based on the competitiveness of the country's goods and services. That is why high growth rate could not be sustained.
To have a sustained high growth rate, the economy needs to gradually upgrade the quality of products that it offers. Sustained growth has four fundamental drivers: human capital development through education and development, export promotion, high level of savings and investment, and the right institutional environment for businesses, including effective arbitration and dispute settlement mechanism. Pakistan is deficient in all these four drivers.
Take for instance export promotion. Pakistan exports low technology and low value-added products, such as textiles, garments, leather articles and sports goods and is effectively excluded from global value chains. The textile sector, linchpin of the country's industrial and export performance, is marred by low productivity, obsolete machinery, lack of innovation and deficiency of skilled labour force. Besides, the share of textiles in global trade is stuck around 6 percent for many years. The export base is narrow and the share of exports in GDP growth is marginal.
The CSF study categorises the challenges to Pakistan's growth and competitiveness into domestic and international. The domestic challenges include poverty (30 percent according to Planning Commission sources), macro-economic instability (high fiscal deficits, growing public debt, persisting inflation and current account deficit), high level of unemployment, low level of savings and investment, meager spending on development, stalled economic and fiscal reforms, an inefficient public sector, low productivity and low level of research and development (the country is at 118 among 140 nations on the knowledge economy), fuel crisis, high production costs, poor skill level (only 3 percent of the people undergo vocational training), weak links between academia and the industry, infrastructure bottlenecks, inadequate level of cluster development, lack of a conducive business and investment environment, and precarious security and law and order situation.
Poor law and order situation, for instance, means that each year a big chunk of funds allocated to physical and human capital development and poverty alleviation is diverted to shoring up security. Poverty and lack of development in turn are a breeding ground for extremism and militancy. High unemployment and poverty make for low level of incomes and thus low level of savings and investment, which in turn hampers efforts to create jobs and reduce the number of people living below the poverty line.
Stabilisation policies, such as restrictive fiscal and monetary policies, have strong arguments in their support but they slow the pace of economy, growth rate and employment generation and, thus, have considerable political and economic costs. Similarly, public sector reforms may result in loss of jobs — at least in the short run — and may also come into conflict with the culture of political patronage. These challenges are real and the stakeholders need to grapple with them.
Internationally, Pakistan is facing intense competition from other developing economies such as China and India for export markets and foreign direct investment (FDI) inflows. India and China have the advantage of the economies of scale, while the least developed countries (LDCs) like Bangladesh have duty free access to markets of several developed economies. The difficult security environment has also pushed up the cost of doing business in Pakistan. The result is that exports from these countries are well placed to price out those from Pakistan. Hence, not surprisingly, the country is losing its price competitive edge to such competitors. Emerging economies like India and China are also far ahead of Pakistan in terms of technology and being part of a global supply chain.
Traditionally, economic growth efforts in Pakistan have focused on simply adding to the inputs, such as labour and capital, to achieve greater output. However, the CSF report calls for increasing labour and firm productivity along with undertaking concomitant reforms, which means that the increased competitiveness and not just adding to the capital stock should be the road to economic growth.
Accordingly, the report outlines a growth and competitiveness strategy for Pakistan. To begin with, there is the need for sound macro-economic management. Instead of relying on foreign transfers, such as worker remittances and bilateral assistance, which have played an important in economic growth, the domestic resources should serve as the engine of growth. This can be done by mobilising domestic savings, increasing public revenue and enhancing the level of private investment.
Two, the government should create an enabling institutional environment, which means improved economic governance by strengthening regulatory and administrative frameworks and institutions. These include a completely autonomous State Bank of Pakistan, an effective competition regime, prudent regulation of the financial sector, in particular the stock market, and civil service and judicial reforms to make for good governance.
Three, infrastructure bottlenecks and energy shortage need to be removed. The report cities a World Bank study that if Pakistan wants to achieve sustained growth rate of 8 percent per annum, it must increase infrastructure investment to 7.6 percent of the GDP.
Four, entrepreneurship should be promoted by encouraging innovation and creativity and improving academia-industry collaboration. Five, human capital needs to be adequately developed to have a skilled and trained workforce. Six, firms should have access to inexpensive but unsubsidised (as it would attract countervailing duties under WTO laws) credit and domestic and foreign savings should be channelised into the most productive uses. Finally, Pakistan needs to be better integrated internationally both in terms of being part of global supply chains and having preferential access to foreign markets.
The proposed strategy is quite meaningful; however, similar suggestions have been made from time to time with results not much different. Take, for instance, the broadening of the tax base, which no government, despotic or democratic, has been able to do and each time efforts to raise public revenue end up in increasing the levy on the existing tax payers. Similar is the case with civil service reforms, which remain confined to reducing and restoring the powers of the district management group. Businesses are impatient of government regulations but seek the umbrella of protection to shield them from having to compete with foreign suppliers.
Lessons to be learnt

Vast stretches of wetlands and adequate forestation could have greatly reduced the ferocity of floods
By Alauddin Masood
While Pakistan's contribution to global warming is negligible — as low as 0.43 percent, it was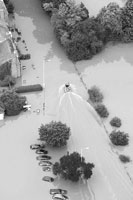 projected at 12th position amongst states most vulnerable to the effects of climate change. But floods that hit this summer are the biggest humanitarian crisis in Pakistan's history.
Recent floods in Pakistan, according to UN sources, have even eclipsed the 2004 Tsunami and January 2010 Haiti earthquake. Over 21 million persons affected in Pakistan outstripped the more than three million hit by the 2005 earthquake, five million in the 2004 Tsunami and the three million affected by the Haiti earthquake in January this year.
After visiting some of the flood-affected areas and seeing the scale of devastation in Pakistan, UN Secretary General Ban Ki Moon told journalists at Chaklala Air Base on August 15, "I have never witnessed such destruction…roads, buildings and crops all washed away. Many have lost family and friends."
The economic cost is staggering: some 1.3 million homes, over 7,000 schools and 8,000 kilometres of rail-road network destroyed; while millions of hectares of land with standing crops submerged, hospitals, dispensaries, factories, bridges and culverts wiped out.
With the count of those affected exceeding 21 million, it means that almost one in every eight people in Pakistan have been directly affected by floods, while indirectly everybody is going to be affected. So far, the global response to the devastating floods in Pakistan has not been adequate.
According to scientists, floods in Pakistan, forest fires in Russia, mudslides in China and droughts in Sub-Sahara Africa are enunciations of scenarios which experts had been predicting since long due to the impact of greenhouse gases, like carbon dioxide (CO2), methane and nitrous oxide.
R.K. Pachauri, Chief of the Inter-governmental Panel on Climate Change reportedly told Inter Press Service that the floods of the kind that hit Pakistan may become more frequent and more intense in future.
The greenhouse gases build-up in the upper atmosphere and lead to climate change or global warming. By the year 2040, environmentalists forecast that due to greenhouse gases global temperature will increase by three degrees Celsius and by the end of the century by five to six degrees Celsius, triggering sand/dust storms, micro cloudbursts, and tsunamis.
Pakistan has some 5,218 glaciers, over 13,680 square kilometres or 13 percent of mountains in the Upper Indus Basin, and 2,420 lakes of which 50 are reportedly to be highly dangerous and may cause flooding in the plains in Punjab and Sindh. Pakistan's Indus delta also remains exposed to sea rise and sea intrusion, causing an upward shift of almost 400 metres in the coastline.
Pakistan is also experiencing biodiversity loss, shifts in weather patterns and changes in fresh water supply. The phenomenon of global warming might impact the snow and rain patterns and the availability of snow melt during summer. At present, Pakistani rivers receive almost 70 percent of their flow from snow melt. These changes could accentuate after 2050 when scientists forecast, presently shrinking Himalayan glaciers could disappear.
Global warming is the price of development that human beings are paying. But the fruits of development have been harvested by the rich developed countries where development activities are contributing in a big way to global warming. Developing countries like Pakistan, with least contribution to this phenomenon, have to bear the brunt of ravages.
Vast stretches of wetlands and adequate forestation could have greatly reduced the ferocity of floods, but Pakistan has not been able to build adequate number of water reservoirs for want of political will, national consensus and resources. Deforestation has reduced its area under forests from 4.0 percent to scanty 2.0 percent.
In addition to de-silting rivers and water courses, construction of dykes near towns, a series of wetlands (lakes and dams) and extensive plantations in flood zones might help to minimise the ferocity of floods in future and thus prevent massive destruction caused by the recent floods.
As floods, according to experts, are likely to become a recurring phenomenon, there is an urgent need to replace kutcha structures, wherever these exist, with concrete structures. Experience tells that almost all mud houses collapsed during the recent floods. The scribe has learnt through friends that over 90 percent of kutcha houses in Akora Khattak (NWFP) and Lehri Tehsil of Sibi-Balochistan were damaged.
A way out could be payment of reparations to states affected by climate change, on the pattern of war reparations, by countries whose activities have contributed to global warming.
Without international assistance, it would be very difficult for debt-ridden Pakistan to rebuild necessary infrastructure for withstanding such appalling disasters in future. The authorities need to take up this issue at appropriate fora, making a beginning by sensitizing Pakistan's ambassadors abroad to discuss the matter with the authorities in the countries of their posting.
The global community can help calamity-stricken Pakistan by providing preferential trade access and quota in jobs to flood-affected people.
The writer is a former DGPR/Jt. Secretary and a freelance columnist based at Islamabad
alauddinmasood@gmail.com
movement

Kashmir: Too many people have died

By Zubair A. Dar
Over the past twenty years, death hasn't just meant an end to life in Indian held Kashmir (IHK). In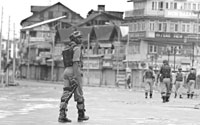 the new forms that death assumed after militancy broke out in this Himalayan region, it meant mutilated bodies and disfigured faces that obliterated the identity of those killed. In one of its forms, enforced disappearance, death went a step further: it meant the lack of a body, leaving families uncertain whether to think of their loved ones as dead or alive. Those who were lucky to escape the bullets when militants and troopers fought bloody battles, still live under constant fear. If a trooper perceives them as a threat to his life and shoots them without warning, courts fail to apply their writ to prosecute the trooper.
The law that gives armed forces operating in Kashmir these unaccountable powers — Armed Forces Special Powers Act (AFSPA) — was invoked in 1990 when young Kashmiris took up arms and fought the armed forces. The Indian Army now claims that militants, numbering in thousands in 1990s, have been reduced to 400 and that their presence is limited to a few pockets of the Valley.
But death in all its forms remains omnipresent as the law has neither been revoked nor amended to bring the armed forces under judicial scrutiny. "No other law has incurred the odium this Act has within the country and abroad in United Nations fora, especially in the Human Rights Committee, repeatedly," wrote the respected Mumbai-based analyst A G Noorani in Economic and Political Weekly in August 2009, calling for a review of the AFSPA. "Section 4(a) of the Act is a Statutory obscenity," wrote Noorani, adding: "It occurs in no statute any where in any democracy. It has been aptly called a 'licence to kill'."
This licence allows incidents like the one involving troopers from 4 Rajput battalion of the army and three young men from Nadihal village in the Valley's Baramulla district. Shazad Khan, 27, Shafi Lone, 19 and Riyaz Lone, 20, were killed in Machil sector along the LoC on the night of April 29, 2010. The Army later hurriedly buried them in another village and issued a statement that they had killed three militants in an encounter. The army unit shifted out of Valley within a week of the 'encounter'.
The charge sheet, drawn up after police investigation exposed the plot, named Col. D. K. Pathania, Maj. Upinder and four others of the unit besides a Territorial Army trooper and two others for allegedly conspiring and kidnapping three youths on the pretext of giving them jobs and later killing them.
The police sent the army three reminders to hand over the army officials for their custodial interrogation. Army invoked the AFSPA to avoid handing over the troopers to police.
Such refusals are not new in Kashmir. From the notorious Pathribal killings, where five young men were murdered and branded as militants responsible for the massacre of Sikhs in Chatisinghpora village in south Kashmir, to Capt. Kohli's suspected murder, the landscape here is riddled with cases of custodial deaths. The prosecution ends with the filing of charge sheets as the perpetrators of these human rights abuses find a cover under AFSPA.
In April 2004, four labourers from Jammu travelled to Lolab Valley to work with the Indian army as porters. They never returned home. Instead, an anonymous letter signed only "Aap ka sainik, insaniyat ka pujari (Your soldier, a believer in humanity)" arrived in 2005 at the home of one of the porters, Bhushan Lal, in Chatha village, Jammu. It alleged that the Army had killed Bhushan Lal and the other three in fake encounters. The letter named a Colonel and a Major as being responsible for the murders.
In his search for more information, Bhushal Lal's father Madan Lal came across Captain Sumit Kohli who told him, "The person who wrote that letter will make sure you get justice."
Capt. Kohli was found dead in his room in April 2006 at the 18 Rashtrya Rifles camp in north Kashmir Kupwara district, days after receiving India's third highest gallantry award, the Shaurya Chakra. The Army conducted an internal enquiry and said it was suicide.
India's Defence Minister A. K. Antony recently ordered a fresh probe into the captain's death. The family claims that he was murdered, pointing to senior officers as being responsible. They alleged that Kohli was going to expose fake encounters in Kashmir in which civilians were killed.
"I feel this letter has been written by Sumit Kohli. After writing this letter he lost his life. Had he not written it and had we not come to know that there was a fake encounter, he may perhaps still be alive," says Madan Lal.
Fake encounters have continued. The media's expose of the staged encounter of three young boys from Nadihal in early June sparked off the current wave of protests in Kashmir, starting from the old part of Srinagar.
Tensions increased immeasurably after police firing resulted in a casualty on June 11 – the first death during the protests this year. Tufail Matoo, the schoolboy who was killed, was walking home from tuitions and had left the street, crossing a playfield to avoid the protest. According to eyewitnesses, the personal guard of a police officer fired directly at him. The rubber bullet that hit him took his life instantly, his school bag still on his shoulder and a five-rupee note clutched in his hand.
Since then the protests have only increased, and so have casualties, with firing by police and Central Reserve Police Force (CRPF) claiming at least 96 lives across Kashmir since June 2010.
The law, and the impunity granted to troopers, is an issue that unites Kashmiris of all hues in protest.
The ruling National Conference had hoped that New Delhi would revoke the AFSPA from six districts where militancy-related violence has drastically gone down. In fact, the media had branded the measure as an Eid package for Kashmir to calm the protests. However, with Bhartiya Janta Party (BJP) opposed to the move, the issue has again been put to cold storage although its misuse is more visible than ever.
Some 14,033 persons have been killed in conflict between 2002 to 2009 in Indian Held Kashmir, according to Peace and Processes of Violence, a report on the patterns of violence in Indian Held Kashmir, published by the Srinagar-based Coalition of Civil Society in February 2010. The dead include 3,404 civilians, 7,504 militants (according to government figures) and 2,451 troopers.
According to the report, 225 custodial killings occurred between 2002-09 in Indian Held Kashmir, while 360 persons were subjected to enforced disappearances. Between 2004 and 2009, 157 troopers committed suicide and 55 armed forces personnel were killed in fratricidal incidents, says the report. "The data suggests high level of stress on the soldiers in the current conditions. The magnitude of stress on the civilian population as a result of existing besieged and insecure conditions can only be guessed."
Probes into such incidents have yielded no result — only 16 enquiries have been concluded, out of the 140 probes ordered by the IHK government on different human rights abuses between 2002 and 2009. Only one army trooper has been punished: found guilty of rape, he was sentenced to a one-year rigorous imprisonment. All the other army personnel accused of human rights violations have escaped, with the Army citing provisions of AFSPA and refusing to produce troopers in court for prosecution.
Section 4 of AFSPA gives any commissioned officer, warrant officer, non-commissioned officer or any other person of equivalent rank in the Indian armed forces in a disturbed area the power to "fire upon or otherwise use force, even to the causing of death" if he or she perceives that a person is carrying something capable of being used as weapons. The trooper can "arrest, without warrant any person who has committed a cognizable offence or against whom a reasonable suspicion exists that he has committed or is about to commit a cognizable offence and may use such force as may be necessary to effect the arrest." A trooper can "enter and search without warrant any premises to make any such arrest as afore-said".
Besides these unbridled powers, section 6 of AFSPA provides protection to troopers: "No prosecution, suit or other legal proceeding shall be instituted, except with the previous sanction of the central government, against any person in respect of anything done or purported to be done in exercise of the powers conferred by this Act".
The law has added a new dimension to politics related to the Kashmir dispute. For the first time, serving armed forces officers have started arguing against the revocation of the law stating that any such attempt will lower the morale of the troopers. "Whatever decision government takes on AFSPA will be done only after ensuring legal protection to the armed forces," declared India's Chief of Air Staff, P. V. Naik in New Delhi ahead of the All Parties meet called to discuss proposed amendments to AFSPA.
But the situation on the ground in Kashmir is a call for change. Too many youth have died in CRPF and Police firing now, deaths seen as a result of an emboldened attitude due to lack of accountability in the armed forces despite their grim human rights record.
The writer is a journalist based in Srinagar
Untapped promise of G-20
It is time to reflect on how recent successes in the
sphere of MDGs can be leveraged for future benefits
By Pradeep S. Mehta
A few days from now world leaders will gather in New York to renew their pledge toward attaining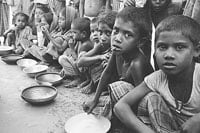 the Millennium Development Goals. MDGs, as they are known collectively, are as much about reducing income poverty as removing other types and forms of deprivation such as hunger, illiteracy and the lack of drinking water and proper sanitation facilities. The rationale for the differentiated approach adopted by the MDGs is sound: income poverty is not only highly correlated with the other mentioned forms of deprivation but often the alleviation of the former can only be facilitated on a sustainable basis if there is a concerted and direct attack on the latter.

While it is almost certain that targets for the year 2015 in regard to pursuit of MDGs will not be attained, mere finger pointing at the international political leadership is not going to help matters. Rather, it is time to reflect on how recent successes in the sphere of MDGs can be leveraged for future benefits; and inadequacies identified and remedied.

Such a review should start off by noting that the MDGs not only specify targets in terms of outcomes but also the means for attaining these outcomes: while seven of the eight MDGs are directly related to poverty reduction (in one manner or the other), the eighth goal or MDG-8, which calls for the development of a Global Partnership for Development (GPD), specifies the channel for attainment of these goals. This partnership should ideally involve, among others, the governments of the developing as well as developed world, the various IGOs, and powerful corporations and reputed CSOs from the developed as well as the emerging world. Unfortunately, the GPD has not got the deserved attention and consequently the pursuit of the other MDGs has also lacked the needed focus.

When MDGs were adopted in the year 2000, the world was witnessing an unprecedented level of economic growth. But the current situation is vastly different — the world is trying to emerge from the shadows of an economic recession. As developed country governments try to make do with reduced GDPs and therefore budgets, the prospects for significant growth in aid from the developed world seem bleak. Recognition by global corporations of their "enlightened self interest" in alleviating deprivation and creating new sources of human capital as well as demand for goods and services, as urged by Mukesh Ambani quite some time back, becomes even more relevant in these times. Mukesh is now a member of the UN SG's Advocacy Group on MDGs.

But mere enhancement of aid provision is not enough. Progress in the pursuit of MDG-8 has been dogged by different stakeholders adopting different definitions of the GPD to suit their political purpose.

The GPD is best defined as a multi-stakeholder partnership, involving state as well as non-state actors, to address significant challenges in regard to the attainment of global public goods (GPGs). GPGs in turn may be operationally defined as values/facilities/institutions which enhance welfare for populations all over the globe. Thus, security, promotion of democracy, aid (including debt), disaster management, alleviation of climate change, food security, trade and investment have all been referred to as GPGs.

While the promotion of trade and aid as well as the alleviation of indebtedness are included in the existing agenda of MDG-8, these issues have not been addressed in a coherent and cogent manner. It is not that institutions that deal with these GPGs do not exist — for example, the WTO does a fair job in regulating international trade; the IMF pays attention to macroeconomic stability and indebtedness; various IGOs and developed countries provide significant amounts of aid to the developing world; CSOs such as CUTS International are involved in the direct utilisation of such aid for implementing developmental projects in poor countries which promote trade, better economic regulation and governance while others supply essential hardware; and corporations the world over have their own CSR agendas — but the lack of coordination among these institutions is palpable.

The G-20, a club of nations which has recently attained the status of a principal mover on the world stage after its largely unheralded emergence in the 90s in response to the East Asian economic crisis, can provide the much needed coordination among the diverse providers of GPGs. While people might point to the limited number of its members as implying a lack of representativeness, it deserves to be noted that these members account for 65 percent of the world's population and more than 85 percent of the world's GDP. Thus, the G-20 has been able to achieve the ideal blend of representativeness and economy in numbers, a characteristic needed for quick and timely decision making and achievement of consensus in a fast changing global environment.

In recent times, the G-20 has captured headlines through bold joint declarations by its member nations in regard to the global economic recession and the need for economic stimuli, as well as the problem of climate change. Such achievements indicate the potential to do much more, especially the ability to coordinate the diverse providers and facilitators of GPGs so that a functioning and vibrant GPD becomes a reality.

For the G-20 to achieve its potential as the coordinator of GPD, it has to be strengthened through a permanent secretariat and acceptance of its mentioned role by the various potential partners that it would coordinate. While the onus for the initiation of such strengthening and stimulation of acceptance lies with the leaders of the G-20, CSOs and leaders of big business need to constantly remind them of this hitherto untapped potential. It is only then that the diverse developmental efforts of various actors the world over can begin to exhibit the harmony and consistency that is needed for the rapid and sustainable alleviation of global poverty and associated multi-faceted deprivation.

The writer is Secretary General, CUTS International

psm@cuts.org

caption

Unending wait.

Home|Daily Jang|The News|Sales & Advt|Contact Us|