Back to Main Page
My grandfather, my mentor
Amna Rahman
Age: 15 years
Granddaughter of
Late Mir Khalil-ur-Rahman
My Grandfather, Mir Khalil-ur-Rahman, who was lovingly called Daddu by his grandchildren, was a wise man. Even after his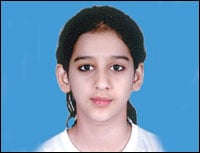 death he will always remain alive in the hearts of people. He was a generous man with a true heart and was warm and friendly with everyone. He was kind and was respectful towards other people's feelings and above all was an intensely patriotic Pakistani.
Mir Khalil-ur-Rahman, a renowned name in the history of Pakistan, has played a very active role in the society. Today on his 16th death anniversary, I can't help but remember him. Though I never got the opportunity to spend time with him as unfortunately before my birth he had already departed for his heavenly abode, still it seems I know him personally. My father, Mir Shakil-ur-Rahman and my grandmother, who had the great fortune of enjoying his company, often narrate stories and anecdotes about him.

My father often tells me that he was keen at understanding people's nature and hardly ever got angry. He was very religious and God-fearing. He recited the Holy Quran every night and my grandmother tells me that he had an angelic glow on his face, which is a sign of true piety. Even during the last days of his life, when he was admitted in a hospital in London, he was staying up nights to complete the translations of the Holy Quran and always engrossed in his work.

My grandfather's life was divided into three subparts: country, religion, and family. His love for these three was immeasurable. But at the same time, he was equally passionate about his work, which he intelligently managed. He believed in hard work and always advised his children to work hard and repeatedly reminded them, "You have to be number one in this world."

He cared about his country a lot and I am often told that he worked a lot for the development of Pakistan. He wanted to see his nation to develop and succeed. He faced many hardships and it hurt him immensely to see his nation breaking apart.

He contributed towards the cause of Pakistan in many ways. His devotion and loyalty for his country and its people can be seen by observing the people whose lives he affected and in the organisation he formed. Till date, his organisation continues to prosper and influence people, by informing them and showing them the right path. He founded the 'Jang' in the pre-partition era, in the early 1940s. This newspaper largely contributed to the Muslims' struggle for the formation of Pakistan, under the inspiring leadership of the Quaid-i-Azam Mohammad Ali Jinnah. It also boldly reported the troubles related to independence and the Second World War in order to stop the unawareness, intolerance and corruption that had engulfed the country.

In his professional life he achieved great success and became a great journalist. Everyone trusted his valuable advice and benefited from it. He always encouraged the people of Pakistan to develop a healthy reading habit, especially in Urdu, a language he deeply loved and admired.

My father still remembers that whenever my grandfather attended weddings, he got surrounded by people who wanted to talk to him and to listen to his wise remarks, especially about politics since he was a veteran journalist.

He was an organised person and liked things to be in their place. Every night, he jotted down notes or any bright ideas that struck him, in his notebook, which he kept near his bed side.

He was indeed a self-made man. In the early years of his career he swept and cleaned his office himself. He set fine examples to save unnecessary expenditures and did not spend lavishly on himself. He inculcated the same habit among his employees. One such example is the fact that he even picked the pieces of plain papers that he found in his office and at home, and used these pieces for writing messages for his staff.

Daddu was polite, humble, very loving and forgiving. He was a man with a true and honest character. I have always enjoyed listening stories about my grandfather. The best thing that I love about my grandfather is that whenever he was asked as to what the secret of his success was, he replied, "Hard work, Faith in Allah, a good wife and no arrogance."

With his hard work my grandfather built the biggest media group of Pakistan. He was a teacher and trainer who trained his children, grand children and the people who worked with him. I wish I could achieve the same respect and honour that he had enjoyed, through my dedication and hard work.
Back to Main Page