Mir Khalil-ur-Rehman, a legend who is no more with us, will always be remembered as the father of journalism in Pakistan. In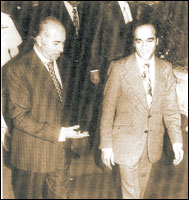 an interview with 'The News' Jamiluddin Aali, prominent poet, educationist, scholar and columnist shared his fond memories of the time he spent with Mir Saheb and shed light on his professional and personal life. Mir Saheb was a self-made person, who had no inhibition about doing manual work. Neither was he born with a silver spoon in his mouth nor did he ever have the support of affluent godfathers. He started the 'Jang' with faith in God. In the early days of "Jang' I often saw him bicycling his way to the hawkers to hand-deliver the newspaper which he carried on the back of his cycle.

Mir Saheb remained in constant contact with his workers. Throughout his career he always met up with the hawkers first and then the reporters,and finally would meet the advertisers. Aali Saheb says "a friend should not do the job of a friend" but when Mir Saheb started the 'Jang' publication from London, he asked me to join in as the advisor for the paper and after several discussions with him I took the job. It was after this job assignment that we became very closely associated with each other.
Mir Saheb believed in free and fair reporting. Even during Ayub Khan's regime, when he had to face immense pressure from the government, he never asked his reporters to exercise restraint. He said "Report the truth, it is my duty to protect you." He always protected his staff from the government's wrath.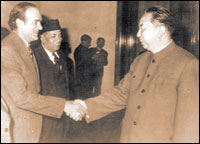 He was often pressurised by the government not to print certain news or to delete some sentences, but he boldly refused to compromise on Jang's right to expose the wrongdoings of the government.

Sometime after the Iraqi Revolution a stanza (qata) about the Iraqi Revolution was published in the 'Jang'. It was written by Raees Amrohi. The government immediately objected to it and threatened to ban the publication of the 'Jang'. Prior to this incidence the publication of 'Pakistan Times' and 'Imroz' had already been banned. At that time I was working in the president house. I called Mir Saheb and advised him to get two to three similar stanzas written in the next consecutive issues so that they seemed to be a part of sequence.

In the meantime, I wrote to Ayub Khan that the said poetry did not aim to provoke anti-government sentiments but was actually a series of poetry, which was against violence. In this manner we succeeded to convince the government and saved Jang from getting banned.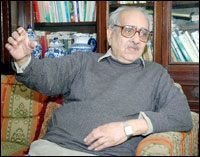 Mir Saheb made an effort to be involved in all stages of newspaper production. He supervised the activities of his editors closely but never interfered with their work. At least once a week he wrote an editorial. Apart from this he also helped in the placement of news in the newspapers to keep himself abreast of the latest happenings.

Mir Saheb was a friend to his staff and was easily accessible to any employee any time. In his personal life Mir Saheb was an extremely down-to-earth person. He drove himself around and would say: "you should drive your car yourself". He often got fined too but he paid the fine without any argument.

He remained modest throughout his life. Even when Jang Group's fortunes soared, Mir Saheb never spent lavishly on himself. On the contrary he did not refrain from spending money to acquire new technology for the improvement of his newspaper.
Mir Khalil-ur-Rahman was a man of substance. He was unbiased in his professional life and never compromised on principles. He is a source of inspiration for all those who wish to start their career in journalism.